Gay Dating Apps: 4 LGBTQ+ Dating Sites and Apps
Whether you're trying to find the person you want to spend the rest of your life with or something much more casual, dating isn't always easy.
If you're looking to find a great connection within the gay community, there are a ton of dating apps out there that can help you do exactly that.
There are a lot of gay dating sites, and some are definitely better than others. That's why we decided to research some of the most popular dating apps within the gay community so you can find which ones are the right fit for you.
We've rounded up four of the best gay dating apps out there, so you can find your perfect match ASAP.
Top 4 Summary of the Best Gay Dating Apps
In our search for the best gay dating app, we prioritized a few things. We wanted to ensure that each of these dating sites are easy to use, and that they're proven to produce results, whether they're casual flings or serious relationships.
The Best Gay Dating Apps in 2023
1. Best Overall Dating Site: EliteSingles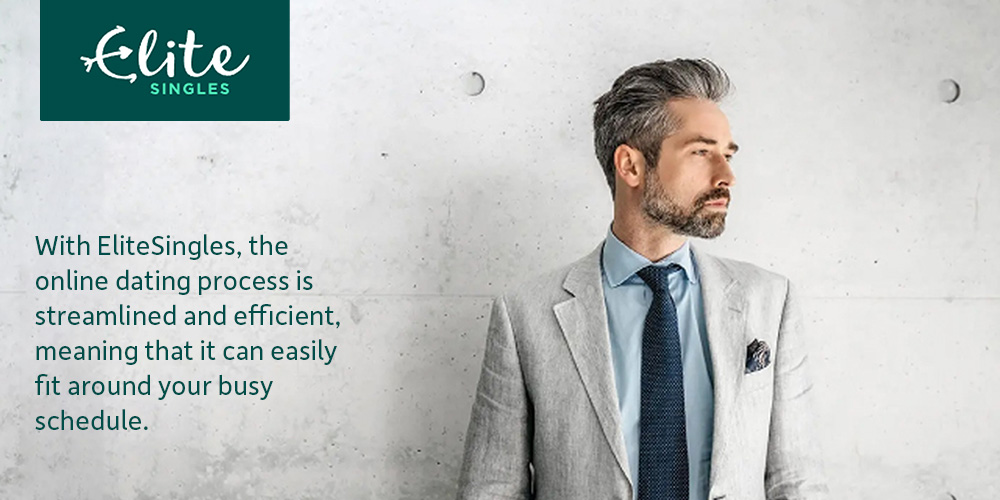 About EliteSingles
EliteSingles is targeted at career-driven individuals who are hoping to date others with similar passions and drive. The ultimate aim is to find someone they have serious long-term compatibility with. This dating site originally launched in the UK, Canada, and Australia in 2013 before using its popularity in those countries to expand into the US.
If your career is very important to you, EliteSingles can help you find someone who will support you in your ambitions whilst also having their own.
How it works
With EliteSingles, the online dating process is streamlined and efficient, meaning that it can easily fit around your busy schedule. EliteSingles selects between three and seven highly compatible matches for you each day, which you can then review at your leisure before contacting them (if you're interested).
These matches are selected based on EliteSingles' own personality test, which in turn is based on the Big Five Model of Personality, a widely-used concept in modern psychology. EliteSingles will automatically filter out inactive profiles as well, meaning that your suggestions should only include active users of the site.
This dating app is available for both iPhones and Androids, or you could simply access it through your desktop.
Pros
Matchmaking based on psychological model
Simple setup
Inactive profiles automatically filtered out
Cons
Minimum search radius is 50 miles away
Specs
Desktop version available: Yes
Mobile compatibility: iPhone, Android
Membership tiers: Basic, Premium
Learn more about EliteSingles today
2. Most User-Friendly: Zoosk
About Zoosk
Zoosk is a dating site that has fully embraced modern trends and technologies in the online dating world. Their mobile dating apps and desktop dating site utilize modern behavioral technologies to optimize your matches whilst also providing a fun, casual, and gamified dating experience.
With Zoosk, you can choose how you want to find your matches. They offer a fun carousel mode in which you're presented with the photos and profile information of other gay singles one at a time.
How it works
With each profile, you can either swipe it away if they're not quite who you're looking for, or like their profile, which can open the door to further conversation if they like you too.
This differs a lot from the more serious feel you get from even some of the best gay dating apps, meaning it can be ideal if you're looking for something different or just want to change things up for a while.
For those of you who would prefer a more efficient way of finding potential partners, or who just want to keep your options and experiences open as much as possible, Zoosk can also provide you with selected matches each day using their SmartPick technology.
Unlike other dating sites, this isn't just based on questionnaire results. This dating app uses a proprietary behavioral matchmaking engine to help you find your perfect match. In theory, the profiles recommended to you should accurately reflect your true preferences because they are based on your actual behavior, rather than subjective self-assessment.
If you find yourself going through a busy period, you may choose to rely solely on these recommendations for a while. But there's also a classic search mode that uses the more traditional filtering system. So, this dating app is a very flexible option that can keep your dating experience feeling fresh.
Zoosk allows members to record a video selfie in their app, which moderators will then use to verify that the photos on their profiles are legitimate. On top of this, they also provide a service known as Insignia which allows those in the US military to verify their service status.
These features can help you feel secure in knowing that your matches are truly who they say they are, as well as increasing the likelihood that they'll feel confident matching with and messaging you.
Given the more casual feel of this dating app, it's possible that you'll run into some gay singles who are only looking for casual relationships. This could be perfect for you if that's also what you want. But it could also lead to serious relationships.
Pros
Various matchmaking modes available
Daily compatibility suggestions
Available on desktop and mobile devices
Cons
Accounts are free but require a subscription to message matches
Specs
Desktop version available: Yes
Mobile compatibility: iPhone, Android
Membership tiers: Free Trial, Paid Membership
3. Best for Older Singles: SilverSingles
About SilverSingles
If you're at a later stage in your life, you may be wondering about the best way to navigate the dating scene. SilverSingles is a dating app that's exclusively for people 50 or older.
If you're from a younger demographic you'll need to look elsewhere for fun and romance. But if you're older and looking to meet gay singles who share your experience then this could be the perfect option for you.
How it works
Like a lot of other dating sites, SilverSingles has its members take a personality test that they then use to create your unique profile. This personality test was developed in close collaboration with relationship experts and psychologists and uses the well-respected Five-Factor Personality Model. The test and your profile also include questions covering your communication style and your attitudes toward relationships.
Your profile will be used to provide you with a daily selection of compatible gay men or queer women so that you can review their profiles and photos. This initial emphasis on compatibility has been praised by therapists. They believe dating apps geared towards older people can be a great way to connect them with people outside of their existing networks.
SilverSingles' premium membership is one of the cheaper and most cost-effective subscriptions you'll find from gay dating sites. So, you'll not need to break the bank to take advantage of everything they have to offer.
Pros
Exclusive for people over the age of 50
Provides matches for you
Affordable premium membership
Cons
Can't search for matches on your own
Specs
Desktop version available: Yes
Mobile compatibility: iPhone, Android
Membership tiers: Free Trial, Paid Membership
Learn more about SilverSingles today
4. Best for Serious Long-Term Relationships: eHarmony
About eHarmony
eHarmony is a staple among dating apps, priding itself on finding successful, serious relationships for its users. It's one of the largest and most recognizable in the US, so many people believe it's one of the best dating apps out there.
eHarmony has tens of millions of members across the US and internationally, so you have the opportunity to connect with a huge number of potential partners.
How it works
eHarmony users just complete a questionnaire, which the dating app then uses to build a comprehensive personality profile. Their algorithm then compares profiles in order to find your most compatible matches.
And anyone interested in serious relationships will be happy to know that the divorce rate of married couples who met through the service is also substantially lower than most other dating apps.
All of this points to the fact that eHarmony's algorithm works, making it one of the best dating sites for finding a lifelong partner. However, this may not be the best dating app for you if you're looking for a more casual experience.
eHarmony offers easy-to-use filters and an in-app video date option, which allows you to get to know someone more before handing out other contact details or arranging to meet in person.
Pros
Well-known brand
Designed for serious relationships
Virtual date feature
Cons
Not ideal for casual relationships
Specs
Desktop version available: Yes
Mobile compatibility: iPhone, Android
Membership tiers: Free Trial, Paid Membership
Learn more about eHarmony today
How We Chose the Best Gay Dating Apps
With so many gay dating sites and apps, choosing the best one for you can take some thought. To find the right dating app, it can be worth it to take the time to do your research or start a free trial, so you can effectively determine which gay dating site feels like a good fit.
Here are some things to consider when you're looking for the best gay dating app for your relationship style:
Personal preferences
Whether you're looking to meet gay men or queer women on a dating app, you'll want to optimize your personality by factoring in any specific preferences you may have, like age, distance, and interests.
For example, if you're over 50 and also looking for someone who's over 50, the SilverSingles dating app could be the perfect one for you.
Suggestions vs. search
Some gay dating sites provide daily suggestions for people you may be compatible with, and you can choose whether or not you want to match or communicate with them. Other dating sites make those matches for you, and don't give you the opportunity to seek out your ideal partner. So, the best gay dating app for you may depend on how you like to find your matches.
Relationship type
The type of relationship you're looking for is another major factor in determining the best gay dating app for you. Gay dating sites and apps that focus on long-term compatibility are more likely to attract those seeking serious relationships. But if you're only looking to date casually right now, a more casual gay dating app could be just what you need.
Cost
Most gay dating apps have multiple payment tiers. If you're looking for free gay dating apps, you shouldn't have a problem finding one — or several. If cost is a concern, then the best gay dating app for you will be one that offers a free version.
However, it's worth noting that the free version of even the best gay dating site will most likely be limited in terms of available features.
Online dating sites typically provide a paid subscription membership with all the features they offer, and advertise the free version as a type of trial.
Depending on your financial situation — or simply how much you're willing to pay to use some of these popular gay dating sites — you may want to only opt for a dating website with a free version.
Benefits of Gay Dating Apps
Gay dating apps are great resources for gay men and queer women who want to find a great connection. Some of the best dating apps provide the following benefits:
Convenience
With a gay dating app, you can quickly and easily view the photos and profile information of other queer people, knowing that they are also seeking a relationship. The best gay dating app for you is one that will allow you to establish relationship preferences and align you with people who want similar things.
Matchmaking capabilities
Some of the best gay dating sites use personality profiling to let you know how compatible you are with a match, even before you send your first message.
All of this can not only make things easier for you, but it can save you valuable time and make it a lot more practical to fit dating into a busy lifestyle.
Frequently Asked Questions
How safe are gay dating apps?
There are always risks associated with dating — especially online dating — and it's worth being careful when meeting someone new.
Research has shown that online daters are generally aware of the various risks associated with this dating style. However, a digital platform can allow you to take control of the online environment in order to manage these risks.
In order to ensure the safest possible online dating experience for yourself, it's best to follow a few simple steps, most of which are good practice when you've met someone offline too.
Step 1:
Take your time getting to know someone before you meet up or give them your personal details.
Step 2:
When you are going to meet someone for the first time, make sure you do it in a public place and that you let someone you trust know about your plans. You should also know how you plan to get home and not plan to rely on your date for transport or accommodation.
Step 3:
As with any date or meeting, you should trust your instincts if you begin to feel uncomfortable or like you should leave, letting someone else know discreetly if necessary.
What are some tips for online dating?
The best gay dating sites and apps make everything simple for you and provide helpful tips as they guide you through setting up your profile. But the following advice can help you really get the best out of your experience, no matter which online dating app you choose.
Choose the right photos
The photos you choose should not only be flattering but, ideally, they should also show off your unique personality and interests. Even though you will want to choose photos that show you at your best, we'd recommend against using photos that are several years old or which could be seen as misleading.
Know what you want
Knowing what you're looking for, both in terms of the kind of relationship you want and the type of person you want to meet can vastly improve your online dating experience. This will also help you choose the best gay dating app for your relationship preferences, whether that's casual dating or something long-term.
Be patient and enjoy the process
Even when you're using one of the best gay dating apps, finding the right person doesn't happen overnight. That's why it's so important to be patient throughout the dating process. Until you find that perfect connection, just enjoy meeting, talking with, and getting to know the people you match with. Even if they aren't right for you, it will provide valuable experience and knowledge for when you meet the person who is.
Is online dating the best option for queer people?
Regardless of your sexual orientation, online dating provides a great opportunity to meet someone you're interested in. For gay men, queer women, or anyone else in the LGBTQ+ community, online dating apps could help you find just what you're looking for.
If you want something casual, a hookup app could be the best route to take. Or you could use a dating app to find deep, meaningful connections.
Can I use multiple gay dating apps?
You can absolutely use multiple gay dating apps at the same time. This can be an effective way to widen your dating pool and increase your chances of meeting the right person for you. It also gives you access to the fun and helpful features across several popular gay dating apps.
However, using multiple apps does have its drawbacks. You may find it hard to keep up with all of them or find it overwhelming to field a ton of messages. It could also be pricey if you aren't using the free version of each app.
Although some people do enjoy using several dating apps at the same time, it's our experience that most people who try multiple queer dating apps end up gravitating towards one they like the most.
Am I too old for online dating?
No one is too old to benefit from the convenience of dating online or make meaningful connections through LGBTQ dating apps. In fact, some mainstream dating apps are specifically designed to match people of certain ages.
What is the Big Five Model of Personality?
The Big Five Model of Personality — also known as the Five-Factor Personality Model — is a way of assessing someone's personality by assigning levels to five specific traits. These are:
Conscientiousness
Agreeableness
Neuroticism
Openness
Extraversion
This theory states that your personality can largely be described by where you fall on the spectrum for each of these traits, and that this typically won't change significantly throughout most of your adult life. For these reasons, they are often used as the basis of personality tests and profiles used by the best gay dating sites and apps.
Conclusion
Dating and finding love can seem like it falls right into place when you use the right tools. Even though there's no single best gay dating app or dating site for everyone, we're confident that these four options are some of the most effective ways to find the perfect connection.
Using a gay dating app can help connect you with someone who is looking for the same type of relationship, and who has similar interests.
Summary
This post was produced and paid for by Originated Media
---