Best CBD Oil for Anxiety – Top Brands of 2021
If you are all too familiar with that free-falling feeling that makes your breathing shallow, your chest tighten, and your stomach flutter, you know how debilitating anxiety can be. Whether it hits at night when you're just trying to get some rest or at the start of your day when you need to focus on your responsibilities, anxiety can be so overwhelming that it inhibits you from functioning normally.
While certain plants and herbs are known for their calming properties (chamomile tea, for example), it has become especially evident that cannabis plants can work wonders in the treatment of anxiety and more severe panic disorders.
Top 8 CBD Oils to Calm Your Anxiety
How was this list compiled?
Well, there's a few criteria to look out for, including:
Hemp Source
The location where hemp is grown makes a massive difference in the quality of CBD extract. If the CBD brand proudly boasts of hemp grown in either the United States or the European Union, you can relax, knowing it is quality controlled.
Type of Extract
There are three types of cannabinoid extracts: full-spectrum, broad-spectrum, and isolates. Full spectrum is a blend that contains all cannabinoids in their pure amounts and broad-spectrum contains cannabinoids in equal parts without any THC. With CBD isolates, all plant ingredients are completely eliminated, and CBD is isolated, hence the name.  
Product Potency
The potency of CBD is measured in milligrams and is ascertained by how concentrated the product is. When the potency is higher, the effects of CBD are stronger.
Flavor/Taste
Since personal preferences are so vast, it's important for CBD products to have a variety of tastes or flavors or for them to be completely flavorless so consumers can garner CBD's benefits without dreading the taste of the oil.
Quality of Ingredients
The ingredients in any wellness supplement or ingestible product affect how the medicinal properties affect your system. The combination of high-quality ingredients along with CBD helps the overall positive benefits.
Lab Testing
If the CBD brand is reputable, they are transparent about ensuring their products are tested by third-party labs. This step is crucial to ensure quality control as these labs test independently to confirm the brand's claims on their products. They confirm not only the ingredients and safety of the products, but also the quality and potency.
Customer Experience
A brand can have the best products on the market, but if their customer experience is subpar, they just don't have the full package. It's for this reason we take into account customer reviews and any satisfaction guarantees provided. When a brand devotes time to educating their consumer base, that's always a huge plus.
Best CBD Oil for Anxiety – Brand Reviews
1.
CBDfx
– Top Favorite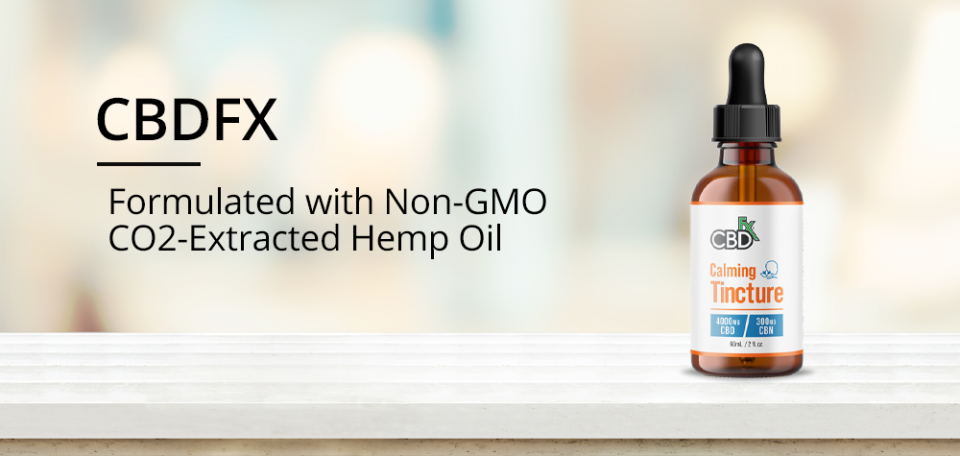 The oil tinctures by CBDfx are 100% vegan and formulated with non-GMO, CO2-extracted hemp oil. The hemp oil is then blended with MCT oil to increase absorption. This blend allows for consistency in the product's effects. As a plus, CBDfx infuses their CBD tinctures with potent antioxidants, like Coenzyme Q10, Curcumin, and even the "mother of all cannabinoids," CBG, which together provide ultimate relaxation benefits.  
CBDfx was founded in 2014 with a strong vision to bring the remarkable benefits of CBD to customers around the world. They started in the San Fernando Valley in California and have become one of the top five privately held CBD companies in the world. Their mission is to deliver only the highest-quality, purest, and most effective CBD products to both new and experienced users.
Hemp Source: All of CBDfx's industrial hemp is sourced directly from country farms in Kentucky and third-party lab results for their products can be found on their website.
Products:
CBD + CBN Oil Calming Tincture
This tincture is available in four strengths: 500mg, 1000mg, 2000mg, 4000mg and 6000mg. This tincture is specially formulated to help you enter into a calm mood when you are feeling anxious or overwhelmed. CBN is a derivative of THC; essentially, when THC ages, it becomes CBN. CBN is non-psychoactive and is known as the ultimate "relaxation cannabinoid." It is the perfect addition to complement CBD for people who deal with anxiety and panic attacks.
CBD + CBG Oil Wellness Tincture
This tincture contains a health-boosting 2:1 ratio of broad-spectrum CBD to CBG. CBG is a minor cannabinoid that is found in the cannabis plant. It contains biologically active properties that interact with your brain to further encourage balance within the body. This tincture doesn't stop there. It also incorporates Curcumin and Coenzyme Q10 which deliver antioxidant powers for total health. These tinctures are available in four potencies: 500mg, 1000mg, 2000mg, 4000mg and 6000mg.
Pros:
Cruelty free products

30-day guarantee

Solvent free

Verified potency

Made in the U.S.A.
Cons:
Extract Labs sells award-winning CBD tinctures that have passed third-party lab tests with flying colors. They have also received recognition for the best value of CO2 extracted hemp oil on the market. Their tinctures are each printed with a unique batch ID, which you can use to look up the lab report. This puts the verification of potency and purity literally in your hands.
Extract Labs was founded by a combat veteran whose interest in the medicinal application of cannabis eventually led him to discover the amazing benefits of CBD. The company's mission continues to build on the belief that CBD has the potential to impact the world at large, providing much needed relief to consumers of all backgrounds.
Hemp Source: All products are exclusively from American grown hemp.
Products:
Extract Labs has an impressive list of available CBD tinctures and a few are highlighted below:
This unflavored original is a customer favorite. The natural flavor tastes mild and earthy, which is expected as its origins are plant-based. Choose between 500mg, 1000mg, and 2000mg to suit your needs.
Pure CBD Isolate Tincture
This pure CBD isolate tincture contains only two ingredients: organic coconut oil and their award-winning isolate. It is only available in a 30ml bottle with 2000mg of CBD.
This tincture is one of their newest and features a 1:1 ratio of CBD to CBG. Plus, it's 100% free of THC. Enjoy 1000mg of CBD along with 1000mg of CBG in a 30ml bottle.
Banana Foster Extra Strength CBD Tincture
This banana foster tincture is organic and features an unmistakable aroma of caramel and banana. They are available in 1000mg, 2000mg, and 4000mg while supplies last!
Pros:
CO2-extracted full spectrum oil

Contains organic coconut oil

Certified vegan

No pesticides or herbicides
Cons:
Multiple options can be intimidating to new users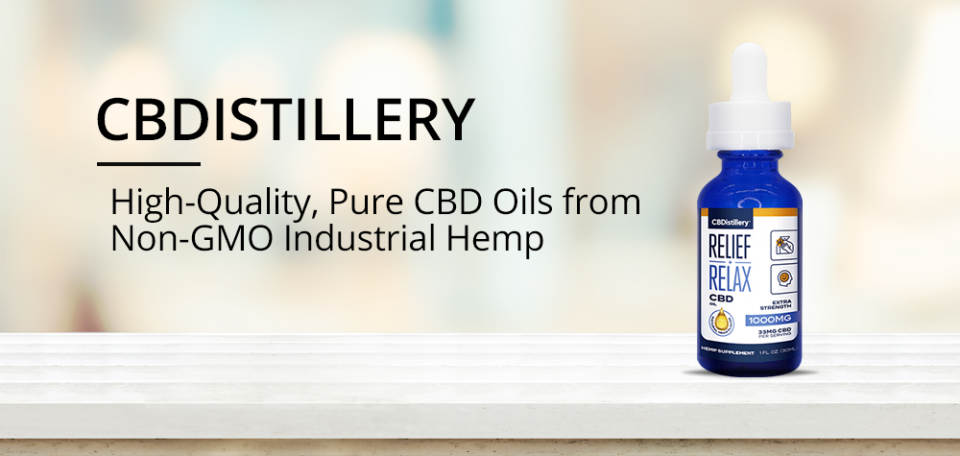 CBDistillery proudly sells high-quality, pure CBD oils that are derived from non-GMO industrial hemp. They offer several concentrations to fit your individual needs and test each of their products via a third-party lab to ensure overall quality. Their tinctures are fast-acting, easy to use, and super convenient.
CBDistillery is on a mission to lead the #CBDMOVEMENT by providing access to hemp-derived CBD products to all who seek their benefits. They work hard to educate consumers, keep up to date with the latest industry research, and share verified consumer testimonials.
CBDistillery has an exciting list of available CBD tinctures and a few are highlighted below:
Products:
Relief/Relax Full Spectrum CBD Oil
This tincture is available in mango flavor, adding a tropical feel to your CBD experience. Enjoy 1000mg in a 30ml bottle.
Sleep CBN + CBD Sleep Tincture
When you need to get a good night's sleep, this is the go-to tincture. With a 1:3 CBN:CBD ratio, you're sure to enjoy relaxation and improved sleep. A 30ml bottle contains 300mg CBN + 900mg CBD.
Hemp Source: All of CBDistiller's products are labeled with the U.S. Hemp Authority. Plus, you can use the QR code on the label to see third-party test results.
Pros:
Flavored CBD available

60-day money back guarantee

Variety of oil tinctures to choose from

Several concentrations available
Cons:
Temporary low supply due to demand
Learn more at CBDistillery.com
4.
CBDmd
– Tastiest Products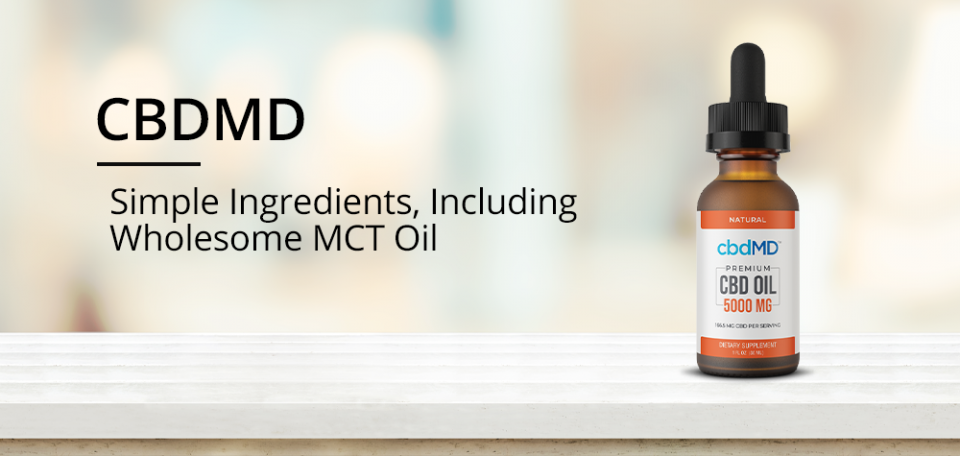 Formulated by veterinarians, CBDmd provides high-quality, hemp-derived CBD oil tinctures in 30ml bottles with a variety of potencies. Their ingredients are simple, including wholesome MCT oil. Plus, they are available in an array of flavors, including berry, orange, mint, and a natural flavor if you prefer to keep it pure. The rubber droppers make it easy for you to adjust your CBD intake, so you can get just the effect you need whenever you need it.
CBDmd was founded with the intent to provide an alternative solution for customers seeking a natural supplement to aid with anxiety and improve overall wellness. Their products are carefully manufactured with premium broad spectrum and they use additional ingredients, like terpenes, to further enhance the already life-altering benefits of quality CBD.
Hemp Source: CBDmd's superior hemp is sourced in the United States and processed within state-of-the-art laboratories and manufacturing facilities.
Products:
These 30ml bottles are available in four flavors and multiple potencies. Choose from mint, natural, berry, or orange and enjoy potencies ranging from 300mg to 750mg, 3000mg, 5000mg, and finally, 7500mg. Each product is third-party lab tested, made in the U.S., non-THC, and GMP certified. Simply place the contents underneath your tongue and hold for one to two minutes prior to swallowing. This allows for fast-acting results to counteract the symptoms of anxiety quickly.
Pros:
Non-GMO ingredients

60-day money back guarantee

Positive customer experience
Cons:
Results vary from person to person; allow at least 30 days of daily use to see how your body responds
5.
Diamond CBD
– Highest Product Variety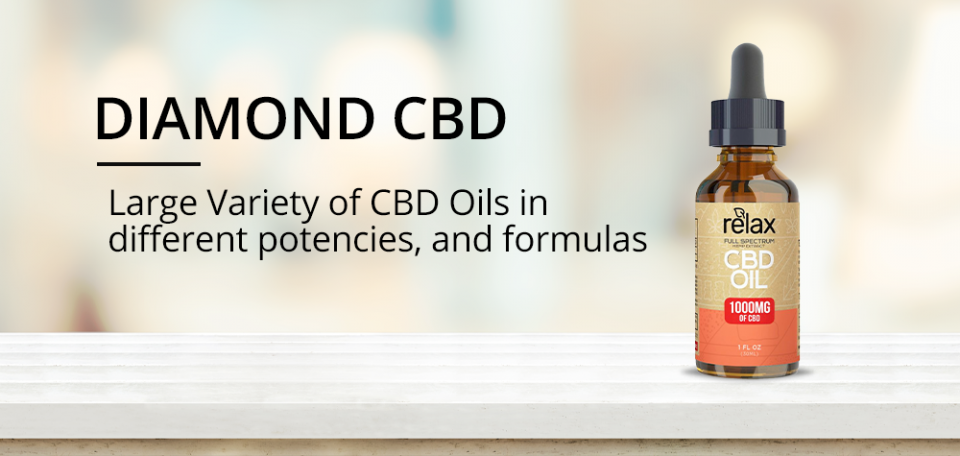 Diamond CBD provides a variety of CBD oils in different flavors, potencies, and formulas. Each of their products is Non-GMO, free of THC, pesticide free, and is made within the United States. Diamond CBD also incorporates Delta-8, a derivative of Delta-9 THC into some of its products for an extra helping hand toward a chill vibe. Although Delta-8 provides a subtle psychotropic high, its use is legal within the United States. Diamond CBD combines Delta-8 with their high-quality, hemp-derived CBD isolate to create a balanced and grounded effect for your relief.
Diamond CBD places massive emphasis on research and development to innovate hemp extracts and make them available throughout the world. They work in collaboration with teams of scientists and doctors to produce only the purest and highest-quality CBD products. They function with a primary goal to create a variety of premium hemp extracts that have distinctive properties and a broad profile of cannabinoids along with other natural molecules found in hemp.
Hemp Source: Diamond CBD's hemp is sourced and lab tested within the United States.
Products:
Diamond CBD has a ton of available CBD products (too many to list), but we highlight a few below:
Chill Plus Full Spectrum Delta-8 CBD Oil
This CBD tincture combines 500mg of CBD with 500mg of Delta-8 for a powerful calming effect that delivers a smooth, gentle high. If you're looking to enjoy an uber relaxed mood, this hemp compound is sure to deliver just what you're looking for. Best part? It's completely legal. It's all organic and grown on non-GMO farms..
Relax Full Spectrum CBD Oil
This tincture delivers just the right amount of CBD to support your wellness needs. Relax provides only the highest quality, innovative CBD oil formulations to provide you with a supplement that supports your health. Enjoy the benefits of a calmer mood and overall sense of ease with this tincture, available in 550mg, 1000mg, 1500mg, and more.
Daily Boost CBD Oil – Sour Diesel
This super convenient, travel-size CBD formula has 10mg of full spectrum CBD so you can take it with you on the go. It's MCT oil based and allows you to get your daily CBD boost quickly, easily, and accessible.
Diamond CBD Full Spectrum Honey Tincture Oil
This honey tincture oil is made with 100% natural honey and adds a delicious flavor to your regular dose of CBD. It's available in several strengths that range from 25mg through to 3500mg, so you have plenty to pick from. Use it regularly under your tongue or get creative and add a little honey to your tea or morning yogurt.
Blue CBD Crystals Isolate
This tincture can be used either as oral drops or as a vape liquid. Blue CBS Crystals is a superior, unflavored CBD liquid that is made from natural hemp oil and is free of THC. This product is quality tested and certified for potency and purity so you can safely enjoy the healthful benefits it provides. There are several concentrations available, ranging from 250mg to 1500mg of CBD.
Pros:
Widest variety of products available

Huge range of concentrations

Frequent sales and discounts

Non-GMO and pesticide free

Made in the U.S.A.
Cons: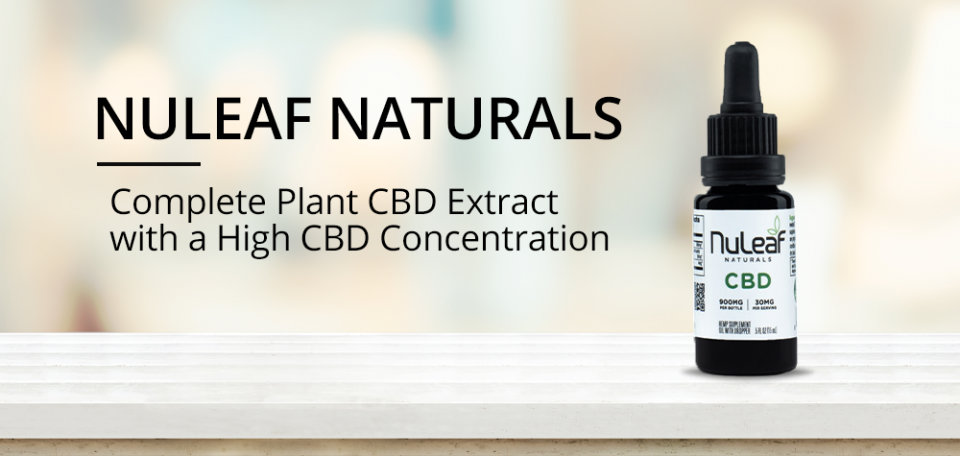 NuLeaf Naturals utilizes their proprietary genetics to produce a complete plant CBD extract with a high CBD concentration that also contains substantial amounts of secondary cannabinoids like CBC, CBN, CBG, and more. Since cannabinoids complement one another, when they are blended in this manner, they are more effective in providing healthful benefits. They also maintain an advanced cultivation program, which ensures they can continue enhancing their natural genetics while providing a safe and regulated product. Plus, they use an innovative CO2 extraction to acquire a comprehensive range of not only cannabinoids, but also terpenes and essential oils, among other valuable phytonutrients.
NuLeaf Naturals was founded by a group of plant medicine enthusiasts who have maintained a vision to create a line of cannabinoid wellness products that encourage holistic healthy living. In their mission since their start in 2014, they have become one of America's top revolutionary hemp companies. They skip additives in their full spectrum CBD oil and keep the ingredient list simple with organic hemp. They have over 20,000 positive customer reviews, proving their commitment to providing safe, consistently high-quality products that help their consumers live happier, healthier lives.
Hemp Source: NuLeaf grows their hemp plants on licensed farms in Colorado, U.S.A. using sustainable and organic farming practices.
Products:
Full Spectrum Hemp CBD Oil
NuLeaf keeps their tincture product list simple with only one product available in different concentrations and as a single bottle or in packs. This CBD oil is a whole-plant extract that contains a full spectrum of naturally occurring, harmonious cannabinoids and terpenes. Choose from a range of concentrations between 300mg and 6000mg and either pick up one bottle, or choose between a pack of two, three, or six.
Pros:
Full spectrum hemp extract

Available in different concentrations

Advanced CO2 extraction

Made with organic hemp
Cons:
Only one oil tincture product available
Learn more at NuleafNaturals.com
Sunday Scaries has developed the ideal CBD tincture for those with conditions that require a heftier dose of CBD. Whether that means helping you get the sleep you need or manage a panic disorder, Sunday Scaries' CBD oil supports a calm state of mind. Be warned, the high-powered CBD oil absorbs rapidly and delivers relief fast. And a sweet plus? It tastes like an upgraded, fancy fruit punch.
Sunday Scaries was founded by two former stressed out bar owners who became advocates for CBD after realizing how much relief could be provided through this medicinal wonder. They came together with a mission to turn the worry of the nation into a chilled-out vibe, so everyone who tries their products can enjoy the beauty of a mellow, fun life.
Hemp Source: Sunday Scaries sources all of its help from family-owned farms just outside Denver, CO. They ensure each of these farms comply with USDA standards as well.
Pros:
Boosts a calm mood before sleep

Keeps mind from racing

Sourced in the U.S.A.

Helps manage anxiety
Cons:
Only one CBD oil tincture product available (but plenty other CBD products available!)
Learn more at SundayScaries.com
What is a CBD tincture?
CBD tinctures are full and broad-spectrum formulations blended with coconut-derived MCT oil. This blend with a carrier oil boosts absorption to ensure you obtain the maximum benefit of CBD. Tinctures are ingested orally, which allows for fast-acting benefits, so you don't have to wait to get the relief you need – when you need it.
What is the difference between broad spectrum and full spectrum CBD tinctures?
To find the best CBD solution for your specific needs, you need to understand what's available and what sets each type of CBD product apart. There are three different types of CBD oil extracts:
Full Spectrum CBD

: The main factor that sets full spectrum CBD apart is that it contains small traces of tetrahydrocannabinol (THC) and other phytocannabinoids, like terpenes. However, these amounts are always less than 0.3%.

Broad Spectrum CBD

: In broad spectrum CBD, THC levels are undetectable at less than 0.1%.

CBD Isolate

: THC is further minimized and undetectable, below 0.002%.
Although each of the CBD extract types contain minute levels of THC, it's important to note none of the extracts is psychoactive. The federal government disallows CBD products with more than 0.03% THC, ensuring clean extraction methods throughout the CBD market.
Does CBD help with the reduction of anxiety?
According to Harvard Health, CBD is commonly used for addressing anxiety and helping patients who suffer from the draining condition of insomnia, suggesting that CBD works well in these circumstances to alleviate an overactive nervous system and provide relief and relaxation for a calmer mood and improved sleep.
How much CBD should I take for anxiety?
There is still not enough research to provide a blanket answer for this question, however, studies have shown that doses between 300mg to 600mg reduce anxiety in people who have been diagnosed with social anxiety disorder. Your best bet is to follow the product's recommendations to start and allow your body time to acclimate to the new supplement.
If it has been thirty days of consecutive use and you are not obtaining desired results, you may gradually increase your dosage until desired effects are achieved. Everybody is different and each person will react differently to different dosages, so it's best to pay close attention to how your body responds to different CBD concentrations.
How do I take CBD oil?
The easiest and most common method is to use the dropper to place the CBD oil drops underneath your tongue. After holding the drops in your mouth for one to two minutes, you may swallow the oil and move on with your day. However, if you don't like the flavor or are uncomfortable holding the oil underneath your tongue for this duration, you can get creative and add it to your morning coffee or tea, or even drizzle it on top of your favorite breakfast or dessert item. If you're looking for fast-acting benefits, underneath your tongue is the way to go. However, if you need additional options, you can use any drink or food item to help you get the oil down the hatch.
What are the side effects of taking CBD oil?
CBD has the potential of triggering several side effects. The type of side effect and its severity is entirely dependent on the person; however, there are some common side effects you can watch out for:
Mood changes:

Since CBD promotes calm and relaxation, you may notice your mood shifting from when the effects of CBD kick in to when they wear off. Consistent, daily use at a dose suitable for your needs helps to maintain a balanced disposition.

Appetite changes:

CBD may alter your appetite, either increasing it or decreasing it.

Loose stools:

Since CBD has a carrier oil, usually MCT oil, you may experience diarrhea if you take it on an empty stomach or take a large dose. It's best to take CBD with food to prevent loose stools.

Dizziness/lightheadedness:

If you take too high a dose, you may experience dizziness or lightheadedness. If this is the case, adjust your dose to a more comfortable concentration.

Dry mouth:

CBD may cause dry mouth; to prevent discomfort, have plenty of liquids available to drink.
Should anyone not consume CBD oil?
Although CBD oil is safe for use by most, there are some people who should first consult with their health care provider before starting to take the supplement and be under their care while taking CBD. For instance, those who are taking certain medications should be aware that CBD may increase the toxicity of certain drugs and may even lower their efficacy. Plus, women who are pregnant or breastfeeding should also avoid consumption of CBD products, as CBD is known to pass through the placental barrier. While risks to a baby's development are still unknown, it is best to avoid any hemp products due to the possibility of risks.
Conclusion
Choosing your ideal CBD product requires you to consider several factors. Third-party labs ensure a potent product that is safe and free of contaminants. Plus, the quality control process ensures THC levels never exceed 0.3% of the overall weight, making products safe for consumption without any psychoactive side effects. You probably noticed some brands offer several different potencies, allowing customers the opportunity to choose a specific dose that is best suited for their needs. If you're a new CBD user, a range of potency can be especially helpful.
If CBD is combined with low-quality ingredients, not only are the positive benefits hindered, but those other ingredients may also actually do more harm than good. Therefore, it's important to consider the CBD product as a whole and ensure it is filled only with natural and organically sourced ingredients.
CBD is a great alternative for managing anxiety in a natural way. Hopefully with the breakdown above, you can be well on your way to experiencing the relief you deserve.
This post was produced and paid for by Azure River Group
---