The Instagram Account You Need to Follow Now: Fashion's Coolest Dog
Follow. Now.
---
Today's hilariously fun fashion tip: Follow this Instagram account right now. Go on, don't ask questions. Just do it.
Done? Okay, here's the backstory: Willie is a Jack Russell terrier dreamed up by Alex Stadler, the quirky artist/author/designer and owner of Sansom Street shop stadler-Kahn. Willie's closet could rival even the most fabulous of fashionistas—she pumps iron in Galliano, she jogs in Manolos, she adopts kittens in Tsumori Chisato. Alex's sketches (which you might remember from the walls of Joan Shepp some years back) are some of my favorite things ever; I'm desperate for him to start making Willie note cards, framed prints, playing cards, t-shirts and bags. (Note: Canvas bags featuring Willie sketches are coming to stadler-Kahn soon!) For now, though, you'll have to whet your Willie appetite with her new (and downright fabulous) social media presence: Willie's got her own Instagram, @whatwilliewore. Click here for some of my favorite posts so far. Enjoy!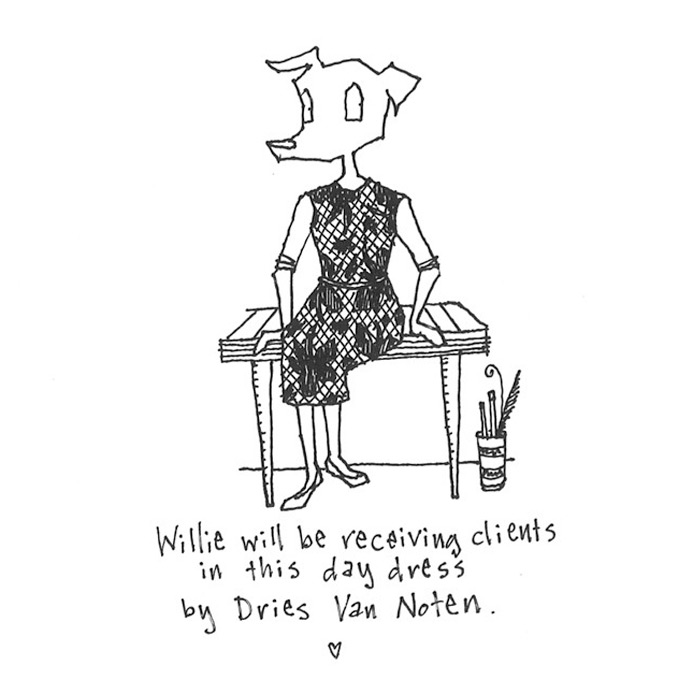 ---