Why Sneakers Are the New Heels — And 10 Ways to Style Them
How I put away my heels, started wearing sneakers ... and came down to earth.
---
My (calf-hair) kicks.
I'm five-feet-three-inches tall. Most people—even sometimes my very own husband—don't realize this, because I spend approximately 93 percent of my life in very high heels.
I've been wearing them since I can remember, and as I've gotten older, my heels have gotten taller. It's like taking off the training wheels, over and over again. You ditch the stubby square heels for kitten heels, then you swap these for taller but still walkable heels, and then you're off on pin-thin stilettos, racing towards osteoarthritis and a life of Dr. Scholls.
But is the age-old equation—high style = higher heels—fading away? And if it is, where does that leave me and my shelves of stilettos, platforms and wedges? Can you really be stylish … in sneakers?
My sneaker history: As a kid, I wore Keds slip-ons, the ones with the little blue rubber squares at the back of the heels. I owned a pair of Vans in middle school, and a few pairs of Converse. I scrawled on all of these with black magic markers, very artistic things like bubbly hearts and EG + SM FOREVER and NIRVANA. Then sneakers fell out of favor with me—with all of us teenage girls—and we replaced them with clunky, chunky heels. I bought a pair of neon green shiny patent leather (pleather?) heeled clogs.
Then we had our first foray into "real" shoes: strappy evening sandals that we wore to school formals. We teetered on these for an hour or so before tossing them aside and dancing barefoot on dirty gym floors. But these were the shoes we were meant for. Strips and straps of satin criss-crossing our feet and winding up our ankles. They hurt our feet and pinched our toes and made us taller than our dates, but, oh!, they were fancy.
Then came Sex & the City and suddenly girls who'd always been okay with Nine West were proclaiming their love for Manolos. It became cool to say that you were SO COMPLETELY OBSESSED with shoes. Who wasn't? Then red soles ruled and shoes grew crazier and sprouted feathers and tassels and fur and pom-poms, and then we all came crashing (sometimes, quite literally) back down to earth.
And that's sort of what prompted me a few months ago to ask the salesperson at Knit Wit if I could see a pair of black Supergas in my size. It was icy out, all the time. I needed a pair of stable shoes. Plus, I'd seen countless style bloggers and models-off-duty wearing sneakers around, and they looked cool. Anyway, these weren't really sneakers—they were calf-hair sneakers, which made them feel fancier, less like I was trying to pull off being a cool twentysomething celeb-DJ when I'm really a thirtysomething style editor with a job in an office building.
---
The Lowdown: How to Wear Sneakers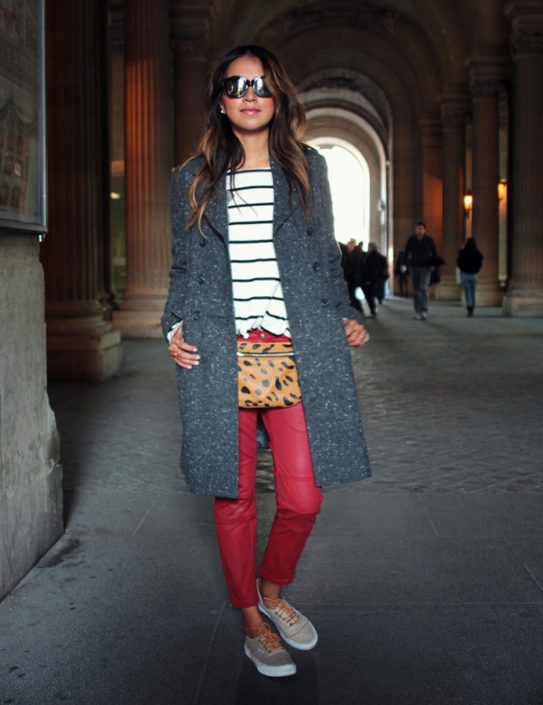 ---
I bought the sneakers and then tried to wear them several times before I actually ever left the house in them. I had sock problems. What socks do you wear with non-athletic sneakers? Short white ankle socks? These looked awful. No socks at all? Blisters. Peds swiped from shoe stores? Nope. I landed on ankle-grazing black Nike socks, and they worked. But I still felt weird.
Then I started wearing them around, first only to dash from the train station to my office, where I'd change directly into heels. And then I wore them to coffee meetings across town, to a casual dinner on a Friday night, with rolled up bleached jeans and my white shaggy coat, with silk pants and a beanie. I made excuses for them at first—"I didn't have time to change"—but quickly discovered that I liked wearing them. I walked faster and further in them. I could keep my head up while walking, instead of constantly scanning the ground for errant stones and divets.
Being able to walk easily in very high heels gives you a measure of pride. It's like a badge of honor, the same way people repeat "I'm so busy" to indicate that they're very important and work very hard. We lie and say that heels don't hurt our feet at all, as if people whose feet do hurt are somehow ill-practiced at wearing heels. Or we say that, yes, they hurt but we don't care because, well, the shoes are just so fabulous, as if people who wear shoes that don't hurt are somehow less than, bizarrely immune to the power of stylish footwear. But most of the time, we're lying. Our feet hurt, we're dreading the walk home, we hope it's not raining out, and all we want to do is put on the flats we have stuffed in our bags.
I still love heels, but I don't hide in them anymore. Sure, I'm shorter and harder to pick out in a crowd, but I've realized that being closer to ground level isn't so bad. I can still run in heels if I need to, but I can also walk a helluva lot faster in sneakers. And that, my friends, is powerful.
Like this? Here's how to stay in touch with Shoppist:
>> Follow us on Twitter.
>> Follow us on Instagram.
>> Sign up for our newsletter.
---