News
Just Listed: Loft Condo in Fishtown
The building this cool condo is in advertises it contains "New York-style lofts." This loft has more style than anything we've seen in New York lately.
---
The big sign over the side entrance to the Old World Warehouse, an elevator factory-turned-condo in Fishtown's southwest corner, advertises "NYC STYLE LOFT CONDOS."
If you remember the rental unit in this building that we featured back in May, you have probably figured out by now that these units, and even more their owners, place the emphasis on "style." And if that unit's next-door neighbor — this unit, a Fishtown loft condo for sale this time — is any guide, the owners of the Old World Warehouse condos could teach the New Yorkers a thing or two or three about style.
Just take a look at the open main living area of this top-floor condo. See how all the spaces flow together yet are clearly distinct?
Note how found objects, vintage furnishings and lighting, and modern furniture all look like they were meant to be together from the beginning?
Credit architect Chris DePalma and his partner, chef Josh Gomes, with the look. It's the product of six years of renovations, searches and assemblage.
"We both have a passion for eclectic interior design and vintage furniture," DePalma writes in an email. And DePalma and Gomes scoured some of the city's best sources of vintage furniture, including Retrospect and Jinxed, to find the old stuff that graces this space.
The aim: to create a space that feels like home rather than like a New York City-style loft condo. "We didn't want to pursue a solely 'industrial' vibe, as many have in the past," writes DePalma. "Instead, we took some risks and infused higher-end materials not usually found in homes like this, such as marble, designer tiles and high-end fixtures."
Not to mention high-end appliances worthy of a professional chef in its kitchen, which faces the unit's entrance. DePalma and Gomes took the opportunity to offer an appropriate greeting to visitors in a most creative fashion that also shows off their love of things past.
They also took a creative approach to outfitting the bedroom, giving its a floor-to-ceiling bookshelf with a ladder from Philadelphia Salvage for reaching its upper shelves. Each shelf comes from a 14-foot-long pine board that was finished in place.
You'll find more of those designer tiles and high-end fixtures in the bathroom. "The renovated bathroom was inspired by European wet rooms and features a classic color palette with pops of gold and mirrored tile to add interest and dimension," DePalma writes.
Not to mention a really snazzy shower with a hand shower, body sprays and two rain shower heads, all surrounded by white ceramic and gray slate tile for a really nice color contrast.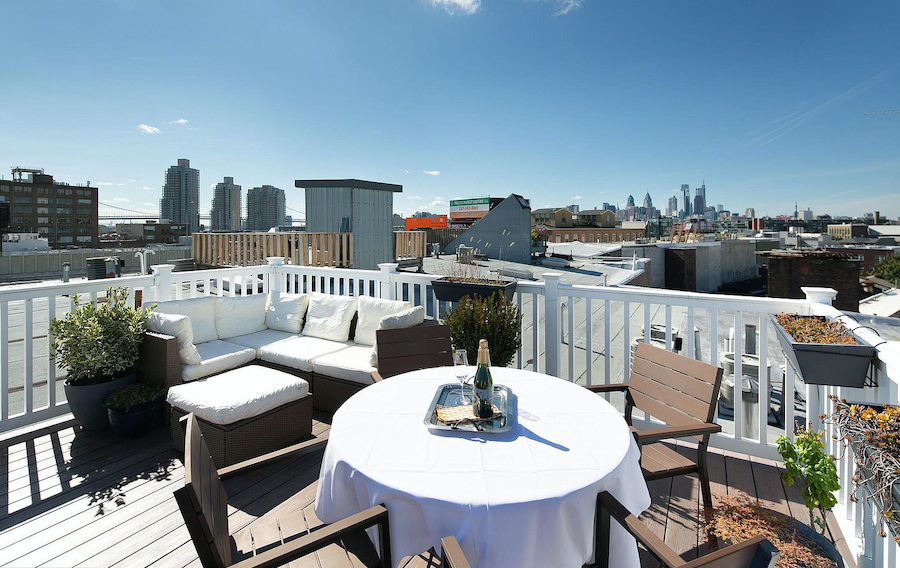 Topping all this off is a roof deck accessed from a custom-built floating staircase. The deck offers a 360-degree panoramic view of the surrounding area. DePalma and Gomes added a container garden and hardy plants to make the space more comfortable.
In addition to loads of style, you get a lot of convenience with this Fishtown loft condo for sale. It's just steps from Rivers Casino, entertainment along Delaware Avenue, shops and restaurants on Girard and Frankford avenues and a Market-Frankford Line stop. A huge supermarket and Premium Collection Wine & Spirits shop are just a little further up Girard Avenue in Northern Liberties.
Does this look like a place you'd love to live in? It sure looks like one to me. Want to make it yours? Give the owners a call. (They're selling it themselves, using an online broker of convenience to list it on the MLS.) Maybe if you ask real nicely, they'll let you hang on to some of what they've filled this unique loft condo with. Or maybe even better, you could hire DePalma and let him show you how to put your own stamp on this space.
THE FINE PRINT
BEDS: 1
BATHS: 1
SQUARE FEET: 1,233
SALE PRICE: $475,000
1100-06 Shackamaxon St. #3E, Philadelphia, Pa. 19125 [Dan Demers | Sell Your Home Services via Zillow]
---
---