On the Market: Colonial Horse Farm in Ottsville
The centerpiece of this lovely 45-acre farm is an actual Colonial house that dates to 1740 and features all the Bucks County trimmings.
---
What makes Bucks County Colonial houses different from all the rest?
Things like this: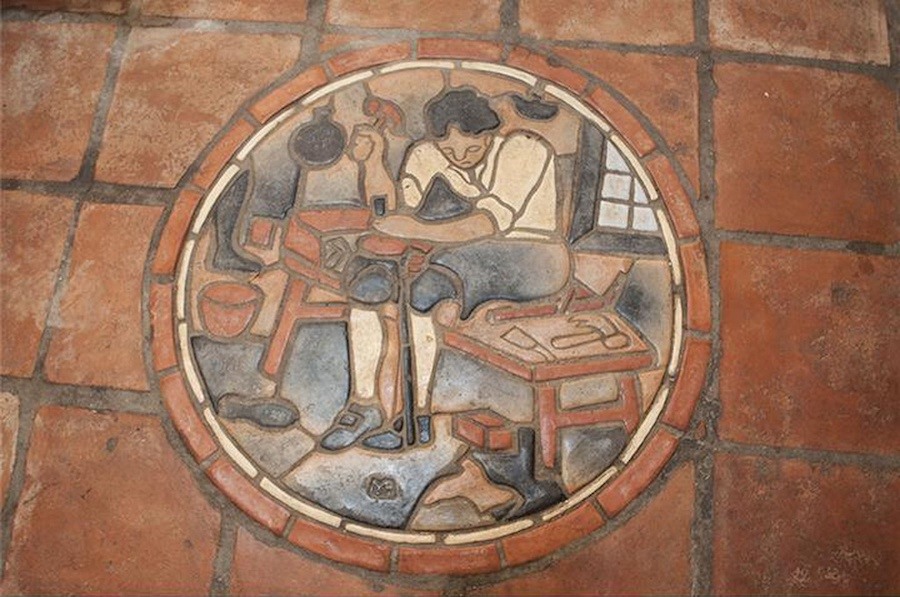 Sure, you can find Mercer tiles in houses throughout the region, but they remain most common in the county where Henry Mercer operated his Moravian Tile Works.
What makes the tile medallion you see above even more distinctive is that you'll find it in a house for sale that's more than 150 years older than Mercer's Doylestown factory.
It's contained in an authentic Colonial farmhouse in Tinicum Township, a few miles outside the village of Ottsville in Upper Bucks.
The house, whose core dates to 1740, anchors a 45-acre farm with everything you need to raise and stable horses.
But even if you're not the horsey type, you will appreciate the character of this handsome, comfortable home.
It has an open main living area all done up in dark wood, with a beamed ceiling and stone fireplace.
These elements are echoed in the newer great room that was added to this house recently.
You'll also find an exposed beamed ceiling in the kitchen…
…and in the den, both of which have Mercer tile floors.
A waterfall pool with a stone jetted tub offers an outdoor oasis.
As already noted, this farm has fully equipped stable with a studio, office and stalls for six horses, as well as three pastures with run-in sheds.
It also has a bank barn that also dates to 1740. It now contains two guest suites.
Even if you're not the horsey type, you will enjoy the natural beauty that surrounds you at Still Point Farm, which sits along Tinicum Creek. Bucks County is also known for appealing to literary and creative types, many of whom have found inspiration in places like this. Perhaps you might as well.
THE FINE PRINT
BEDS: 4
BATHS: 2 full, 1 half
SQUARE FEET: 7,693
SALE PRICE: $3,000,000*
*OTHER STUFF: This farm's sale price was reduced by $750,000 on Jan. 14th. The listing does not yet reflect the new sale price.
649 Headquarters Rd., Ottsville, Pa. 18942 [Donna Tyson | Addison Wolfe Real Estate]
---
---