Neighborhood Guide
Living in Mt. Airy: A Neighborhood Guide
The famously integrated Northwest Philly neighborhood takes pride in its eclectic mix of residents, businesses and residences.
---
Back in Colonial times, Mt. Airy was Philadelphia's original summer resort. In fact, the neighborhood takes its name from its very first "vacation home": Mount Airy, the summer estate built by prominent local merchant and provincial Chief Justice William Allen, who gave it that name because of the refreshing breezes that blew past his hilltop home. (Today the Lutheran Theological Seminary calls the site of Mount Airy home.)
Allen's summer retreat soon had company as other Philadelphians built summer homes in the area. Two villages eventually grew in the valleys above and below Allen's hill: Cresheim and Beggarstown, the original settlements of what is now Mt. Airy.
The community earned a special place in American history in the 1950s. As real estate agents both here and elsewhere reaped profits from playing to white fears of blacks moving into their neighborhoods, the agents and residents of Mt. Airy made the conscious decision that blockbusting and panic selling would be actively discouraged and that they would welcome their new black neighbors. To this day, African-American and white families alike choose Mt. Airy because of its reputation for integration.
Mt. Airyites also pride themselves for their tolerance and acceptance of people from all walks of life. From aging 1960s hippies to lefty vegan radicals to young professionals to LGBT families to service workers, and maybe even the occasional conservative, you'll find someone matching that description living in Mt. Airy.
---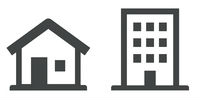 Mt. Airy Housing Prices at a Glance
Median single-family home value: $203,700 (East Mt. Airy) / $353,900 (West Mt. Airy)
Median condominium value: N/A
Median monthly rent: $1,349 (East Mt. Airy) / $1,662 (West Mt. Airy)
---
What You Can Buy in Mt. Airy
Eco-Friendly, Super-Efficient "Passive House" Overlooking the Wissahickon Valley
1023 W. Allens Lane | 4 beds, 2 baths, 1,680 square feet, $895,000
Newer Townhome Close to Sedgwick Regional Rail Station
7138 Devon St. | 3 beds, 3 baths, 1,640 square feet, $352,500
Fabulous Renovated Home in Historic French Village
7304 Elbow Lane | 6 beds, 6 full, 1 half baths, 4,716 square feet, $1,395,000
---

Public Transportation in Mt. Airy
SEPTA Regional Rail: Washington Lane, Stenton, Sedgwick and Mount Airy stations, Chestnut Hill East Line; Upsal, Carpenter and Allen Lane stations, Chestnut Hill West Line
SEPTA Bus Routes: 18, on Chew Avenue, Phil-Ellena Street and Vernon Road; 23, on Germantown Avenue; 53, on Wayne Avenue; H, on Greene Street, Johnson Street, Lincoln Drive, McCallum Street and Mt. Pleasant Avenue; L, on Stenton Avenue; XH, on Washington Lane
---
Food Shopping in Mt. Airy
Supermarkets: Acme, 7010 Germantown Ave.
Specialty grocers: The Weavers Way Co-op (559 Carpenter Lane) has been a Mt. Airy institution since its founding in 1972. Emphasizing sustainably produced, organic and fair trade foods, the co-op also supports a number of healthy eating and community agriculture programs in Northwest Philly and environs and has branched out into Chestnut Hill and suburban Ambler as well as helped launch a co-op in Elkins Park.
---
What a Real Estate Agent Says About Mt. Airy
"Mt. Airy is comprised of East and West Mt. Airy, with Germantown Avenue as the divider.  What draws people to the area is the urban feel with larger yards, trees, a bit more space in between homes and a lively restaurant and bar scene, most of which caters to families with kids.  There is a strong sense of community with a lot of diversity, access to public transportation and community gardens, a co-op grocery store (Weavers Way) and incredible playgrounds.  The local elementary school catchments have a great deal of community investment and involvement and are well regarded.  It's an easy commute into Center City on the train with several lines that run through it as well as easy access to the suburbs.
"The housing stock in the Airys trends towards eclectic and it's not uncommon for the artists, musicians and makers that live here to gravitate more towards bright colors, handmade, earthy finishes and non-cookie-cutter-type renovations like you'd see regularly in other neighborhoods.  It's unlikely that if you fall in love with one home on the market, you'll see another one like it maybe ever.
"The housing market in Mount Airy is seeing incredible gains in recent years.  Bidding wars with buyers paying over asking, over appraised value and waiving repairs are incredibly common.   It's not uncommon to see a house that shows well and is priced at market value to receive 10-plus offers.  In this last housing boom, it was a bit of a late bloomer, so while there have been incredible price gains in the past few years, what you get for your money in Mount Airy is still a bargain compared to many other neighborhoods."
—Brooke L. Willmes, Team Lead, Fresh Quarters Team, Space & Company
---
Local Color
Mt. Airy is laced with businesses and community institutions that exemplify the neighborhood's anything-goes, everyone's-welcome ethos (where else can you find a brewpub with a monthly "tabletop science" night for the kids?). Chief among these is the Mt. Airy Art Garage, a community art hub and gallery founded by a group of professional artists who live in the neighborhood. Housed for many years in a former auto garage on Mt. Airy Avenue just off Germantown Avenue (pictured above), the organization currently occupies digs at 6642 Germantown Avenue while work continues on a new permanent home across the street.
---
Did You Know?
Mt. Airy is the site of the only Revolutionary War battle to take place within the present-day Philadelphia city limits. The most intense fighting in the 1777 Battle of Germantown* took place on the grounds of Cliveden, the residence of Allen's successor as Chief Justice of Pennsylvania, Benjamin Chew. Every October, the battle is re-enacted on the grounds of Cliveden and Upsala, the house across Germantown Avenue from which American troops launched their assault on British forces holding Cliveden. The house itself (6401 Germantown Ave.) is a historic museum open to the public year-round.
*Mt. Airy is one of three Northwest Philadelphia neighborhoods that together comprised Germantown Township, the second-oldest community in present-day Philadelphia, settled by German religious dissidents in 1683 and extinguished in the consolidation of 1854. The other two are Chestnut Hill and Germantown itself. Because of the way the original Germantown was settled, many "Germantown" institutions now lie in Mt. Airy, and the two neighborhoods blur together at their edges.
Updated Feb. 7th, 2019, at 3 p.m. to correct the spelling of Upsala. We originally spelled it with two p's.
---
---