Living in Bella Vista: A Neighborhood Guide
The Center City skyline isn't the only beautiful sight you will see from the neighborhood that's home to the storied Italian Market.
---
While Bella Vista will always have strong ties to the history of Philadelphia's Italian community, the neighborhood has historically served as a starting-out point for new Philadelphians since it began to be settled in the 1840s.
The first inhabitants of Moyamensing Township were Irish immigrants and freed African-American slaves who had migrated up from the South. In the later decades of the 19th century, immigrants from Italy began pouring in, and the institutions they established continue to define the neighborhood today, none more so than the historic South 9th Street Market, known to all as the "Italian Market."
Like the neighborhood around it, though, the market has changed with the times and reflects the arrival of new waves of immigrants from other parts of the world, most notably Mexican, Cambodian, and Vietnamese migrants who settled nearby. The neighborhood itself was one of the first to gentrify after the South Street Expressway was canceled in the 1970s, and as happened in Queen Village at the same time, real estate agents and city planners rechristened it to promote its revival and honor its Italian heritage. Today's Bella Vista — its name means "beautiful sight" in Italian — is home to a mélange of natives and newcomers, oldtimers and younger folk, the just-getting-by and the already-arrived. All of them enjoy the neighborhood's intimate lanes and colorful annual events.
---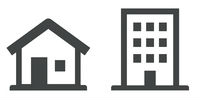 Bella Vista Housing Prices at a Glance
Median single-family home value: $441,500
Median condominium value: $423,800
Median monthly rent: $1,652
---
What You Can Buy in Bella Vista
Spacious Full-Floor Condo in Historic Gated Community
619 Catharine St. #C2 | 3 beds, 3 baths, 3,300 square feet, $1,550,000
Newer Townhome Around the Corner from the Italian Market
801 S. Darien St. | 3 beds, 2 full, 1 half baths, 2,213 square feet, $849,000
Bright, Cheery Trinity on Pedestrian Lane with Old World Charm
802 S. 6th St. #D | 2 beds, 1 bath, 624 square feet, $275,000
---

Public Transportation in Bella Vista
SEPTA Broad Street Line: Lombard-South or Ellsworth-Federal stations, three blocks west of the neighborhood
SEPTA Bus Routes: 23, northbound on 11th Street and southbound on 12th Street; 40, westbound on Lombard Street and eastbound on South Street (except for weekend evenings, when it runs eastbound on Pine Street); 47, northbound on 7th Street and southbound on 8th Street; 47m, northbound on 9th Street; 64, on Washington Avenue
---
Food Shopping in Bella Vista
Italian Market: The nation's oldest outdoor curb market extends along 9th Street from Christian Street in Bella Vista to Passyunk Avenue in East Passyunk. Dozens of curbside vendors sell fruit and produce, and local merchants from a variety of ethnic backgrounds sell meats, fish, cheeses, spices and specialty foods from individual storefronts lining the sidewalks. A slew of restaurants and cafés also offer everything from coffee to breakfast to sandwiches to gourmet meals.
Supermarkets: Whole Foods Market, 929 South Street; Acme, 10th and South streets; Hung Vuong (East and Southeast Asian specialty supermarket), 12th Street and Washington Avenue
---
What A Real Estate Agent Says About Bella Vista
"Bella Vista is such a special part of Philadelphia. It's full of old Philly charm and is one of the most walkable neighborhoods in the city. I think the development happening at Broad and Washington, combined with all of the development in surrounding neighborhoods like East Passyunk, Pennsport and Point Breeze, is really strengthening this beautiful pocket south of South. It's rare to find a neighborhood that combines a commercial corridor like the Italian Market with such beautiful residential streets like Catharine and Fitzwater!"
—Skye Michiels, Real Estate with Heart, Keller Williams Philly
---
Local Color
"Il nostro parca in America," says Roberto Bardascino of Moncalieri, Italy, about the park at 10th and Carpenter streets that bears his family's name. Created in 1977 on the site of a demolished community hospital, Bardascino Park is named for longtime Bella Vista resident Giuseppe Bardascino, who founded the Philadelphia Brass Band in 1912 and managed the Philadelphia Italian Band for 40 years. It's one of only a handful of parks in the city that has an active (and well-used) bocce court.
---
Did You Know?
The nation's oldest historically black university traces its roots to Bella Vista. Cheyney University in Chester County was founded in 1839 as the Institute for Colored Youth, a school established by Quakers specifically to give African-American children instruction in the mechanical arts, trades, agriculture and teaching. Its first building, opened in 1852 at 716-18 Lombard St., no longer exists, but its larger second building at 915 Bainbridge St., built in 1865, still stands. Known as the Samuel J. Humphreys School after the ICY moved to George Cheyney's farm in 1902, the building now serves as a condominium residence.
House price and rent data from Zillow Home Value Index and Zillow Rent Index, May 2018
---
---