Trout Fishing in Pottstown for $1.275M
This angler's paradise occupies 20 pristine acres on both banks of French Creek and has three distinct dwellings that will delight indoors and out.
---
Looking for a cabin in the woods where you can fish to your heart's content?
We found one on steroids along French Creek in Warwick Township, outside Pottstown.
This fabulous property consists of three separate structures surrounded by 20 acres of unspoiled land straddling the creek. Ten of those acres are wooded hillsides that effectively shut out all noise other than the sounds of nature. The main house and cottage sit on these slopes, giving both some unusual features like terraces and decks off all floors, one of them level with the roof of the accessory cottage.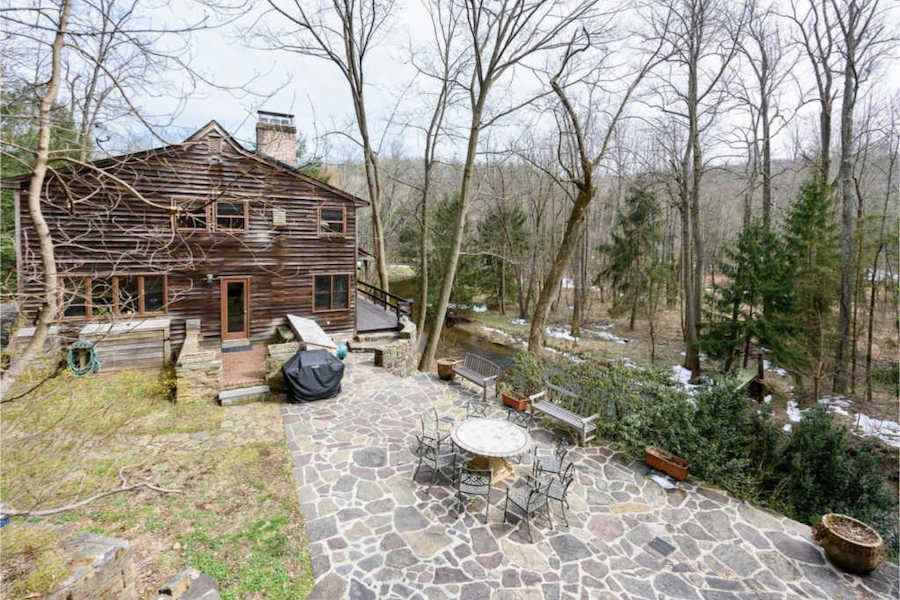 Across a swinging plank bridge over the creek from these two lie a two-acre pond stocked with bass and a pond house from which you can cast your lines.
You can also cast them in the creek itself, whose clear waters abound with trout.
When you've caught your fill, you can prepare your family and friends a nice fish dinner in the main house's well-equipped kitchen, which is one with a handsome dining room with fireplace.
(Your guests could do the same thing in the cottage's kitchenette if you decide to use it as guest quarters; it currently functions as an office.)
And if you don't feel like fishing, there are plenty of other things you can do with this home, such as enjoy communing with nature from its two large stone terraces, its main-floor balcony or its lower-level walkout deck next to the creek.
Its many fireplaces make comfortable focal points for its various living spaces, and beamed ceilings and rustic stonework reinforce its woodsy, outdoorsy feel.
And if 20 acres of land weren't splendid isolation enough, most of the land surrounding this property is protected from development via perpetual easements, meaning your woodland idyll won't ever be spoiled by the sound of bulldozers. The easements should also guarantee good fishing in French Creek for as long as you live here.
THE FINE PRINT
(all figures main house only)
BEDS: 4
BATHS: 3 full, 1 half
SQUARE FEET: 2,046
SALE PRICE: $1,275,000
OTHER STUFF: There are also a separate garage and a storage building on this property.
1423 Warwick Furnace Rd., Pottstown, Pa. 19465 [Christine Gray | Keller Williams Real Estate – Exton]
---
---