For Sale/Rent
5 Open Houses You'll Want to Get Out and See This Weekend
Spring forward to check out these homes with great outdoor amenities and get a head start on summer.
We set our clocks ahead one hour at 2 a.m. on Sunday.
It's Daylight Saving Time already? And there's still snow on the ground!
Maybe this is our timekeepers' way of reminding us that it's time to start thinking about the beautiful, warm, sunny days ahead. (Since Punxsutawney Phil didn't do that this year, someone's gotta do it.)
So with that in mind, we went scouting around the region and came up with a home in each of the five core counties that you can look over this weekend. What they all have in common is outdoor spaces that invite you to use them.
Bucks County: 3749 River Rd., Lumberville (above) | 2 beds, 2 baths, 2,447 square feet, $895,000
Open house: Sunday, March 11, 1 to 3 p.m.
This modest yet grand Victorian right in the middle of Lumberville is too charming for words. It has loads of old-fashioned rustic charm inside yet is thoroughly up to date thanks to several judicious upgrades. Inside, it's filled with light, and outside, it offers you a backyard you'll want to just take up residence in for the entire summer, with its two ponds, waterfall and beautifully landscaped patio. The Delaware is almost at your doorstep, and you're also close to the footbridge that connects Lumberville with Bull's Island, N.J., a popular spot for kayaking, canoeing and more. (Though this home has two bedrooms, there's room to add more both in the main home and in the second floor of the garage on the property.)
3749 River Rd., Lumberville, Pa. 18933 [Donald Pierson | Kurfiss Sotheby's International Realty]
Chester County: 702 Owen Rd., West Chester | 5 beds, 2 full, 1 half baths, 3,147 square feet, $550,000
Open house: Sunday, March 11, 1 to 3 p.m.
This home just went on the market yesterday, and the photographer evidently went out to take pictures the moment the snow stopped. As attractively landscaped patios don't look all that attractive in the winter, the agent tossed in a picture of this home's attractively landscaped patio when everything's in bloom for good measure. Until everything blooms, you can enjoy cozying up by one of this home's two fireplaces or taking advantage of its many spaces for relaxation, recreation and entertaining, formal and casual. Its location at the northwest corner of West Chester Borough also means you have easy access to one of the liveliest and loveliest of Philadelphia's suburban downtowns. The community it's in also has a lake with lifeguard that you can enjoy in good weather.
702 Owen Rd., West Chester, Pa. 19380 [Bobby Kershner | Keller Williams Realty Group via Zillow]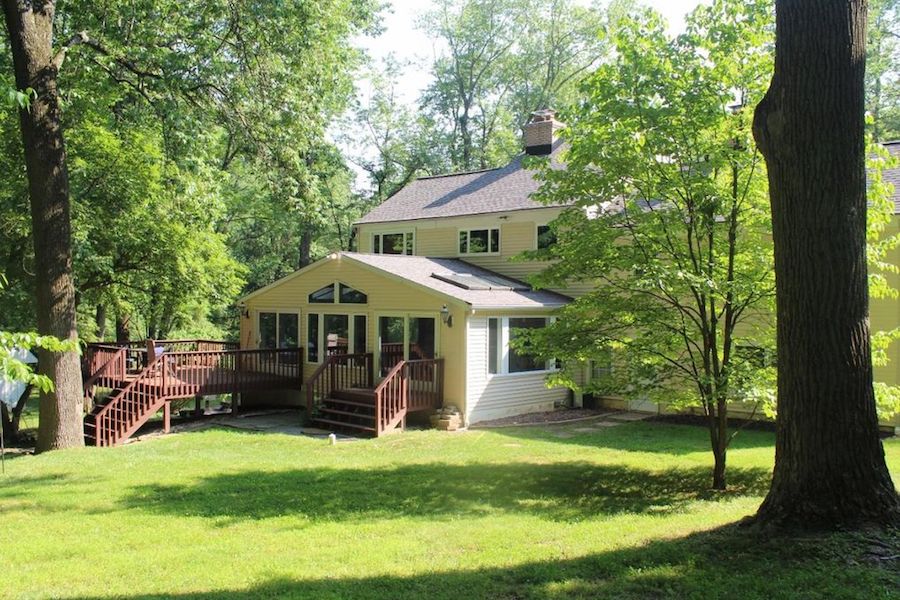 Delaware County: 403 Timber Lane, Newtown Square | 4 beds, 2 full, 1 half baths, 3,856 square feet, $749,500
Open house: Sunday, March 11, 2 to 4 p.m.
What this home's own 1.46-acre lot doesn't offer, the territory just in back of it does. The backyard backs up onto a stream-fed pond, and a little ways downstream from the pond is the Aronimink Golf Club, which you can access by crossing the stream on one of two bridges. A large deck in back of the sunroom overlooks all this and offers you space for grilling and entertaining. The living room, the formal dining room and the sun room all offer year-round views of your sylvan retreat through large windows. You reach it through a long driveway that ensures privacy. There's a storage shed to store all your outdoor stuff when not in use as well.
403 Timber Lane, Newtown Square, Pa. 19073 [Kathy Hagan | Long & Foster Real Estate – Wayne/Devon/Herling]
Montgomery County: 1130 Herkness Dr., Meadowbrook | 6 beds, 6 full, 2 half baths, 9,011 square feet, $1,299,000
Open house: Sunday, March 18, 2 to 4 p.m.
"This location was too special to build the ordinary," the agent says about this recently built, architect-designed French country mansion. And indeed there's nothing ordinary about it. This home is loaded with soaring spaces: a two-story-high entrance hall, a great room with a soaring cathedral ceiling and huge Palladian window, bedrooms with high vaulted ceilings. Touches of opulence, like the gold-plated master bathroom fixtures, also dot this home. But we're more concerned with what's on the outside here, and that's pretty sumptuous too. A large rear deck, accessible from both the great room and the kitchen breakfast area, overlooks a sprawling backyard that slopes down to an in-ground pool. It's the outdoor half of an indoor/outdoor double feature, as the backyard can also be accessed directly from the game room, gym, media room and kitchen on the lower level.
1130 Herkness Dr., Meadowbrook, Pa., 19046 [S Gail Sussman | BHHS Fox & Roach Realtors]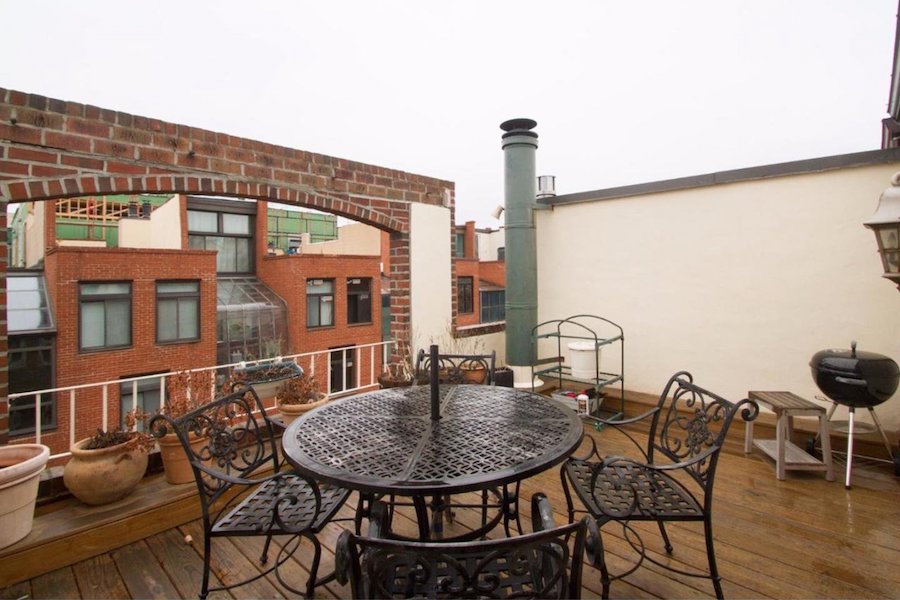 Philadelphia: 102 Lombard St., Society Hill | 3 beds, 2 full, 1 half baths, 1,745 square feet, $895,000
Open house: Sunday, March 11, 1 to 2 p.m.
City living often means putting up with meager outdoor space. But small can be beautiful, as the top-floor deck of this Society Hill townhouse should make clear. Situated just outside the master bedroom, this is your private retreat where you can relax and enjoy coffee, cocktails, or whatever (or whomever) you choose to accompany you as you look out over Society Hill. This home has lots of nice features on the inside as well, including an open-plan main living area with a two-story-high dining room, a kitchen equipped with a wine rack and cooler, and a loft sitting area on the third floor. That deck, by the way, isn't the only outdoor space available to you: a door off the kitchen leads to a charming landscaped brick community courtyard.
102 Lombard St., Philadelphia, Pa. 19147 [Mike McCann | The Mike McCann Team | BHHS Fox & Roach Realtors]
---
---