Make Your Own Jawdropper: Lots of Room With a Breathtaking View, $14M
Just below the striking top floor of the Residences at the Ritz is an even larger penthouse awaiting your imagination.
---
The top three floors of the Residences at the Ritz offer custom living of a kind rarely seen in this city.
And while there are some other stunning spaces available that can be turned into one-of-a-kind residences, none of them come in the large economy size that this 47th-floor penthouse does.
Occupying the entire floor, this unit boasts more than 9,000 square feet of interior space, plus another 1,600 square feet of outdoor terraces with breathtaking views.
The west balcony looks out on the rapidly changing Center City West skyline, where for the next few months at least you can watch the Comcast Technology Center assume final form. This balcony continues around to the unit's north side, where it overlooks Dilworth Park and City Hall. RATR sales manager Gary Greenip said he appreciated all the work the city and the Center City District did to spruce up the building's "front yard" and neighborhood: $139 million worth.
The other balcony is angled to the northeast, just like the five-sided space next to it. These two spaces offer you an unparalleled view of Billy Penn's butt atop City Hall Tower. (The tower itself is in beautiful shape, but the RATR management couldn't do anything to get him to face away from Fishtown, which you can also see from this end of the unit.)
Even the non-balcony spaces offer beautiful views of the Delaware riverfront and South Philly as it stretches into the distance.
Those spaces are yours to configure as you like: several floor plan options are available, with fewer or more bedrooms, guest suites or no, larger or smaller kitchens and dining rooms. You could toss in a game room and den, or a home office, or a multimedia room.
The option shown here places a sitting room and breakfast room at the east end of the unit, in that dramatic space with the City Hall Tower view.
The renderings and floor plan give you some possibilities for imagining this space, and the sales office will be happy to suggest more. But ultimately, it's all up to you.
THE FINE PRINT
BEDS: Anywhere from two to four
BATHS: You decide
SQUARE FEET: 9,287, plus 1,600 square feet of outdoor balconies
SALE PRICE: $14,000,000
---
Residences at the Ritz, 47th Floor Penthouse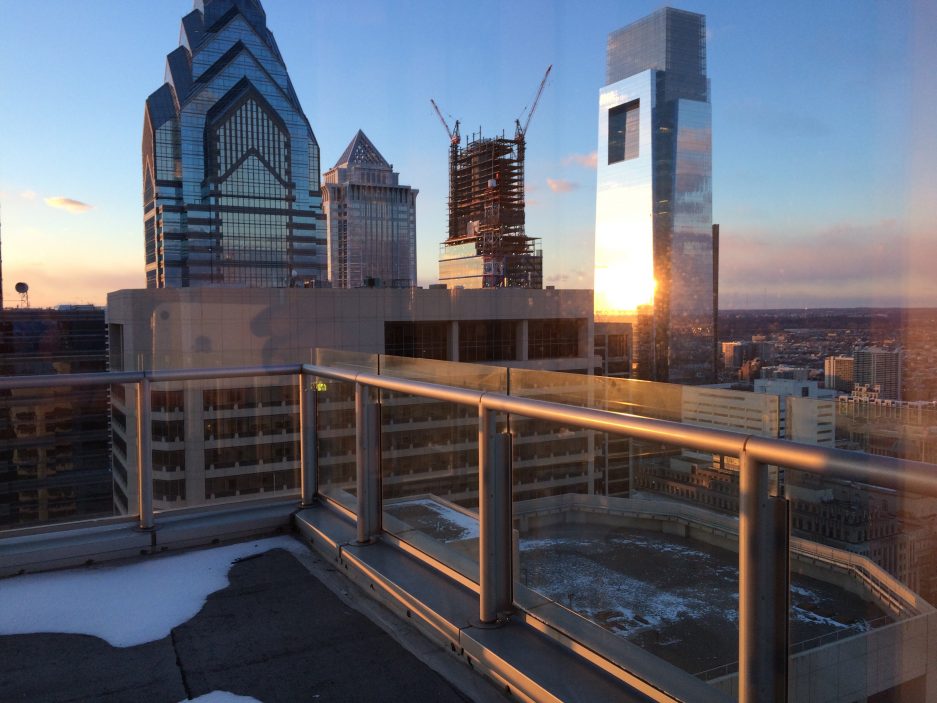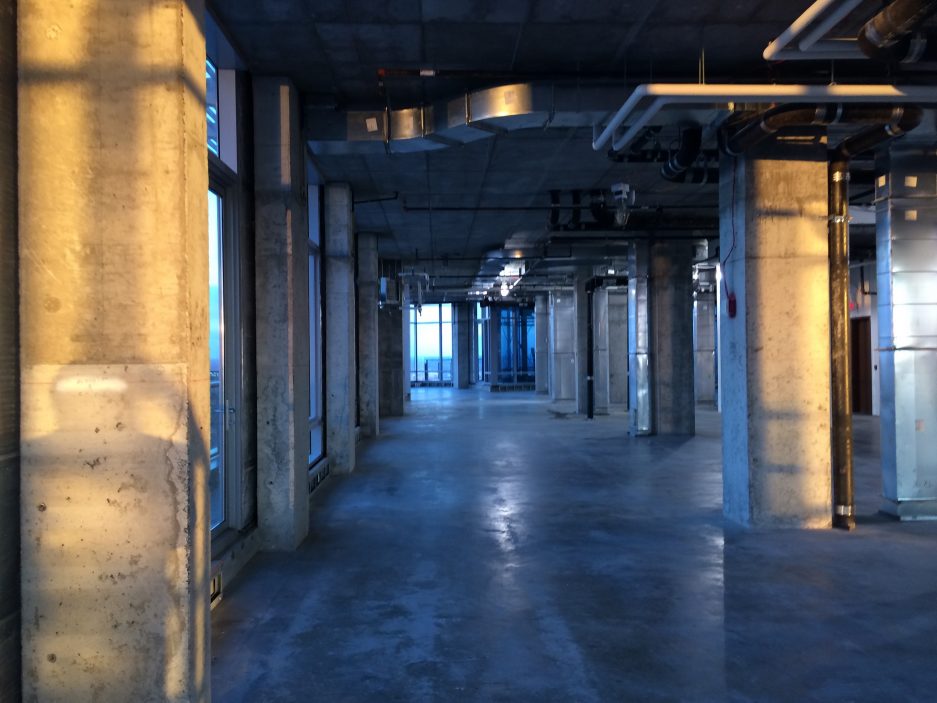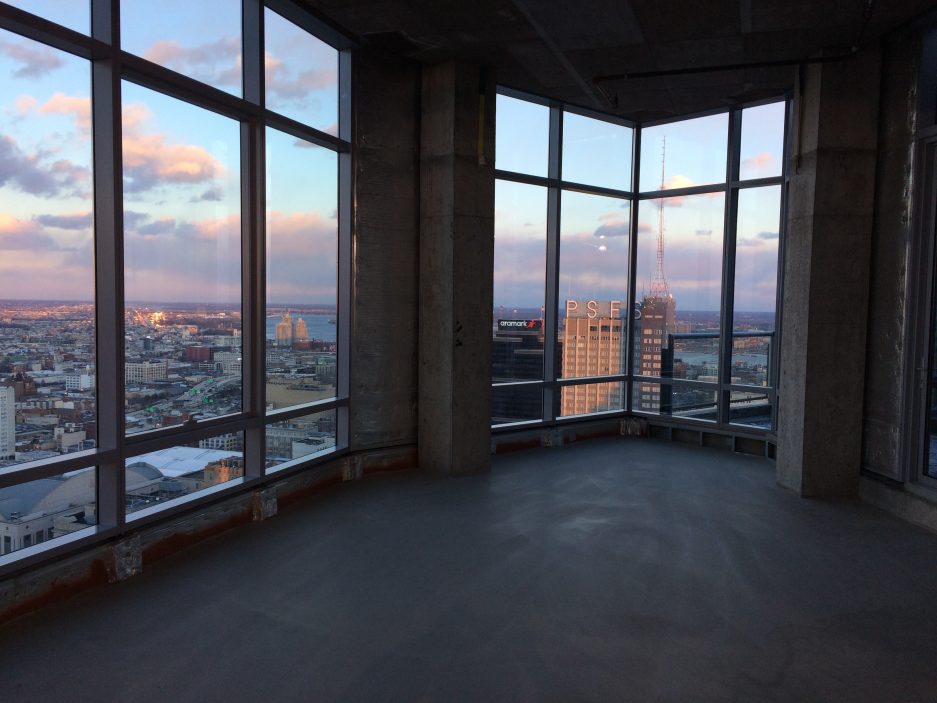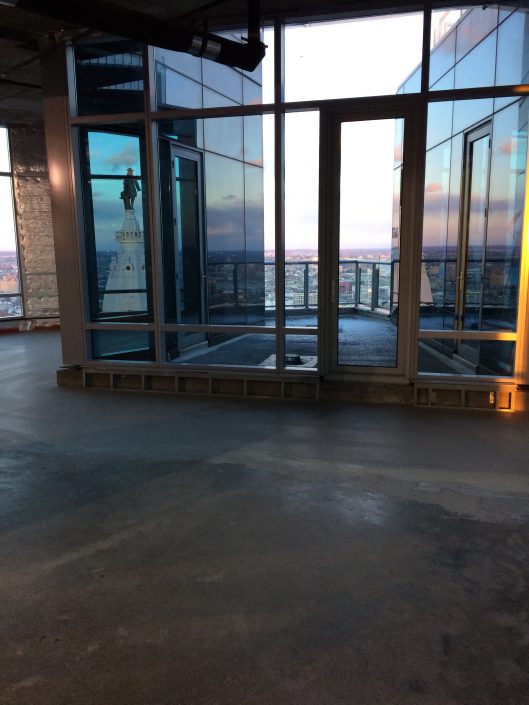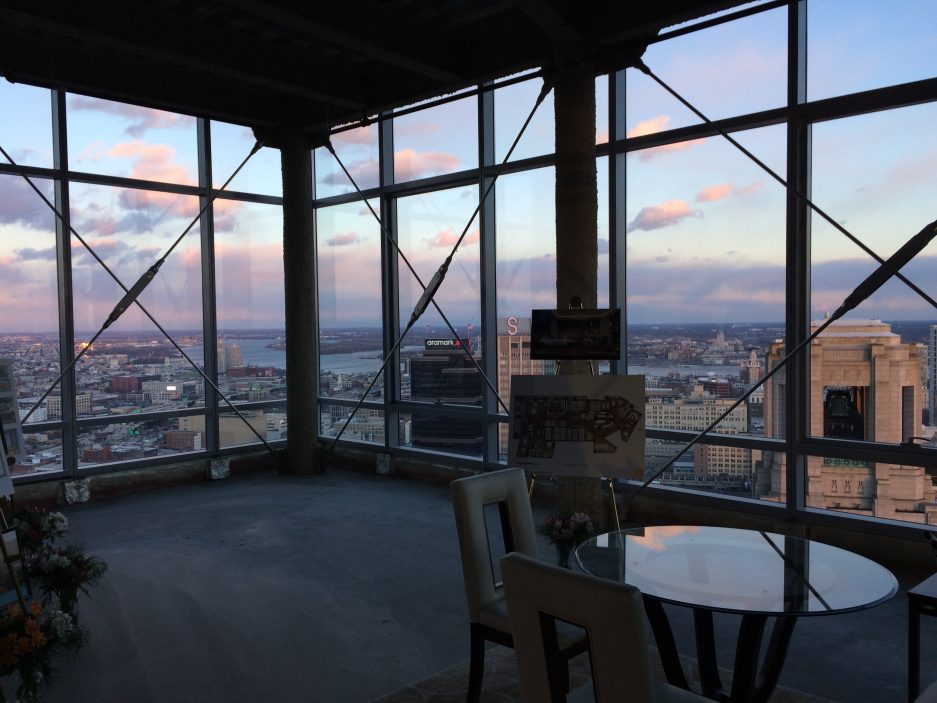 ---
1414 S. Penn Square, 47th Floor, Philadelphia, Pa. 19102 [Residences at the Ritz]
---
---