A Hidden Home with a Long Pedigree in Glenside
Once part of a much larger estate, the carriage house now known as Wetherill Cottage offers an unusual blend of secluded coziness and spacious elegance.
---
For a relatively brief period stretching from the Gilded Age to World War II, Cheltenham Township in Montgomery County was chock full of enormous, elegant mansions on spacious estates that put the grandest homes on the Main Line to shame. Many of these homes were demolished and their estates turned into subdivisions, but a handful of them survived, often as institutions like Arcadia University, housed in the landmark Grey Towers mansion.
Right now, one fortunate buyer is on the verge of owning a living link to that sumptuous past in the form of a surviving fragment of one such estate: that of William Chattin Wetherill.
Wetherill, the fourth-generation descendant of pioneering Philadelphia chemical manufacturer Samuel Wetherill, did not continue in the family business as his father and grandfather had before him; instead, he made a distinguished career for himself as a chief engineer in the United States Navy. But he did inherit a good chunk of the family fortune. He used his inheritance to build a grand Colonial mansion and carriage house on 50 acres of land in the Laverock section of the township in 1917.
Both the home and the carriage house were designed by architect John Graham Jr. Most of those 50 acres now sprout tract houses, but both of Graham's works for Wetherill still stand today, tucked well away from the main roads on smaller but still ample plots of land.
The carriage house sits on a 3.87-acre lot reached from a tree-lined driveway marked only by a stone post on Willow Grove Avenue. Originally built to house the Wetherill estate's caretaker, chauffeur and cars, it's now a stunning private residence with rentable guest apartment and garage.
At the far end of the tree-shaded driveway, one encounters a white stockade fence, a greenhouse and the house's side porch, covered in rare white wisteria. Next to the porch is a dining patio surrounded by stone-lined planter beds that boast a wide variety of trees, shrubs and flowering plants that make for an excellent backdrop and offer shade for summer meals al fresco.
Inside, the home has been sensitively updated to meet the demands of modern living while preserving its original character. The living room retains its Colonial appearance, with its brick fireplace (one of four) and built-in bookshelves. The dining room, however, has been given an Arts and Crafts touch with its light fixtures and yellow-orange walls. The kitchen has a rustic feel as a result of its modernization, which in addition to farmhouse cabinetry and a wood-slat ceiling received professional-grade Thermador stainless-steel appliances. Be careful, though, when entering or exiting through the unusual mushroom-shaped entrance to its breakfast nook; the door is only six feet high, so if you're tall, you'll have to duck.
On the other side of the foyer from the kitchen, what was once a two-car garage is now a spacious great room. The large windows that replaced the garage doors flood the room with natural light.
Upstairs, the four bedrooms are all in superb condition, as are the recently renovated bathrooms. The master bathroom has been beautifully redone in Arts and Crafts style, with a penny tile floor and a subway tile frameless glass shower enclosure.
The attached two-bedroom, one-and-a-half-bath apartment used to be the chauffeur's quarters. It can now be used as a legally rentable apartment to help offset the costs of maintaining the home or as guest quarters for visiting family or friends. There's an attractive stone alcove in the apartment's foyer sitting area.
All of this is surrounded by a mix of manicured lawns, planter beds, and a naturalized habitat of briars and woods. And it's close to several Regional Rail stations, the Fort Washington Expressway and shopping and dining in Chestnut Hill.
THE FINE PRINT
BEDS: Main house: 4; guest quarters: 2
BATHS: Main house: 3 full, 1 half; guest quarters: 1 full, 1 half
SQUARE FEET: 4,398
SALE PRICE: $789,000
OTHER STUFF: The home is owned by a licensed real estate broker and went under contract this past weekend.
---
Wetherill Cottage, 1681 E. Willow Grove Ave., Laverock, Pa. 19038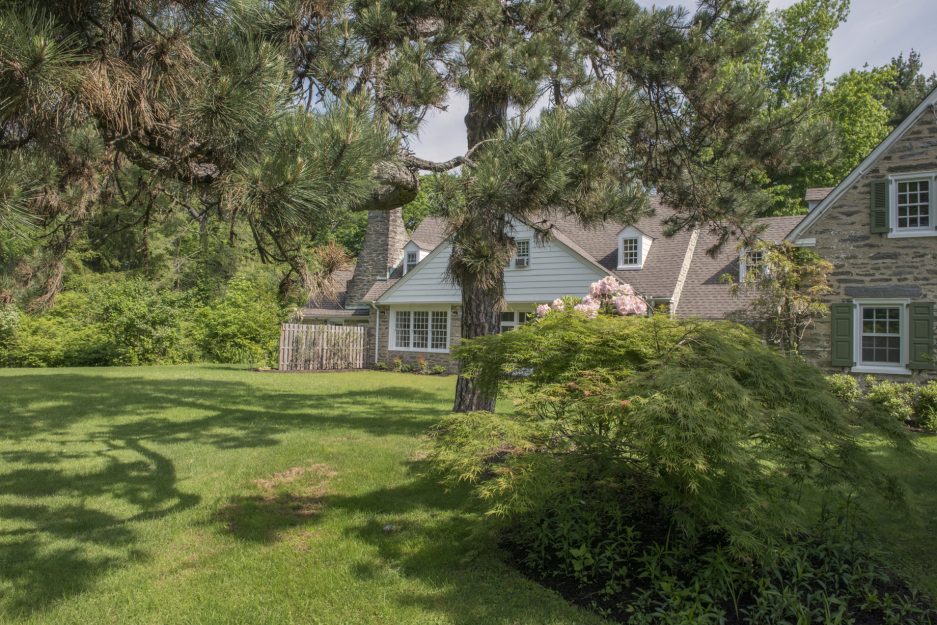 ---
Wetherill Cottage, 1681 E. Willow Grove Ave., Laverock, Pa. 19038 [Scott Laughlin | BHHS Fox & Roach]
---
---