Park Towne Place: A Look Inside Philadelphia's Newest Art Gallery
With more than 100 original works of art on display — and an address right along Philadelphia's museum row — the freshly updated Park Towne Place has become an art museum itself.
---
Park Towne Place, the 959-unit apartment complex on the Ben Franklin Parkway, sits right across the street from the Rodin Museum and just down the block from the Philadelphia Museum of Art. A few years ago, it got the Barnes Foundation for a new neighbor.
So when its owner, Aimco, decided it was time to push the reset button on the Midcentury Modern development, it decided to play up its location in the heart of the city's museum district.
But "when we rebranded this as 'Museum District Residences,' we had a problem: We didn't have any art," said Patti Shwayder, Aimco's senior vice president, at the June 9th ribbon-cutting for the rebuilt South Tower and Towne Center community center.
Now it does. With more than 100 original works from Philadelphia artists on display throughout its common spaces, Park Towne Place has become an art museum itself.
The works on display even have curator's notes describing the artists' methods of creation and their sources of inspiration, much as one would find in an actual museum.
Aimco hired Rachel Zimmerman of Inliquid Art + Design as the curator. She has put together a colorful and eclectic collection of works by noted local and international artists that grace the Towne Center's community spaces and corridors. Several of the Philly-based artists, one of whom is a friend of mine, were on hand to talk about their work with the attendees at the ribbon-cutting, and one, sculptor Emily Schnellenbacher, was at work in the community art studio during the event.
Here's a sample of the works on display, along with the artists who created them.
---
Some Philly Artists With Works on Display at Park Towne Place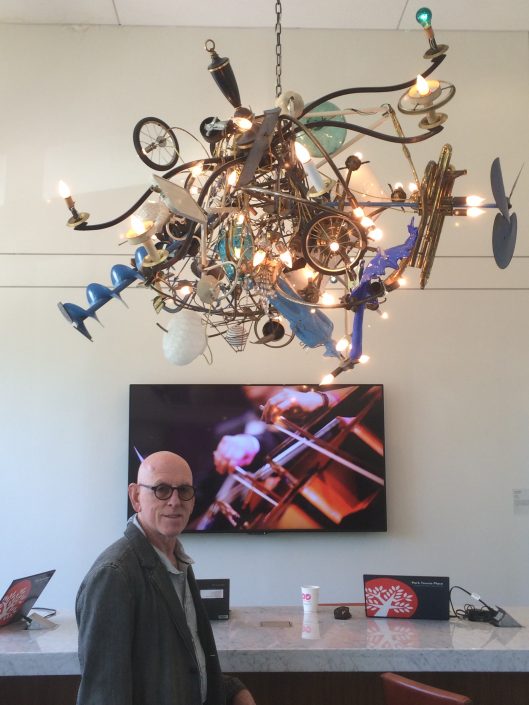 ---
Follow Sandy Smith on Twitter.
---
---