First Look: The Redesigned Penthouses and Suites at AKA Rittenhouse
A total of 18 residences have been custom designed to reveal elegant and modern living spaces.
---
If you spend any amount of time around Center City, there's a good chance that you have seen the FMC Tower rising along the banks of the Schuylkill River. Half-built, yet incredibly captivating (we love cranes), the tower will be the headquarters of FMC and, lest you forget, it's also going to house its very own AKA extended stay suites.
While little is known about the layout and look of those sky-high suites, we do know that if the newly redesigned penthouses and suites at AKA's Philly flagship on Rittenhouse Square are any indication of what we can expect, then AKA isn't messing around. And that's just how we like it.
Three luxurious penthouses and 15 suites (or residences, as they're called) were repositioned to set AKA apart on Philly's rapidly growing hospitality scene. We're told that more renovations are on the way, and the folks at AKA hooked us up with some glossy images to give our readers a sneak peek at the new-look residences.
"As a brand, we're always in enhancement mode," Elana Friedman, Vice President, Global Marketing at AKA, said in an email. "Philadelphia is quickly becoming a top destination with world-class shopping, arts, dining and entertainment. We're at the forefront of the city's growth, and these renovations happen to be perfectly timed with the changes happening in Philadelphia."
The suites were designed by Edward Asfour, whose work includes the AKA flag in Beverly Hills as part of Asfour Guzy Architects, and flaunt top-of-the-line finishes awash in calming, yet decidedly high-end tones and materials. (Rest assured, those wire-brushed hardwood floors will be the only things that's distressed.) Custom-made furniture, topped with fabrics by Danish textile manufacturer, Kvadrit, is found throughout each space. Each room also comes with lighting by Vibia and Santa & Cole and offers residents to binge-watch their favorite shows by plugging into their very own Apple TV.
Naturally, the penthouses, which are designed by Nicholas Cardone, vice president design at Korman Communities, are a major upgrade for residents looking to live lavishly during their stay in Philadelphia. For starters, they offer 1,600-square-feet of space, which, if the 8-top dining room table is any indication, is plenty of room to stretch out. A fully-equipped gourmet kitchen includes quartz calacatta gold countertops, stainless steel appliances, Nespresso machine, and full range of accessories.
Another plus to the penthouses is that they come complete with custom-designed "a.sleep" mattresses, which are made exclusively for the hotelier. The design of the marble clad bathrooms is enhanced by the calacatta gold herringbone marble mosaics on the shower floor.
"We're always looking to add to and enhance the resident experience," wrote Friedman, who wouldn't dish on any more details about the FMC iteration, or the additional renovations on Rittenhouse. "There's are lot of exciting things happening with AKA in Philadelphia in the coming months. Stay tuned!"
---
AKA Rittenhouse: Penthouses/Suites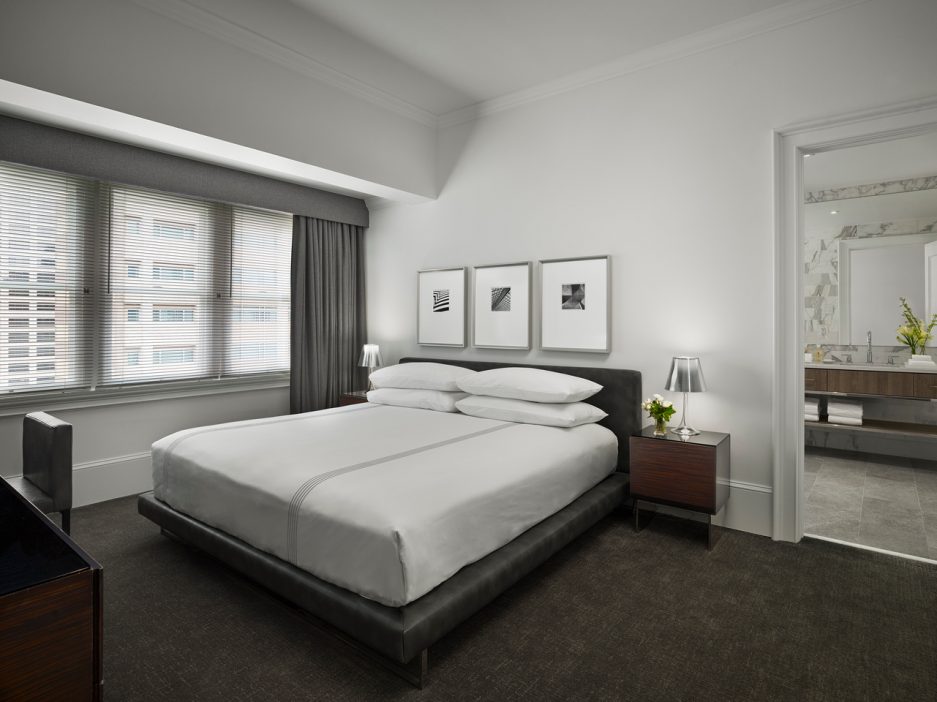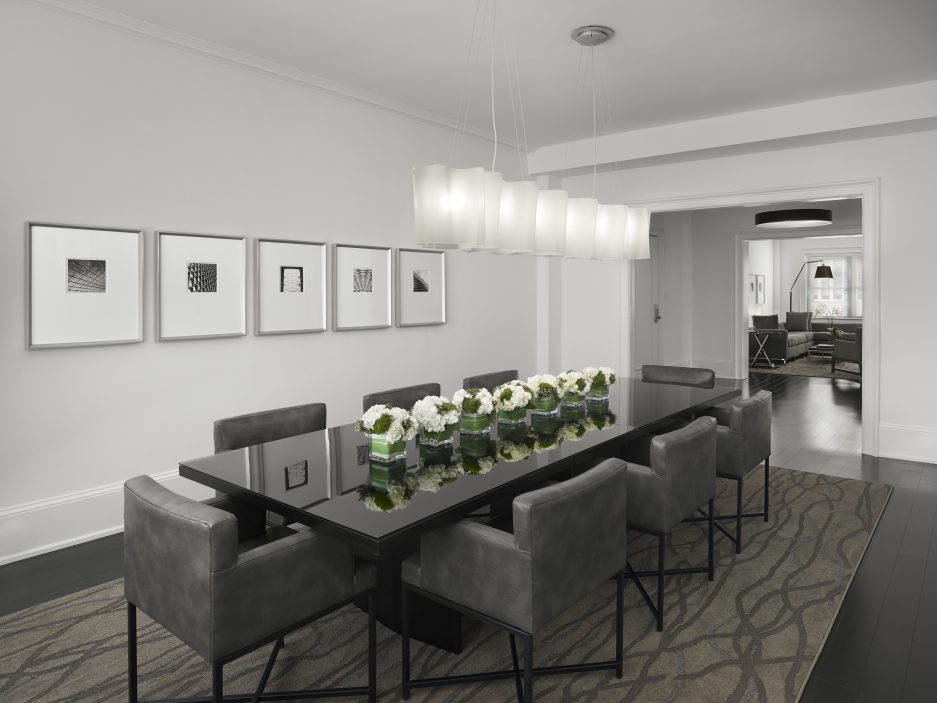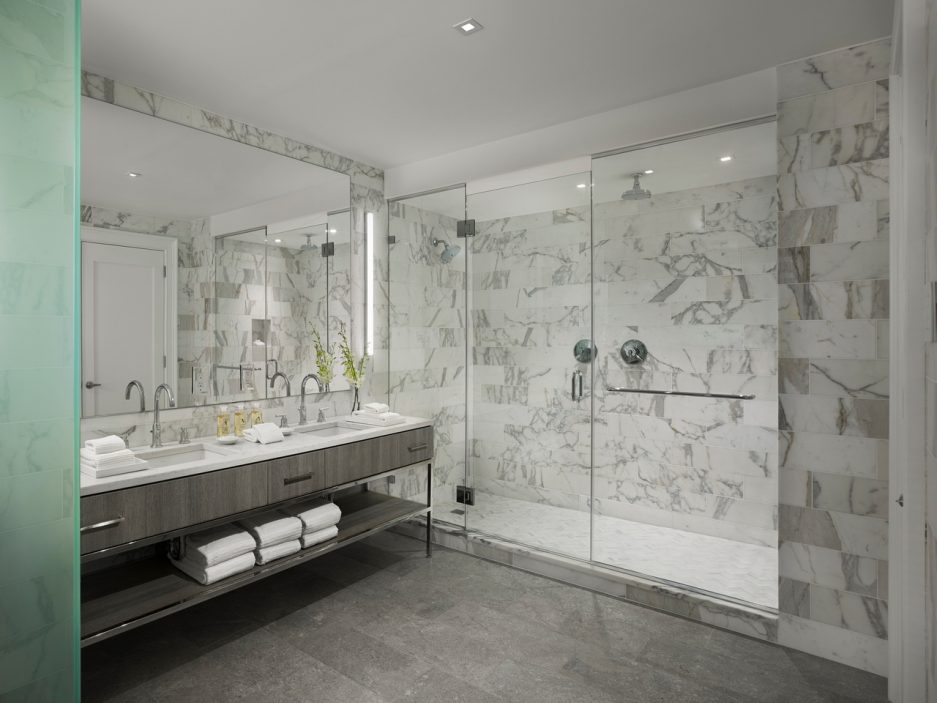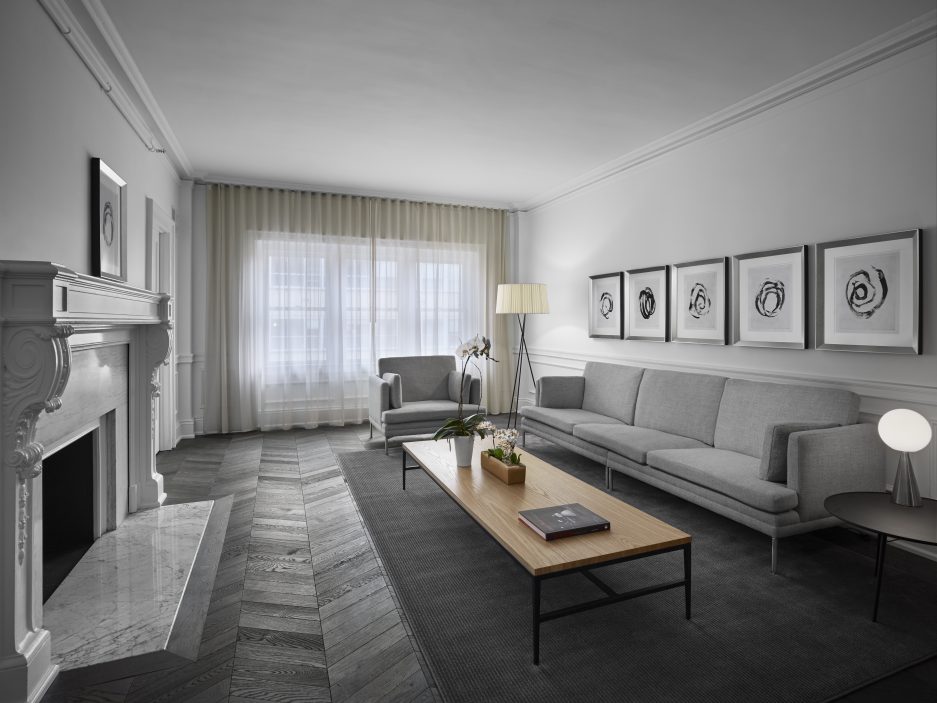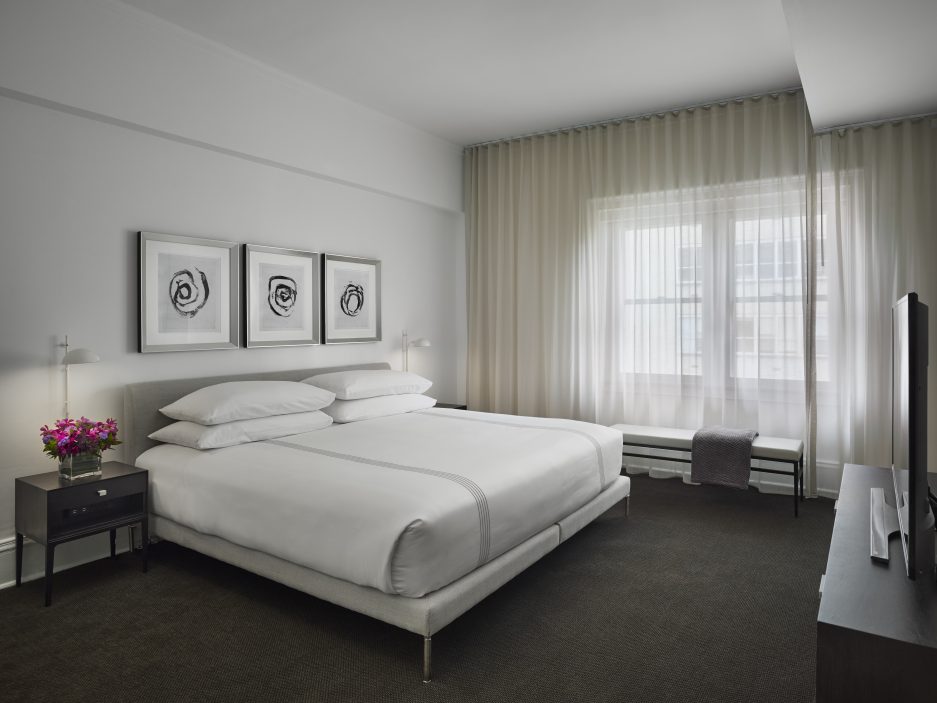 ---
---