HGTV Dubs Mt. Airy's Goat Hollow the Best "Posh Public Space"
The cool eatery was designed by Metcalfe Architecture & Design.
---
A Philly eatery was put under the spotlight recently, though not for the reasons you might be thinking. Instead of its delectables earning it accolades, it was its interior design: Mt. Airy's Goat Hollow was dubbed HGTV's favorite in the "Posh Public Spaces" contest.
Goat Hollow, which re-opened in 2013 at the same spot it occupied nearly a decade ago, was originally a 1920s house before being converted into a restaurant. This time around, though, the owners had local firm Metcalfe Architecture & Design rehab the property with help from Philadelphia Salvage, Fillippi Bros., Inc., and Design Nehez.
The result? Gorgeous. We're honestly surprised it took this long for someone to give it kudos.
"Our design makes extensive use of white recycled brick, wood siding and goat-related objects from our neighborhood Philadelphia Salvage Company, as we updated the kitchen and the building's overall infrastructure to create a local hangout that speaks to the history of this vibrant neighborhood," Metcalfe told Property.
The space, which you can admire in the gallery below, includes a restored stone exterior, walls made of recycled red cedar, and nature murals by photographer Julia Blaukopf. Reclaimed woods are throughout and a wood-fired hearth backed with recycle brick is located at the center of the first floor – charming as heck if we do say so ourselves.
"We created custom wallpaper images of rustic local buildings and vegetation, chandeliers of tree root balls and recycled bottles, and vintage seating," they added.
Metcalfe also had the dining area chandelier created from – how cool is this? – recycled cider jugs. Other details include custom-made pendant lighting and metal bar stools in the bar, as well as exposed ductwork for a, quote, "urban feel."
Construction on the renovation began July 2012 and ended January 2013.
Previously, Metcalfe designed the Wissahickon Charter School, PhillyCAM, and "Out on a Limb" (the tree canopy walk) at the Morris Arboretum. Projects they currently have in the pipeline include the National Museum of Industrial History in Bethlehem, PA and, the Museum of the American Revolution here in Philly.
Take a look inside posh Goat Hollow here:
---
Goat Hollow by Metcalfe Architecture & Design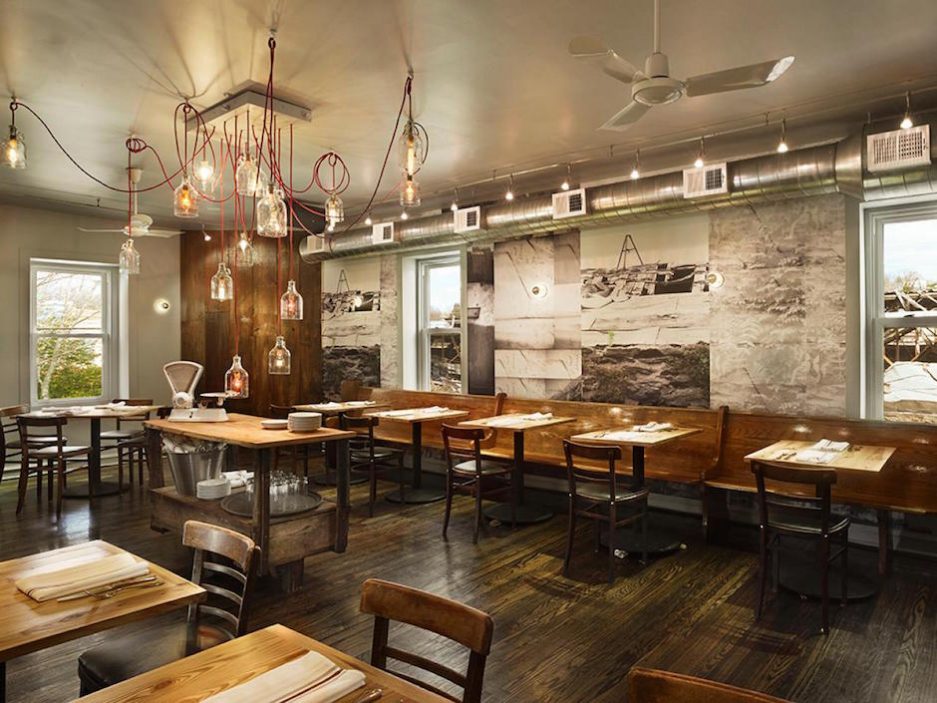 ---
Credit: Metcalfe Architecture & Design.
---