An Idea for Petty's Island, the Isle Between Philly and Camden
See what a team of creative students came up with, and what's actually going to happen with it.
---
Does the name Petty's Island ring a bell? For those of you just tuning in, it's a 300-acre island on the Delaware River, right between Camden and Philly's Port Richmond neighborhood. It's got a pretty colorful history (you know, pirates and Irish kings and the like), though these days it's less of an adventure story churner and more of a storage fuel base for the Citgo Petroleum Corporation. Today, only about a third of the island has been left untouched.
That is until last December (figuratively speaking). Yep, months back the island got press time thanks to the 2015 Better Philadelphia Challenge winners being announced. Contenders were asked to reimagine the island in a way that would address a "real-world urban design issue" in Philadelphia. Not only that, but the hypothetical proposal would also have to be applicable in other urban centers. You can see the jury prize winners on the Center for Architecture website, but we've included a gallery of the the first prize winners' Delaware Valley FOODWORX proposal right here:
---
First Prize Winners: FoodWORX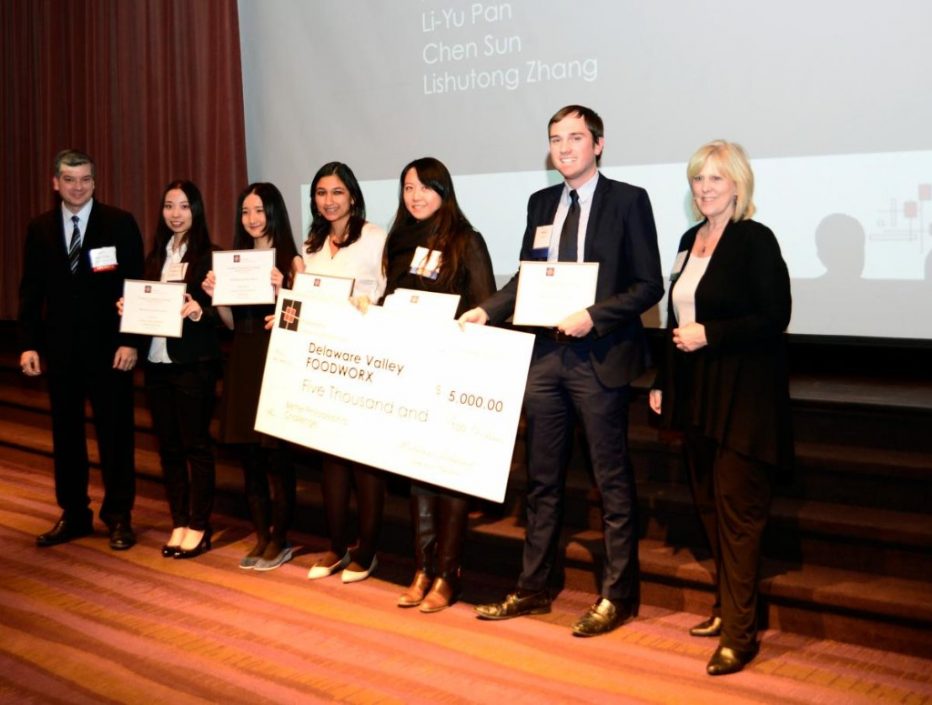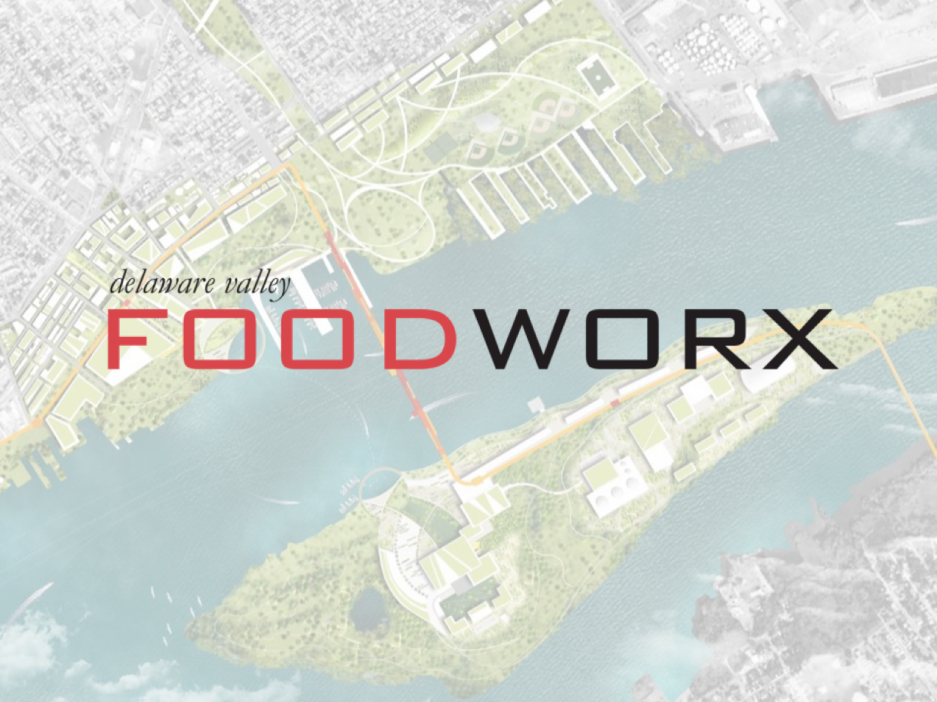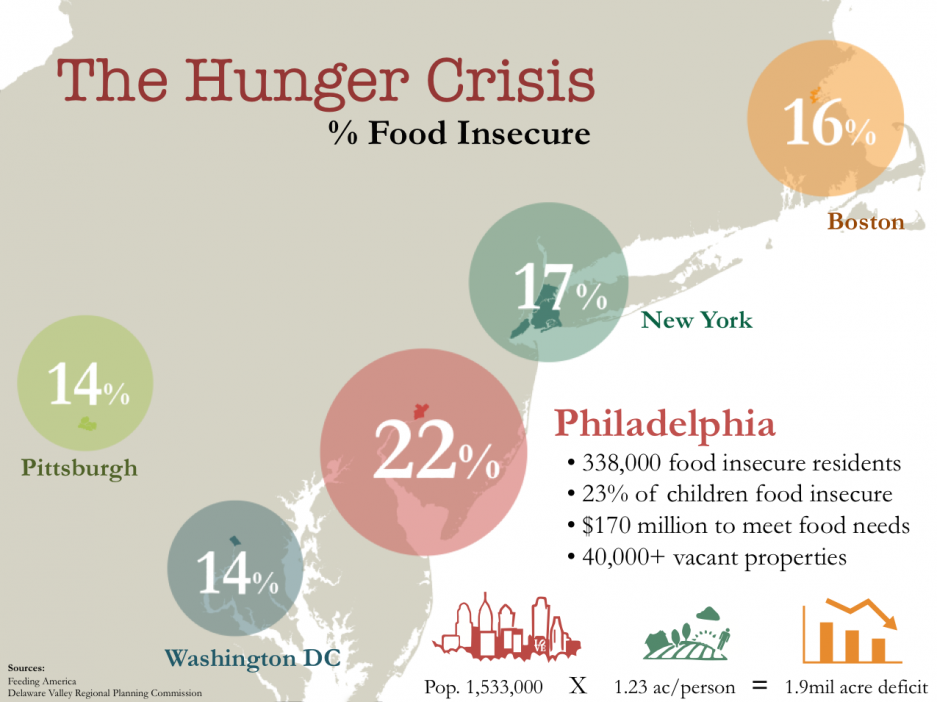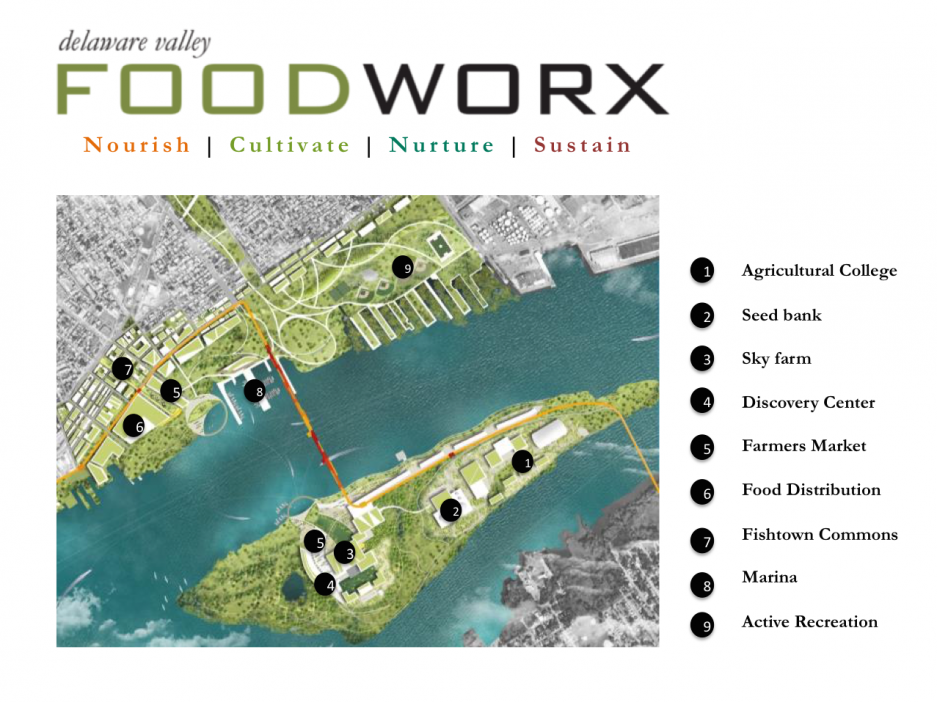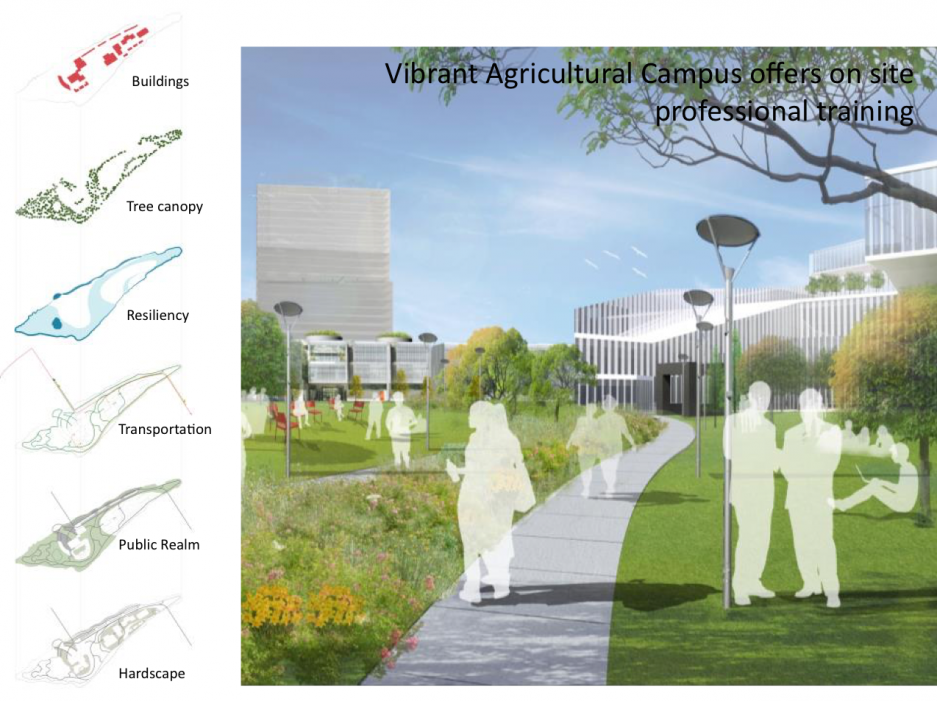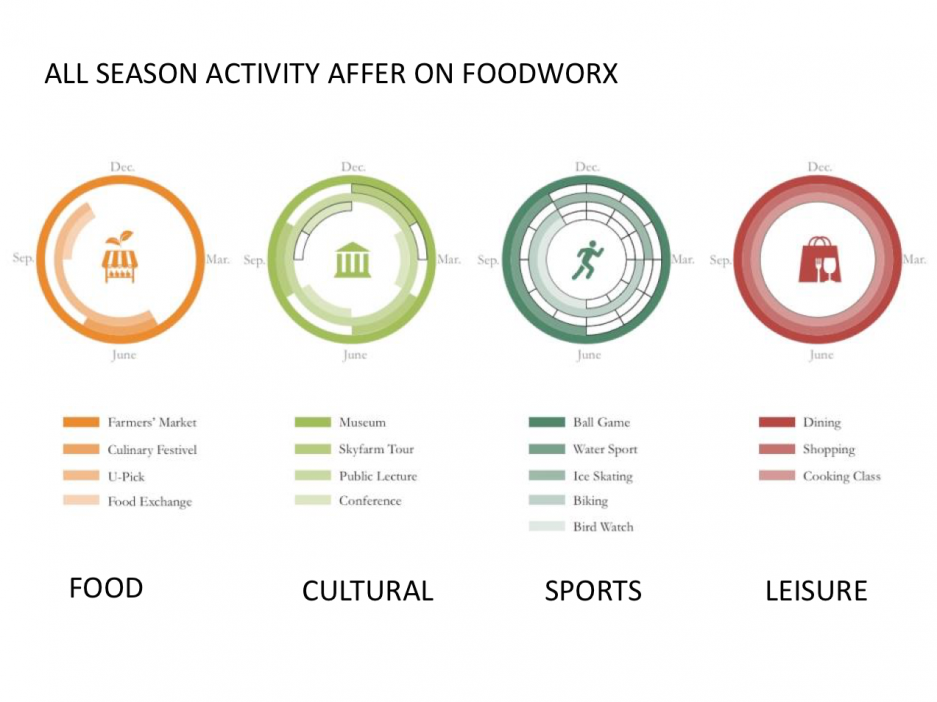 ---
All Delaware Valley FOODWORX proposal images courtesy of the Center for Architecture.
Team photo by Julia Blaukopf, courtesy of the Center for Architecture.
According to the CFA, the multiphase FOODWORX initiative focuses on addressing the city's "growing food scarcity issues" by converting the island between Camden and Philadelphia into a sustainable hub of agricultural innovation. Plans would include a sky farm, seed bank, agricultural college, "discovery center," and a farmer's market–all of which would be complemented by riverfront redevelopment consisting of "food distribution warehouses, marina, common buildings, and recreational fields." With the idea that Philadelphia is set to grow in numbers, FOODWORX aims to form a "self-sufficient and prepared Philadelphia over the course of the next 100 years."
Well, wouldn't that be something? The actual plans in store for Petty's Island, however, are a little different.
See, once CITGO's lease is up in 2017, the island will pass into the hands of the NJ Natural Lands Trust, an organization that envisions conservation and passive recreation (i.e. hiking trails) in the island's future:
Once fully restored, Petty's Island will provide amazing opportunities to learn about its natural diversity and fascinating history. Its restoration will provide local residents with access to spectacular views of the river and the City of Philadelphia that have been off-limits to them for far too long. To facilitate future educational and public access opportunities, CITGO has committed to a $2 million stewardship fund to be used to provide, among other things, education programming and another $1 million fund to assist the Trust in establishing a cultural and education center.
Let us know what you think in the comments!
H/T: Designers Envision Philly Island With Sky Farm, Marina and More [Next City]
Get at us:
Send all tips (including fancy Philly area houses like this and this) to property@phillymag.com
Like Property on Facebook!
Follow along on the Twitter machine @PropertyPhilly
Get pin-happy on our fun Pinterest boards Phillyscape and Philly Home
Don't forget to use the hashtag #phillyscape on your cool Instagram and Twitter pictures. We might just pick yours to be Property's next Photo of the Week!
---