113-Apartment Building With Roof Terrace and Dog Park Planned for Washington Ave.
2401 Washington could be the first major development to break ground on the old industrial stretch.
---
Harman Deutsch presented plans for the the 5-story mixed-use development of a vacant lot at 2401 Washington Ave. this week. The oddly-shaped lot, which has a thin, panhandled stretch that touches 25th Street to the west, is set to become a 113-unit apartment building with 8,200 sqaure-feet of ground floor retail space.
Jeff Watson,LEED AP BD+C with Harman Deutsch tells us that they're waiting to hear back on the vote from the South of South Neighborhood Association (SOSNA), but felt the community "responded nicely to it." If all goes according to plan, there will be a fall groundbreaking to be followed by 18 months worth of construction. The project could very well be the first in many transformative type projects along the former industrial stretch, although the Marine Club might have something to say about that.
The project will be a mix of market-rate studio, 1- and 2-bedroom apartments and the north-facing units will have views of the city. As for parking, because it's always and issue, Watson told us they'll have 57 spaces house on the interior of the complex and that doesn't include ones on the street, which is set be bumped up due to restriping efforts that will call for back-in angled parking.
Concerns were also about the design's treatment of the corner of 24th and Washington Ave. Currently, it's a lobby and neighbors want it to be an active commercial space of some sort, which is a valid point. Watson said they wanted to have "an active anchor" on the corner from the very beginning. "We didn't want it vacant while waiting for a tenant." He mentioned that the design is flexible, and if a tenant comes along that fits with the corner space, they could switch the lobby.
Regardless of where the lobby goes or will go in the future, plans are to have a 5,200 square-foot "roof terrace" on the second story overlooking Washington Ave. Watson said they're still working on what kind of amenities will go on the outdoor space, but they're looking at a gaming area, built-in Barbecues and a pergola lounge area. But that's not all, as per Passyunk Post:
The plans include outdoor spaces for tenants with a dog park around back, an open space on the second floor and balconies on each unit. The development would also include a pocket park on 25th for the neighborhood to use as well.
Once SOSNA votes, the project then heads before the Civic Design Review committee and then off to the Zoning Board of Adjustment in mid-February.
More renderings can be found in the gallery below:
---
2401 Washington Avenue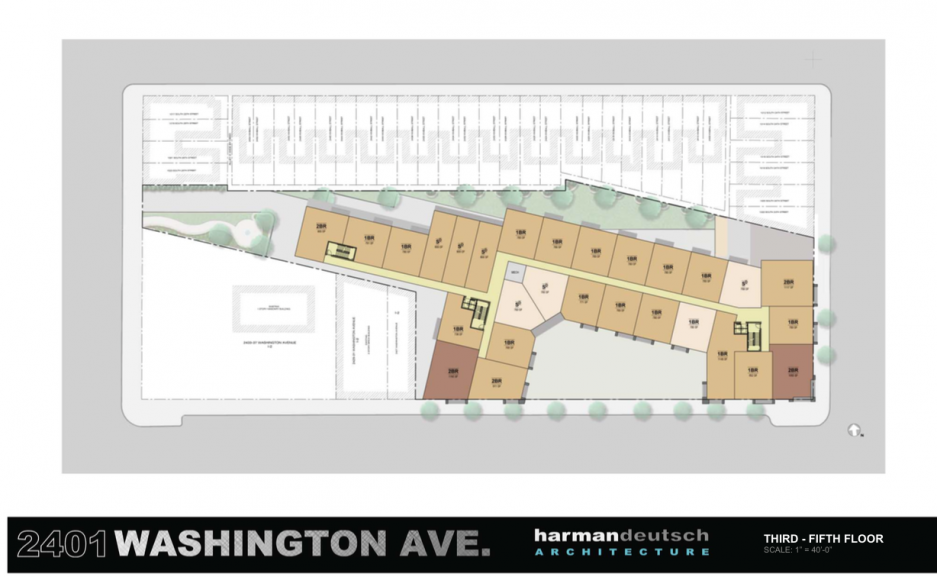 ---
---