2116 Chestnut: Renderings, Floorplans, Restricted Dog Breeds
---
In November 2012, the Chicago-based John Buck Company topped off its first Philadelphia project: the 34-story rental building at 2116 Chestnut, once the site of a Louis Magaziner building. The building–which is now accepting online applications–will offer studios, 1- and 2-bedrooms, along with indoor parking, a dog run, car share, bike storage and other highly desirable amenities. Studios will start at $1,700 per month and 1 bedrooms at $1,950 per month.
---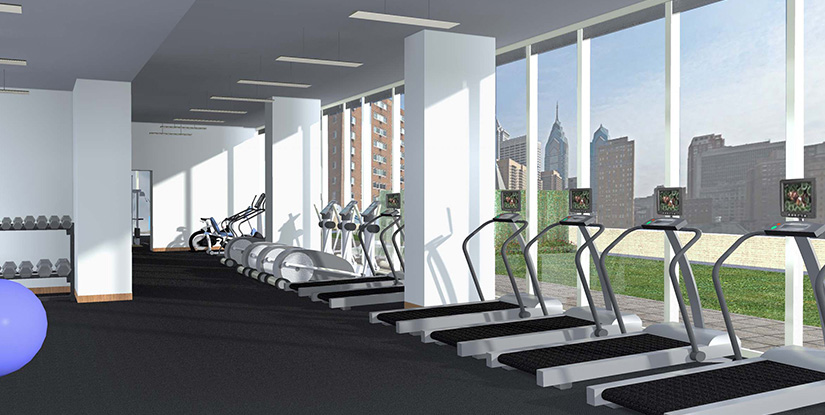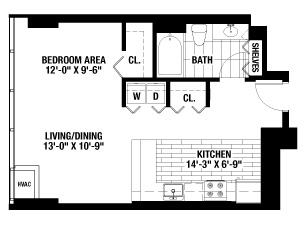 ---
2116 Chestnut Street individual unit amenities:
Unobstructed views from all four sides
Floor-to-ceiling energy-efficient windows
Balconies (in 2 bedroom units and 1 bedroom corner units)
Side-by-side washer/dryer
Individual thermostats in each unit<
2116 Chestnut Street building amenities:
Sundeck with green roof, hot tub, lounge seating and grilling area with outdoor kitchen
Entertainment suite with catering kitchen and club room
State-of-the-art fitness center
Business center with conference rooms and media room
24/7 security
Wi-Fi on the fifth floor
Dog run
Storage areas for resident belongings and bicycles
Secure indoor parking
Car share in the garage
Coffee bar
Lobby with fireplace
Interestingly, the building, which is pet-friendly (there's a dog run, after all), has a fairly large list of restricted dog breeds. Most are unsurprising, particularly "Wolf." There is an 80 lb. weight limit and 36-inch height limit when the dog is fully grown. Not only are the following dogs not allowed to live at 2116 Chestnut, they're not allowed to visit. Poor Australian Fido!
Many buildings surely have similar policies. This is just an interesting example of the way that new buildings are reacting to an increasing number of aggressive breeds and unpleasant public incidences.
2116 Chestnut Street Restricted Dog Breeds:
African Lion Hound
Akita
American Bulldog
American Pit Bull Terrier
American Staffordshire Terrier
Anatolian Shepherd
Australian Cattle Dog
Beauceron
Belgian Shepard
Bernese Mountain Dog
Black Russian Terrier
Black Terrier
Bordeaux Bulldog
Bull Staffordshire Terrier
Bull Terrier
Bullmastiff
Cane Corso
Catahoula Breeds (All)
Chinese Shar Pei
Chornyl Terrier
Chow Chow
Doberman Pinscher
Doberman Pinscher Mastiff
Dogue de Bordeaux
French Mastiff
German Shepherd
Great Dane
Great Pyranees
Husky
Italian Mastiff
Jindo
Kuvasz
Lion Dog
Malamute
Mastiff
Neopolitan Mastiff
Pit Bull
Presa Canario
Rhodesian Ridgeback
Rottweiler
Russian Bear Schnauzer
Siberian Husky
St. Bernard
Tchiorny Terrier
Tosa Inu
Wolf
Wolf-Dog Hybrid
We've asked about the decision just to get some insight into how such distinctions are made. We'll keep you posted.
For more information and to apply, go to 2116chestnut.com.
---