News
We Self-United With a Small Group in Fairmount Park, Then Held a Traditional Ceremony in California Later
The couple wanted to make things official in Philly for tax purposes.
---
Viet-Thi Ta and Brian Chan might have met in San Francisco, but Philly is where their heart is — and where it made most sense to say "I do" for practical reasons. (Tax purposes, but of course.) It's among the reasons why they decided to hold an intimate self-uniting ceremony in Fairmount Park with their close friends, then wander through Old City, taking photos, and stopping at a coffee shop, restaurant and bar that were personal to them to celebrate. Nine months later, they held a more traditional, culturally driven ceremony in California. Here, Brian shares the details.
This story is part of Philadelphia Wedding's on-going Real Talk series, where real Philly couples share their unique approaches to wedding planning and marriage. If you have a unique story or experience worth sharing, we'd love to hear about it.
As Told To: Sarah Zlotnick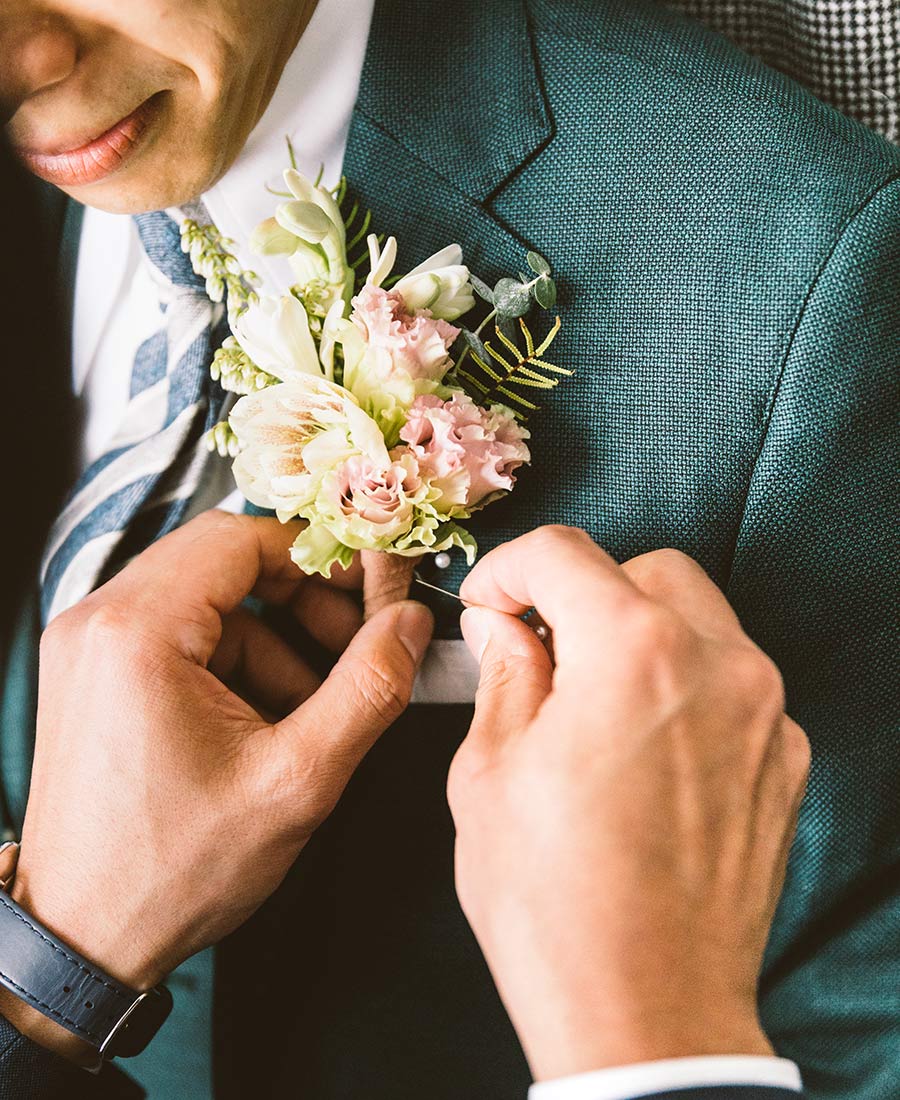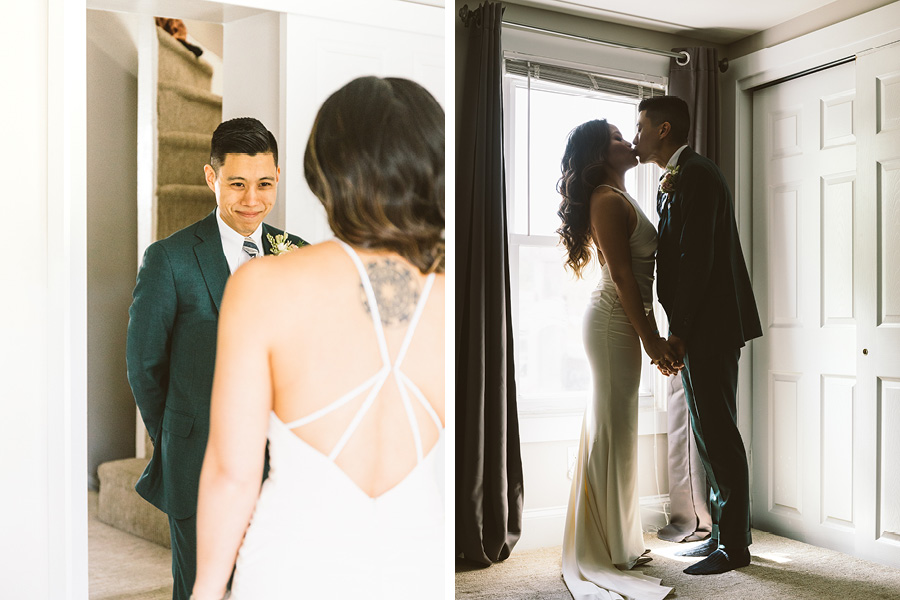 Viet-Thi and I moved to Philly … for her medical residency. We met in San Francisco and got engaged within eight months. We were pretty quick. I told my parents, and they said, "If you're moving with her, you need to be engaged." I was like, ah, okay. Well then.
We're Philadelphians now … but when we first moved here, the Bay Area was our home. Our extended family lives there, so we wanted to have the bigger celebration there.
We wanted to make things official in Philly … for tax purposes. Not the beautiful, loving side of marriage, but more the logistical side.
We decided on a self-union … because Pennsylvania is one of a very few states that allow it. We were like, that's super-cool; something special to have that's Philadelphian.
The night before … I went to my buddy's house, because Viet-Thi was using ours to do a mini-bachelorette with her girlfriends. The next morning, I drove home and we had our first look, then we headed to Fairmount Park.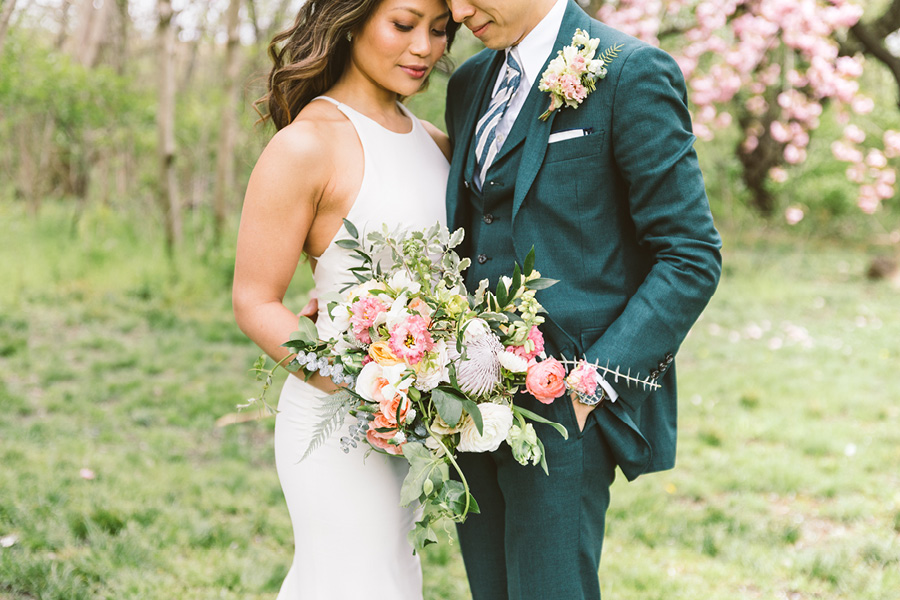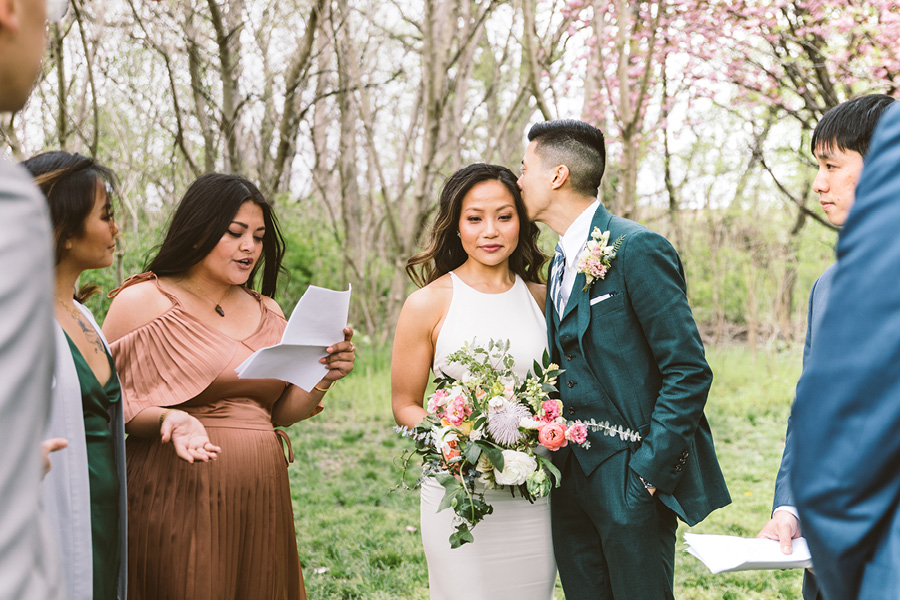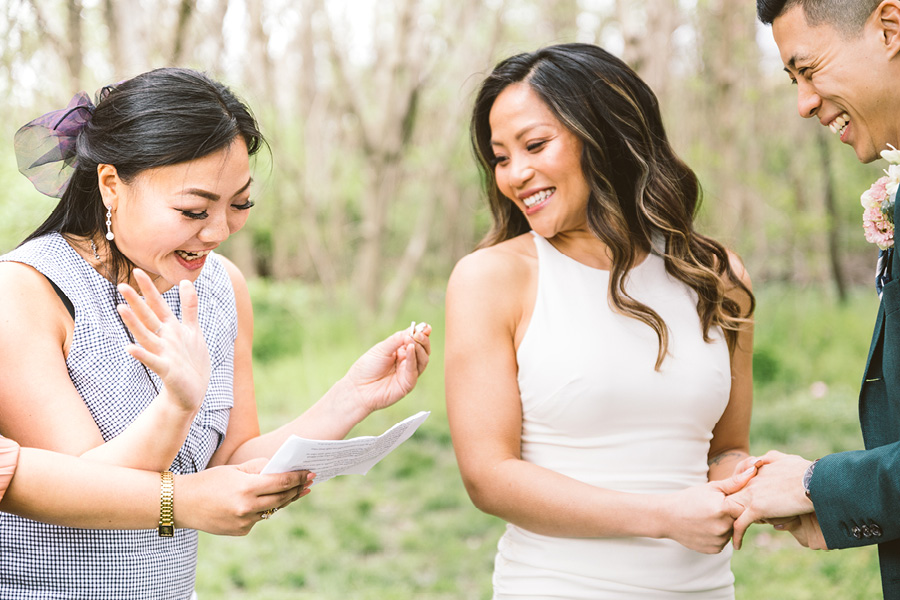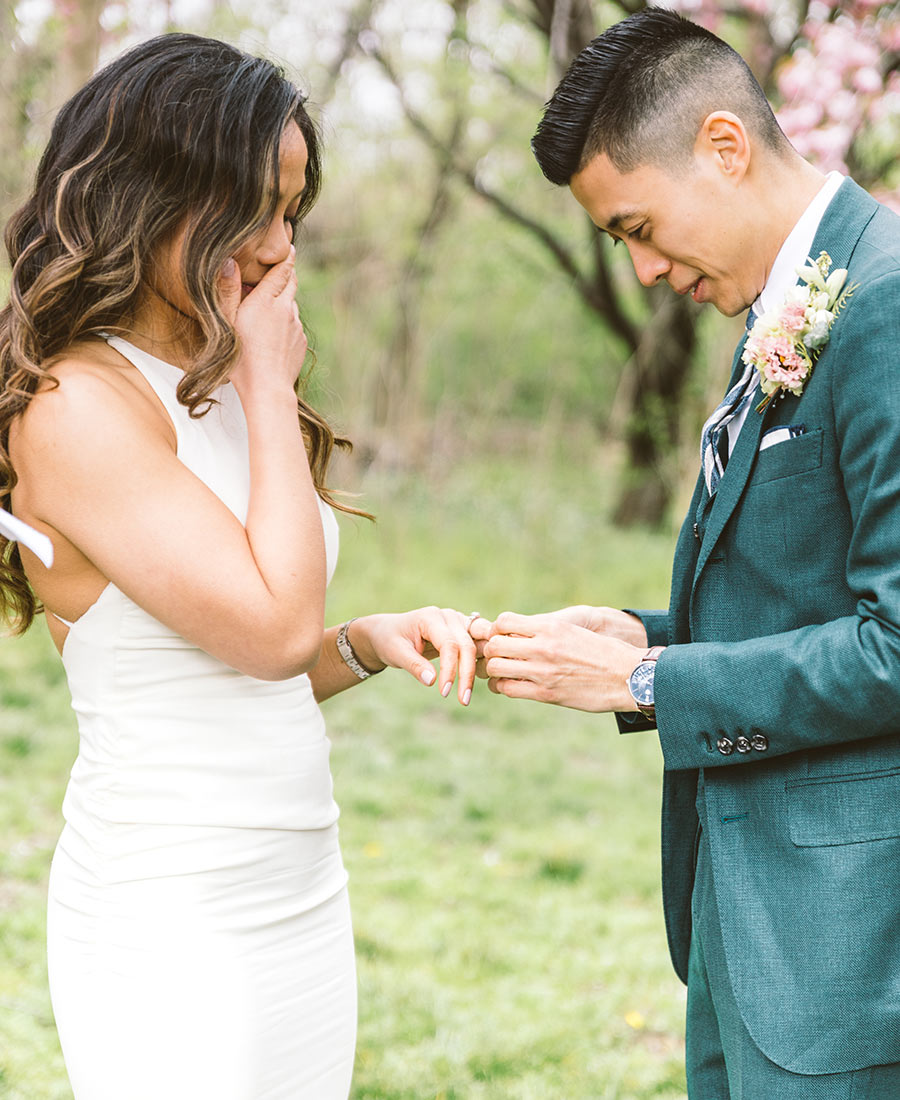 At the park … it was me, my groomsmen, a couple of really close friends, and Viet-Thi's girlfriends from California. About 12 people. We stood under the cherry blossoms. They were in full bloom at the time, which was really beautiful. We were like, "Let's do this before we get kicked out." Thankfully, we didn't.
From there … we had written vows for each other as well as what a pastor would say. Our best man said something, her maid of honor said something. We pronounced ourselves husband and wife. My best man had a flask on deck. Right after we said those words, everybody took swigs.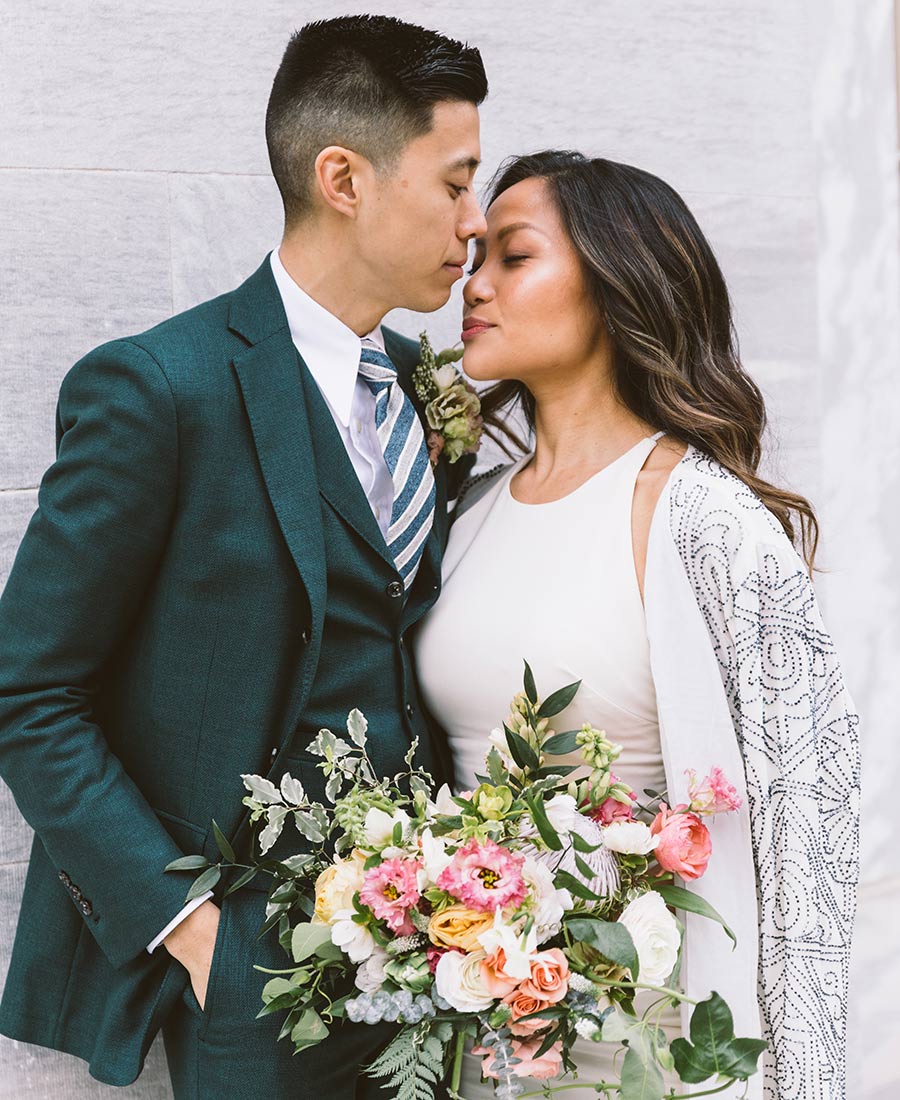 After that … we moved to Rival Bros. in Center City, one of the first coffee shops we went to in Philadelphia, to sign the marriage license. We went to Sonny's Famous Steaks to get cheesesteaks, because that was also one of the first places we went to. They're definitely not the best — I've had better — but it's one of our top spots in Old City. We really like Old City in general. That was where we wanted to have photos taken, and to show our friends: We weren't born and raised here, but this is what Philly means to us.
We ended at … Harp & Crown for drinks. Some of my wife's co-workers showed up. It was really chill. There was no dancing or cake.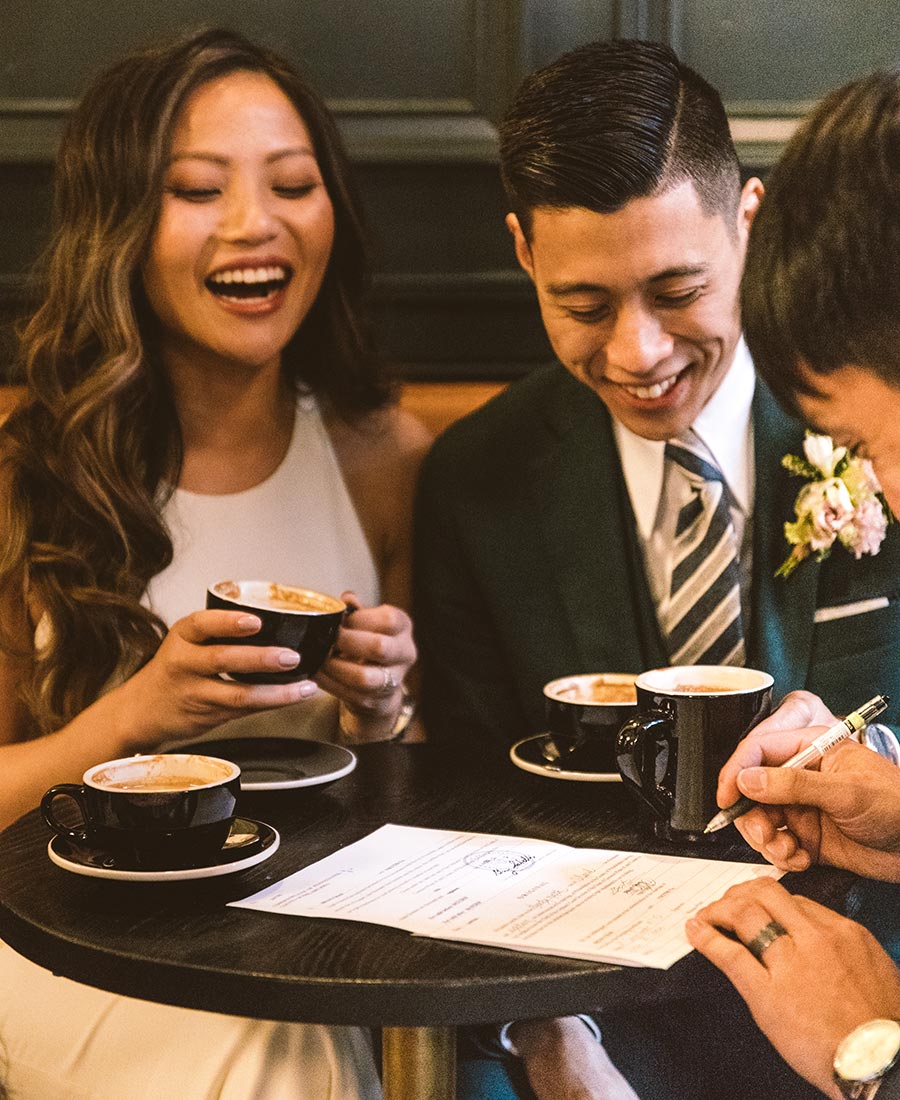 Our California wedding … was nine months later. It was 170 people and more traditional. My wife's Vietnamese; I'm Taiwanese. We have a lot of crossover with cultural customs, so we had a traditional tea ceremony. I liked the intimacy of the Philadelphia wedding better. I wanted our California wedding to be small, but it's very traditional for Vietnamese culture to have extended relatives that you've never met before show up on your wedding day. For Philadelphia, I liked that it was more about me and her.
Get more great content from Philadelphia Wedding:
FACEBOOK | INSTAGRAM | NEWSLETTER | PINTEREST
Getting married? Start and end your wedding planning journey with Philadelphia Weddings' guide to the best wedding vendors in the city.
---