Rittenhouse Square Is Covered In Flowers From Canceled Events
---
There hasn't exactly been a lot to smile about in the wake of coronavirus. Beloved Philly shops are closing. College seniors are missing their graduations. Weddings are being canceled left and right. But finally, yesterday, a bright spot. Lemonade was made out of lemons, if you will. Bensalem-based event production company DFW Event Design drove two trucks of blooms once intended for now-canceled get-togethers straight to Rittenhouse Square and flower-bombed the whole thing.
The idea was hatched two days ago by DFW owner Katie Robinson after she saw videos of European vendors throwing away blooms from events thrown off last-minute by COVID-19. Faced with a warehouse full of no-longer-needed flowers and greenery herself, she knew there had to be a better alternative.
So she brought what, under any other circumstance, would have quickly been labeled a crazy idea to her staff. (Robinson decided to go into to work this week because her business is not open to the public, and counts herself lucky that DFW hasn't had to endure layoffs.)
"I went into our warehouse and said, 'What if we just flower-bombed Rittenhouse Square?"
It was an open air job, and a chance to turn a really crummy business situation for them into a moment of happiness for their fellow Philadelphians. They quickly jumped on board.
Robinson also rallied Pennock Floral, DVFlora and Fabufloras Design for the project. Yesterday around 11 a.m., the crew (of just eight! That's under ten!) descended on Rittenhouse Square to start working their magic. They decked out six of the urns around the perimeter of the park, added an explosion of blooms to the base of Antoine-Louis Barye's granite lion statue, and created a whole installation for the center fountain. They also left out buckets of blooms for passersby to grab from and bring home.
"I explained to everyone: these are all flowers from weddings, corporate events … anything that could have been going on in the next week or so. Unfortunately, those events can't happen. We would rather make everybody smile today than throw them out."
And smile they did.
"I was a little worried that people might see it negatively, but it hasn't been that way," Robinson says. "A guy came up to me and said, 'I came out here for fresh hair because my anxiety has been through the roof. I stumbled upon you guys, and this is just magnificent."
Robinson says she'll keep the blooms up through the weekend, and return Tuesday or Wednesday of next week to clean up.
Look: we are *not* suggesting everyone rush out and Instagram them all at once. (Please DO NOT rush out and Instagram them all at once.) The lowest-risk way to enjoy them is right here, on your computer or phone screen, in the photos below.
But, if you happen to be outside practicing safe social-distancing, the installations are a good reminder that not everything in the world has to suck right now. And also a good reminder to check in on your local event pros, because they, like so many others in the service industry, are hurting right now.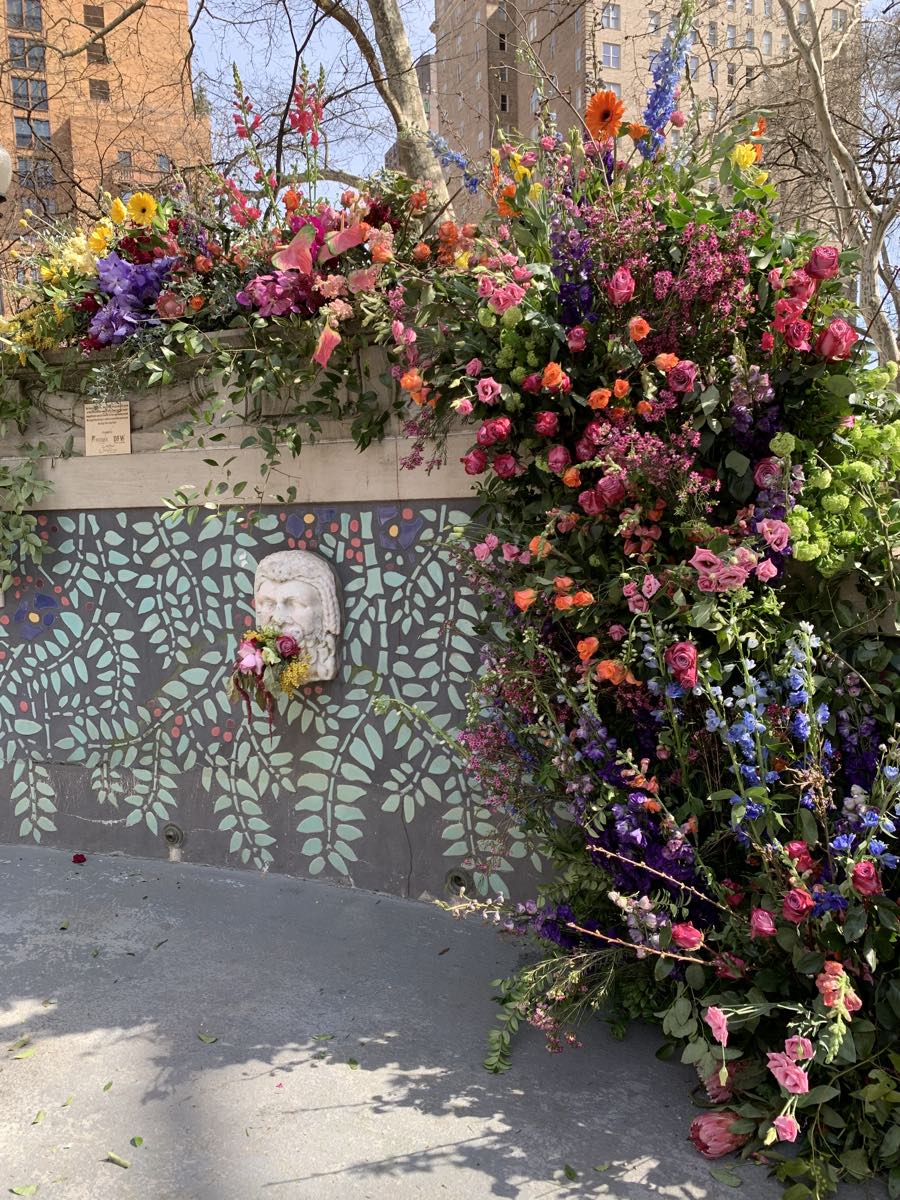 Get more great content from Philadelphia Wedding:
FACEBOOK | INSTAGRAM | NEWSLETTER | PINTEREST
Getting married? Start and end your wedding planning journey with Philadelphia Weddings' guide to the best wedding vendors in the city.
---