Real Talk: My Mom Made My Dream Wedding Dress
"My dress was one of the most special parts of the wedding."
---
Here at Philadelphia Wedding, we're sharing more stories from real Philadelphians preparing for their wedding. Up today: Christiana Beck, a website UX specialist for Visit Philadelphia who lives in West Philly, shares how her mom and aunt made her gorgeous wedding dress. She and groom Ryan Hallas, a video production manager at NAPCO Media, celebrated their wedding at the MAAS Building in October 2018. Read all about the dress below. (Want to know more behind-the-scenes wedding secrets from locals? You can find more Real Talk here.) 
As Told To: Gina Tomaine
I decided to have my mom make my dress when… I tried on several dresses but was not finding anything in my budget that felt right. We ultimately decide that my mom and aunt could make a completely custom one that was exactly what I wanted. We started compiling photos of dresses I liked and my mom began sketching dresses that combined all of my favorite elements. We went fabric shopping in New York and began designing the dress together.
I knew it was a good idea because… My mom, Lori Anselm, and aunt, Karen Anselm, designed and constructed my wedding dress together. My mom studied textile design at Moore and worked as a product designer. She focuses on giving waste materials a second life, creating products, art and fashion from sustainable materials. My aunt is a costume designer and professor at Bloomsburg University. They don't make dresses regularly but have in the past. My aunt Karen made my mom's wedding dress and they worked together on their cousin's dress.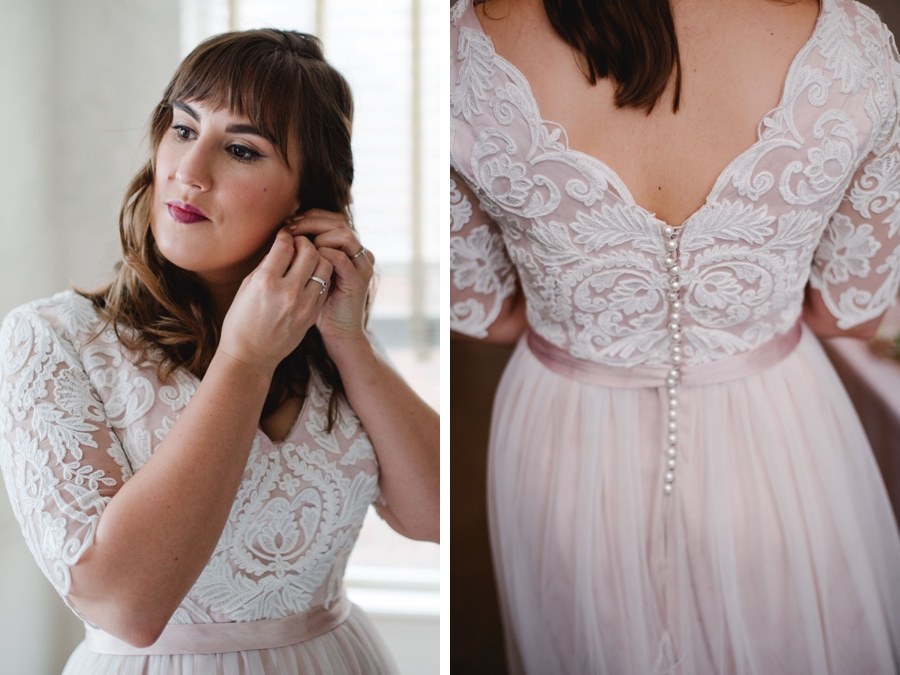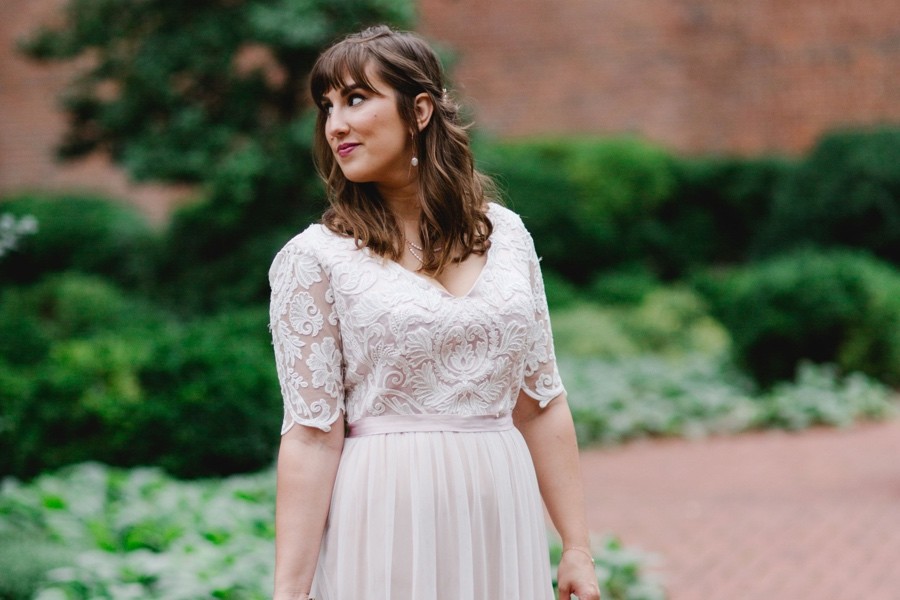 It took my mom and aunt…. a few months to make the dress. My aunt lives in Bloomsburg and my mom and I live in Philly so they chose weekends to get together to work on the dress. I have a very close relationship with my mom. I was really lucky to have her help throughout the entire wedding planning process. We have a similar design sense so I completely trusted her to make a dress that I would love. I'm close with my aunt as well. My mom has three sisters and I love spending time with them. It was really great to be able to spend extra time together while my dress was being made.
When I put on the dress on my wedding day… It was a great feeling! I did not have that moment that most brides do when the say "yes" to their dress. Instead I was involved throughout the entire process of my dress being made. I helped choose the style of the dress, the fabric, the color, the buttons, and many of the other details. Putting my dress on reminded me of the wonderful time we spent together. I also loved the way my dress fit and the overall style. Since it was custom it fit perfectly and was exactly what I wanted.
My favorite part of the dress was… I loved my dress. We dyed the fabric so the base layer was a beautiful mauve color. The skirt had tulle over top and the bodice was covered in lace. I think my favorite part was the top. I loved the lace we chose and the V in the front and back. I also really liked the buttons that went down the back.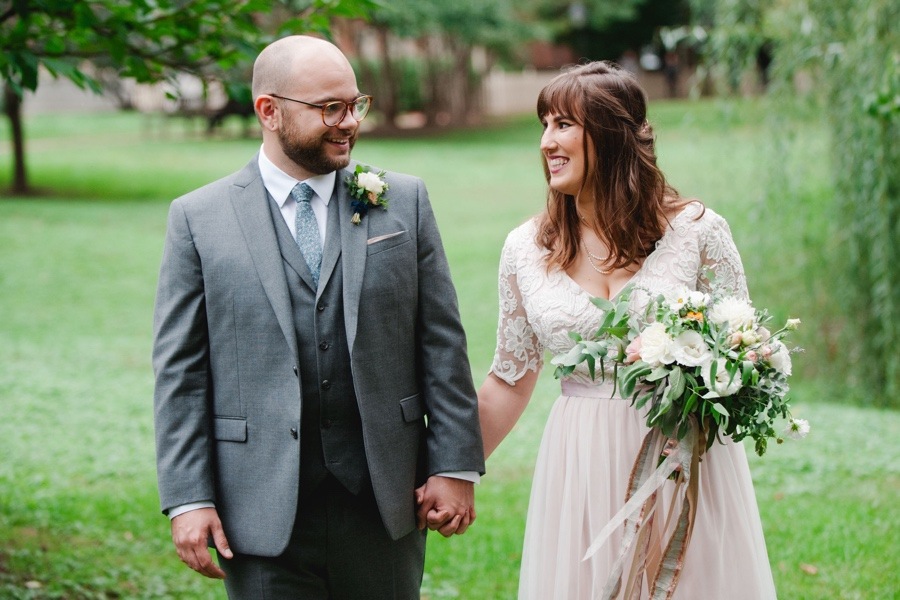 Our wedding theme was… We used our venue as a starting point for the style of our wedding. We loved how the MAAS building is this amazing space tucked away in the city. It is unassuming from the outside, but once you enter there is a wonderful mix of urban and natural elements. The exposed brick, lush garden space with flourishing ivy, fire pit and patio contributed to the warm and romantic feel of the entire wedding. We chose to keep our wedding smaller, and invited those closest to us. The smaller venue, in a tucked away space, surrounded by vines, greenery, string lights, candles and handmade decorations gave our wedding a wonderful intimate feel that we loved. Being smaller and intimate, it was great to get to actually be able to enjoy spending time with our guests.
The best part of the day was… My husband and I chose to write our own vows and it was one of my favorite parts of the wedding. The entire ceremony was really personal. My brother was the officiant and wrote the ceremony speech which made it a very special ceremony. Another favorite part was the speeches our friends and family made. We were struck by how much it was not only about us, but bringing our friends and family together. You could really feel all of the love between the people we are closest to.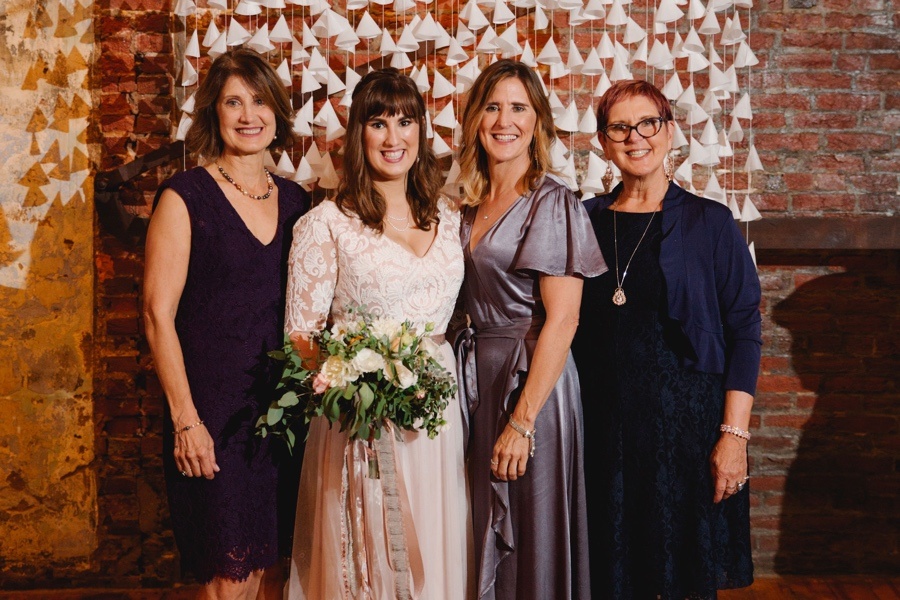 Get more great content from Philadelphia Wedding:
FACEBOOK | INSTAGRAM | NEWSLETTER | PINTEREST
Getting married? Start and end your wedding planning journey with Philadelphia Weddings' guide to the best wedding vendors in the city.
---
---