5 Luxe Spas & Detox Retreats Where You Can Book A Wellness-Focused Honeymoon
Do yoga, eat whole foods, fall asleep to nature … exactly what the doctor ordered post-wedding.
---
After cake testing, table rearranging, dancing and drinking, odds are you're ready for a reset. We've got just the thing: five incredible wellness honeymoon destinations where you and your new spouse can do yoga, eat whole foods, fall asleep to the sounds of nature, and generally get your minds and bodies — and livers — back on track.
Canyon Point, Utah
If Utah isn't your first thought for a blissful place for a wellness honeymoon, maybe it should be. With natural wonders like the Grand Canyon, Zion National Park and Monument Valley, the American West is one of the most wildly beautiful places on the planet. Kitted out in soothing neutral tones, Amangiri, a five-star resort and spa designed to blend into the 600 surrounding acres of pristine natural land, is the ideal place from which to take it all in.
The experience starts in your room — the 34 suites encourage seamless indoor- outdoor living with adjoining terraces, floor-to-ceiling windows, and private lap and plunge pools. From there, you can spend your days enjoying adventurous activities like hikes and helicopter tours or taking full advantage of the 25,000-square-foot spa. (In tribute to the Native American history of the area, all treatments begin with palo santo smudging, a ceremonial burning of local wood to clear negative energy.) Book a "Desert Calm" exfoliation with a red Sedona clay body wrap, and you'll also have access to a sauna, a steam room, and a temperature-controlled stone pool. Need to detox from all that rich wedding food? Wellness coaches are available to guide you through a "movement journey" — a scheduled day of spa- and fitness-geared activities like mat Pilates and Thai massage. And at the resort's open-kitchen restaurant, you'll dine on locally sourced dishes like Utah rainbow trout with roasted fennel and spiced desert watermelon with Tajín chili and saguaro seeds.
If, after all that planning, you just want to start and end your days in complete Zen, sunrise yoga and meditation are offered on a butte 1,000 feet above nearby Lake Powell, and full-moon sessions happen cyclically. Aman.com/resorts/amangiri; from $1,400 per night.
Tulum, Mexico
Want to reset like a celeb? Head to Tulum. (Cara Delevingne, Kim Kardashian and Reese Witherspoon have all recently been spotted on vacay in this coastal Yucatán town.) Set your bags down at Sanará — the minimalist eco-chic resort whose name means "You will heal" in Spanish, opened in 2014 to architectural and interior design awards galore. You'll sleep well in any one of the poolside jungle rooms or beach suites — the bed linens are made from sustainable bamboo cotton, and the soaps are paraben- and chemical-free.
At the spa, book a sound healing meditation session, or try a package specifically designed for the style of treatment you crave. For gut health, there's the "Solar Plexus Healer" package, which includes a detox bath and sobada Maya, a traditional Mayan massage focused on meridian points in the body. Be sure to add on a probiotic coconut water shot or an aloe-based digestif. You can also shop for linen scarves, dream catchers, and beach hats made from naturally sourced materials at the curated boutique of artisan goods; dine on avocado gazpacho and hemp plantain bolitos at The Real Coconut, the resort's white-sand beachfront restaurant; and find savasana at the airy yoga studio. Sanaratulum.com; from $430 per night.
La Fortuna, Costa Rica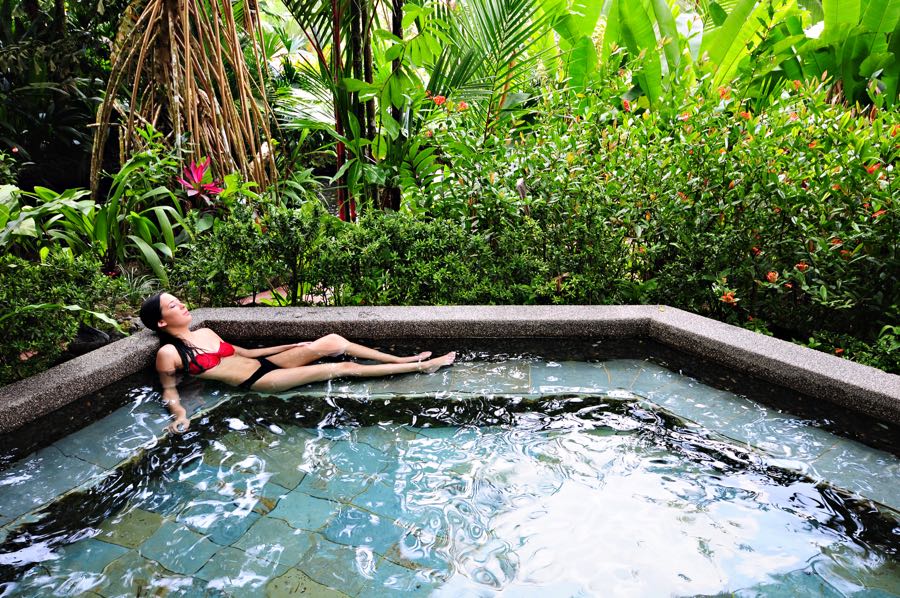 It doesn't get any more exotic and off-the-grid than "pura vida" Costa Rica, a place so lush that it's responsible for six percent of the world's biodiversity. Situated on the Tabacón River just outside the dormant Arenal volcano, geothermal spa and resort Tabacón is the perfect place to relax amid the greenery. (You'll climb a winding road surrounded by dense rain forest and gorgeous flowers just to get to the main entrance.) The big attraction here is the Shangri-La Gardens: Heated by underground magma, this interconnected series of low, gentle waterfalls and shallow pools makes up Costa Rica's biggest network of naturally flowing thermal mineral springs.
Experience total relaxation with the spa's "Jungle and Seduction" package, which includes a couple's massage in a palm-thatched open-air bungalow, unlimited access to the hot springs, and a private candlelit three-course dinner under the stars. (Just looking for a little "me" time? Plan for a detoxifying 90-minute volcanic mud massage. Tabacón's two on-site restaurants offer a rotating roster of Central American cuisine — think rib eye cooked on lava stone and red snapper with green tomato sauce — as well as vegetarian-friendly options like a Caribbean salad with mango and peppers. Added bonus for eco-conscious travelers: The whole resort is carbon-neutral. Tabacon.com; from $375 per night.
Serenbe, Georgia
Nestled 45 minutes outside Atlanta amid 900 acres of farmland and forest, Serenbe is essentially an organic Pleasantville perfect for your wellness honeymoon. While every detail at the 27-guest-room inn feels authentically rustic, the amenities are decidedly not: A 2016 renovation added pools, swings and hot tubs to the property. Your days will move at a leisurely pace. Sip ginger and lemon juices at the Blue Eyed Daisy cafe, shop chic boutiques in town, and have a romantic night out at farm-to-table restaurant The Farmhouse. Visit Mother Nature on walks through wildflower meadows, bond with alpacas at the animal village, or take vigorous hikes through 15 miles of waterfall-dotted forest trails.
Back at home base, indulge in an essential-oils workshop, or sign up for a post-nuptial "couples mindfulness" package, which includes relationship coaching and a guided stone labyrinth meditation. Other spa services include seaweed wraps, reiki and facials. Serenbeinn.com; from $295 per night.
Jimbaran, Bali
You don't have to be Liz Gilbert looking for true love to make the most out of Bali. With rolling rice paddies, miles of tropical greenery, and picturesque beaches with turquoise waters, Bali is perfect for those already in a relationship as well, and for your wellness honeymoon. Ayana, which means "place of refuge" in Sanskrit, is exactly that. Book a villa with a private pool, then immediately book your trip to the Thermes Maris Bali spa. The treatment rooms, which have traditional Balinese thatched roofs and sit on giant rocks in the ocean, are designed to blend in with the natural environment and will give you screen-saver- worthy views while you unwind. Detox with a lulur — a Javanese body exfoliation with turmeric and ginger — or indulge in a massage featuring heated seashells.
Another must-do? A trip to the therapeutic "Aquatonic Pool," which circulates 185 million gallons of Indian Ocean seawater through 12 heated hydro-massagers. (Schedule a "Thalassotherapy" seaweed treatment for right after — it's believed to combat jet lag.) Make your own meals at a cooking class in the Orchid open kitchen, where you can also sip on healing Ayurvedic jamu tea, or sit back and be served — Ayana offers more than a dozen dining options, including its signature poolside floating champagne breakfast. Itching to explore? Visit the Balinese gardens of nearby sister resort Rimba, which guests of Ayana can also access, or venture off-grounds to Uluwatu Temple, a cliff-side shrine inhabited by macaque monkeys. Ayana.com; from $936 per night for a villa or $395 per night for a deluxe room.
Originally published as "Destination Detox" in the Summer/Fall 2018 issue of Philadelphia Wedding magazine. Get your complimentary copy here.
Getting married? Start and end your wedding planning journey with Philadelphia Weddings' guide to the best wedding vendors in the city.
---
---