An Inquirer Reporter Took Engagement Photos at the Newspaper's Printing Press
---
While there's nothing wrong with engagement photos in Rittenhouse or at the Art Museum, we always appreciate a couple who ups the ante with something that feels truly personal to their own story and history. Take Queen Village couple Vicky Kinzig and Chris Palmer, for example. He's a reporter for The Philadelphia Inquirer, and her grandfather ran the printing operation for Parade magazine, so when it came time to document their love pre-wedding, a trip to the Schuylkill Printing Plant in Conshohocken — which is owned by the parent company of the Inquirer — seemed only natural.
Vicky, co-founder and COO at Philly-based education tech company Kickup, filled us in on the experience via email:
The plant employees were great about access. Chris told a manager there in advance what we were hoping to do and they said yes without hesitation. On the day of the shoot, people on the press room floor seemed either confused or amused (or both), but they were so nice and relaxed about our wandering through the space. The press room is enormous, and when the presses are running, it's really loud, so [photographer Joseph Gidjunis of JPG Photography] had to pantomime to try to position us properly around all of the machines. It was a ton of fun walking through the active presses as giant rolls of newsprint flew by and lying in stacks of newspaper. At one moment, Joe — who is extremely creative — covered us in the pages of the day's paper. I remember the front page story that day was about the loss of Roy Halladay, and as he struggled to get a shot from above, a guy from the press room brought over a ladder to help us out. One cool moment: posing for a shot while reading the paper, seeing Chris's byline, and thinking, "When our future kids can't imagine what we were like in 2017, we're going to have some pretty cool pictures to show them."
You can see more of the creative e-session in the photos by JPG Photography below. And if you think your engagement shoot was somehow even more creative, you can find out how to tell us about it here.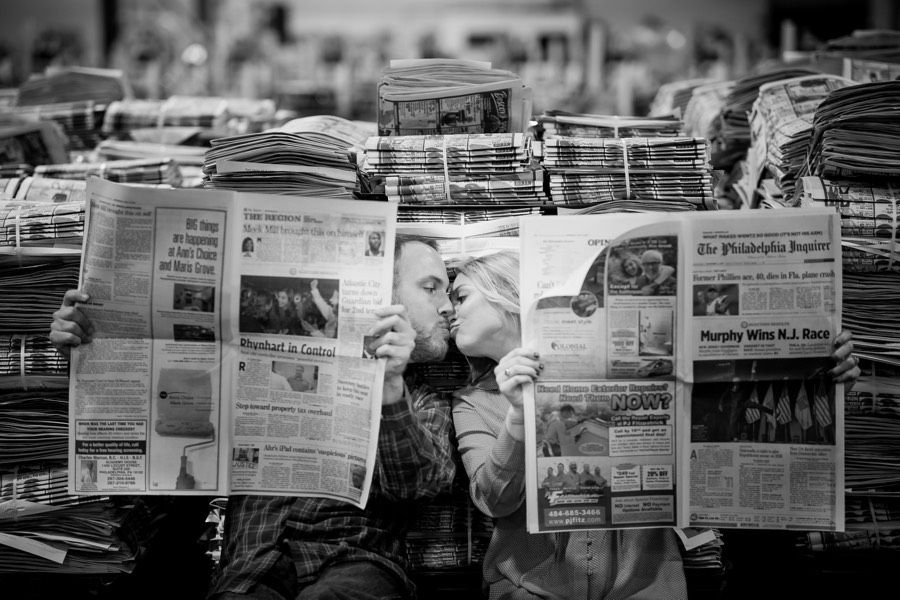 Like what you're reading? Stay in touch with Philadelphia Wedding — here's how:
• Like Philadelphia Wedding on Facebook
• Follow Philadelphia Wedding on Instagram
• Get the Philadelphia Wedding newsletter
Getting married? Start and end your wedding planning journey with Philadelphia Weddings' guide to the best wedding vendors in the city.
---