Real Weddings
A Philadelphia Magic Gardens Wedding Catered by a Taco Truck
A food-truck-catered party let guests mingle throughout the garden's nooks and crannies.
---
Jesse Rose Lueck and Tara Bailey were star-crossed to start: They hit it off immediately when they met in February of 2010 at a fund-raiser thrown for a high-school friend of Jesse's who happened to be Tara's brother. Jesse was involved with someone else at the time, though, and when the two later reconnected, Tara was in a relationship. But Jesse knew there was a spark she just couldn't ignore, and after another year and a half, when both ladies were single, the reconnection stuck.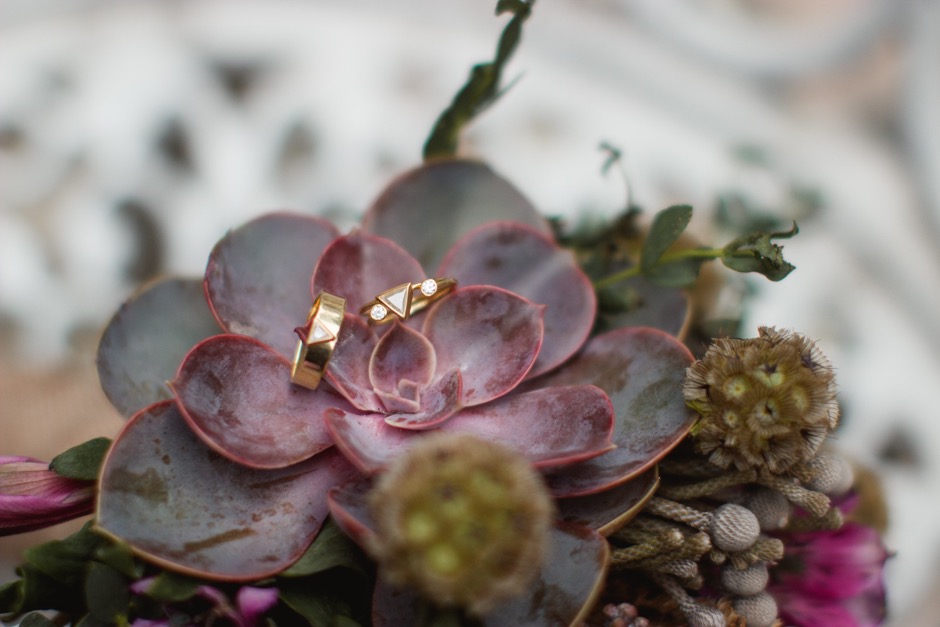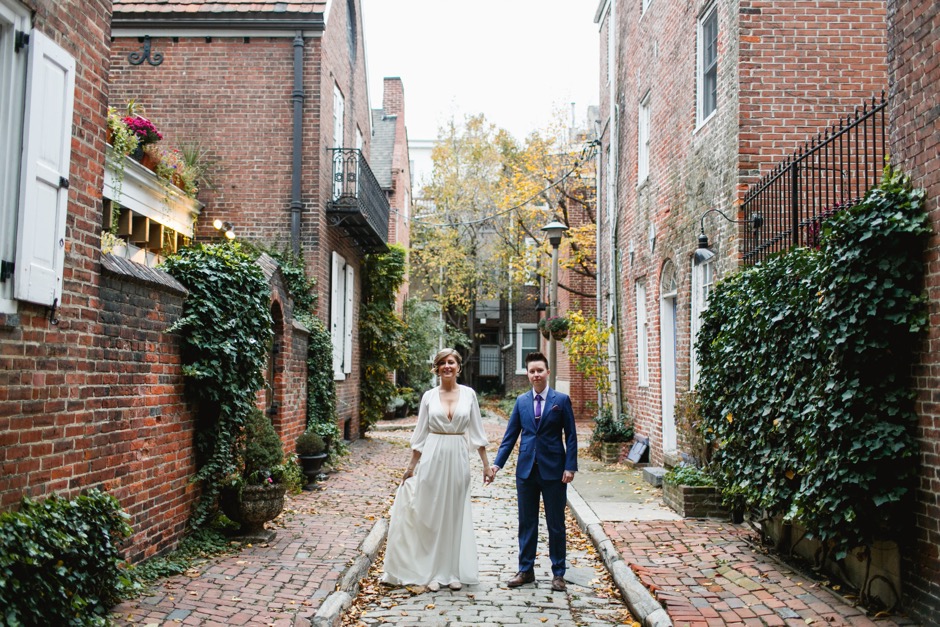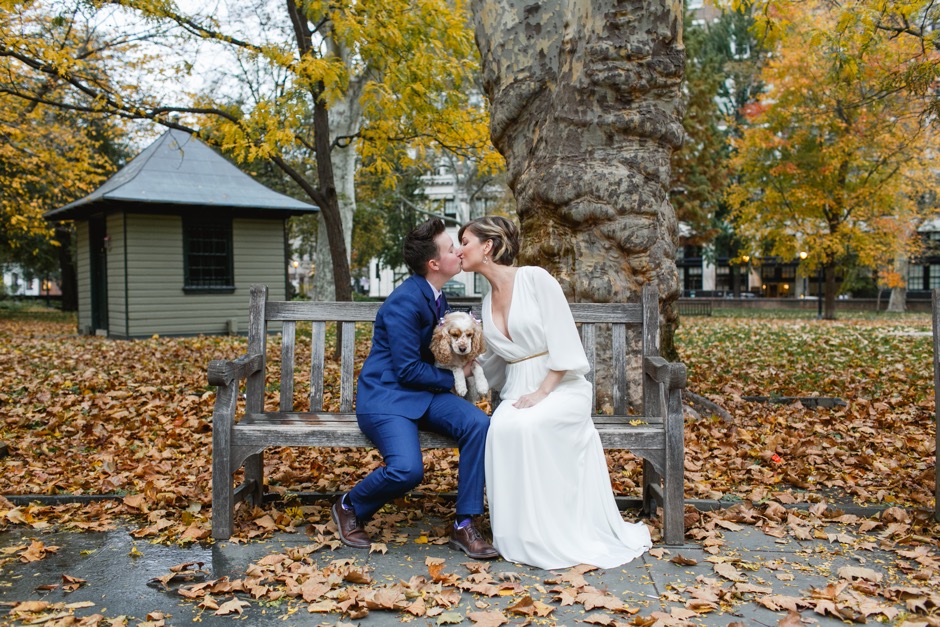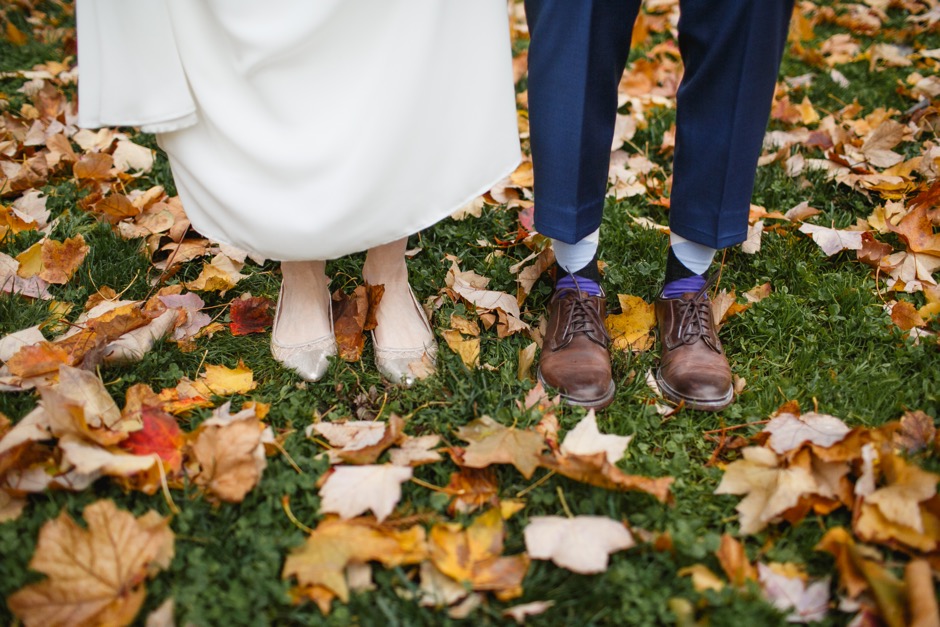 For their one-year anniversary, Jesse set up a special weekend: a spa day for Tara at the Rittenhouse Hotel, followed by dinner at Treno in Westmont, during which Jesse produced a mason jar that contained a trillion-cut ring and a slip of paper reading, "Will you marry me?" After Tara said yes, they made their way into the event dining room, where their friends and family had gathered.
Because the couple began planning their wedding in June with a fall date in mind, they originally intended to surprise their guests with a pop-up wedding. To that end, they hired Leona Davis and Stacey McGuigan at PopUp Weddings Original to help coordinate their day. The PopUp ladies suggested South Philly's Magic Gardens, an outdoor space that perfectly fit Tara and Jesse's ideal atmosphere: low-key, fun and interesting. "We wanted to have everything at a local art space, and we wanted to support local businesses for the drinks and food," says Tara. "That was really important to us."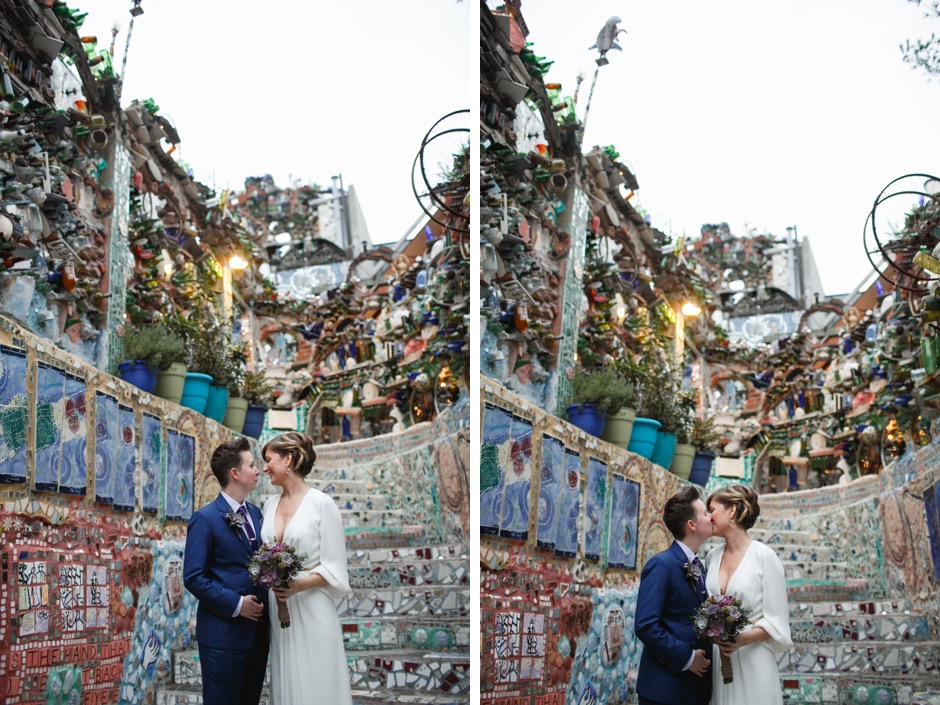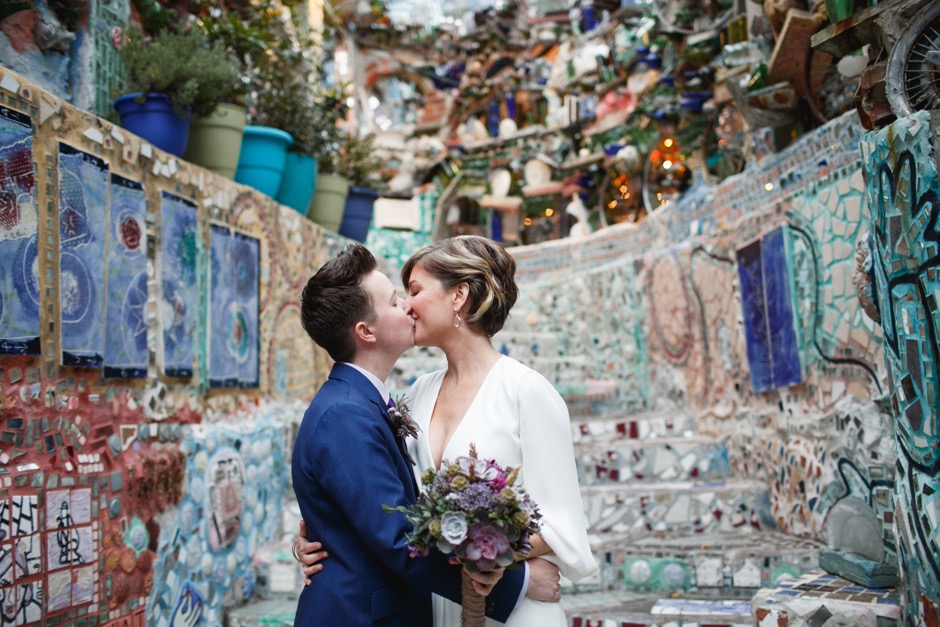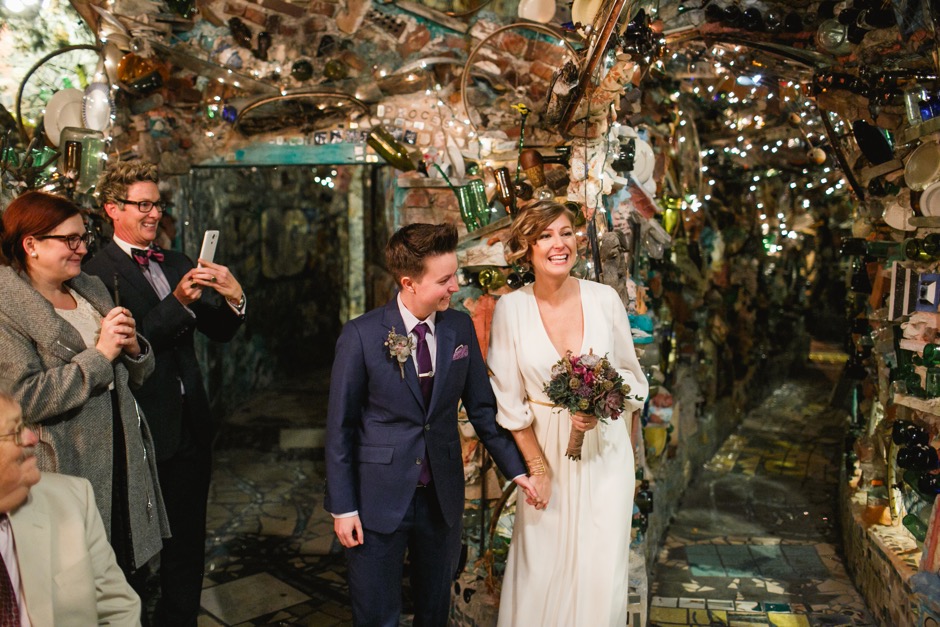 As the couple's guest list grew and grew, however, they decided to let friends and family in on the plan. The ladies chose a food-truck-catered party to keep things simple and let guests mingle throughout the garden's nooks and crannies. Jesse decided on a custom-made suit by Daniel Friedman, of Bindle and Keep, and Tara didn't spend much time looking for a dress: Her simple gown by Elizabeth Dye was one of the first she saw.
Lights were strung across the gardens for the reception, and the wedding planners set up high-top tables at which guests could gather. "Our deejay played '90s hip-hop all night, and people started throwing parties in the parking deck across the street and cheering for us," says Jesse. Guests snacked on treats from Sweet T's Bakeshop. Tara's bouquet included cool-toned succulents and a burlap wrapping, to go along with the couple's color scheme. Jesse wore purple argyle Kate Spade socks to match her tie, while Tara's sparkly flats matched her belt.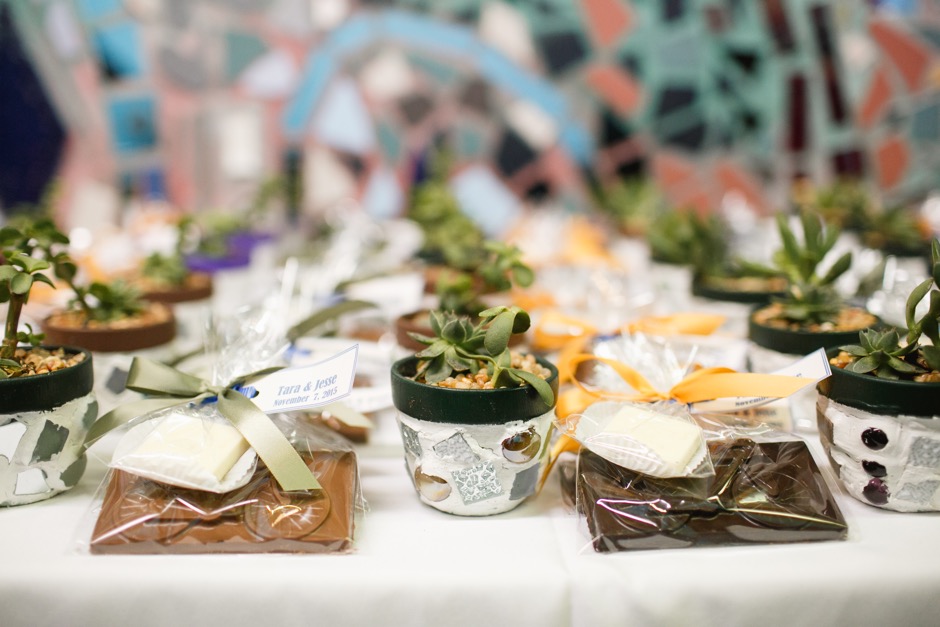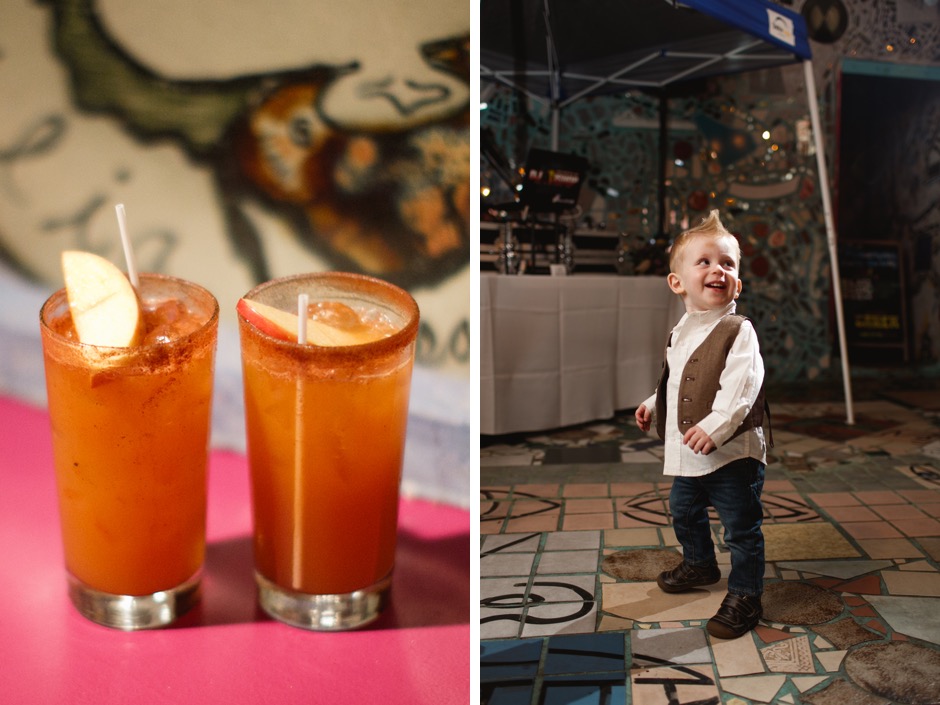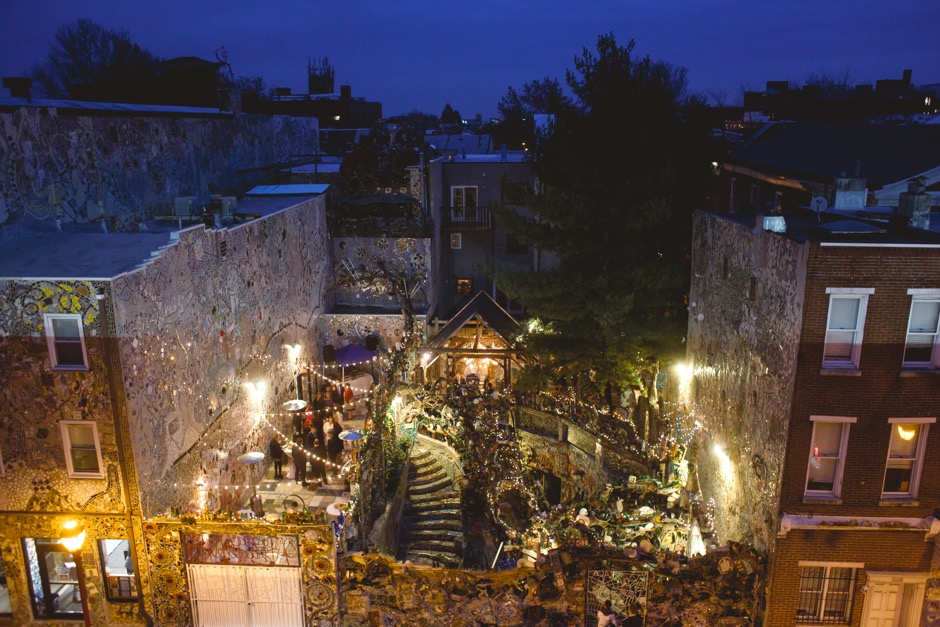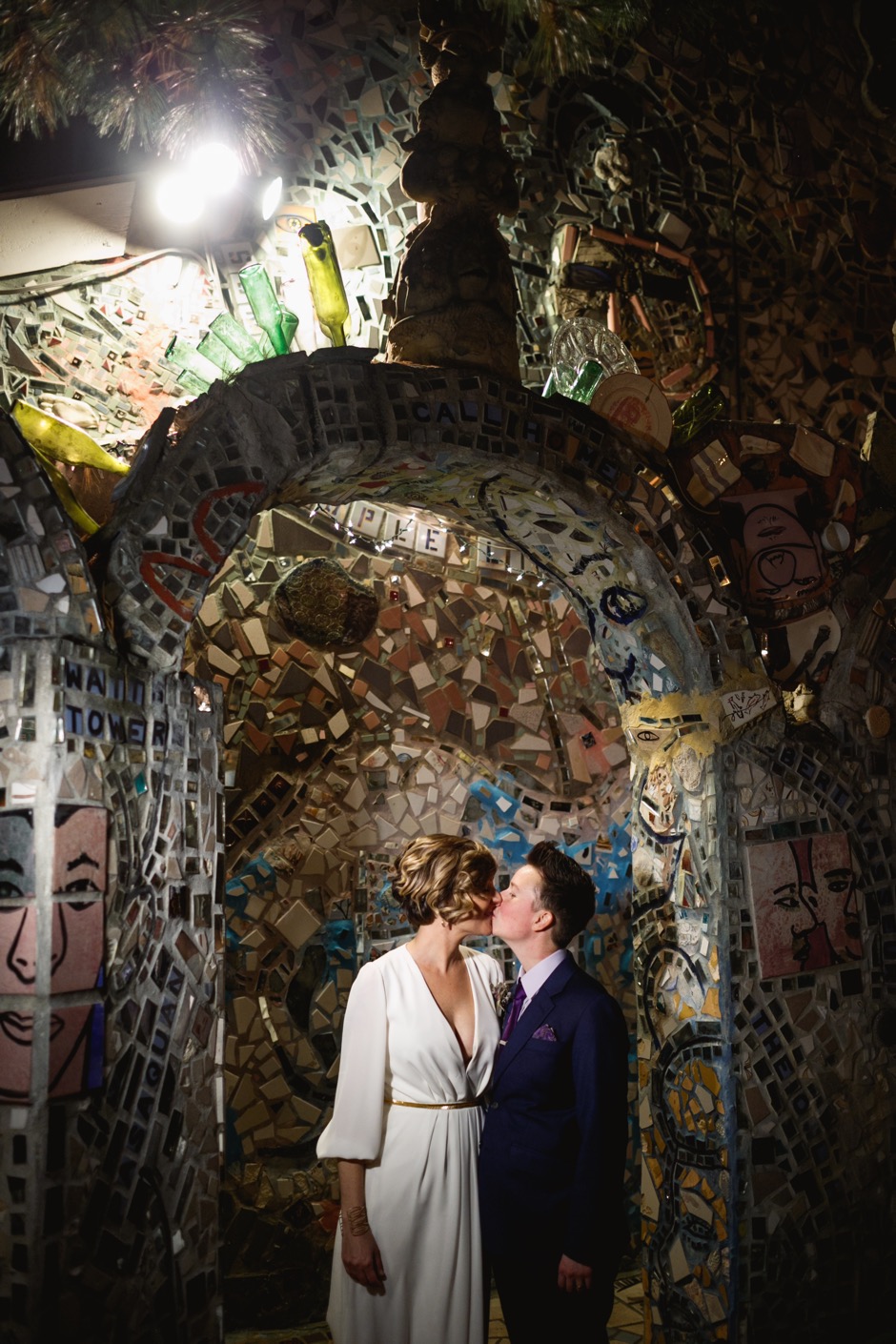 "We liked that we didn't have to decorate the space, what with all of the mosaics and everything," Tara says of the naturally inspiring Magic Gardens. She and Jesse chose Dos Hermanos to serve appetizers like bacon-wrapped scallops and lamb skewers during a cocktail hour, and five different types of tacos, guacamole and Caesar salad for dinner during their reception. "We went to one of the Night Markets and spent the night eating a million different foods, and we decided that Dos Hermanos was just the best," says Tara. Her Aunt Mary offered to make the chocolate favors for the Big Day, featuring bicycle-adorned candy bars and the words "Thank you" on white chocolate bites. Guests also received succulents planted in small mosaic pots, to remind them of the beautiful wedding space.
The wedding fell on a 70-degree evening in November, and as Tara's brother, who had a hand in bringing them together (and who once took Jesse to homecoming!), officiated, the two were married among those closest to them, beneath the twinkling lights.
VENDORS
PHOTOGRPHY: Love Me Do Photography | VENUE: Magic Gardens | WEDDING PLANNING: PopUp Weddings Original | FLOWERS: The Creating Eye | CATERING: Dos Hermanos and Top Hat Espresso Company | DESSERT: Weckerly's Ice Cream and Sweet T's Bakeshop | TARA'S LOOK: Gown by Elizabeth Dye; earrings, bracelet and belt from Anthropologie | JESSE'S LOOK: Bindle and Keep suit | MAKEUP: Feel the Glam | HAIR: Verde Salon | STATIONERY: Little Pearl Designs | MUSIC: DJ Bishop | RINGS: Etsy shop Artemer
Getting married? Start and end your wedding planning journey with Philadelphia Weddings' guide to the best wedding vendors in the city.
---
---