A Medieval-Inspired Wedding Really Shouldn't Be This Cool
But this Philly couple makes chalices, swords, and taxidermy somehow seem modern.
---
Kelly Martin and Justin Swain are total geeks—really. They'll say so themselves. Maybe they didn't know how similar they were in high school (where they first met), but by the time the duo reconnected in their 20s (he was working as a bike messenger and frequented the salon where she worked), it was obvious: They share a love for collecting odd artifacts (including taxidermy) and are particularly drawn to anything from the medieval and Renaissance periods. Everything about Kelly and Justin is outside the box, from their engagement— he proposed while the couple was posing in a photo booth at Disney World in 2014—to their wedding ceremony, which included multiple references to another mutual love, the Lord of the Rings trilogy.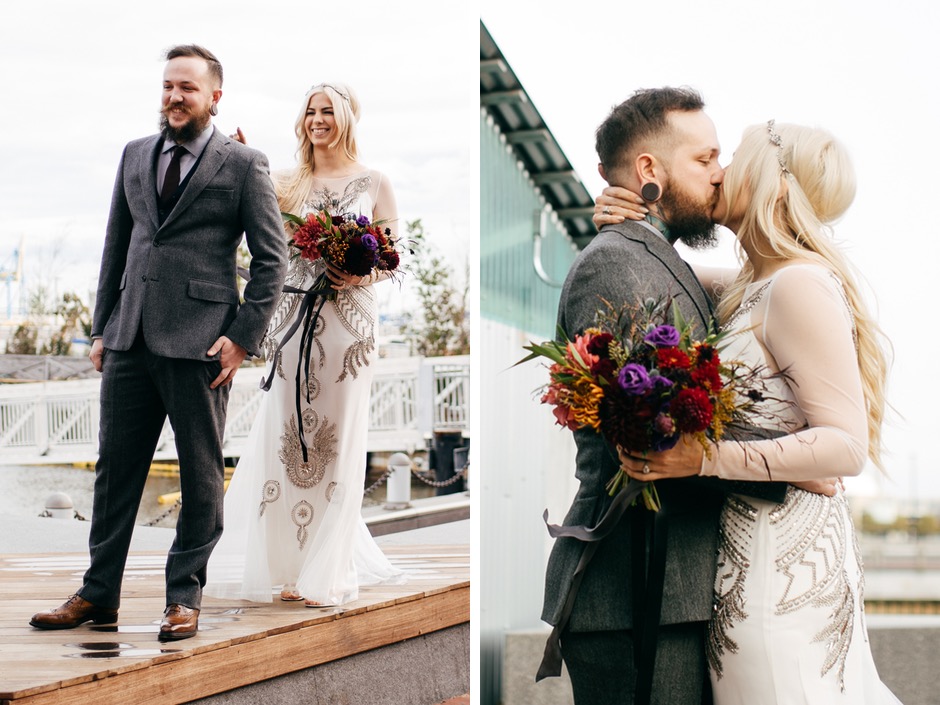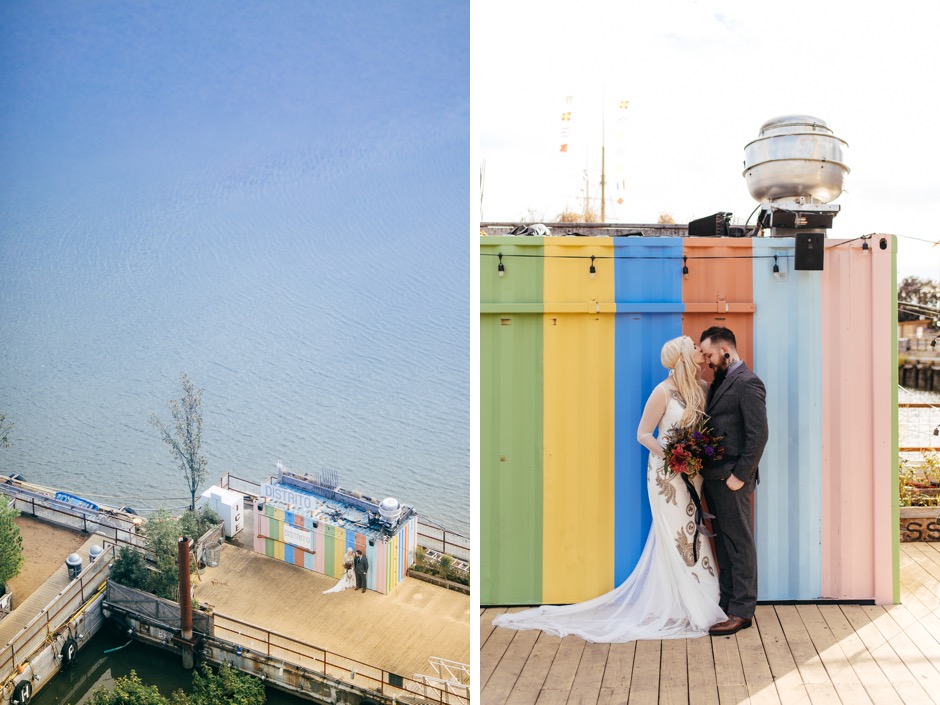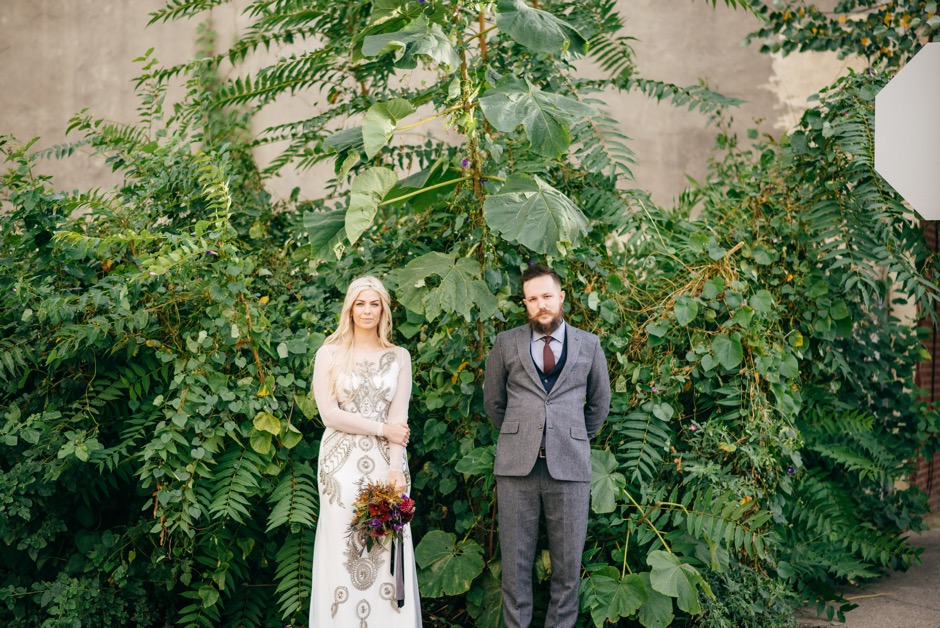 When the couple first started browsing for wedding venues, they searched near and far for the perfect castle, but nothing seemed to work. Eventually, they realized the ideal spot was right in front of them: the MAAS Building in Kensington. "It had character on its own but was enough of a blank canvas that we knew we could turn it into what we wanted," Kelly says. The venue would let them host the wedding in their native Philly and entertain guests both indoors and outside, in the property's yard, where lush green vines clung to the walls. "We felt like we were in this tiny magical garden in the middle of Kensington," Kelly says. The duo decorated with the antiques and knickknacks they'd spent the past six years collecting, including gold-dusted antlers, pewter chalices (Kelly says they wanted to feel like a king and queen while they ate), and, of course, taxidermy. "We kind of wanted to take our home and plop it in the MAAS Building," Kelly explains.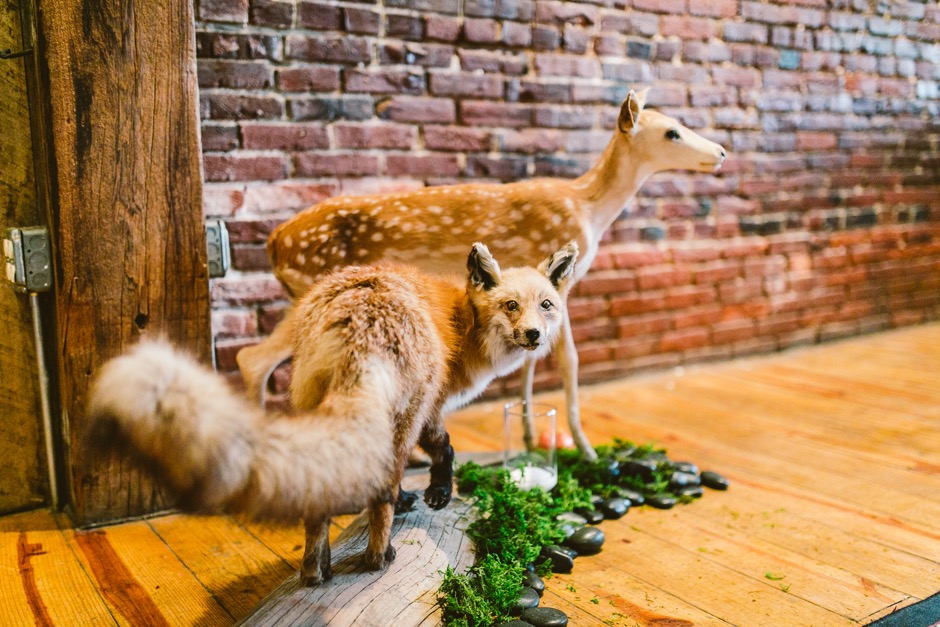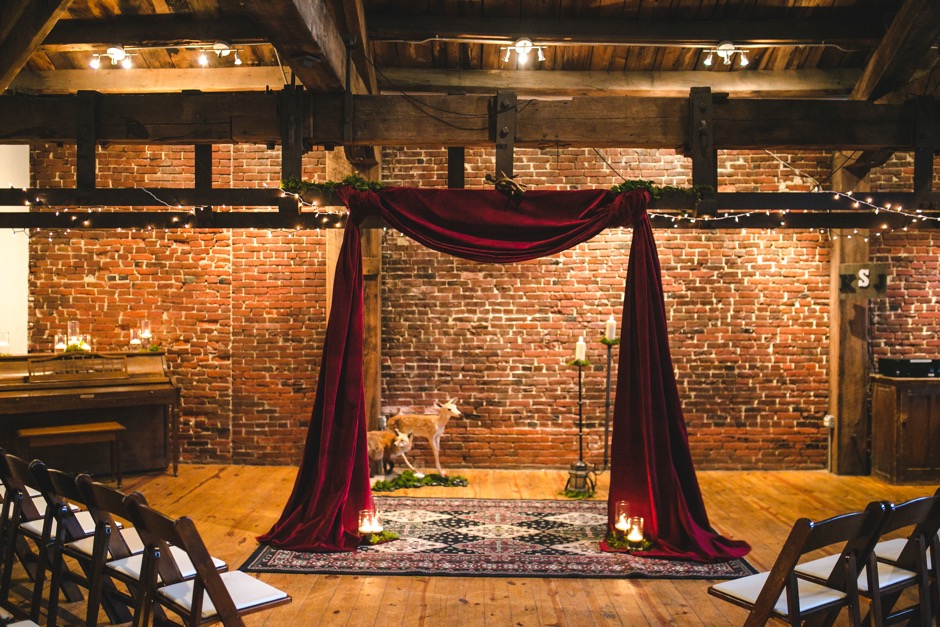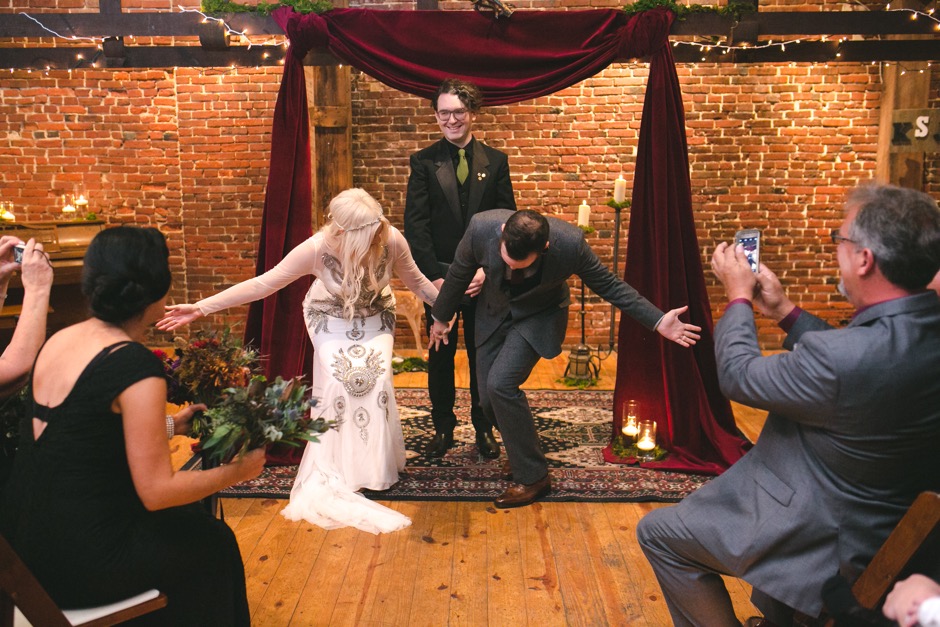 Kelly and Justin chose a pineapple centerpiece—the fruit was a delicacy and a symbol of wealth and power in the 18th century, when "people would rent and display them because they were so difficult to come across," Kelly says—and scattered in-season fruits across the table. (Justin, a chef, wanted to make sure they were fresh.) Decorative glass bottles in thrift-shop leather holders were set on a gilded tray. Kelly wanted the cake (by Nutmeg Cake Design) to have just a touch of black—"a full black cake can look a little goth"—so baker Meg Skill incorporated a tree-bark pattern and silver patches to resemble Renaissance armor. The couple added a wooden sign with a Nordic bind rune, made by South Philly's Ever Laser. "They're blessings for a happy future and a happy family and good tidings," Kelly says.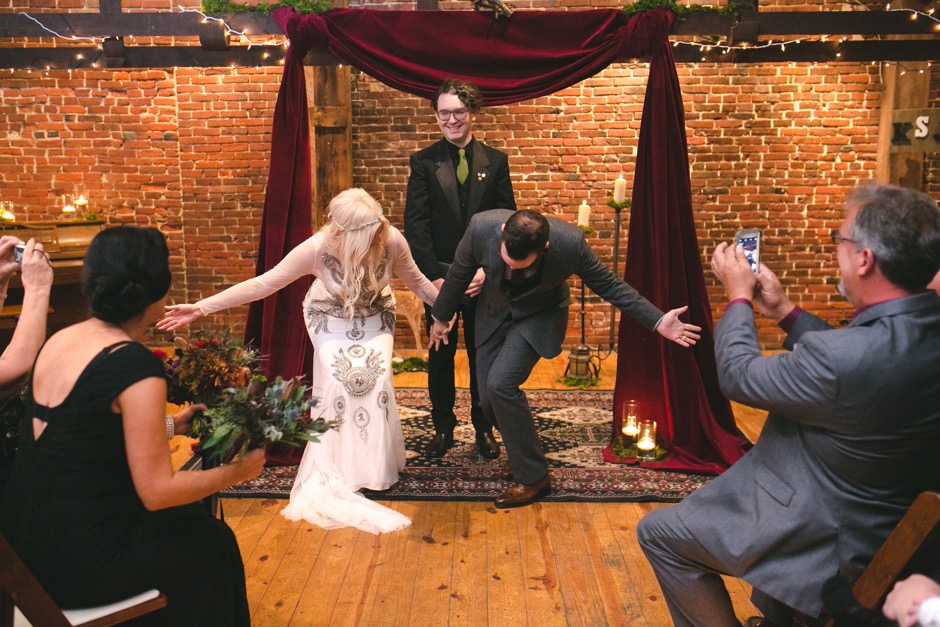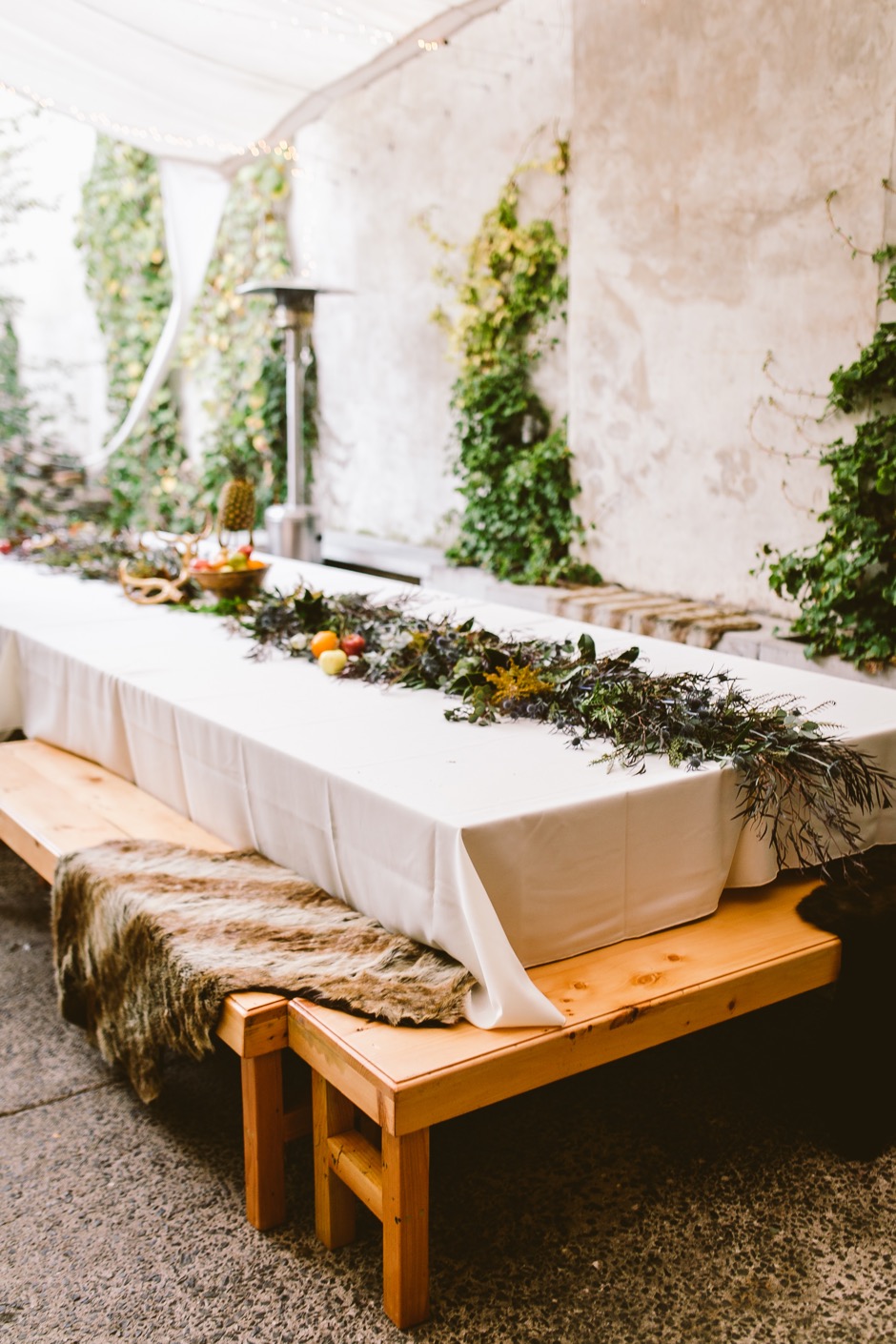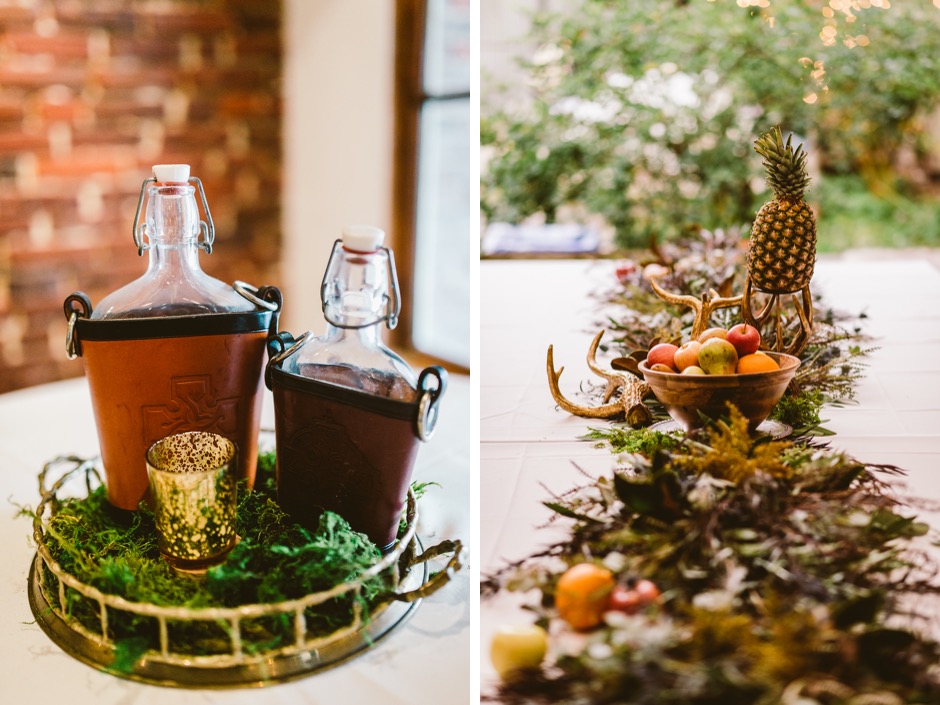 Kelly's friends found (faux) fur, cut it to resemble pelts that belonged in a medieval castle, and draped them over the dining benches for guests to sit on. The couple chose a fox and a fawn for their main taxidermy pieces, adding to the enchanted woodland feel. Kelly wanted the flowers to look natural and have "rich jewel tones," though she was more fixated on texture: "When people would be like, 'What are your colors?,' all I could think of was fur, metal, greens," she laughs. In the end, the decorations (including the "king and queen" pewter chalices) looked like they were torn from the pages of a fairy tale.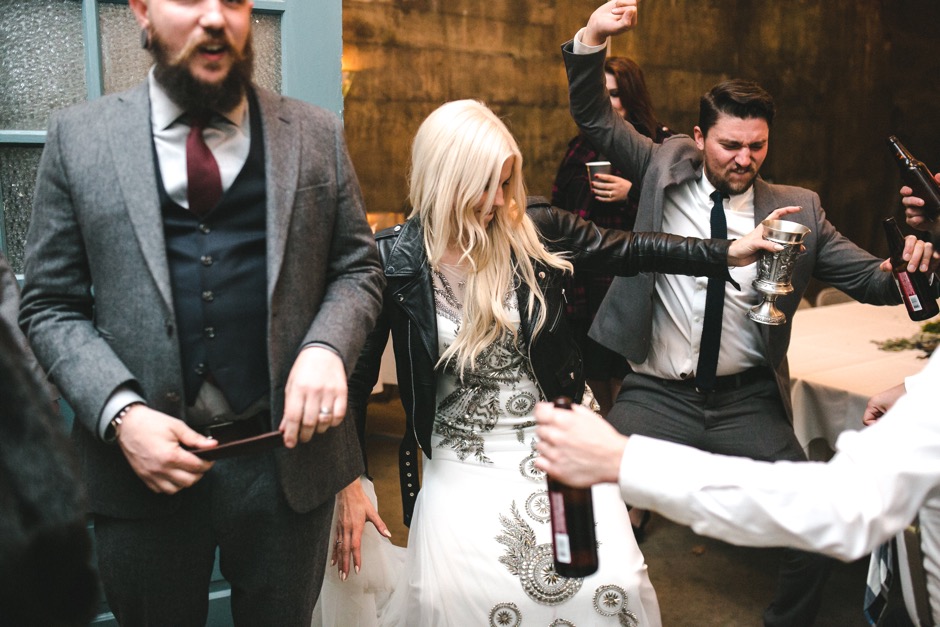 The event had a sort of DIY vibe, with Kelly recruiting the help of many friends, including their DJ, Emily Robb, who's part of the Philly-based Louie Louie band, and Sam Jacobson, who works at East Passyunk's Stargazy, which catered fresh pies and other delights. "Everyone who was involved, I trusted completely," Kelly says. "I told everyone that they know me and to do what they think I'd like, and that's what they did. It was amazing."
VENDORS
Photography: Jessica Flynn of Peach Plum Pear Photography | Venue: The MAAS Building | Event Planner: Talia Leggieri of Swig Event Staffing & Coordination | Florals: From Blossoms | Bride's Look: Rue de Seine gown and Untamed Petals hairpiece, Lovely Bride | Groom's Look: Custom suit from Commonwealth Proper | Catering: Stargazy | Cake: Nutmeg Cake Design | Music: Emily Robb of Louie Louie
Getting married? Start and end your wedding planning journey with Philadelphia Weddings' guide to the best wedding vendors in the city.
---
---