News
This Year's Eagles Christmas Album Has a Deluxe Version and a 500-Piece Puzzle
Presale starts Friday, November 3rd, so set your reminders.
---
Last year, the Eagles' Christmas album was the hottest holiday gift no one could get their hands on. It sold out three times, and eBay opportunists turned to Grinches, but it ultimately landed on streaming for us all to enjoy. And despite the scarcity, it raised $1.25 million for the Children's Crisis Treatment Center.
Plus, it was incredible. Eagles offensive linemen Jason Kelce, Jordan Mailata and Lane Johnson sounded amazing, partly thanks to West Philly vocal coach Eliza Hardy Jones of The War on Drugs, and the tracks are way better than they have any right or need to be.
When they announced a second installment, A Philly Special Christmas Special, was coming this year, we couldn't wait. Kelce, Johnson and Mailata got the band back together — Jones is coaching them and Charlie Hall is producing — along with some surprise guest artists, like Patti LaBelle. More Philly musicians guesting on the album include Amos Lee, Dr. Dog, members of The Hooters, and Mewithoutyou.
Another surprise? Jason's brother, Travis, makes an appearance on the album, too! (Sorry, Swifties, Travis's girlfriend did not join in.)
Kelce and I talked a bit about it at the premiere of his Amazon Prime documentary, and he said stand-out tracks he was most excited about were a "deep cut" by Willie Nelson called "Pretty Paper," a "very East Coast" sleeper called "Dominck the Donkey, "and — to my personal delight — Mariah Carey's "All I Want for Christmas Is You." The track list also includes "Fairytale of Philadelphia," "The Dreidel Song," and, appropriately for an album with Charlie Brown-inspired cover art, the Vince Guaraldi classic "Christmastime is Here."
Plus, Kelce wrote a Christmas song of his own, called "Santa's Night." How many hidden talents does this man have?!? That'll be on the album, as well as available as a special 7-inch single bundled with — and this is adorable — a 500-piece puzzle of the Christmas album's gatefold art.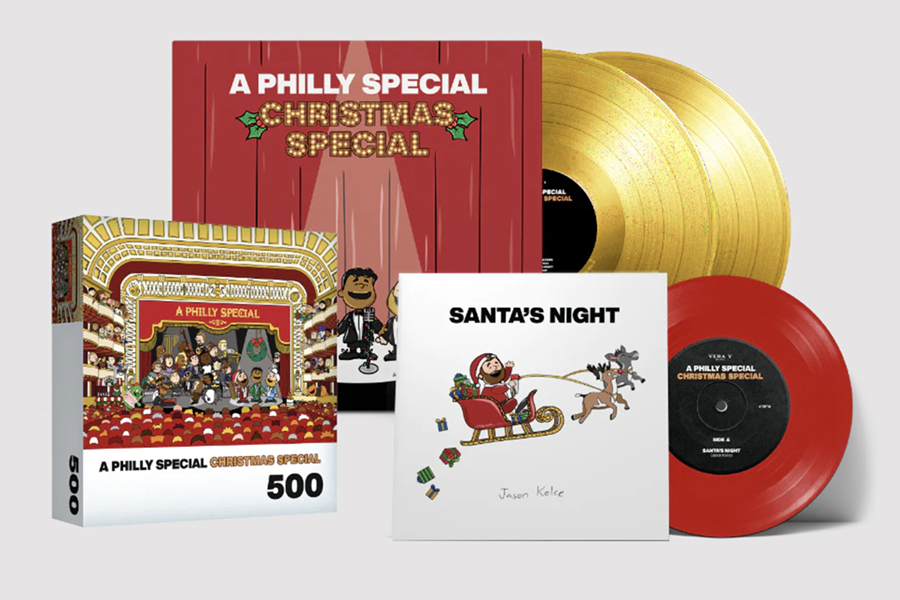 Presale begins Friday, November 3rd at 9 a.m., so set your alarms. Some more good news: For those of us (myself included) who missed out last year, you can purchase the $125 deluxe double album that comes packaged with both this year's and last year's Christmas specials pressed on gold vinyl. If you already have it, the 2023 album is also available on its own, on red vinyl for $75.
I personally want the whole damn bundle — double album, puzzle, and Kelce single — for $150, but seeing as I struck out thrice last year trying to order the album, I'll take what I can get.
"For Philly, it would be great if it sells out again," Kelce told me. "I owe so much back to the community and to the city that I don't think that I'll ever be able to repay that debt." Sales from this year's album will once again benefit CCTC, as well as Children's Hospital of Philadelphia.
---
---