News
Million-Dollar Idea: Sell Ads on the I-95 Livestream
Birthday announcements. Wedding proposals. Jawn Morgan. The possibilities are endless.
---
Check phillymag.com each morning Monday through Thursday for the latest edition of Philly Today. And if you have a news tip for our hardworking Philly Mag reporters, please do so here. You can also use that form to send us reader mail. We love reader mail!
Million-Dollar Idea: Sell Ads on the I-95 Livestream
The I-95 livestream has officially become a "thing." Thousands of people are tuning in to view it at any given moment, even in the middle of the night. The livestream wound up on the big screen at Citizens Bank Ballpark during Tuesday night's Phillies' game. A local developer has put the I-95 livestream on Twitch, accompanied by a chill soundtrack, fun graphics and a chatroom. Perhaps we should consider selling ads on the thing.
I had the thought on Thursday morning, when I noticed that the office of Pennsylvania Governor Josh Shapiro gave Wawa a shout-out on-screen, after the local chain sent food to the I-95 workers. It is HoagieFest, after all.
So why not offer shout-outs and ads onscreen to help defray the costs of the repairs or maybe to start a scholarship fund or … whatever? Hell, I'd toss $100 into the pot for 15 seconds of customized text, just for the hell of it, and assuming some Harrisburg bureaucrat or Philadelphia union official wouldn't wind up using my money to pay for his house at the Jersey Shore. (I'm hoping my wife doesn't find out how much I've spent on I-95-collapse artwork!) Birthday announcements. Wedding proposals. A little Jawn Morgan here and there. Do I have to think of everything?
Beware the Bear
Down here in Philadelphia, we have rats and stray cats roaming around. But up yonder in Bucks County, the wildlife is a bit more wild:
The Bucks County bear was spotted on Wednesday in the Trevose area, and officials are asking the public to call 911 if anybody sees the bear, warning residents to keep a close eye on their pets and small children. And whatever you do, don't let the bear anywhere near a pile of cocaine. The bear doesn't want to hurt anybody. But it could!
Local Talent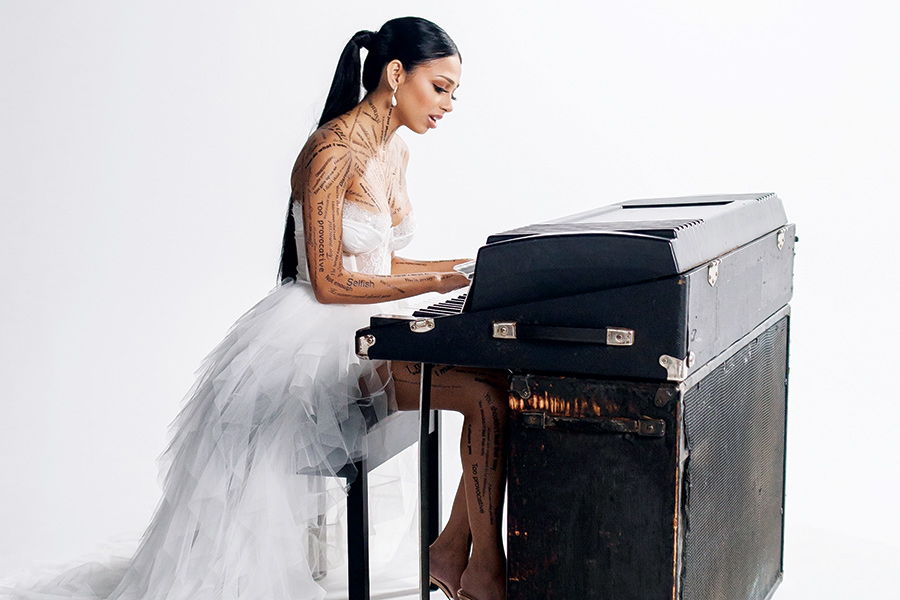 M. Night Shyamalan's eldest child, Saleka Shyamalan, just released her debut album, Seance, and the Rittenhouse Square resident will perform songs from it on Thursday night at World Cafe Live. There's a lot of R&B and a fair amount of classical influence (she's a classically trained pianist), and you can read more about the 26-year-old with a famous dad here.
Reader Mail
Okay, this isn't technically reader mail. It's a reader tweet, but since the mailbag is a little light today …
On Tuesday, I told you that Florida-based personal injury attorney John Morgan — the one who pissed a lot of real Philadelphians off last year with his "Jawn Morgan" billboards — had a new Philadelphia billboard campaign depicting him as a Phillies player:
I suspected that Morgan wasn't actually a Phillies fan — that this was just empty (but probably effective) advertising. And it turns out to be true, as one friend on Twitter pointed out to me yesterday:
https://twitter.com/anndra_wilson/status/1671558227043942406
"Oh, Vomit"
No, that's not what one of my colleagues said about the John Morgan billboards. It's what she said when she saw this ad: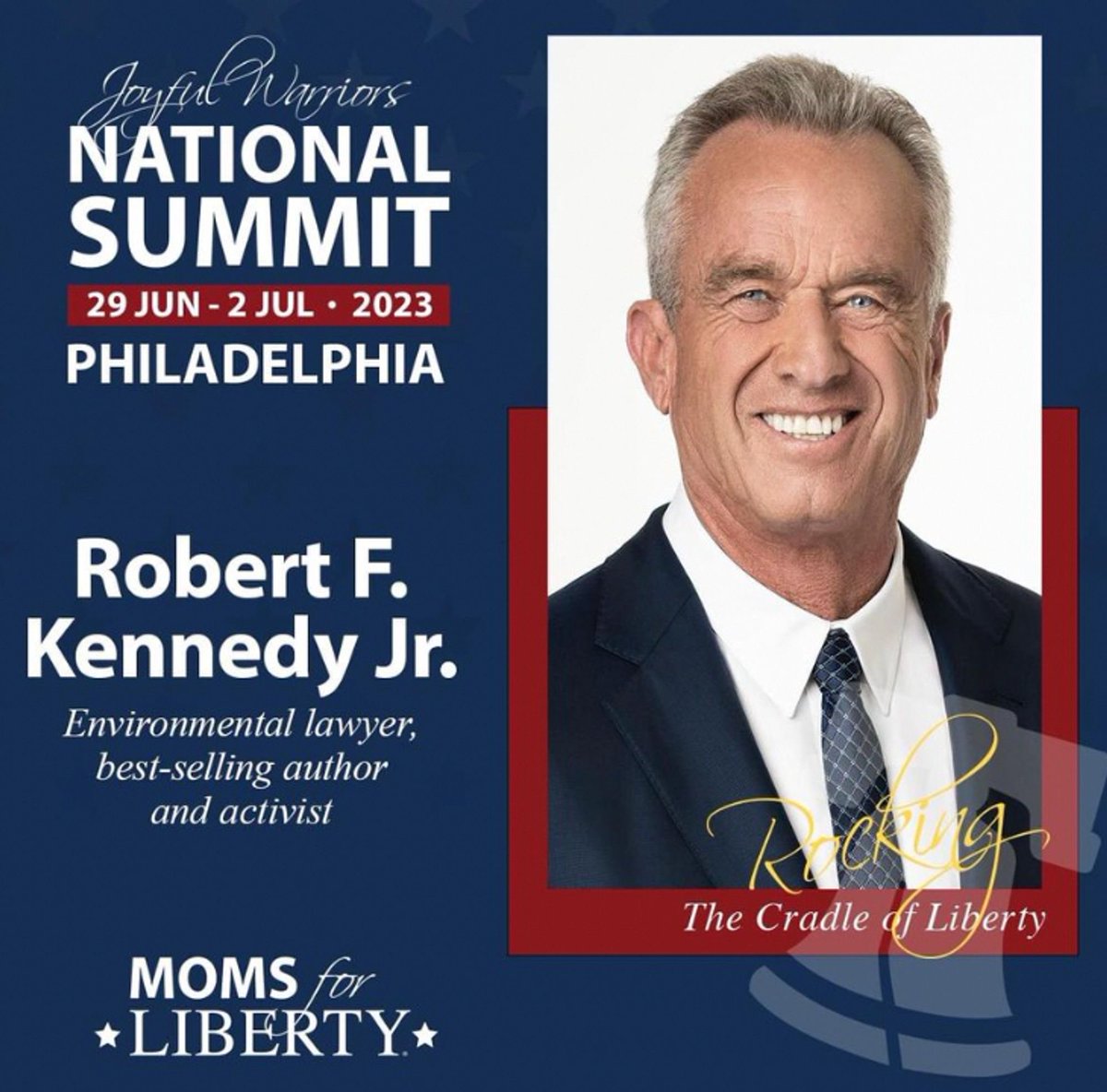 This is your reminder that the much-reviled Moms for Liberty event is coming to Philadelphia next week. And they're apparently bringing conspiracy theorist extraordinaire (and Democratic presidential candidate) Robert F. Kennedy Jr. with them, along with Donald Trump and Ron DeSantis. Should be a real shitshow. But, hey, foot traffic!
And from the Grab-That-Umbrella Sports Desk …
So the Phils' home game vs. the Braves was slated for 6:40 last night, and it, um, didn't get started on time because of the rain.
9:03 field still covered pic.twitter.com/k9fW7jy50B

— Tim M (@timmenn53) June 22, 2023
It eventually didn't get played at all, and the grumbling on social media was fierce. The last game in the Braves series is scheduled for today at 1:05 at the Bank. Last night's matchup will be made up in a day/night doubleheader on September 11th.
And in Doop News …
Orlando City scored first in the Union game in Florida last night, where there wasn't apparently any rain. It was by Duncan McGuire in the 13th minute, with Joe Bendik in goal for Andre Blake, who's off with the Jamaican national team.
Orlando City leads Philly 1-0. Duncan McGuire scores for the 2nd straight match. #VamosOrlando https://t.co/FgXphjh2Tj

— Alex Walker (@AlexWalkerTV) June 22, 2023
Olivier Mbaizo picked up a yellow in the 27th minute, and Leon Flach earned one in the 34th. Orlando was pressing hard; on the other hand, the Union hadn't managed to score on half a dozen corners in the first half.
In the second half, the Union missed some more unbelievable chances, which gave Orlando the chance to score again, off a deflection by McGuire. Off the back of his leg. Bummer. But the Union got one back on a goal by Jack McGlynn an hour in:
https://twitter.com/PhilaUnion/status/1671685112281419776
They went down two again in the 90th minute on a poorly defended break on which Bendik came out too far, IMHO. Sigh. But! The play was reviewed as the refs looked to see if José Martínez had been fouled, and they decided he had. Goal disallowed, and a yellow card on Orlando's Rodrigo Schlagel. Second chance! Could the Union take advantage of it?
OMG, they did — and it was Martínez, for his first-ever MLS goal!
https://twitter.com/MenInBlazers/status/1671702026223329281
Seven minutes of stoppage tacked on. Nail-bite time! Orlando knocked one off the crossbar four minutes in — no go! And the Union did the same in the 95th — "Like a pinball!" the announcer cried. And it ended, rather miraculously, in a tie: one point for each team. A moral victory for sure. The Union next face Miami back in Subaru Park on Saturday at 7:30.
All Philly Today Sports Desk coverage is provided by Sandy Hingston.
---
---