It Took the Internet Less Than 24 Hours to Find a Nurse's Long-Lost Wedding Dress
It was easier than any of us thought.
---
I have to be honest with you: When I wrote the story on Monday about Christine Besso and her frantic search for her lost 29-year-old wedding dress, I would have put $100 on the dress never turning up.
Well, I'm glad I didn't make that wager.
As Besso and her sister Teresa Keller explained it during our original interview, here's what appeared to have happened:
After Besso got married in 1990, her wedding dress was dropped off at a local dry cleaner for preservation and returned to her in a special wedding dress preservation box. She never opened the box again until last week, because her daughter was interested in wearing it at her own wedding. When Besso opened the box, she was startled to discover a wedding dress that wasn't hers.
The consensus was that the dry cleaner returned the wrong dress to Besso and that someone else had errantly received her dress. Nearly 30 years ago. The dry cleaner had since changed hands at least a couple of times, and it was altogether possible that the dry cleaner hadn't even handled the preservation in-house.
You can see why this wasn't looking good.
But one person who saw our story was Gwynedd Valley's Lisa Donnelly-Denton, who grew up with Besso in Roxborough and remains one of her best friends today.
"I saw it and was talking to somebody else about it, and I tried to be positive," Donnelly-Denton told Philly Mag on Tuesday morning. "But basically, I was like, she's never getting that dress back."
She didn't think much of it beyond that at first. Then her daughters, who are in Rome, learned of Besso's plight via social media, and they told their mom that she should make sure that her wedding dress was OK. Donnelly-Denton laughed it off.
But then, Besso and Donnelly-Denton wound up on the phone with each other on Monday afternoon, as best friends would do in any wedding dress crisis.
By that time — and after our original story ran — Besso had found a small label inside the wedding dress bearing the custom dressmaker's name, Elizabeth Scache. She mentioned the name to Donnelly-Denton, and something clicked in her head. Now suddenly her daughters' advice seemed somehow more important.
Donnelly-Denton raced to her basement, opened the box that she thought contained her wedding dress and, yep, Besso's wedding dress was inside. The dress Besso was holding up in the photo we ran? Donnelly-Denton's.
"It's absolutely bizarre," says Donnelly-Denton.
It sure is.
No one is exactly 100 percent certain what happened here, but Besso and Donnelly-Denton have come up with what they believe to be the most likely scenario.
Donnelly-Denton got married less than a year before Besso. They were in each other's weddings.
Here is Besso's bridal party, with Donnelly-Denton at top left: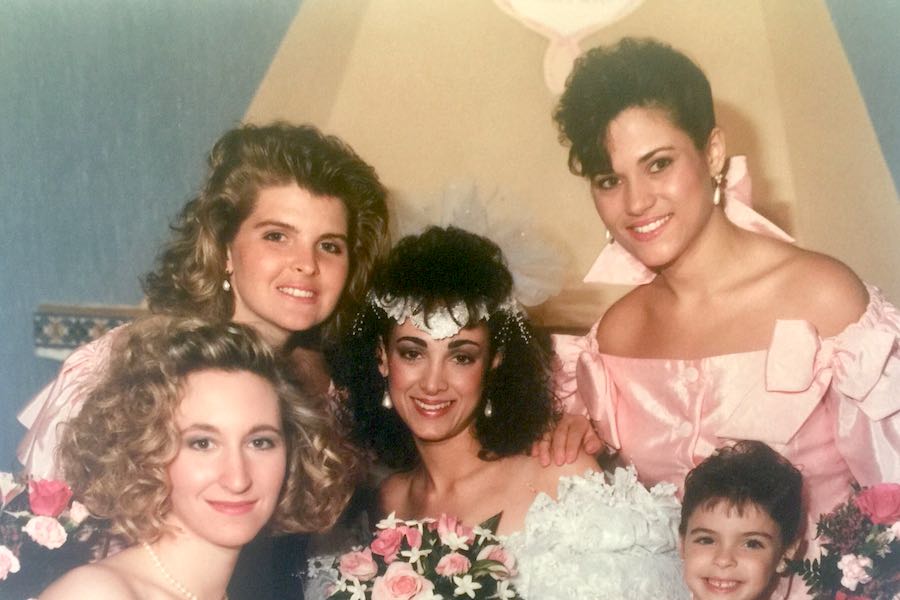 And here is Donnelly-Denton's bridal party, with Besso second from the left behind her: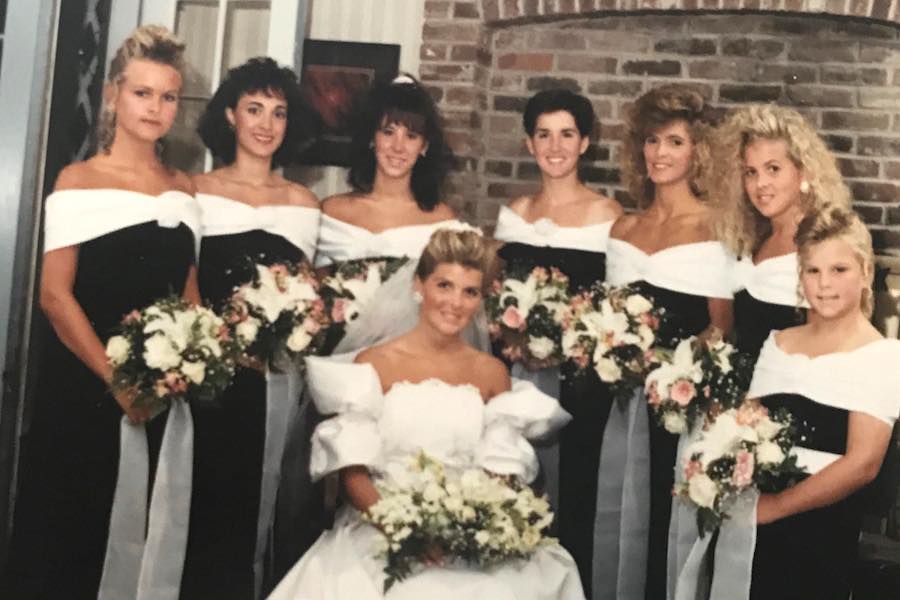 Besso's dress was preserved by a dry cleaner, but back then Donnelly-Denton had no intention of preserving her wedding dress.
"I think it cost $100 or something like that," she Donnelly-Denton. "I wasn't about to do that for a dress I paid maybe $300 for. I imagine I thought it was a scam, totally ridiculous."
Donnelly-Denton thinks that when Besso realized that she was just going to let her wedding dress hang in a closet, unprotected, Besso took the dress and had it preserved for her.
"That's exactly the kind of thing that she would have done," Donnelly-Denton says, and Besso agrees that this was likely. "She was always very responsible and very together, and I was not. But I can't say for sure what happened. I honestly can't even remember what I had for breakfast yesterday. Literally."
Besso would have wound up with two wedding dress preservation boxes from the dry cleaner, and when it came time to give her friend the boxed dress, she simply gave her the wrong one. Or something like that.
Whatever strange path these two wedding dresses may have taken, the two friends are scheduled to meet for breakfast on Thursday morning to reunite with their garments.
"I'm just so, so happy that it worked out this way," says Donnelly-Denton. "Christine deserves it."
---
---