Here's All the New Stuff in Atlantic City You Need to Know About
Yes, the Hard Rock and Ocean Resort just opened. But there's more.
---
About a month ago, I wrote an article about the rebirth of Atlantic City that has had a lot of people talking. Well, now that summer is in full swing, I paid another visit to the city by the sea to check out the brand-new casinos — the Hard Rock and Ocean Resort, both of which opened on Thursday — and to see what else is happening.
Here's what you need to know.
If you visited the $2.4 billion boondoggle known as Revel before its demise, Ocean Resort will feel familiar to you. Little has changed. Even some of the same restaurants that were at Revel — Amada by Jose Graces and Marc Forgione's American Cut among them — have reopened at Ocean Resort, which is the last casino in Atlantic City when you're heading north on the Boardwalk.
There's still a really loud club filled with young women in slinky dresses. There's still a fabulous outdoor pool where those same women switch to barely there bikinis by day. (I swear that half of the men I saw looked like Mickey Rourke at various stages of his career.) And Revel — I mean Ocean Resort — is still really, really, really, really big. Probably too big for its own good. But we'll see.
Highlights from my visit to Ocean Resort included: the "everything" biscuits (pictured above) and chili lobster at American Cut, and actually the whole meal at American Cut would be one I'd return for; the spectacular view from various vantage points at Ocean Resort; the friendly staff, which was notably more accommodating and joyful than the miserable staff at Revel on its opening weekend; and watching Mark Wahlberg make the day of a nine-year-old kid in a wheelchair.
If you want to check out Ocean Resort for yourself, you can reserve a room for as little as $139 (you can get that rate Wednesday and Thursday of next week, for instance), which is a pretty fantastic deal.
Just as Ocean Resort replaces Revel, the new Hard Rock in Atlantic City replaces the repulsively gaudy Trump Taj Mahal. And you can get rooms at the Hard Rock for about the same price as at Ocean Resort — $149 is the rate for those same dates I checked for Ocean Resort next week.
For its big opening weekend, Hard Rock brought in Carrie Underwood, but based on this review over at NJ.com, it sounds like the show wasn't exactly the blockbuster of an opening that the Hard Rock must have been hoping for.
I didn't go to the show. I did, however, have dinner at Robert's Steakhouse at the Hard Rock. It's a holdover from the Taj, and we gave that original location a Best of Philly award in 2013. You've gotta love their water pitchers.
Speaking of giant pieces of meat, one of the first things I saw upon walking from the boardwalk into the Hard Rock was this big window through which you can watch kitchen staff butchering meat for a different restaurant in the Hard Rock.
I guess they're not going for the vegan-PETA crowd?
They're certainly not. The Hard Rock's entertainment lineup makes that pretty clear: There are MMA fights and lots of country music. There's even gun nut, horrible musician, and anti-vegan Ted Nugent, who plays the Hard Rock on July 12th. Yee haw!
Sports Betting
You probably heard that the Supreme Court made a ruling in May that basically legalized sports betting in places where it was formerly forbidden. Naturally, Atlantic City has been quick to jump on this.
A few weeks ago, the Borgata debuted its sports book. And while we're pretty sure that you'll be able to find lots of sports books in Atlantic City before too long, the only place other than the Borgata for it right now is inside Ocean Resort.
Here is Mark Wahlberg standing in front of the sports book at Ocean Resort on Thursday: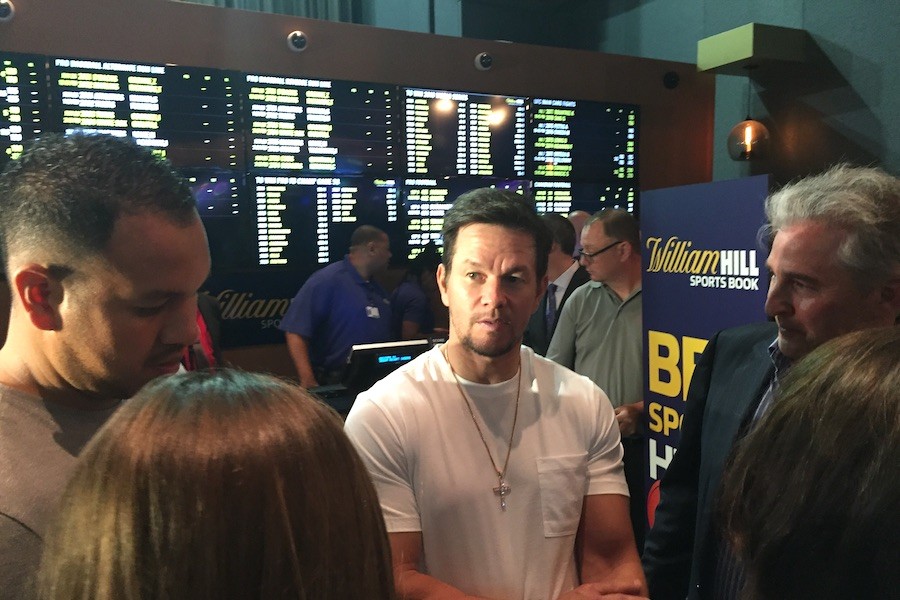 A few seconds before I snapped this photo, the crowd of onlookers erupted in an E-A-G-L-E-S chant. A few minutes after I took it, Wahlberg bet $100 on the Eagles to win the next Super Bowl at 8-1 odds. Well, he also put $100 on the Patriots winning it. Those odds were at 6-1.
Way back in 2013, plans were announced for a 227-foot high, 485,000-pound Ferris wheel on Steel Pier. Somehow, it took nearly five years for the Observation Wheel to open. But it's finally here.
The gondolas are actually enclosed and heated in colder weather, so the Observation Wheel can operate year round. The view from 227 feet up is awesome.
Tickets for the 15-minute ride cost $15 for adults and $12 for kids 3 to 12 years old. Younger kids are free.
OK, so the Borgata is obviously not new, but its concert programming this summer for the casino's 15th anniversary is worth mentioning.
The Borgata has a 2,000-seat concert venue known simply as the Event Center. They've had some great shows in there over the years, but this summer, they're bringing in some pretty big guns. The biggest is definitely Stevie Wonder, who is playing there August 25th and 26th. I mean, can you imagine seeing a legend like Stevie Wonder in such a small room?
Other big acts at the Borgata this summer include Barry Manilow (this Friday and Saturday), Britney Spears (July 19th through 21st), Cher (August 17th and 18th), and the novel combo of Sting and Shaggy (September 21st).
The Tropicana was already a fun spot to visit on the boardwalk in Atlantic City. After all, it's got a superb IMAX theater, strong restaurant offerings (I love Okatshe, the Japanese spot from Jose Garces, and I can get my crabfries fix at the Chickie's & Pete's there), and a karaoke bar.
And now, the Tropicana has debuted its newest property: the Chelsea Tower.
Last year, the Tropicana acquired the adjacent Chelsea Hotel and has been renovating it since. There's a new skybridge connecting the Tropicana to what's now known as the Chelsea Tower. On the ground floor, you'll find the best spot for breakfast on the boardwalk: Gilchrist. On the rooftop, there's a 21+ pool with a full-service bar and cabanas. Chelsea Tower also sports a new whiskey bar with a pool table, which is a welcome find on a rainy day.
Burger Delivery to the Beach
The Chelsea Beach Bar (note: it's not part of the new Chelsea complex at the Tropicana) recently got a permit to handle the concessions for a large chunk of the beach down in their area. What this means is that you can now sit in your beach chair and get them to deliver a burger to you. Or peel-and-eat shrimp. Or chicken tacos. Just be sure to eat under an umbrella because, you know, seagulls.
The Chelsea Beach Bar has also set up new kiosks where you can rent chairs, umbrellas, and cabanas, buy the sunscreen or beach towel you forgot, or borrow a volleyball for the new volleyball net on the beach.
And if you're a fan of hookahs, you can actually stop by the Chelsea Beach Bar and get a "hookah-to-go" for $20.
This is Chelsea Beach Bar hookah master Peter displaying a hookah-to-go. There's orange juice in the carafe. On top of the carafe is a semi-hollowed out orange half, where you put your tobacco or whatever it is that you're smoking. And then on top of the orange is your charcoal setup.
While Jersey Shore beaches are banning smoking left and right, in Atlantic City, you can get a hookah-to-go and smoke the afternoon away from your beach chair. Go figure.
You're probably tired of hearing about beer gardens, what with all of the beer gardens in Philly these days. They used to be a novelty. Now there are just too many.
But none of those beer gardens have a view of the Atlantic Ocean. This one does.
It also has a $13 soft pretzel: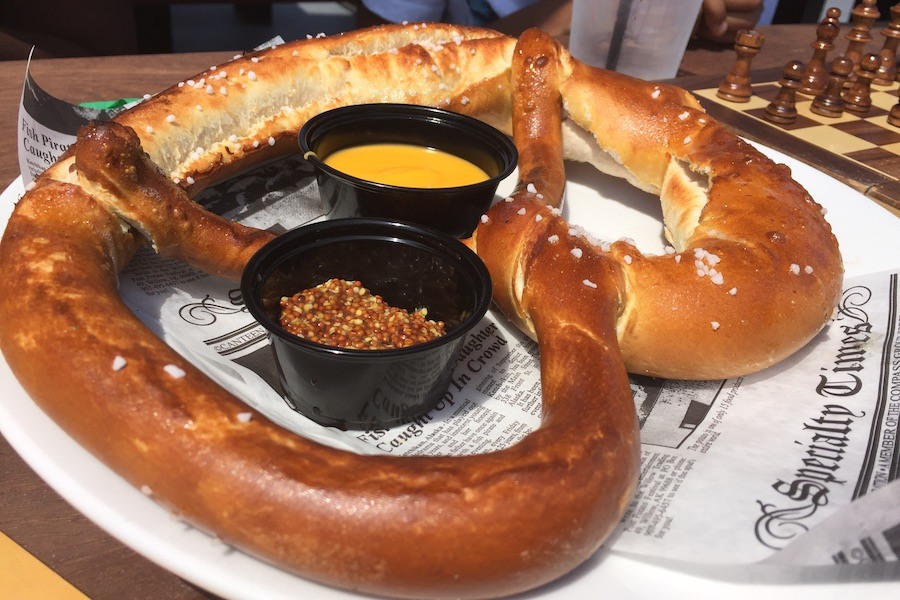 OK, so you might roll your eyes at a $13 soft pretzel, but this is a $13 "Bavarian" pretzel that's cooked in their wood-burning oven.
Either way, there's also a huge beer selection, some yummy cocktails, and games like chess, checkers, and Jenga for your table.
Starcade
A couple of months ago, I stayed at Bart Blatstein's Showboat resort, which is next to Ocean Resort. It was a ghost town, but now it's abuzz with activity. A few restaurants just opened there in the last week or so, but what you should really be excited about is this 3,200-square-foot arcade that focuses on vintage arcade and pinball games. The storefront arcades on the boardwalk pretty much suck, so if you like arcades, you're much better off here. They're still getting games in, but right now, you can play The Walking Dead, Metallica, Star Wars, and Twilight Zone pinball, among others.
Celebrity chef Gordon Ramsay just debuted his steakhouse at Harrah's in Atlantic City. Think $89 shellfish towers (nice to see them using Barnegat Bay clams) and steakhouse-priced cuts of beef. Yes, you can get an eight-ounce filet mignon for $55, but why stop there when you could get a 40-day dry aged prime $140 "royal long-bone chop" or even Japanese A5 beef. An eight-ounce portion of the Japanese stuff (the minimum order is four ounces) will set you back $280.
---
---