Philly Police Have a New Recruitment Technique: Roller Skating
At last week's "Roll with a Recruiter" event, potential candidates for the Philadelphia Police Department strapped on skates for a roll-along (ba-dum-tiss) with the officers.
---
"He's really humble, so he'd never tell you, but he's a national figure skating champion," Inspector Joe Bologna tells me as we watch Sergeant Robert Ryan gracefully spin circles around kids on the rink.
It's the first day of summer, and we're at the Blue Cross RiverRink for the Philadelphia Police Department's "Roll With a Recruiter" event — and at the moment, Sgt. Ryan is the only recruiter actually rolling. Eventually, Officer Michael Long skates onto the rink to join him, dance-gliding backwards with just as much ease, but maybe a little less pizazz.
Gripping onto the rails, I take slow, deliberate steps toward Sgt. Ryan — because, hey, I am not a national figure skating champion.
And even though he's humble, it actually wasn't hard to get Sgt. Ryan to tell me about his figure-skating title.
"I skated from the time I was little to my mid-twenties," he says. "In 1999, I was a national figure skating champion."
Ryan, who's served on the force for 11 years, came up with the idea to host a recruiting event at the roller-rink. For three hours, he skated around, talking to both potential recruits and impressed kids.
"I wanted to do something a little different to get people to come out," he says looking around. "People seem to be enjoying it."
If anyone interested in rolling with a recruiter mentioned they were here for the event, their entry ticket was comped and they were able to skate for free.
"I help develop strategies on how to reach out to all communities and let them know that we want them represented on our force, serving all of our neighborhoods," he says. "We try to recruit the people that they want to see protecting and serving their communities."
Although the event didn't officially start until start until 6 p.m., Alexus Smith, 22, was asking Sgt. Ryan questions at the PPD information table at 5:40 p.m.
Smith says she's always believed her calling was to either be an EMT or serve on the police force.
She's applied to the department twice (once in the fall but failed the written test, and applied again a few days ago when this recruitment season kicked off), but this was her first time asking recruiters questions face-to-face.
"I know I want to do this," says Smith, who works as a security guard with Allied Barton at Temple University. "I want to be a part of this community and contribute in a bigger way."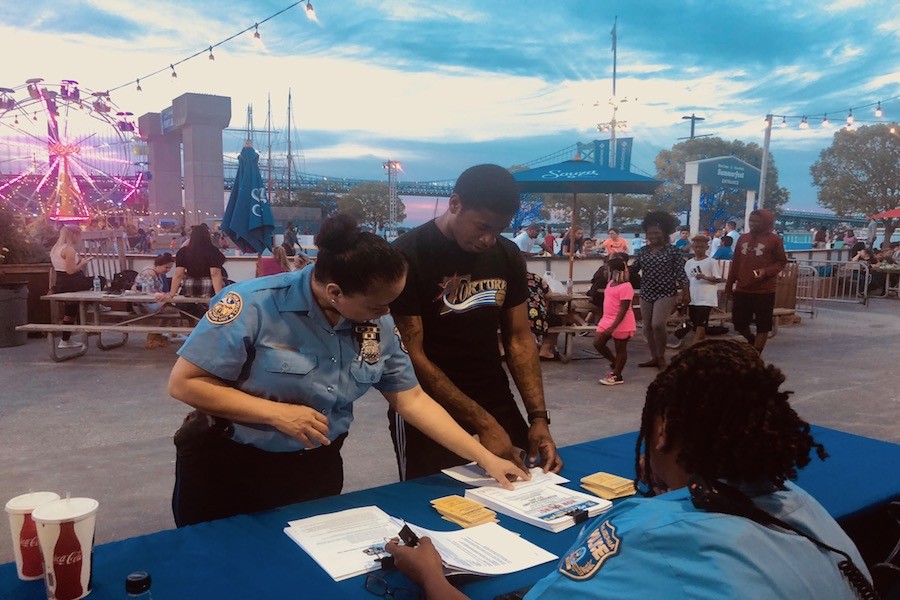 Outside the rink, Officers Diane Cortes and Tasha Williams man the recruit table and share handouts with application info and job requirements to anyone who asks.
Cortes, 48, from North Philly, is quick to highlight the salary (starts at $51,085) and other benefits future officers can look forward to.
What qualities should an ideal applicant have? According to Officer Williams, integrity.
"Your honesty is very important in this department," she says. "In today's time, there are a lot of people who don't like the police. Just because you want to be an officer doesn't necessarily mean you deserve to be one. It's important to us and to the communities we protect that we get the right people for this position."
Cortes, who's been with the department for 18 years, adds that being "a people-person with a desire to serve your community" is a plus.
During the event, Officer Cortes, Inspector Bologna, and Officer Williams all talk to potential recruits and answer questions about the application process and life in the force.
The two-week recruitment campaign will continue until June 29th, and interested applicants can find more info online.
Personally, I tried to limit my time on the rink as much as possible. After skittering around like Bambi on ice, I suffered a hard fall that was bound to happen.
Here's a picture I apparently took during said fall:
The blurry people in this photo rushed over to picked me up. A 7-year-old asked if I needed help getting off the rink. I did.
Everyone had a great time, though.
---