PHOTOS: Scenes From the 2018 Odunde Festival
People and moments that caught our eye at the biggest African street festival in the country.
---
On Sunday, Philly celebrated the 43rd annual Odunde festival, the oldest and largest African festival in the U.S.
The festival, which takes over the Graduate Hospital neighborhood for the day, attracts people from across the nation and around the world. Its marketplace is a big draw, boasting hundreds of vendors selling Caribbean and African food, art, clothes and wellness products.
This year marks the first Odunde without its co-founder, Lois Fernandez, who died in August 2017 at age 81. On Saturday, 23rd and South Street — the heart of the festival — was officially renamed Lois Fernandez Way in her honor.
Despite the gloomy, cold weather that persisted throughout the day, 14 city blocks were packed with people who came to shop, eat, and dance in the rain. Take a look at some moments we caught at the festival.
Festival goers danced and chanted outside despite intermittent rainfall on Sunday afternoon.
---
A vendor in the Odunde marketplace prepares a purchase for a customer.
---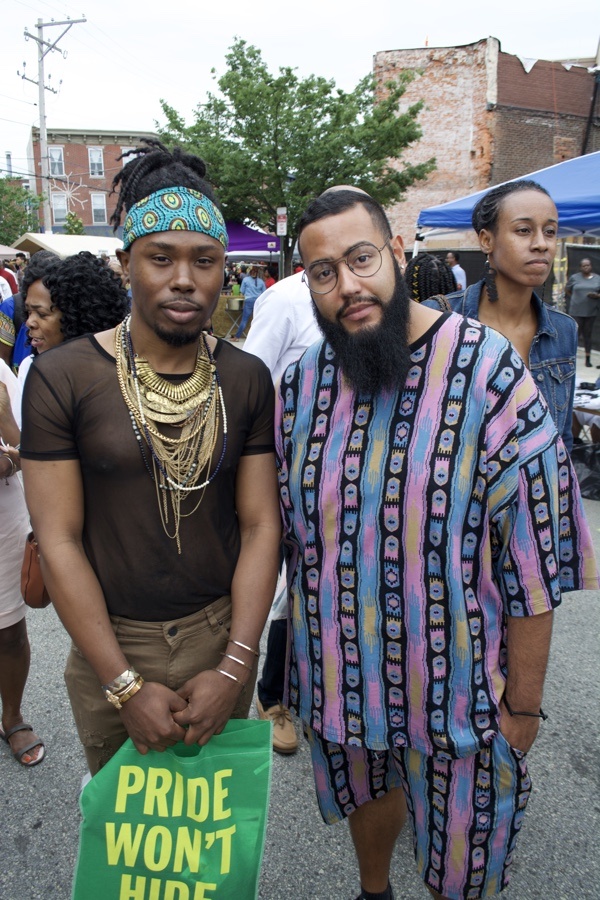 Nigel Ahmad, 27, and Marcus Shepard, 29, came to Odunde to browse the marketplace. With the city's Pride parade and festival celebration happening on the same day, Odunde saw some visitors who planned to attend both events.
---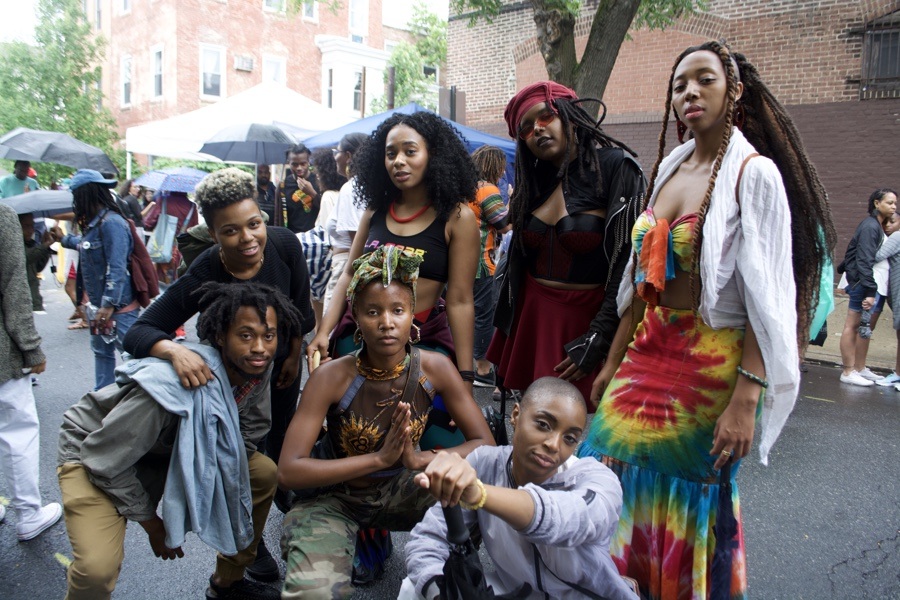 A group of friends takes a break from dancing to pose near a DJ tent.
---
Rose Luangisa, owner of Luangisa African Gallery in Mount Vernon, New York, stands in front of pieces from her current collection.
---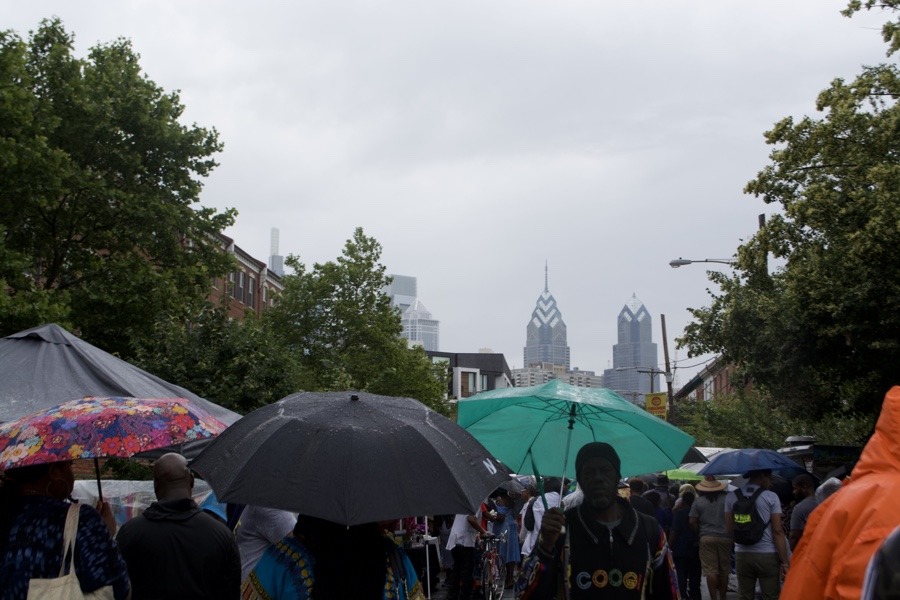 An announcement on Odunde's website warned people that there would be no rain-date. Sunday's forecast looked dull and most visitors knew to come prepared. When it started to pour, people selling plastic rain ponchos ventured out into the streets in search of unlucky festival-goers.
---
Dapper Lou: Lou Davis, 68, stays warm and keeps his outfit dry during Sunday afternoon's cold showers.
---
Women shop for skirts made with popular African prints at a tent in the marketplace on Sunday afternoon.
---
Ponchos and umbrellas were the accessory of choice for many, and Bernice Tett, 55, chose a rainbow umbrella that complemented her outfit (and gave a nod to #Pride!).
---
A customer browses dozens of perfumes and essential oils in an oil-and-insense tent at the at the marketplace.
---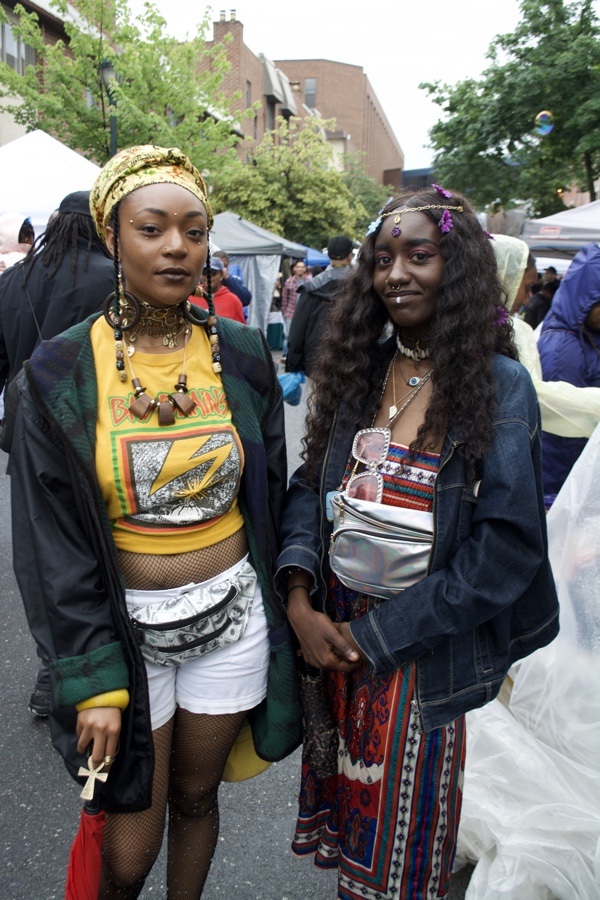 Raquelle, 21, and Amirrah 19, spent the afternoon shopping around for incense and accessories.
---
People walk by a tent specializing in accessories bearing flags from various Caribbean nations.
---
Dancers perform for a growing crowd at the corner of 22nd and South streets.
---
Spectators look on as one of the dancers prepares to jump over a volunteer's head.
---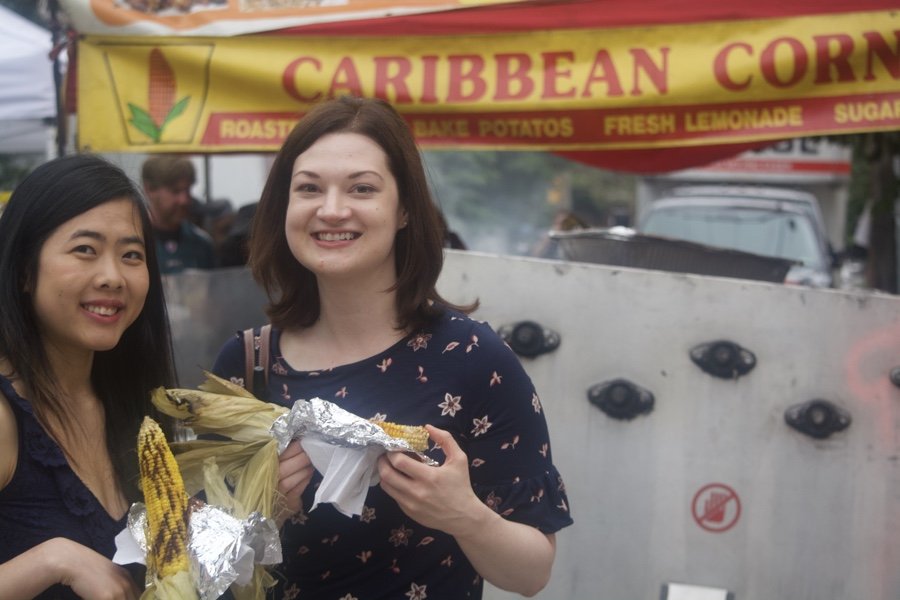 Lena Nie, 27, and Libby McLaren, 35, are happy with their purchases from the Caribbean Corn tent.
---
Long lines trail near food stands in the marketplace. Most food vendors specialize in either West Indian or African American food platters.
---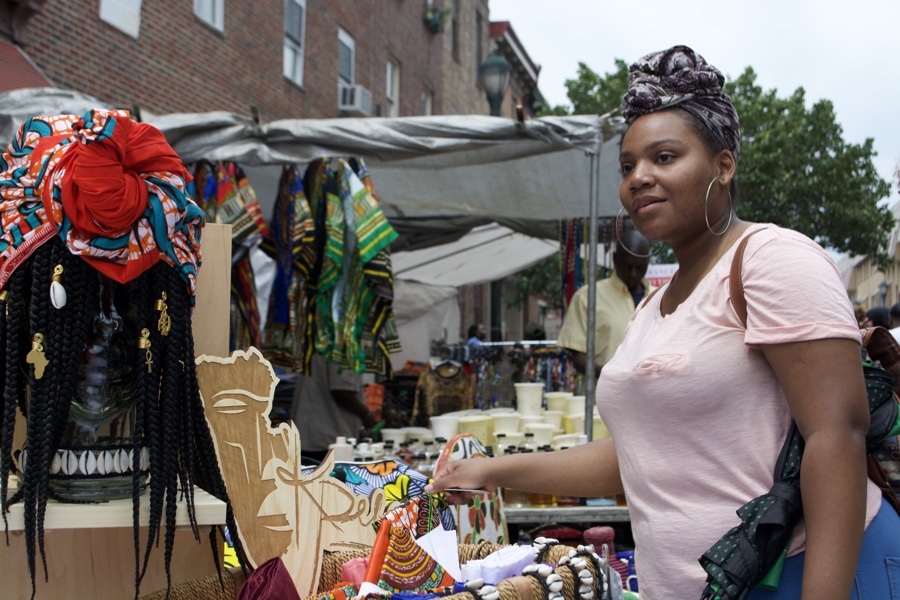 A customer visits the KPelle Designs/Shop Draped table at 20th and South streets.
---
For hours, people jumped in and out of this drum-and-dance circle, and there was always an excited group of onlookers cheering them on.
---
A man on stilts greets an eager boy in the crowd at the Odunde marketplace.
---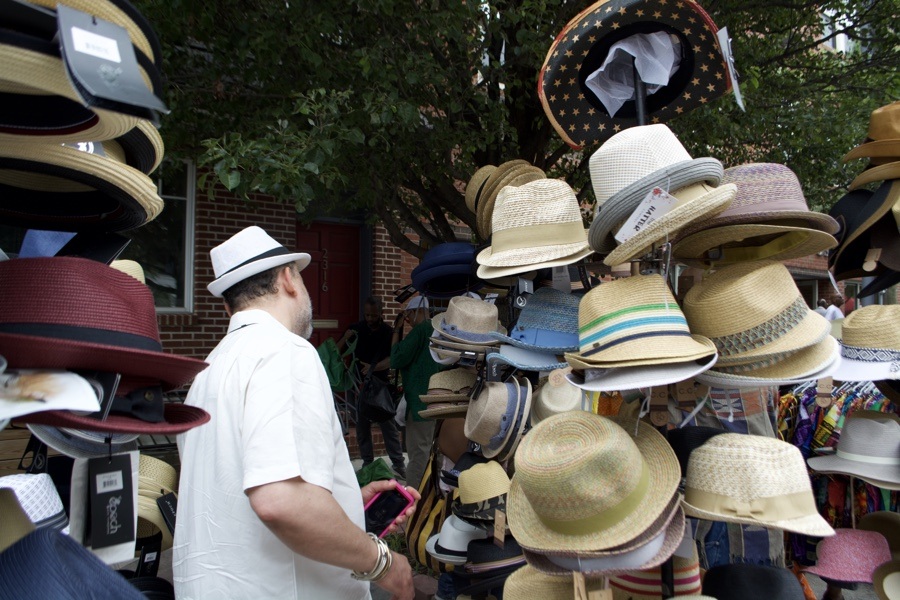 A customer tries on hats at a vendor's booth in the Odunde marketplace.
---
A woman pushes her son through the crowded streets of the marketplace on Sunday afternoon.
---
An art and decor vendor discusses one of his pieces with a customer.
---
Dorothea, 56, and Yvette, 50, spent hours browsing the shops at the marketplace. Yvette has been coming to the festival every year since she was 8.
---
Audience member records KRS-One during his highly anticipated closing performance on Sunday afternoon.
---
Brother-sister duo William and Mary-Ann stand in their tent, Nyokabi African Handicraft, at the marketplace.
---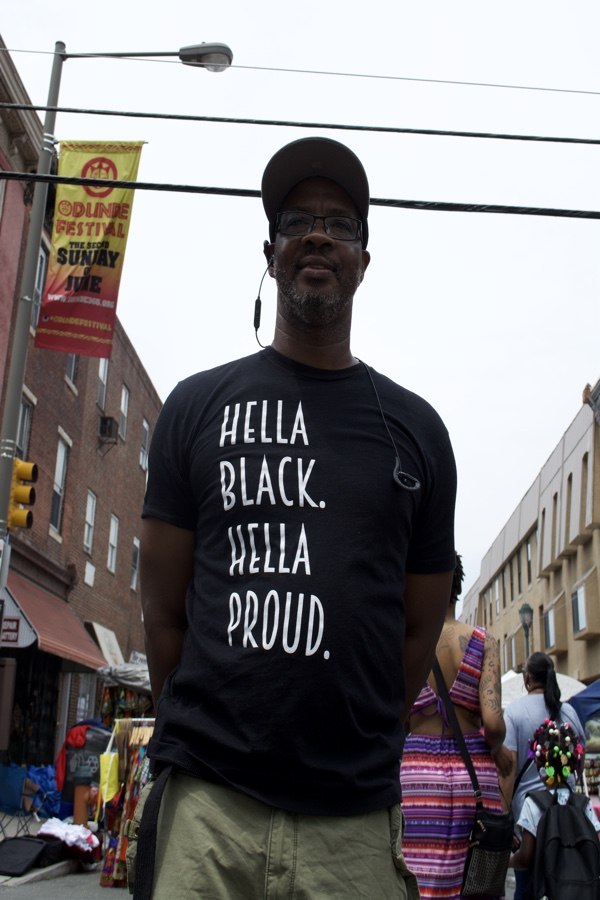 Kevin Williams, 58, wears his pride on his shirt as he walks into the festival early Sunday afternoon.
---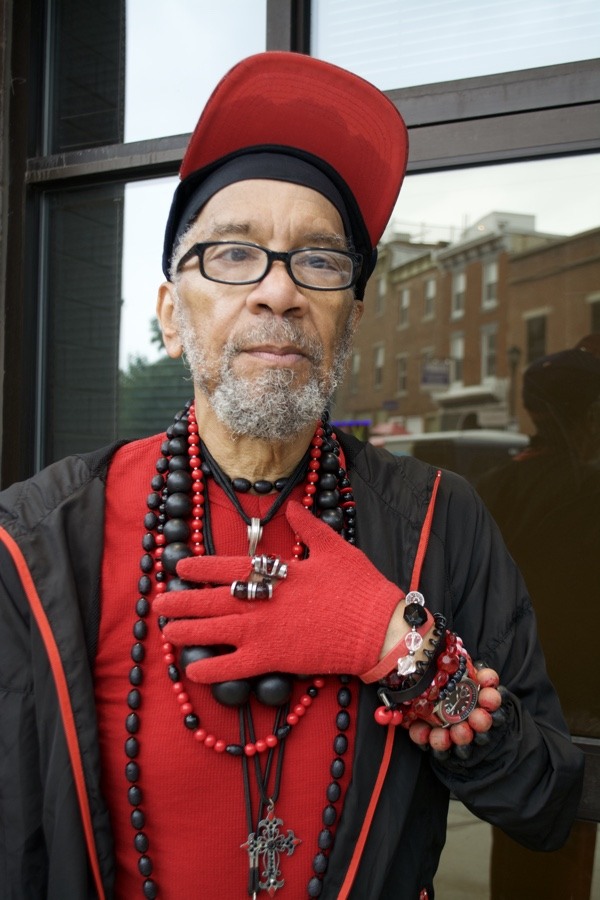 Matthew Hopkins, 72, a.k.a OG Mr. Matt, was at the first Odunde in 1975, and has been to almost every one since. He grew up a few blocks away from the Graduate Hospital area and says that coming to the festival "feels like coming home." "A lot of my friends have [passed], so I'm glad I get to represent them here today," he said. "Their spirits are with me," he added, resting a hand on his chest.
---