Pitbull Will Headline Philly's 4th of July Concert on the Parkway
We're guessing he'll leave his sexist and NSFW material at home. Right, Pitbull?
---
It's hard to believe that the 4th of July is less than three months away, but there you have it. And the people behind our annual Welcome America 4th of July celebration in Philadelphia have just announced the entertainment for this year: Pitbull.
In case you're not hip to such things, Pitbull is a Grammy-winning, Miami-born hip-hop star. And, because one stage name just isn't enough, the man born Armando Christian Pérez is also known as Mr. Worldwide.
Here's a YouTube compilation of some of his tunes:
We're guessing he'll be leaving some of his more, well, adult material at home, since the 4th of July in Philly should be relatively family-friendly, right? And given the times we're living in, Pitbull's notoriously sexist content probably isn't a good fit either.
But I'm sure he's got plenty of non-NSFW, non-sexist tunes in his vast repertoire. Otherwise, the city wouldn't have ever hired him. That wouldn't make sense.
"I'm excited to welcome superstar Pitbull to our great city, as well as the other renowned artists," said Mayor Jim Kenney in a statement. "And I am excited to host such a diverse and appealing line-up for the free concert."
Anyway, Pitbull will be balanced out by Heather Headley, who is a bit more, shall we say, classy.
The Welcome America July 4th Concert and Fireworks in Philadelphia will kickoff at 7 p.m. and will be televised live, in its entirety, on NBC10, should you not wish to join the masses on the Parkway.
Well, that's this year's 4th of July concert in Philadelphia. But we've been doing this for a long, long time, and we've had a lot of ups and downs. Below, a complete history of Philly's 4th of July concerts.
July 4, 1994
The 218th birthday of American independence was celebrated with 54-year-old Smokey Robinson, while Czech President Vaclav Havel was in town to accept the Liberty Medal. Captain Noah (it was his last year on TV) was grand marshal of the Liberty Lighted Boat Parade.
July 4, 1995
Even though The Beach Boys owed Philadelphia $267,000 due to a debacle surrounding a 1985 "charity" concert they did here, we still paid them to show up again in 1995. The intrepid Daily News launched an investigation, and Meryl Levitz, then one of the people in charge of our July 4th celebrations, told the paper she couldn't remember who chose the Beach Boys. But we're pretty sure that then-Mayor Ed Rendell had something to do with this unfortunate choice.
July 4, 1996
The one, the only, the queen of Philadelphia's soul, Miss Patti LaBelle. Naturally, she closed with "Over the Rainbow," wearing a sequined red dress. Check it out:

July 4, 1997
You haven't seen "America the Beautiful" performed live unless you saw Ray Charles do it here.
July 4, 1998
Boyz II Men, seven years after Cooleyhighharmony, at the beginning of their slow slide down the hill of fame and fortune. Consummate bluesman Keb Mo was the featured guest.
July 4, 1999
The greatest-hits set from Dionne Warwick included "Walk On By," "Do You Know the Way to San Jose?" and her 1985 song "That's What Friends Are For." This was one year after the Psychic Friends Network, which Warwick had controversially been shilling, went bankrupt. The week's festivities also included a black-tie tribute to… Gregory Peck?!?!
July 4, 2000
The guys from Earth, Wind and Fire put on a good show, and they came back less than a month later to entertain GOP leaders at a soiree on the waterfront during the Republican National Convention we hosted. (Remember that?)
July 4, 2001
Country music star Garth Brooks played some tunes, but the real celebrity power that day came from the Hollywood A-listers on hand for a dramatic reading of the Declaration of Independence on the 225th anniversary of its adoption by the Continental Congress. It included Mel Gibson, Morgan Freeman, Kathy Bates, Michael Douglas, Whoopi Goldberg, and Kevin Spacey, among others. The live recording of this isn't so good, but here's a pre-recorded version they did:

July 4, 2002
We could live with Brian McKnight, but special guests The Baha Men? Oh, what, you don't remember The Baha Men? They gave us the treacherous earworm "Who Let the Dogs Out?" Below, the segment where an extremely sweaty McKnight performs "Back at One."

July 4, 2003
Neo-soul crooner Musiq was joined by 1970s wah-wah-wah-wah-wah enthusiast Peter Frampton. On the same day, the National Constitution Center opened its doors for the first time.
July 4, 2004
We're guessing that then-Mayor John Street was a huge fan of headliners The Isley Brothers. The same night, Madonna brought her Re-Invention Tour to what was then The Wachovia Center. 30,575 people showed up for that.
July 4, 2005
This was also known as the Philadelphia Freedom Concert, and it starred Elton John and Patti LaBelle. If you wanted a seat near the front, you had to fork over $500 for HIV/AIDS research, and there was a $1,000/person ball as well.
The show itself was fun but didn't exactly meet its fundraising goal of at least $1,000,000 for local charities and organizations. In fact, it was a big flop. Organizer (and Philadelphia Gay News publisher) Mark Segal placed the blame on the Live 8 concert, which occurred in Philadelphia just days before. "[Live 8] took the publicity edge away," Segal told the Inquirer. "We couldn't get the people after that. Everything dried up. It's just an unlucky break."
Sir Elton opened the family-friendly show with "The Bitch Is Back." Here's "Rocket Man."

July 4, 2006
Lionel Richie showed up in the middle of his Coming Home Tour. Special guest: Fantasia, back when a few people were still watching American Idol. She won in 2004.
July 4, 2007
We love Hall & Oates. But… their July 4th performance was totally off, filled with technical problems and sour notes. On top of that, there was a ton of rain. At 10:45 p.m., the city sent everyone home due to the rain and potential for lightning. Then, about forty minutes later, the fireworks were set off anyway.

July 4, 2008
We brought in John Legend, back when we still considered the UPenn grad an honorary Philadelphian.
But the real highlight had to have been the sculpture of our Founding Fathers made out of Cheez-Its.

July 4, 2009
The show was originally announced as just Sheryl Crow, to absolutely not thunderous applause. The Roots were soon added to the bill, making folks a lot happier. Crow's VIP swag bag included lemon body butter, a Starr gift card and a free dinner at Chima (woo hoo!).

July 4, 2010
For some reason, The Roots were paired with the Goo Goo Dolls. The Philadelphia Weekly's Brian McManus christened the Goo Goo Dolls portion his "Week's Worst" music pick.

July 4, 2011
The Roots delivered. As did guests Earth, Wind & Fire and Estelle. And DJ Jazzy Jeff did his thing:

July 4, 2012
This was a truly great show featuring The Roots (they played a killer cover of "Paul Revere" as a tribute to the just-passed MCA from the Beastie Boys), Queen Latifah, and Lauryn Hill, who showed up unannounced for a hot and sweaty set. But the big news was the shooting that occurred at 15th and JFK right after the show. Mayor Nutter called the 16-year-old shooter a "little asshole."

July 4, 2013
We could have done without John Mayer and Demi Lovato, but The Roots and Jill Scott tore it up. Kevin Hart was the host.

July 4, 2014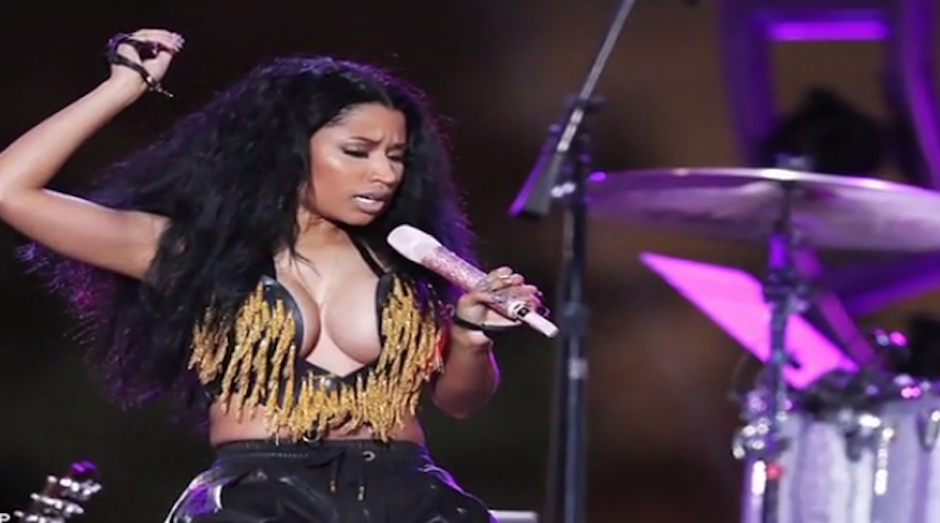 Also known as The Nicki Minaj mess. She let loose with her filthy mouth, guest Ed Sheeran couldn't help but curse as well, and host Marlon Wayans wasn't helping much. Happy %!@#$ 4th of July, America!
July 4, 2015
As we put it back then, "With Miguel, Philadelphia has officially ruined the 4th of July." Banal country singer Jennifer Nettles was also on the bill.
July 4, 2016
No major problems with the performers — songwriter Leon Bridges, Hamilton star and Philly native Leslie Odom, and The O'Jays — but a Philly Pops show got scrapped at the last minute and people were upset over the fireworks timing and television coverage.
July 4, 2017
Mary J. Blige turned out to be a big crowdpleaser.
---
---