PECO Outage Hell: Four Kids, Fast Food, and Six Days in a Motel
When you still don't have power nearly a week after the last snowstorm.
---
While most of the 600,000-plus people in the Philadelphia area who lost power after last week's winter storm are comfortably sitting at home as a new storm bears down on us, their power long ago restored, that's not the case with everybody. Here, Plymouth Meeting mom Kristin Jackowski tells us what it's like on Day Six without power.
Are you at the point of asking yourself "What did I do to deserve this?"
It's
insane
. It's actually insane. Like, I have four kids. I have a six-month-old who is teething. I have a two-year-old. I have a daughter with special needs — she has ADHD and autism — and I have an eight-year-old son.
I can't even.
You have to keep them occupied. You have to have their favorite things — their favorite pillows, their favorite blankets. And all the things that you do, like limiting screen time, all of those things go out the window. We are bouncing off of the walls. We are all cooped up. The kids haven't had a vegetable in a week. It's all McDonald's and Dunkin' Donuts.
I've heard that some people have stuck it out without power. What made you decide to leave?
When our home security system failed. It only lasts a certain amount of time without power. And my daughter with ADHD, she's an eloper, meaning she tries to escape when she gets stressed out. So when our security system is down, there's no boundary for her to stop, nothing to alert us that she has walked out of the house.
On top of that, I had a stroke six months ago after I had my baby. I'm on meds, I'm hypertensive. None of this is good for my health.
Where are you staying?
We're at the Extended Stay America in Plymouth Meeting. It's close enough to the kids' school, so I can take them back and forth. I'd love to be at a Ritz or a Hilton, but here we are.
We have two beds, a bathroom, a TV, a little table with two chairs, and a kitchenette. So I can heat up chicken nuggets and have cereal and milk. We have some comforts, but it's not home. My poor husband is trying to "work" from home to help me out with the kids, but it's really hard to work with the kids yelling. He's the one that pays the mortgage and keeps the lights on, and when the lights aren't on at home and he still has to work, it's frustrating.
And where is home?
We live in the really cute neighborhood of Plymouth Park in Plymouth Meeting. There are seven streets. The street we're on, the 100 and 200 block are on a different setup than the rest of the neighborhood, so every time we lose power, either our 28 houses come up first or all the other houses do. This time, all the other houses have come up first, and it's been the 28 of us the last six days.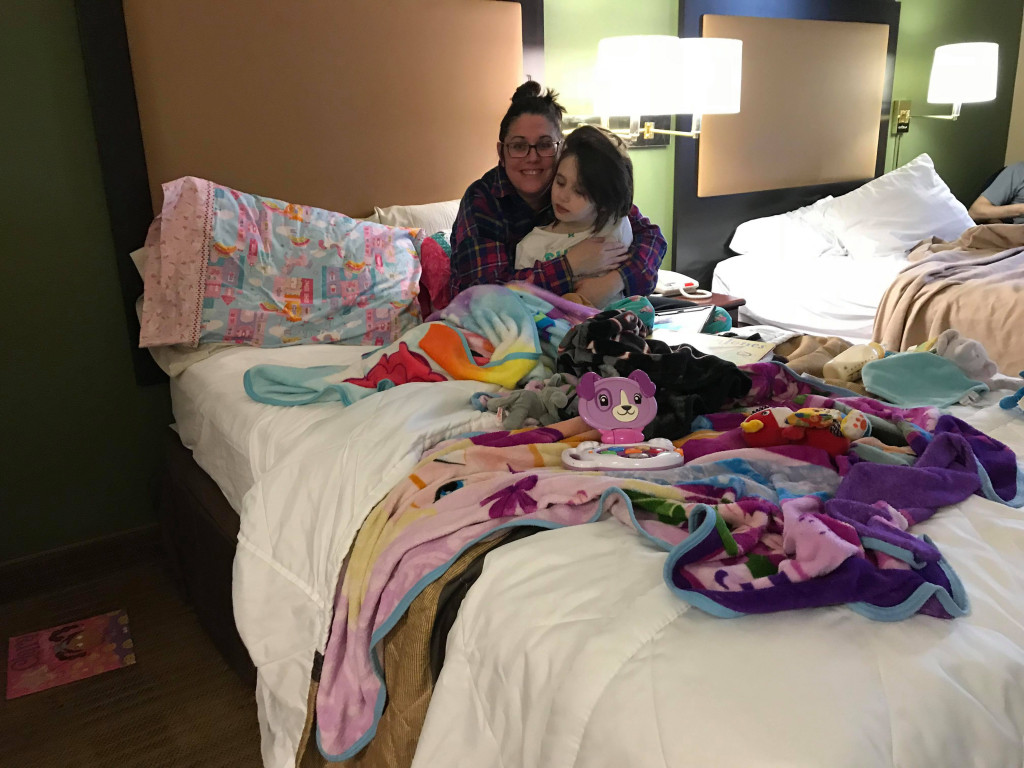 Have you considered a generator?
Out of the 28 of us still without power, maybe four or six have generators, but with the new storm today, even that's out the window now. These are split level houses. None of us really have garages or anywhere that you can put a generator and keep it dry in this weather. So even the people who do have generators have left to stay with family or in hotels. We had talked about renting a generator, but it's expensive, and we didn't know how long this would go on. Looking back, we could have bought a generator at this point for what we're paying for the hotel.
Do you hate PECO as much as I imagine you would?
The first day, the neighbors got theirs back on and we thought we'd be soon behind. But the first couple of days, you couldn't even get a human on the phone. But, OK, that's fair, given the situation, I guess. I was patient. I just kept using the PECO app.
Then yesterday morning, the app said they had dispatched a crew. So I drove over to see if I saw a PECO truck or anything. I see one guy in a PECO hat driving a Prius. I was the friendliest person on earth. I pleaded with him. Please get somebody out today. He said, The problem is, you need the right crew, and the wrong crew was dispatched. He said he was reporting back to headquarters. That was 8:45 yesterday morning. Still nothing.
So you can't get a human and when you do get a human, they literally have no update. They can't tell you anything. I ask them about my pipes. What if my pipes freeze? They say that's on me. I will say that the PECO people are keeping cool and being polite, but there is literally no information.
So what's the secret to keeping four kids occupied in one motel room for six days?
iPads. Nintendo DS. And my son is an avid reader. He has his Flat Stanley books, his Yeti Files, Goosebumps. And he reads to the girls. They're doing a puzzle on the floor right now. And right before you called, we were all singing BINGO.
Oh no. It's come to that.
Yes. And we've been having dance parties. Plus, my husband or I will go home and change out a suitcase, pick up some other things, try to keep the puzzles fresh and stuff like that.
What do you say to other people out there in the same boat?
Yesterday, there was actually another family checking in here that my daughter goes to preschool with. She was checking in. She had two Happy Meals and a pizza and their room wasn't ready yet, so she was just standing there. I saw it in her face. I could see what was going through her head. And I just told her, Hey, Liz. It will get better. And it will.
---
---