Here's the South Philly Neighborhood That Hates Larry Krasner the Most
85 percent of the voters in one section chose Beth Grossman.
---
Larry Krasner defeated Republican challenger Beth Grossman on Tuesday, in a district attorney's race watched closely not just here but by politicos and pundits across the country. But not everybody is happy with the outcome. Far from it.
More than 50,000 Philadelphians turned out on the wet, cold day to cast a vote against Krasner, who is championed as a progressive hero by his supporters and condemned as a cop-hating hyperliberal liberal by his detractors.
In South Philadelphia, Krasner won all but one ward, the 26th, an area between the Schuylkill River to the west and Broad Street to the east and Passyunk Avenue to the north and the Delaware River to the South.
(In case you're new to town, Philadelphia is divided into 66 sections called wards, each of which are divided into smaller areas known as divisions. The system is archaic and disliked by a lot of people.)
In the 26th, Grossman won 60 percent of the vote, topping Krasner by close to 500 votes. And within the 26th, the section that came out strongest for Grossman was division 26-03, better known as Packer Park. Grossman got 85 percent of the votes in that neighborhood.
Her next best performance in the 26th was in the two blocks west of Broad Street between Shunk and Bigler, where she drew 77 percent of the vote. Only four of the 23 divisions in the 26th went for Krasner. He got 75 percent of the vote in division 26-22, the area shown below.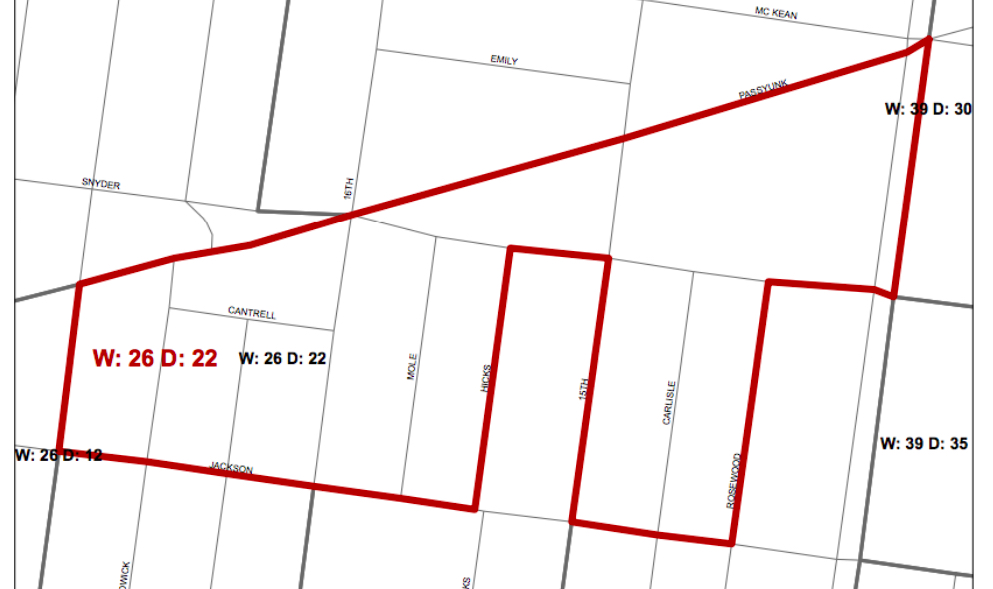 Grossman may have only carried one ward in South Philadelphia, but she won most of the wards in Northeast Philadelphia, home to lots of cops and conservatives. She topped out at 77 percent of the votes cast in the 66th ward, the northeastern-most part of Northeast Philadelphia, bounded by the Roosevelt Boulevard, Grant Avenue and the Delaware River.
Closer to Center City, Grossman managed to pick up 54 percent of the vote in the 25th ward, which covers parts of Port Richmond and Kensington.
And if you're wondering where people came out the strongest for Krasner, Grossman couldn't swing even three percent of the vote in some wards in West Philadelphia. The fewest votes cast for her were in the 28th ward in the Strawberry Mansion area, where 34 residents came out to vote for her, compared to 1,145 for Krasner.
To see how your ward did, check the results below.
| Ward | Krasner | Grossman | Write-in |
| --- | --- | --- | --- |
| 1 | 2595 | 975 | 1 |
| 2 | 4671 | 1048 | 2 |
| 3 | 2375 | 66 | 0 |
| 4 | 2271 | 71 | 0 |
| 5 | 5857 | 1702 | 9 |
| 6 | 1700 | 65 | 1 |
| 7 | 481 | 59 | 0 |
| 8 | 5473 | 2001 | 6 |
| 9 | 3940 | 1063 | 3 |
| 10 | 3964 | 117 | 0 |
| 11 | 1431 | 47 | 0 |
| 12 | 2697 | 145 | 0 |
| 13 | 2297 | 146 | 0 |
| 14 | 1049 | 77 | 0 |
| 15 | 3304 | 1043 | 3 |
| 16 | 1022 | 48 | 0 |
| 17 | 3061 | 111 | 0 |
| 18 | 2308 | 571 | 0 |
| 19 | 557 | 43 | 0 |
| 20 | 872 | 39 | 0 |
| 21 | 4567 | 3388 | 4 |
| 22 | 5377 | 458 | 2 |
| 23 | 1309 | 378 | 0 |
| 24 | 1628 | 115 | 1 |
| 25 | 689 | 804 | 0 |
| 26 | 1015 | 1508 | 0 |
| 27 | 2577 | 224 | 0 |
| 28 | 1145 | 34 | 0 |
| 29 | 1480 | 79 | 1 |
| 30 | 3275 | 578 | 2 |
| 31 | 2087 | 724 | 2 |
| 32 | 1809 | 61 | 1 |
| 33 | 532 | 222 | 0 |
| 34 | 5136 | 453 | 2 |
| 35 | 1803 | 776 | 0 |
| 36 | 3965 | 418 | 4 |
| 37 | 1131 | 42 | 0 |
| 38 | 2304 | 593 | 0 |
| 39 | 2903 | 2521 | 1 |
| 40 | 3872 | 383 | 0 |
| 41 | 718 | 860 | 1 |
| 42 | 1356 | 136 | 0 |
| 43 | 1031 | 63 | 0 |
| 44 | 1446 | 44 | 1 |
| 45 | 629 | 1382 | 0 |
| 46 | 4529 | 215 | 0 |
| 47 | 782 | 50 | 0 |
| 48 | 1701 | 251 | 0 |
| 49 | 2563 | 130 | 0 |
| 50 | 5415 | 214 | 0 |
| 51 | 2687 | 74 | 0 |
| 52 | 4075 | 274 | 1 |
| 53 | 1120 | 660 | 0 |
| 54 | 685 | 287 | 0 |
| 55 | 800 | 1551 | 0 |
| 56 | 1536 | 2043 | 1 |
| 57 | 1055 | 2254 | 0 |
| 58 | 1665 | 4185 | 0 |
| 59 | 2977 | 173 | 1 |
| 60 | 2449 | 114 | 0 |
| 61 | 2676 | 250 | 0 |
| 62 | 1116 | 492 | 0 |
| 63 | 1167 | 3033 | 2 |
| 64 | 521 | 1367 | 0 |
| 65 | 994 | 1935 | 0 |
| 66 | 1444 | 4874 | 0 |
---
---