News
Eagles Announce New Charitable Event for Autism Research
The proceeds raised by the Eagles Autism Challenge will go directly to three local "eds and meds" institutions for innovative autism studies and programs.
---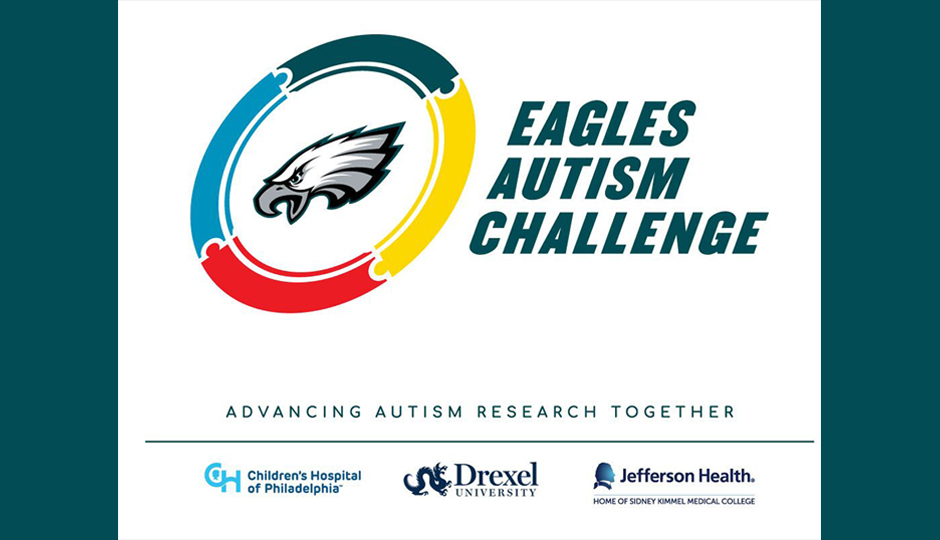 Eagles owner Jeffrey Lurie, Mayor Jim Kenney and representatives from Children's Hospital of Philadelphia, Drexel University and Thomas Jefferson University/Jefferson Health stood together on a stage atop the grass of Lincoln Financial Field on Friday to announce a new annual charitable event dedicated to raising funds to advance research and support for Autism Spectrum Disorder – with a lofty goal, too.
The Eagles Autism Challenge features a family-friendly 5K run/walk as well as cycling routes of 15, 30 and 50 miles that will take riders through the city and its suburbs. The running course will shuttle participants through South Philly before ending back at Lincoln Financial Field, which will serve as the finish line for all runners and bikers. Don't drink too much at the Friday Kick-Off Party the night before the big event, which will be held on May 19, 2018. You can already sign up or just donate here.
"Our goal is to make it a signature event in the country, based here in Philadelphia, but one of the largest, if not the largest, fundraiser for autism research programs in the country," said Lurie. There is no monetary benchmark for fundraising, with Lurie instead maintaining that his focus is solely on ensuring that the event occurs on a yearly basis and is marked by continued growth.
"The Eagles don't owe us anything beyond giving us 100 percent each Sunday afternoon, but they continue to immerse themselves in the community and make a real difference," Mayor Kenney said. "Philadelphia already leads the way when it comes to medical and scientific breakthroughs, so I can't wait to see the results of this effort. I also think that this event will be a signature Philadelphia event for years to come."
"It is very difficult for a single institution to address the complex medical and scientific issues presented by the condition of autism," Eagles owner Jeffrey Lurie said this morning. "So the partnership was organized to bring fresh ways of thinking and the necessary resources to the field. I have such great respect and admiration for the amazing work that Children's Hospital of Philadelphia, Drexel and Thomas Jefferson are conducting today."
Here's what leaders from those institutions had to say about the partnership, which stands to see them receive 100 percent of the proceeds from the event:
"Teams at Children's Hospital of Philadelphia care for thousands of children on the autism spectrum each year," said Madeline Bell, CHOP's President and CEO. "These patients and their families need answers, solutions and treatments that can only come from breakthroughs in research – and they are counting on us to make those breakthroughs. Fundraising events like the Eagles Autism Challenge give our teams the resources they need to make discoveries that will change our patients' lives today and help them thrive in adulthood."

"Families need one team working toward the same goal, in the same fight," said Stephen K. Klasko, President and CEO of Jeff. "Jefferson Health's experts are on the front lines of childhood-autism research, and now, with the Eagles leadership, we will push progress forward to make a difference in the lives of families of children with autism. We're proud to partner with the Eagles on this important and vital initiative that will meet our mission of improving lives."

"Finding ways for people on the autism spectrum to pursue fulfilling lives is vitally important work to this community, and I'm deeply grateful that the Eagles Autism Challenge will help us continue our efforts," said Drexel University President, John Fry.
With his brother on the spectrum, Lurie said the cause is near and dear to his heart and he had wanted to do this type of charity work in Philly for many years.
"When I bought the team twenty-something years ago, I didn't feel it was right to take something that affected me and my family and impose it on Philadelphia," Jeffrey said. "What's happened over the last 20 years is that [autism] has mushroomed into one of the largest developmental disorders, and it's been apparent for about five years now that we have to do something really special. So the time had come to figure out how best to do it, and the Eagles Autism Challenge I think is the best mechanism."
Follow @jtrinacria on Twitter.
---
---