Anti-Semitic Metal Band Duped Us, Says Bensalem Bar Manager
After the plug was pulled on a Friday-night show in West Philly, members of Nyogthaeblisz used a different band name to trick their way onto the stage.
---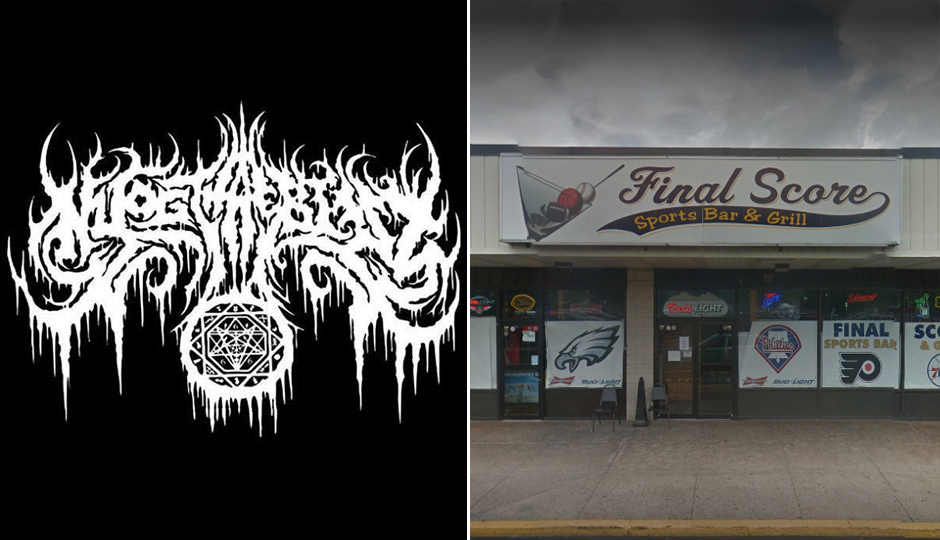 What's a hate-spewing, anti-Semitic "black metal" band to do when the West Philly bar it was booked to perform at ultimately caves to public pressure and ends up canceling the gig? Use another name, of course, because it seems the show must go on – blood and all.
That's the type of bait-and-switch that the Texas-based group Nyogthaeblisz pulled on Final Score Bar & Grill in Bensalem on Friday night, according to the venue's manager — before, utterly sickened by the band's apparent self-mutilation, he booted them off the stage after one set.
"It was crazy, man — I didn't know what to think of it," bar manager Geno Tripodi tells Philly Mag. "I see blood running down the band members' arms … I thought it was makeup until I found the razors they left in the bathroom! Who in their right mind would do such a thing?"
As for how the controversial band weaseled its way in, Tripodi says Nyogthaeblisz's booker called Final Score in the early evening and said that a group called "Hellvetron" was in dire straits after the venue they were scheduled to play in the Northeast ended up being closed when they got there.
The man who runs Final Score's kitchen and helps book its music acts, Matt — who requested that his last name not be used — researched Hellvetron and found what I did: They're a typical death-metal band dabbling in the occult and Satanism – not the overt anti-Semitism that has become Nyogthaeblisz's hallmark. But Matt didn't discover that two of that band's members are also in Nyogthaeblisz, which is signed to a label called Satanic Skinhead Propaganda.
"We got duped," Matt says. "I didn't know anything about them. I couldn't understand what they were saying and they didn't have any Nazi flags flying – I would've called the cops if they had."
Tripodi says Nyogthaeblisz didn't want compensation for the show. That's typical for Final Score, which frequently allows bands to perform for free – mostly because they're usually just starting out and looking for some much-needed stage practice.
Nyogthaeblisz had a few followers who helped the band set up, Tripodi says, but it didn't seem that any fans had shown up. The night was a bust for Final Score, which saw disgusted regulars leave early in Nyogthaeblisz's set.
"I have a great diverse crowd and everybody gets along," Tripodi says. "I don't need any goofy shit. Other bars can learn from our mistake. They're going to keep doing this, obviously."
Representatives for Nyogthaeblisz didn't immediately return requests seeking comment. The band is currently scheduled to play in Brooklyn on Saturday night, and Wilmington, Del., on Sunday.
Follow @jtrinacria on Twitter.
---
---