Sixers Fans Want to Pay Joel Embiid's $10,000 Fine
A GoFundMe was launched to cover the outspoken Sixers center's NBA fine.
---
While Joel Embiid isn't exactly looking under the couch cushions for loose change to pay his recent $10,000 fine, Sixers fans still want to help our guy out all the same.
A GoFundMe page was established with the goal of "paying" the 76ers center's fine after he was disciplined by the league for an Instagram Live video he posted on July 4th that included an expletive directed at the brash father of Los Angeles Lakers rookie Lonzo Ball.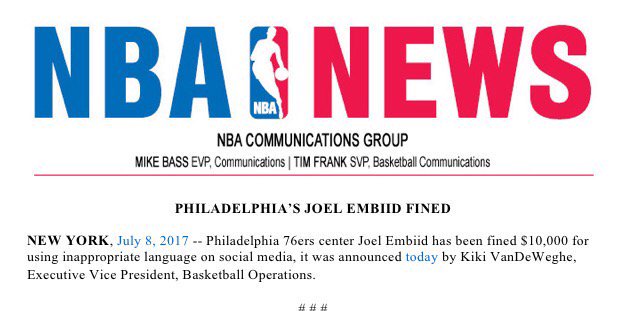 Embiid's Independence Day post was not as eloquent as Bill Pullman's speech in the 1996 film of the same name, but he nevertheless managed to get his thoughts across in the simplest terms. "Fuck LaVar Ball," the Cameroon native defiantly stated in the video.
Ball, of course, is the boastful parent who has captured the sports world by storm with his ridiculously expensive Big Baller Brand apparel line ("If you can't afford it, you're not a big baller") as well as his incessant promotion of his three basketball-playing sons. Never one to keep quiet – Ball once claimed that he was and is a better player than Michael Jordan – the 48-year-old L.A. native fired back at Embiid in a way that only he could:
The Big Baller strikes again! That line where he mixes up the number of words in his putdown was hilarious. But was it calculated? That's usually what I find myself thinking whenever Ball makes headlines. If so, he's the greatest promoter in the world. But even great promotion will fall short if the product (i.e. Ball's sons) isn't shit.
Only time will tell whether Lonzo Ball is a legitimate NBA player, but this budding rivalry between the Balls/Lakers and the Sixers is one to keep an eye on. And let's all hope that this scene actually plays out in reality:
Please dunk on him so hard that his daddy runs on the court to save him.. https://t.co/cMvt5RYiSQ

— Joel Embiid (@JoelEmbiid) June 22, 2017
Of course Embiid will be paying for his own transgression, so the proceeds of the tongue-in-cheek crowdsourcing will instead benefit the local SPCA. You can donate here.
Follow @jtrinacria on Twitter.
---
---