It Took Toomey 19 Hours to Comment on Comey's Firing
In a statement, the senator called the timing "unfortunate" but said he had "doubted" James Comey's abilities as FBI director.
---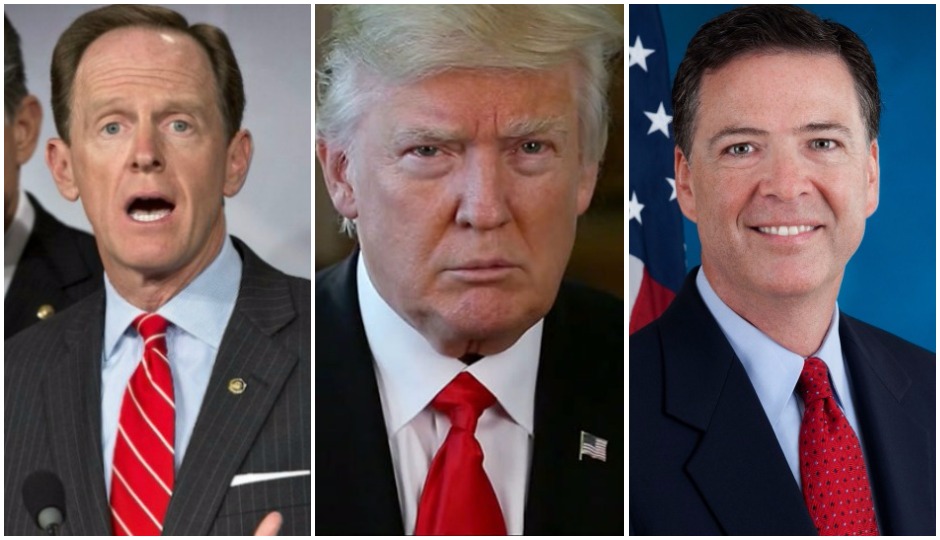 UPDATE [1:20 p.m.]: Toomey has released the following statement:
On Comey firing, PA Sen. Pat Toomey says he has "doubted" Comey's ability to lead FBI but calls timing "unfortunate." pic.twitter.com/gmLB2EUNSu

— Laura Olson (@lauraolson) May 10, 2017
ORIGINAL: It's been more than 17 hours since news broke that President Donald Trump fired FBI Director James Comey, who was, of course, investigating whether the Trump campaign coordinated with Russia in its alleged attempts to influence the election.
Congressional members across the country jumped to weigh in on the news. Here in Pennsylvania, Sen. Pat Toomey did not. His Twitter feed, Facebook profile and website don't say anything about the firing. We asked Toomey's spokesman, Steve Kelly, for comment, but haven't heard back since we reached out this morning.
Toomey did find time to tweet this morning, though:
I enjoyed meeting with PA's two @PruSpirit honorees: Lorelei McIntyre-Brewer & Amanda Yang, keep up the great work! #PruSpirit2017 pic.twitter.com/jdSKwCK4JD

— Senator Pat Toomey (@SenToomey) May 10, 2017
Comey's firing has drawn criticism from Democrats and some Republicans, and it has renewed calls for a special prosecutor or independent commission to resume Comey's investigation of Russia's reported meddling with the election. The Justice Department and the White House claim the firing has nothing to do with Russia. Republican Senate Majority Leader Mitch McConnell has defended Trump's firing of Comey and opposed calls for an independent prosecutor, arguing a new investigation would "only serve to impede the current work being done."
Sen. Bob Casey was quick to respond on Twitter, calling Trump's decision "Nixonian." In a follow-up statement, Casey said that Deputy Attorney General Rod Rosenstein should "immediately appoint a special counsel to continue the Trump/Russia investigation."
This is Nixonian. Deputy AG Rod Rosenstein must immediately appoint a special prosecutor to continue the Trump/Russia investigation.

— Senator Bob Casey (@SenBobCasey) May 9, 2017
A number of other local politicians have weighed in Comey's firing.
From Republican Rep. Brian Fitzpatrick:
"Jim Comey is a man of principle and integrity; I have stated that repeatedly in the past, and I feel the same way today. It was an honor of a lifetime to serve under his leadership as an FBI Supervisory Special Agent. At the FBI, all of my colleagues – regardless of our role – put the pursuit of the truth and the defense of our country above all else. Our mission was to uncover the facts, and to report those facts with unimpeachable integrity. In recent months, Director Comey found himself in the middle of partisan crossfire – being both praised and blamed by both parties. While the President clearly has the legal authority to remove the Director, both the timing and reasoning for his removal clearly raise questions. It is incumbent upon all of us, as Americans – regardless of party – to allow all of the facts to be revealed in a timely and thorough manner and to react accordingly based on those facts. That is precisely what we will do. At this time, it is critical to our national security that an independent leader be nominated to lead the FBI so that the agency can continue the very significant national security matters currently under investigation, without interruption. We shall not and will not accept anything less."
The main investigator of the Russian attack on election has been fired. Now, we need an independent special prosecutor more than ever.

— Bob Brady (@RepBrady) May 9, 2017
This stunning breaking news of the White House firing of FBI Dir Comey shows why we must have a Special Prosecutor like in Watergate.

— US Rep Brendan Boyle (@RepBrendanBoyle) May 9, 2017
It's the Saturday Night Massacre redux. (President firing the head of the agency investigating him.) #TrumpRussia #TrumpNixon #Russiagate

— Donald Norcross (@DonaldNorcross) May 9, 2017
Now it's even more important that an independent special counsel is appointed to investigate the Russian interference in our elections. pic.twitter.com/WcoxtbfSyW

— Cory Booker (@CoryBooker) May 9, 2017
Democrats have criticized Toomey for not holding an in-person town hall since the election, unlike many other Republicans. "Tuesdays With Toomey," a group that has protested outside Toomey's office every week for several months, says the senator hasn't followed through on the promise he made during his reelection campaign to "stand up to any president's bad ideas."
Follow @ClaireSasko on Twitter.
---
---