Kenney: Pennsylvania Should Just Legalize Weed Already
The mayor's comments come two days after police arrested an activist who worked with the mayor decriminalize weed in the city.
---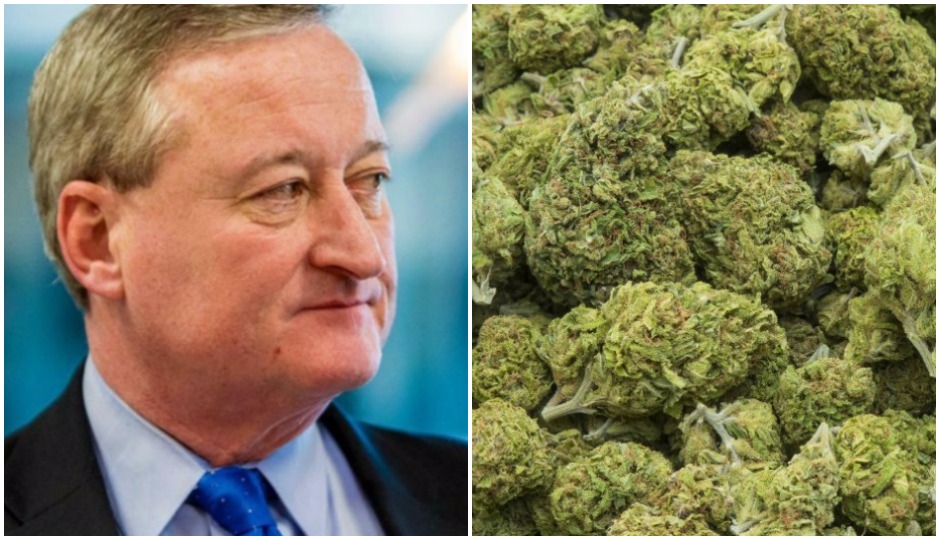 On Saturday, Philadelphia police arrested 22 people at a pot party held by marijuana activist NA Poe – proving that the war on drugs is alive and well in Philly.
This morning, Mayor Jim Kenney stopped just short of criticizing the bust when he called it "overkill" and said that the "real solution to this is legalizing [marijuana] in the state of Pennsylvania as they did in Colorado," according to Philly.com.
At Poe's Northeast Philly warehouse party on Saturday, Police arrested 19 men and three women, confiscated 50 pounds of marijuana, about $50,000 in cash, several handguns and about 100 pounds of cannabis edibles. About 200 people were detained.
The event functioned as a sort of pop-up market where people could buy and sell various marijuana products. Poe, whose real name is Richard Tamaccio, told Philadelphia magazine's Victor Fiorillo that he and his girlfriend, Rachael Friedman, sold about 300 tickets to the party, which cost attendees $50 each. They've both been charged with seven counts, including possession with intent to deliver; possession of a controlled substance; possession of an instrument of crime; use or possession of drug paraphernalia; conspiracy; causing or risking catastrophe; and recklessly endangering another person. Poe is being held on $250,000 bail.
Marijuana has been decriminalized in Philly since 2014. Kenney worked with Poe and Chris Goldstein (a fellow weed activist who was detained on Saturday) to draft the legislation, which largely applies to those who are caught with less than 30 grams of marijuana.
Following a press conference this morning, Kenney said that while "clearly, it's illegal to sell [larger] quantities … there was probably another way" to crack down on the pot party "as opposed to the amount of resources that were put into this, especially considering our ongoing relationship with that community," according to PhillyVoice.
Kenney reportedly said he doesn't "micromanage the police department" and that he wasn't aware of plans to raid the party. He noted that the event was also deemed a fire and safety hazard for several reasons – officials with the Department of Licenses and Inspections were also present at the bust.
Follow @ClaireSasko on Twitter.
---
---