Diversifying New Year's Day: Inside Philadelphia's First Puerto Rican Mummers Troupe
When they kick off the Mummers parade Friday, Los Bomberos de la Calle and three other members of the new Philadelphia Division, will be making history.
---
Sixteen-year-old Niurka Mojica stands in the center of the circle, a mass of blondish curls piled into a bun and accented with a red flower. As three drummers pound congas, she lifts the hem of her billowing red skirt up in the air, then shakes it down to her toes. She puts her hands on her hips and thrusts her chest out. She grabs the skirt again and swivels her hips. Around the circle there are singers and percussionists and other girls shaking brightly colored skirts back and forth. A couple of masked men in satin costumes bop along to the music, as does someone holding a gigantic satin-clad puppet whose horned head almost touches the ceiling.
All of these people at Christ Church & St. Ambrose at Sixth and Venango are members of Los Bomberos de la Calle, a Puerto Rican bomba y plena group that's part of the new Philadelphia Division of the Mummers Parade, which was formed to increase diversity among the parade's participants. Today's rehearsal for the parade has swelled Los Bomberos' ranks from about 10 to 20, and even brought some people — as well as the giant puppet — from Allentown. On New Year's Day, group founder Tony Mendez estimates there'll be 30 or 40 people marching, all of whom will make history: It'll be the first time in the parade's 160 years that a Puerto Rican group — or any Latino group, for that matter — will march. Leo Dignam, of the Department of Recreation, told division members at a meeting a few weeks ago, "This will be the big story of the Mummers Parade this year."
---
Los Bomberos de la Calle
Bradley Maule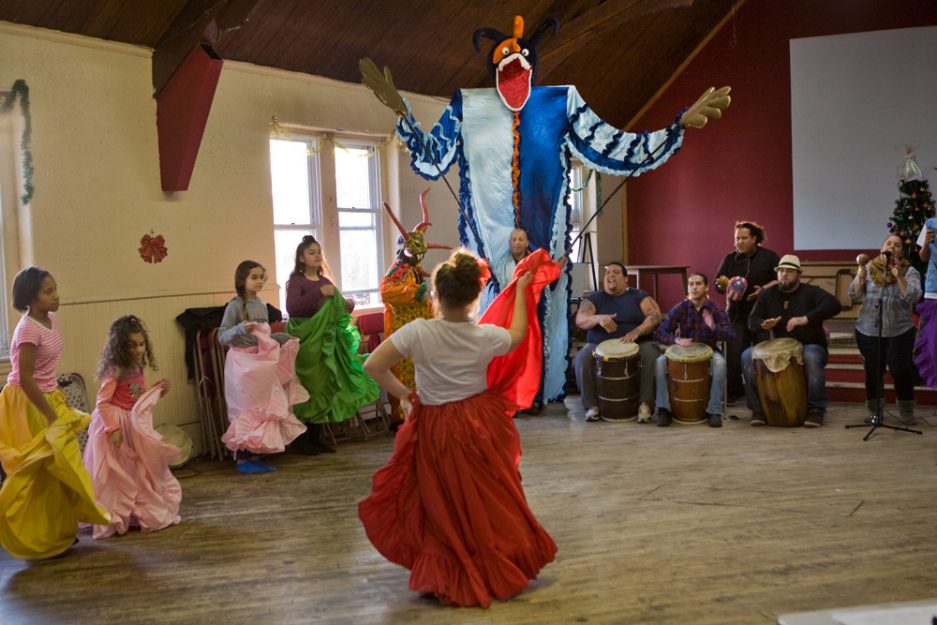 Bradley Maule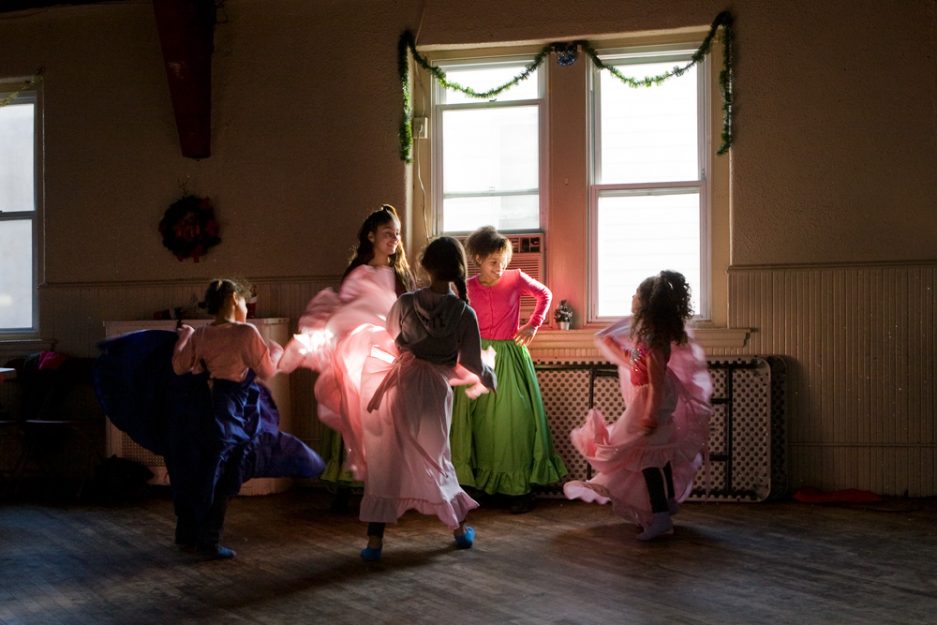 Bradley Maule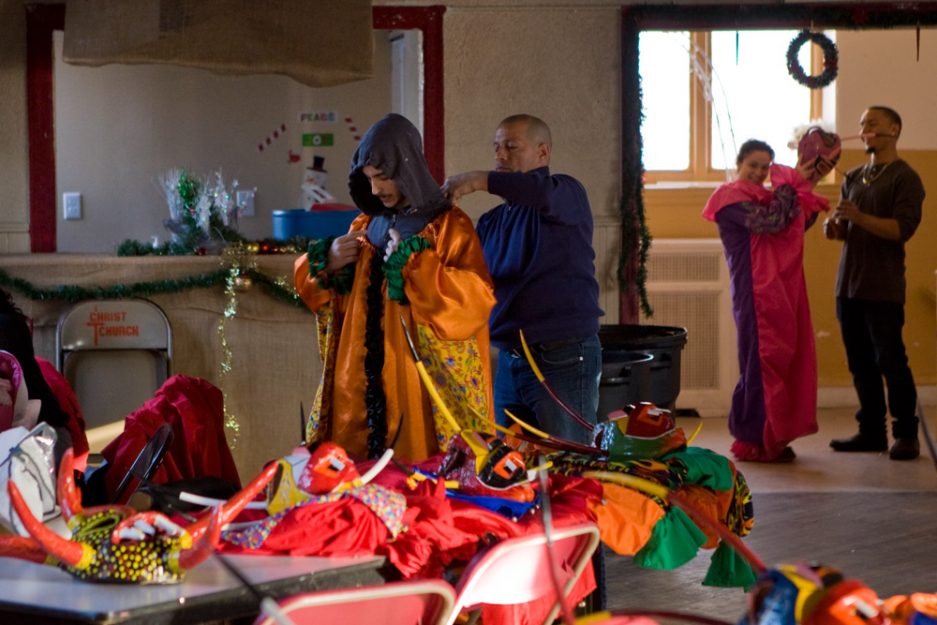 Bradley Maule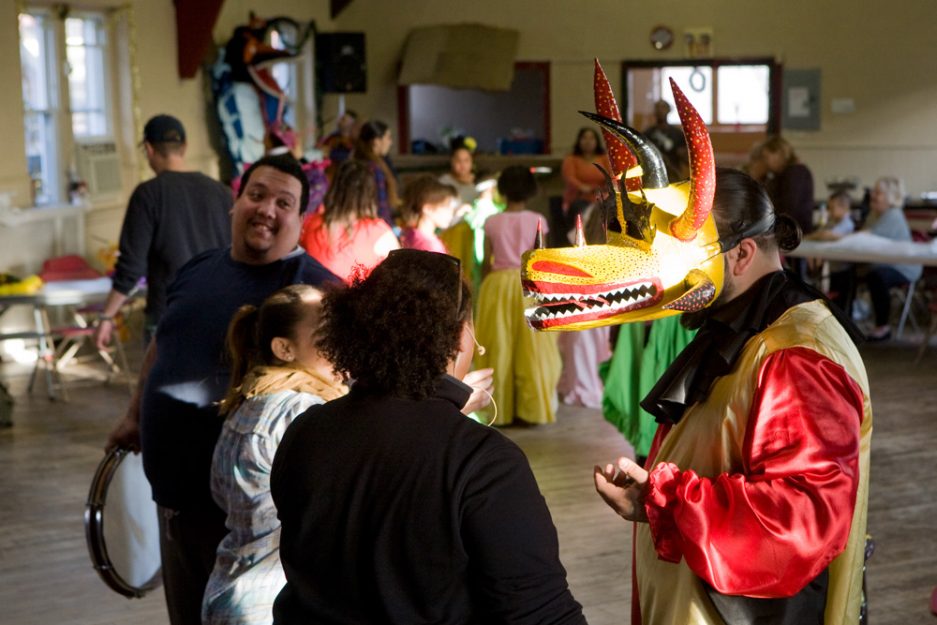 Bradley Maule
Bradley Maule
Bradley Maule
Bradley Maule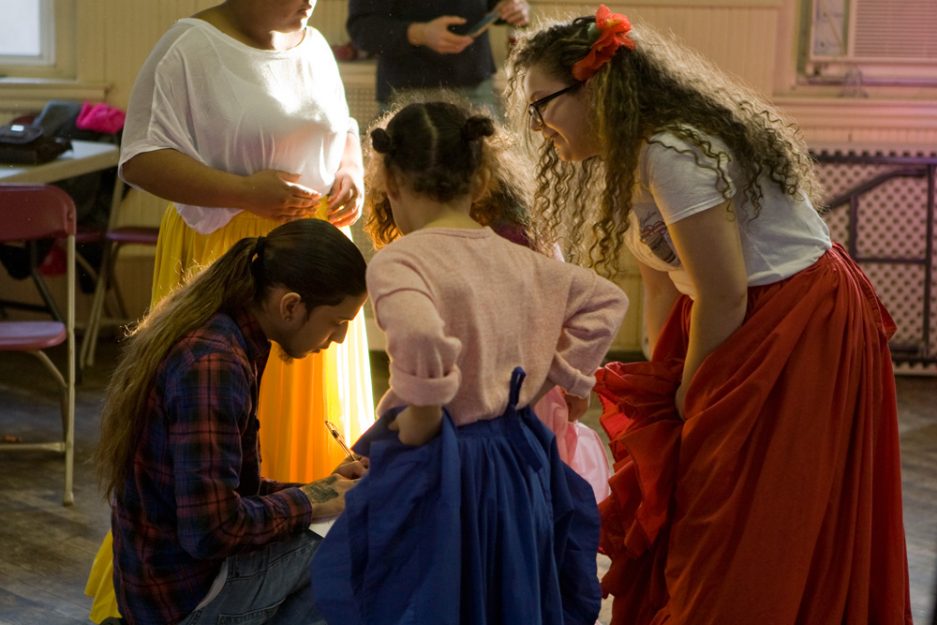 Bradley Maule
Bradley Maule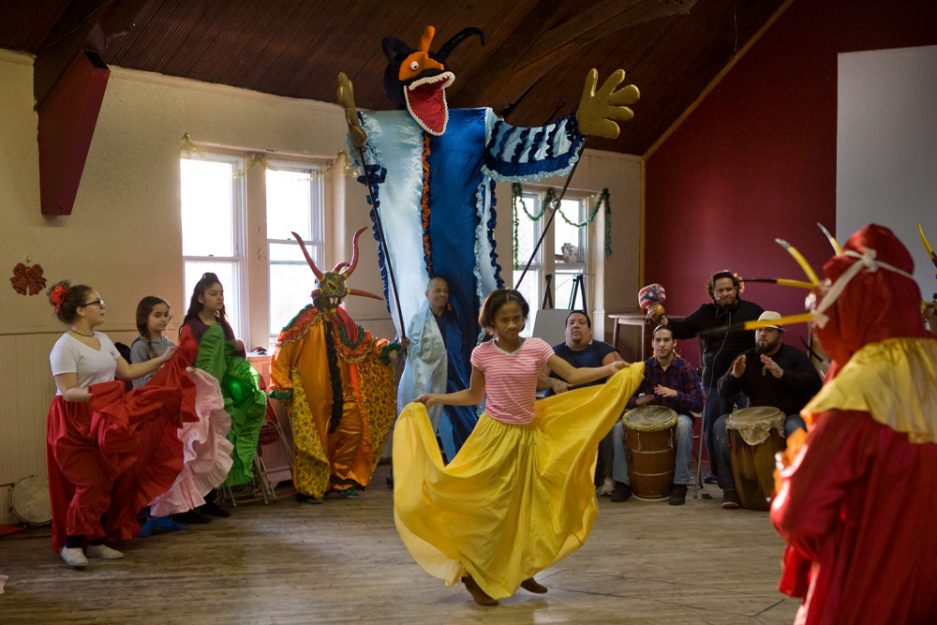 Bradley Maule

Bradley Maule

Bradley Maule

Bradley Maule
Bradley Maule

Bradley Maule

Bradley Maule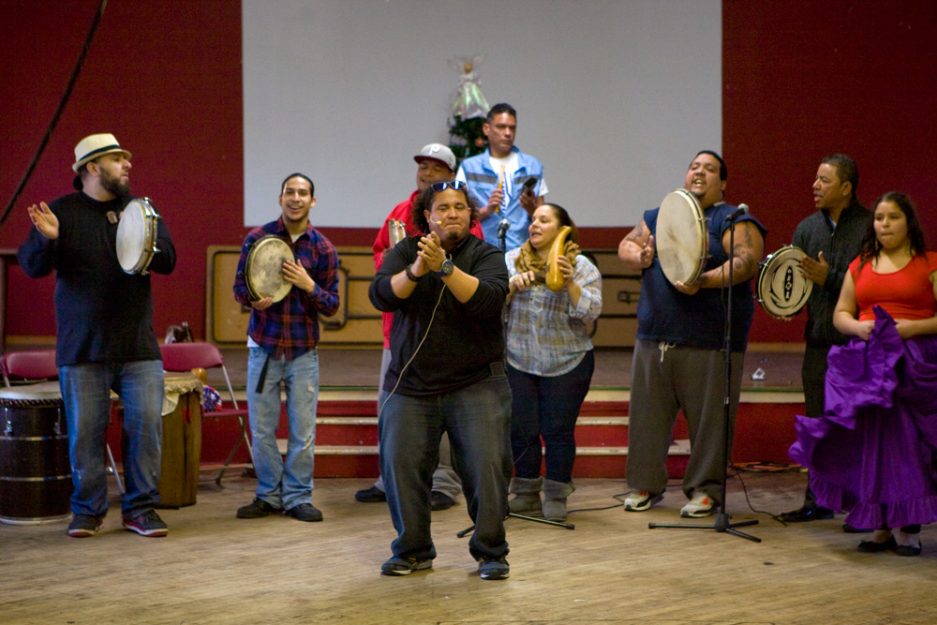 Bradley Maule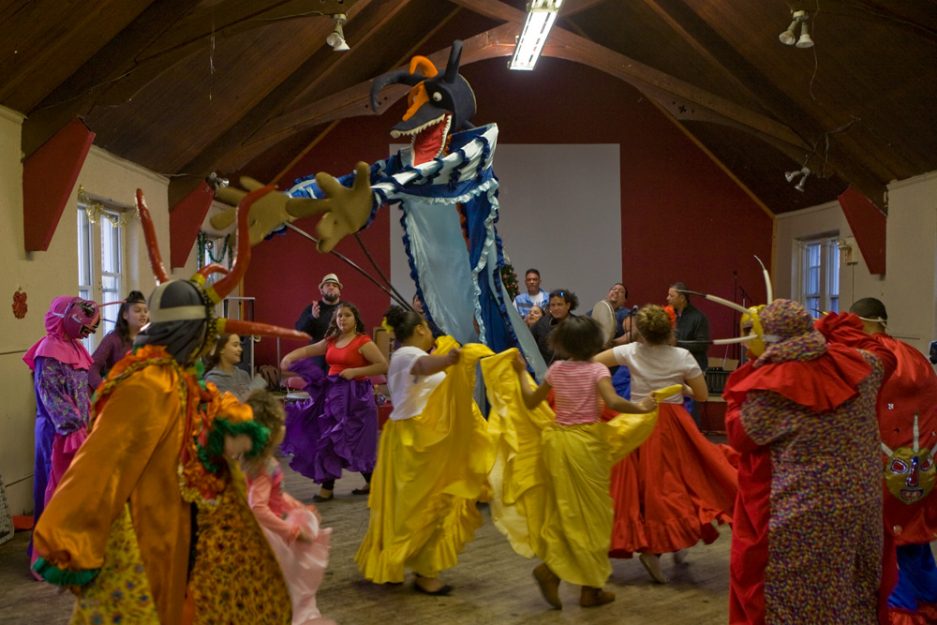 Bradley Maule
---
The Philadelphia Division has four groups: Los Bomberos; a West Philly drill team called Second 2 None; the LGBT Miss Fancy Brigade; and the San Mateo Carnavaleros, which hosts the city's popular Carnaval each April. The new division will open the parade, signifying how serious the city is about mending the Mummers' reputation for racial insensitivity and exclusivity.
For Tony, who grew up watching the Mummers, the inclusion of his group is more than just a thrill. Though Los Bomberos have played in many city parades and keep busy playing holiday parties and events, the Mummers Parade is an opportunity to share Puerto Rican culture with a wider audience. "What we do is a very old and once lost tradition," he says. "To bring a culture that was once lost to the Mummers, it's a big thing."
It also looks different than the Mummery most spectators are accustomed to. Around the room there are tables piled with outfits for the troupe's costumed characters, los vejigantes. The multicolored, frilly satin onesies wouldn't seem out of place at any Mummers rehearsal, but the painted horned masks that go with them have no Mummers analog. The Afro-Puerto Rican bomba music may seem, to some ears, less melodic than a string band's version of "O Dem Golden Slippers." Bomba singing is call-and-response, sometimes like chanting, and the dance movements change abruptly — though there's a reason for that. "There's no other music like bomba because of the connection between the dancer and drummer," says Tony. "The dancer moves her skirt like this, the drummer has to catch that motion. The dancer is the one who controls the music because whatever she throws out with the skirt, the drummer has to get that rhythm."
Juli Selle, 20, one of Los Bomberos' dancers, says it's less like a conversation between dancer and drummer, and more like a battle. "The drummer doesn't know what you're going to throw," she says. It's a challenge. Los Bomberos will also do some plena as they march, a drum-and-voice tradition once used to bring news to Puerto Rican villages before newspapers and TV.
The other Philadelphia Division groups will also offer performances that will highlight the city's diversity of experience. Nakeia Laws, founder and director of Second 2 None Drill Team, which operates out of the Mill Creek Recreation Center, says the tradition of African-American drill teams in Philly goes back 30 years. "We're a marching band or majorette team without the dancing or the horns. We do a lot of precision moves."
The San Mateo Carnavaleros, whose Carnaval has often been compared to the Mummers Parade, "grew up with the Carnaval culture," says Susana Pimentel, the group's spokesperson. "Now they want their kids to be a part of it." Pimentel thinks the inclusion in the parade is an important rite of passage for the Mexican community. "It's about being part of this melting pot, this City of Brotherly Love," she says. "We live in this city. We live in Philadelphia. We're not going to be welcome by everyone, but I think it's going to change the view of who we are and why we're here." She's not bothered by how long it took for the Carnavaleros to be integrated into the Mummers Parade, either. "Change takes time," she says.
Change really started with the Miss Fancy Brigade, the division's LGBT troupe. "They were kind of the first non-Mummers we asked to come into the parade," said Dignam last week. "People love them. People come out to see them. My secretary comes out to see them every year."
Miss Fancy founder Ian Morrison is glad that other groups will have the opportunity to march in the parade. "It's so important to include greater parts of the community to keep the Mummers tradition alive," he says.
New groups also broaden the parade's neighborhood representation beyond the Pennsport/Two Street Mummery nucleus. Most of the members of Los Bomberos, for instance, are from the Hunting Park area of Philadelphia, not far from the church. A corner store sells Puerto Rican regional license plates, and Puerto Rican flags hang from telephone wires. Bumper stickers and storefront signs are in Spanish. Some businesses operate out of rowhouses, like Modista Millie, La Casa de la Novia, which fashions custom-made gowns for weddings, graduation and proms. Someone has planted a palm tree in his front yard.
Though Hunting Park has suffered from impoverishment and neglect, the neighborhood and its eponymous park also represent successful community engagement and stewardship. Since 2009, when the Fairmount Park Conservancy minted a Master Plan for the Hunting Park Revitalization Project, neighborhood stakeholders have worked together to plant trees, build new playgrounds and community gardens, and start a farmer's market. In 2012, Hunting Park got a new baseball field. The success of this effort gleaned a national headline: "A Blighted Philadelphia Park Becomes Neighborhood's Jewel." And now the neighborhood is home to a new Mummers brigade.
Inside the church, Tony reviews all the practical details with rehearsal attendees. "We have to be there by 7:30 a.m.," he tells the crowd. "I know it's early on New Year's Day. It's a sacrifice. But this is something historic. We're representing our culture."
Follow @lspikol on Twitter.
---