Here Are Renderings of the Newest Proposals for Atlantic City
Consultants hired with Hurricane Sandy recovery money unveiled concept proposals for Bader Field and Gardner's Basin in Atlantic City.
---
Seven years ago, a buyer offered $900 million for Bader Field. But Atlantic City said no to the deal for the former airport.
It's now worth about $150 million. When it was for sale in 2009, it attracted no bids. It is now best known not as the first place to be called an airport, but for its empty baseball stadium and music festivals. And now, this: Yesterday, city-hired consultants unveiled concept proposals for Bader Field.
Maser Consulting, which was paid by a Hurricane Sandy recovery grant, also unveiled concepts for Gardner's Basin. The city-owned plot in the Northeast Inlet is a quaint area with the feel of a smaller shore town. It's also the site of the the Atlantic City aquarium.
The concept for Bader Field is a plan lasting 15 years or more. Changes would be made in stages: First, a promenade would be installed along the water and temporary athletic facilities would be built. Eventually, residential units would be constructed and office parks would replace the athletic facilities.
The city has another request for proposal out for Bader Field (to be fair, it has tried this before). This RFP deadline is April 14th. Glenn Straub, the developer attempting to purchase Revel, tells the Press of Atlantic City Maser Consulting's plan is "not going to put money in anybody's pocket." He wants the airfield so he can fly high rollers in to Atlantic City, if he's actually able to purchase Revel.
The proposal for Gardner's Basin would add a retail village, a park for fishing and an amphitheater. The aquarium would also undergo an expansion. This spring, Atlantic City's Boardwalk will undergo a $50 million extension that will take it all the way to Gardner's Basin for the first time since 1944. The Army Corps of Engineers is paying for $35 million of the work.
Below, renderings of the concepts for Bader Field and Gardner's Basin presented yesterday.
---
Proposals for Atlantic City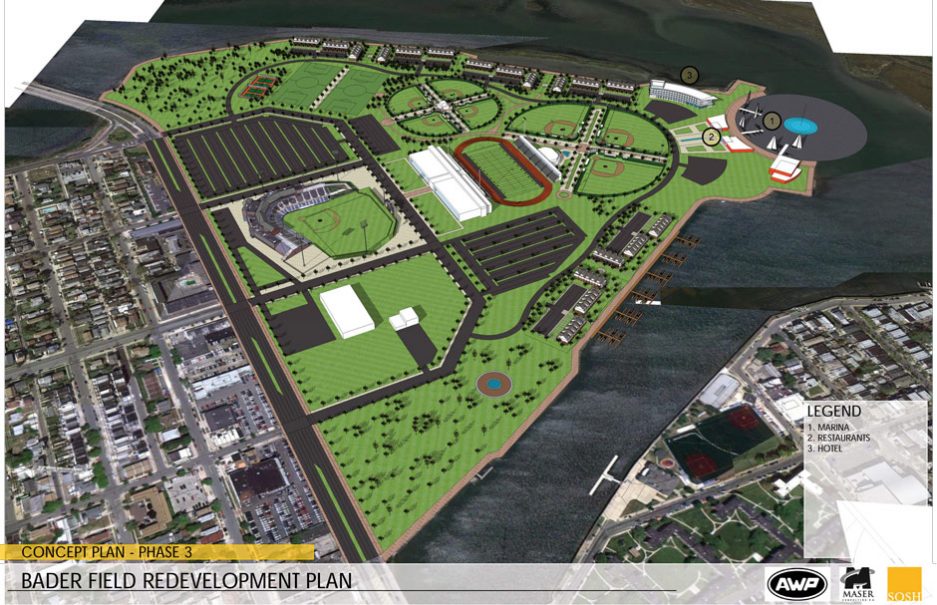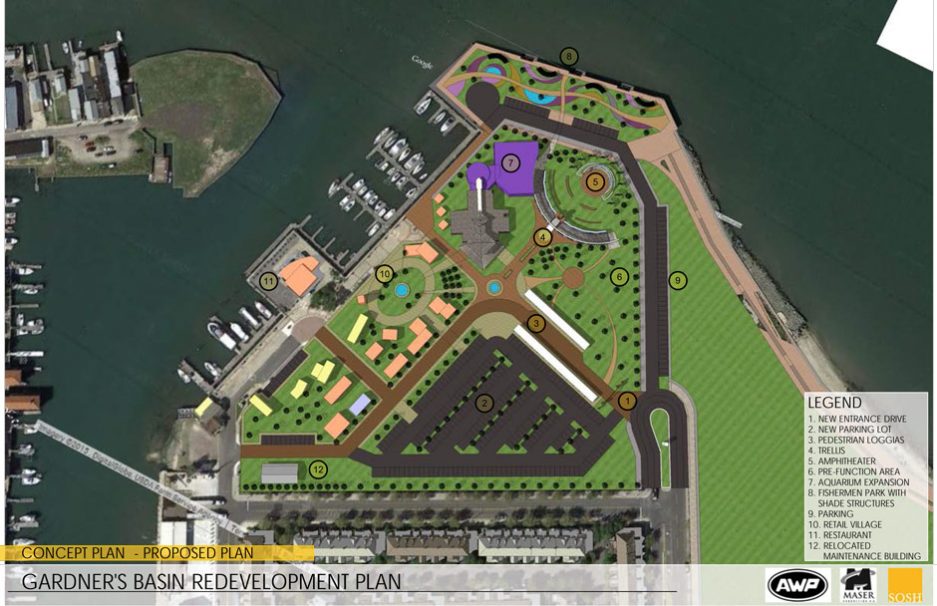 ---
---