Timberland Opens Saturday With a Surprisingly Good Selection of Clothes for Fashion-Forward Folk
---
Tis the season for revamping your wardrobe. Fall's chillier temperatures are moving in, and giving us the chance to layer up in sweaters, knits and jackets (I hear parkas are big this year!) and throw on some chunky, weather-defying footwear.
Lucky for us, Philly has also seen an influx of new fashion retailers moving in. Just last night I was a guest at a sneak-peek opening of New York discount megastore Century 21 in the old Strawbridges Building (which, let me tell you, brought out the gays in full force), and this weekend will see the opening of Nordstrom Rack (1700 Chestnut Street) and Timberland.
I haven't had a chance to check out Nordstrom Rack yet, but, as G Philly sister blog Shoppist puts it, "the store is four levels and 39,000 square feet, and will stock men's and women's clearance merch, all discounted from 30 to 70 percent off regular retail price."
I did have a chance, however, to try on some of the shoes and threads that will stock the new Timberland store. I won't lie, I was a little reluctant. For years Timberland has been known for that brown work boot that set the hip-hop world ablaze and, if anything else, rugged-woodsmen clothing that didn't exactly appeal to your everyday gay man (i.e. me.)
Then, all of a sudden rugged woodsmen became all the rage (see: Scruff) and folks like Rihanna and Gwen Stefani started showing up in Elle magazine spreads wearing Timberlands.
The stuff I tried on proves that the 62-year-old brand is looking forward, catering more to the fashion-forward male with better-fitting button-downs, lush, comfy sweaters, sexy-as-hell bomber jackets, and—best of all—a whole new line of shoes that had me drooling all over the place. (Good thing most of them are waterproof.)
So, while you won't be scoring the ultra discounts you would find at places like Century 21 and Nordstrom Rack, I think the gays will be pleasantly surprised with what they find at the new Timberland—quality, stylish looks that will stand up against the most brutal of winters (and I hear we're in for a doozy this year.)
The new 5,800-square-foot Philly store will open on Friday, October 24th at 1709 Walnut Street. Check out more images from its updated catalog below.
---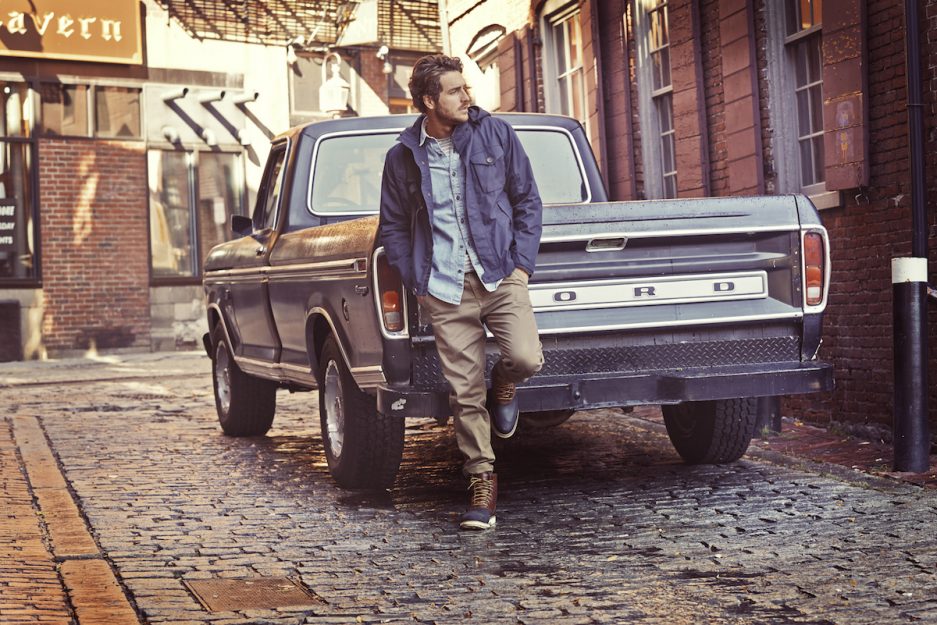 ---
---