Can Nick Foles Play Even Better Next Week?
He'll have to top his Oakland performance to beat Green Bay.
---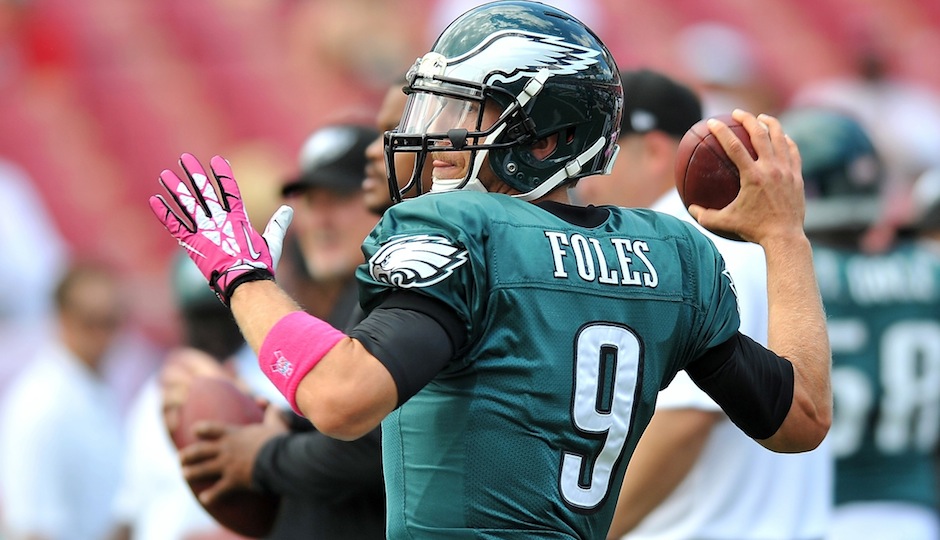 Throughout his largely forgettable seven-year career with Baltimore and the Eagles, Adrian Burk threw 28 more interceptions than TD passes. In 1951, his first year with the Birds, the Mexia, Texas (hometown of former Philadelphia head coach Ray Rhodes), product led the league with 23 picks, in just 12 games.
But on Oct. 17, 1954, Burk had it all cooking. He blasted Washington for seven TD passes in a 49-21 victory, the signature moment of a Pro Bowl season in which he tossed an NFL-leading 23 scoring strikes. His lucky seven tied the league mark that had been set 11 years earlier by Bears legend Sid Luckman.
Fifty-nine years later, Nick Foles joined Burk atop the NFL single-game list with seven TD throws against the Raiders.
It was a tremendous performance, considering he had more touchdowns than incompletions and rebounded from his dreadful play against Dallas with only the seventh seven-TD, zero-pick effort in history. Say all you want about the circumstances surrounding Foles' big day, particularly how bad the Raider defense is, but the fact remains that in 93 years of NFL ball, only seven people have done what Foles did, and there have been far worse units during that time than the Oakland D.
Of course, this all means that Foles is on pace for a Pro Bowl appearance, a deep playoff run, gigantic contract and Hall of Fame induction. His jersey sales will spike – provided anyone can find them – and fan clubs (the Nickrophiliacs?) will spring up throughout the Delaware Valley.
Or, we can all bask in Foles' tremendous accomplishment for a couple days and realize that he has still never lit it up against a top team. Further, since a trip to Green Bay comes up on the schedule Sunday, we will have an opportunity to learn whether Foles is just a great QB against bad teams who struggles against everyone. No one is expecting another record outburst against the Pack, but we don't want a Dallas redux, either.
As you might imagine, I am opting for the second option, the wait-and-see perspective that refuses to buy into either the Cowboys debacle or the Raider apex defining Foles.
Sunday's rout showed exactly what can happen when the Eagles' offense gets rolling. The opposing defenders get tired, blow assignments and become susceptible to the Chip Kelly menagerie. It's a beautiful thing and the NFL equivalent of a game between Oregon and Washington State. But situations like that aren't too often found among a season's 16 games, so expecting that kind of rollicking fun on a regular basis is unrealistic and a big reason Eagles fans have been so frustrated this year. When the first half of the game against Washington didn't repeat itself every Sunday, no one could understand why.
Next week in Green Bay, it's highly unlikely the Eagles and Foles will have the same opportunity to turn the Packers into a group of gridiron Keystone Kops. The Packer offense is not comprised solely of a single-wing QB and therefore will be a much greater challenge for the Eagles, who won't be able to force as many three-and-outs. That means the Birds won't be able to dictate tempo and turn the game into the blurred affair they prefer.
So, what will happen to Foles? Will he struggle with the pressure, as he did against Dallas, or play a contained, efficient game? A lot of that has to do with what Kelly does. Against Oakland, he put together a game plan that allowed Foles to take advantage of short passes and screens early, without putting him at too much risk. The ground game, which lacked much pop beyond a couple bursts from Bryce Brown, was respectable enough to keep the Raiders from attacking the pocket without fear of retribution. Kelly mixed up his plays and schemed well to get a variety of offensive parts involved. It was a good match of scheme and QB, and it worked at a record rate.
Next week will require something different, because the throttle will not be nearly as wide open. Kelly will have to realize that replicating the Raider rout will be impossible in Cheesetown. If he tries to do that, the results could be disastrous.
But it's not all on Kelly. Foles won't have as much time to throw, and his receivers won't be so open. He must be precise, and his technique has to be strong. Despite what he accomplished Sunday, Foles is still not a clear-cut answer to the Eagles' quarterbacking problem. He has to be even better than he was in Oakland, which doesn't make a lot of sense, given his record-tying effort. The Packers aren't the Raiders. They won't be so easily overwhelmed. Foles has had great success against the league's soft underbelly. Next Sunday, he'll stare into a playoff team's maw and show his true quarterbacking character.
He won't throw seven TDs, but he has a chance to do even more.
Sucker Punches
• In any other season, the city would be delirious about the Sixers' 3-0 start, and there are plenty of people excited. But this year, when it's clear the franchise is pointing toward the 2014 Draft, the perfection is disconcerting. In typical Philadelphia fashion, the three teams who are trying to win can't, and the one trying to lose can't do that, either. It's fun, admittedly, to watch the young Sixers play hard and surprise unsuspecting opponents, but this has to stop. Finishing 35-47 and gaining the 13th pick in the Draft will not help the team grow. If the Sixers keep winning, GM Sam Hinkie may have to crank up the trade machine early and restore order. Sorry, fans, but future success is more important than a little bit of fun now.
• Two NFL coaches were sidelined this week with various ailments that manifested with dizziness. Denver's John Fox has had a heart valve replacement, while Houston's Gary Kubiak is still undergoing tests after his collapse at halftime of the Texans' game with Indianapolis. NFL bosses are paid a lot of money, but the stress on them is colossal. While fans hope for quick and complete recoveries, we can all appreciate better the amount of pressure under which these men operate and the toll that it might be taking on their bodies.
---