Proust'd: Miss Richfield 1981
"I'm sure you have no idea how much work it takes to get those homos to put their cocktails down and clap!"
---
This week, the big-haired, bigger-mouthed Miss Richfield 1981 makes her annual visit to Philly for "Sweet and Sour Richfield: Made in China." Much like last year's "Asians and Homos and Jews … Oh My!," the P-Town favorite is tapping into the political sphere, this time taking on the topic of outsourcing through a medley of "colorful videos, twisted sing-alongs and a healthy heap of audience interaction." So what kind of insight does Miss Richfield have to offer on foreign relations? Well, when answering the Proust Questionnaire, she reveals that she's this close to moving to Iraq to find herself a man, and that her favorite frocks are those that were stitched by children in the Philippines.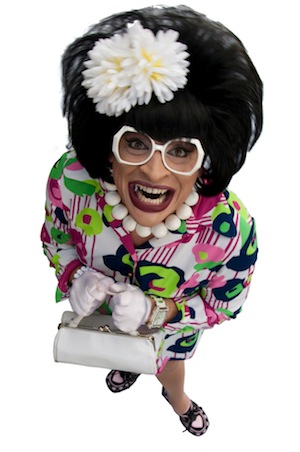 What is your idea of perfect happiness? There's no better feeling than doing one of my multimedia extravaganzas to a sold out crowd. … And it's always a bonus when I remember the words to the songs! I'm sure you have no idea how much work it takes to get those homos to put their cocktails down and clap! What is your greatest extravagance? Dry cleaning! I have only a few things that require that special service, like my fleece-lined Dalmatian print mini dress, a mink halter top and a quilted, chenille snug. Call me crazy, but I don't feel I should pay those prices when they're not using water. Which person, living or dead, do you most admire? I have modeled my professional beauty career after Virginia Christine (aka Mrs. Olson of Folgers Coffee fame). Although I am a strict Sanka drinker myself, because caffeine makes me run like a faucet, I remain a huge fan of any woman who's not too proud to make her man a pot of coffee. And in 1971 Virginia received the ultimate tribute when her hometown of Stanton, Iowa, transformed their city water tower into a giant coffee pot in her honor! What do you love about your appearance? That's a tough question, because there are so many things I love about myself. I guess my sense of style would wrap it up nicely. And you may find this hard to believe, but I refuse to shop sale racks. I wait until the clothes are heaped on tables or in large barrels. And I am strict about ensuring that all my gowns are machine washable, fire-resistant and made in the Philippines, where the children really know quality stitching. What is the quality you most like in a man? A pulse would be good at this point. You know most single gals in my stage of life are more likely to be killed by a terrorist, than find love. So I'm thinking of relocating to Iraq to better my chances. What or who is the greatest love of your life? I think our dearly, departed friend Whitney said it best, "Me!" When and where were you happiest? About a year ago when I stopped in at Pat's for a cheesesteak. It does not get any better than that! I was blocked up for five days, but it was worth it! I can't wait to return. Which talent would you most like to have? I'd like to have a look that kills – literally. I think it would be amazing to have the ability to strike people dead. Not all the time. But once in awhile when someone makes a disarranging remark about my choice of fragrance or the hint of cheesesteak on my breath. That's when you let 'em have it! What do you consider to be your greatest achievement? Winning the beauty title Miss Richfield in my hometown of Richfield, Minn., on July 4, 1981. As a beauty professional and pageant title holder, I know the buzz about scholarships and high school diplomas and all, but it's a fact that only 50 percent of beauty queens can actually read and write, and virtually none of us do math. Let's face it, beauty is skin deep and everybody knows that your skin is not connected to your brain! What do you value most in your friends? Professional training and good, clean living! I'm a stickler for quality in all areas of my life and my friends are no exception. For example, my dear friend Mr. Renee is our church organist AND my beautician. Have you ever heard of such talent?! He's simply a miracle worker, as was proven recently when he finally found a solution for his roommate Mario's back hair problem. How would you like to die? I'd like a magician to saw me in half. Now that would be a show business, show stopping way to go out! What is your motto? "It's important to be nice, but it's nicer to be important!"
"Sweet and Sour Richfield: Made in China is running Thu., March 14 through Sat., March 16, 8 p.m., $27-30, Society Hill Playhouse, 507 S. Eighth St. You can buy tickets here.
Other Proust questionees:
Follow G Philly on Twitter | Like G Philly on Facebook | Follow G Philly on Instagram
Have an event you'd like featured on G Philly? Send details to jmiddleton@phillymag.com.
---