News
Inside Philly's First Halloween-Themed Pop-Up Bars
Two Halloween pop-up bars are opening this week in Center City. Here's everything you need to know.
---
After two years of great success running Philadelphia's Christmas-themed pop-Up Bar Tinsel, Teddy Sourias and the team at Craft Concept Group (who brought you Bru, Blume, Uptown Beer Garden) is ready to debut their spooky, seasonal precursor, Nightmare Before Tinsel at 116 South 12th Street. Close by, Tod Wentz (Townsend, A Mano, Oloroso) and Arts in the Industry have teamed up to open Haunt, another spooky pop-up, on the second floor above The Pearl Tavern at 1123 Walnut Street.
Both bars open Thursday, October 3rd.
Haunt
Alison Hangen, the general manager at The Pearl Tavern and founder of Arts in the Industry, a resource for artists in the hospitality industry, included several Philadelphia-based artists to create a one-of-a-kind pop-up. In addition to spooky decorations, Haunt features an oversize mural by Bill Strobel of Chalk Art Philadelphia. Glassware, barware, and other art will be on display from artists including Chris Nasiri, Jana Schreer, Wrong World Ceramics, Trinket Witch Jewelry and more.
"Haunt is the first in a series of fun and creative pop ups on the second-floor at The Pearl Tavern," Wentz says. "We look forward to announcing additional programming after we open."
Haunt will be open through Sunday, November 3rd, and will host events throughout the duration including Wands & Whisky Weekend, a three-day magical movie marathon, a Game of Thrones White Walker Party featuring Ommegang Brewing, Game of Thrones best battles marathon, and costume contests, plus late night happy hours, pumpkin carving nights, Arts in the Industry's Masquerade Ball, and more. Haunt will be open daily from 5 p.m. to 2 a.m.
---
Nightmare Before Tinsel
Nightmare Before Tinsel draws on its location in the 100-year old Simpson's Jewelry shop to create a blast from the past inspired by Philadelphia's history with nods to Edgar Allen Poe and candy corn, which was invented here.
"Nightmare Before Tinsel is inspired by all sorts of nightmares and the many things that go bump in the dark of night," says Anne White, the interior designer behind the space. "Every person is afraid of something different. In our first year, we wanted to offer a nightmare for everyone – offering a fun and broad range of experiences that people could easily relate to. Scary clowns – we have them. Giant hairy spiders – check on that too. Zombies, haunted dolls, ghosts, witches – we have those too.
Nightmare before Tinsel will be open Monday through Thursday 4 p.m. to 2 a.m. and Friday through Sunday, 12 p.m. to 2 a.m. Scroll down to browse the menu and get scared in advance.
The menu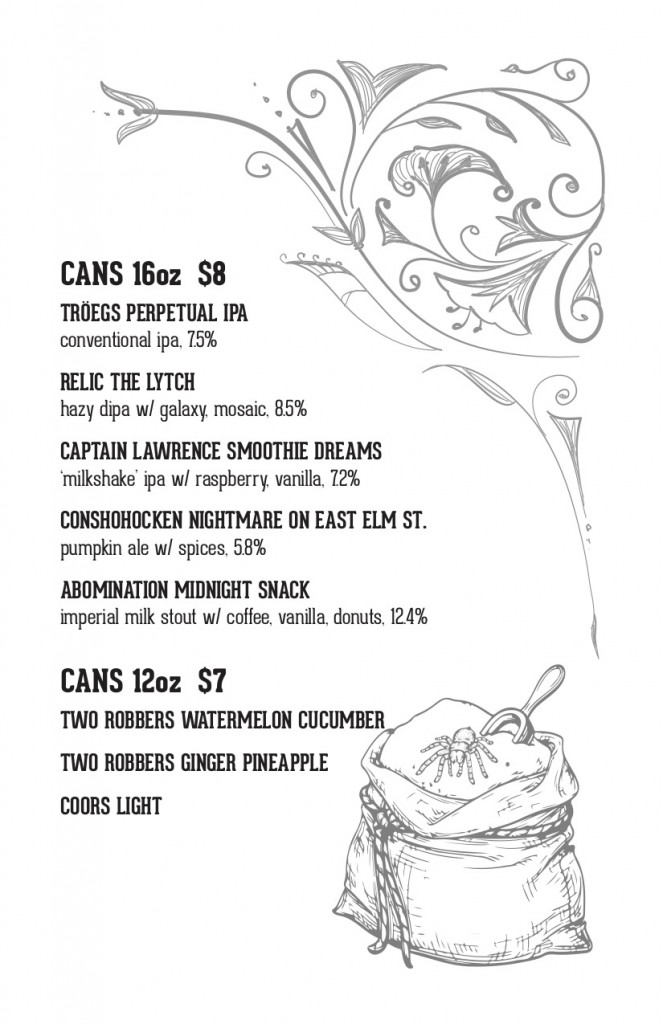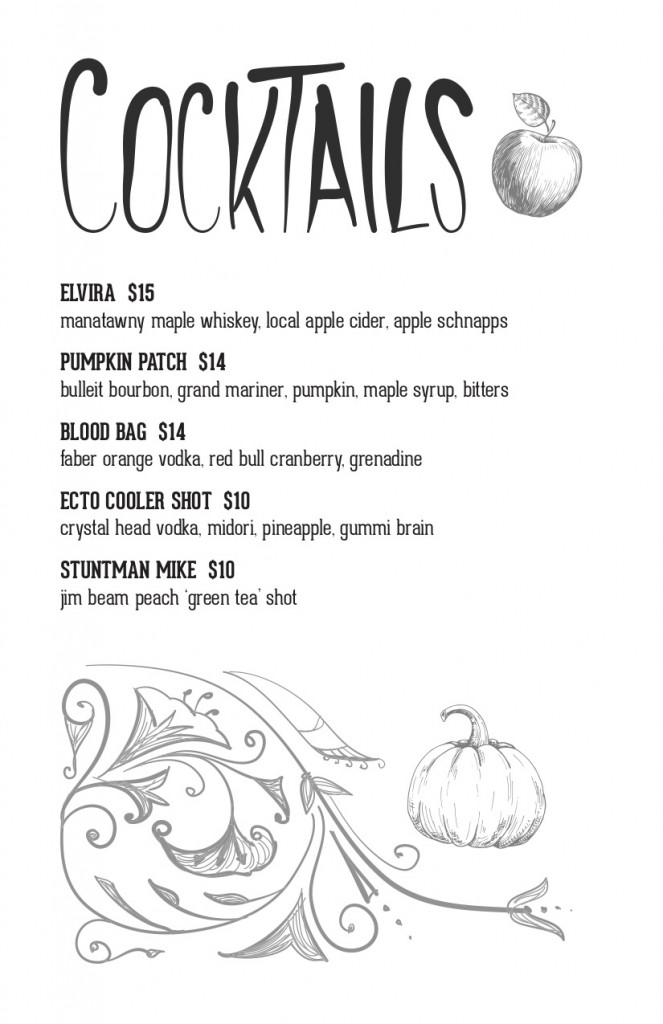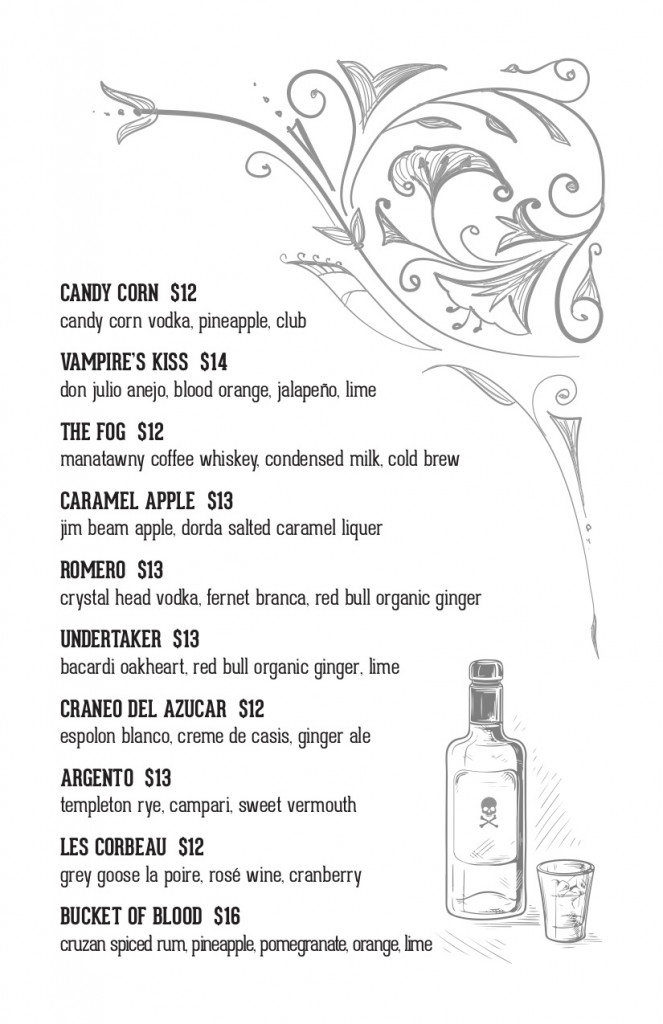 ---