Eat Here Now: Guisados Don Roman
It's a tiny Mexican kitchen that specializes in big, bold, homespun flavors.
---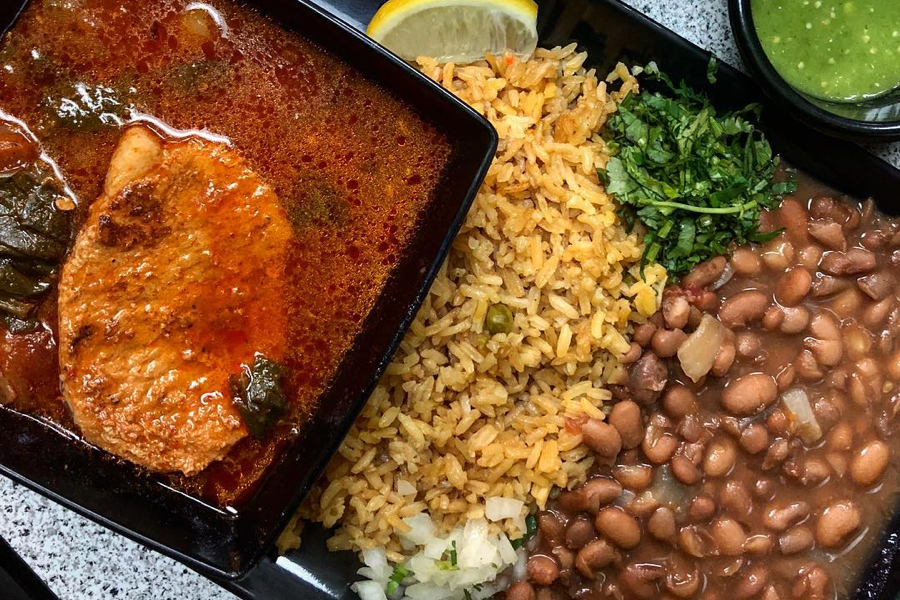 Guisados Don Roman (1629 South 7th Street, 215-964-0491) is a two-person operation:
Raquel is up front, cheerfully greeting literally every single person who walks through the door, even if she's busy with other customers. Two refrigerators buzz behind her — one stocked with freshly squeezed juices and the other with soft drinks. In front of her are six small tubs, each a different shade of red or green or brown. Those are the guisados del dia — the stews of the day. That's what you're here for, and if you ask nicely, she'll describe every one of them to you in detail.
Roman is in the back. He's the chef — the guy behind the guisados. He simmers pork chops in garlic and chiles until they come out fork-tender (pictured above), and serves Vienna sausages with eggs in a light salsa verde. He stacks his tortas comically high and is really, really good at roasting a chicken. He makes his own tortillas, too, which is always appreciated.
Earlier this year, Roman and Raquel took over an old pizza shop on 7th Street between Tasker and Morris, painted the walls lime green, decorated its tables with cute fake roses, and threw a banner on the facade signaling to the neighborhood that they were open.
And together, they're giving Philly a taste of Mexico that we don't often get to experience. As strong as our Mexican food scene is, guisados and homemade tortillas aren't exactly standard practice around here. So when someone decides to do something different, to put in the work, it's a good idea to reward them for their efforts.
It's open until 11 p.m. on weekdays — midnight on weekends.
---
---