Guides
Brunch in Philadelphia: The Ultimate Guide
For some of us, brunch is the most important meal of the week. Here's a neighborhood-by-neighborhood list of where to find the best.
---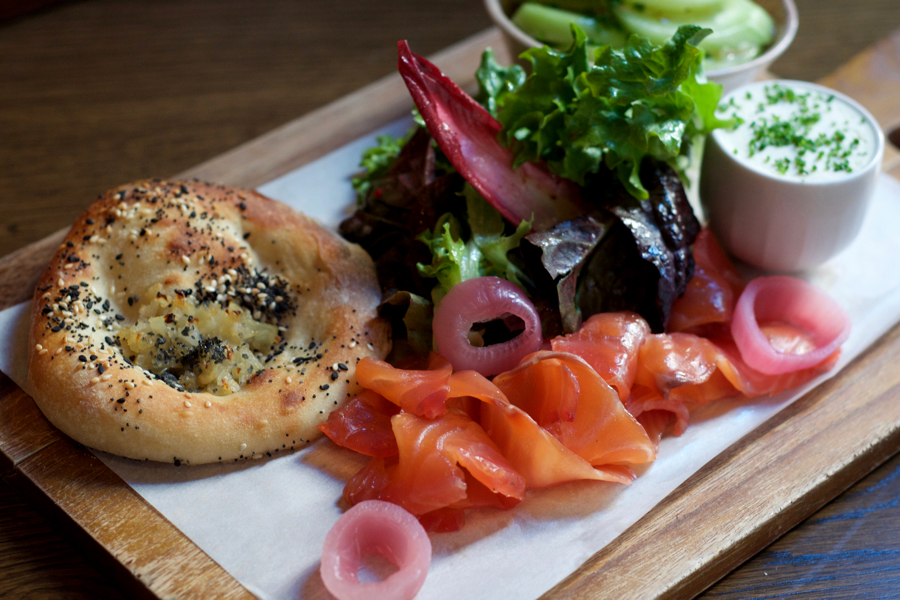 Brunch in Philly has always been serious business.
This city has an almost Southern attitude toward that liminal, late-morning repast between breakfast and lunch. It's not just an extra service tacked onto the day or the weekend — not just some pancakes and eggs slopped out for the hungover masses with little concern for quality — but a measure of our character.
Brunch is a meal meant for lingering over. An excuse to gather with friends and family in places where we've been gathering for years or generations. An extra opportunity for joy in the form of waffles and bacon and egg sandwiches (and occasionally dim sum), or a mercy to those who need an excuse to drink before noon on a Sunday.
We wait in line for brunch. We plan in advance. Brunch menus in Philly can be works of art, filled with clever and creative international flavors. Or they can just be comforting soft-landings after whatever it was we got up to on Saturday night. Whatever it is that you need out of a brunch, Philly has a place that'll make it happen.
So let's take a look at the best of them.
The Brunches You Must Try First
The Love, Rittenhouse
There may be no more lovely or comforting brunch menu anywhere in the city. Everything — from the potato skins stuffed with smoked whitefish salad to the bananas foster waffles and ricotta ravioli with lump crab and carrot sauce —is better than you'd expect it to be and prepared with as much care as the fanciest dinner plates. 130 South 18th Street
Lacroix, Rittenhouse
Lacroix is the granddaddy of Philly brunch spots: a fancy-pants (like, seriously, wear your fancy pants) destination restaurant for the weekend set, where chef Jon Cichon puts together a board that's both deeper, more classical, and more worldly than any other menu in town. Where else are you going to find foie gras s'mores, albondigas, and khachapuri all in the same place? 210 West Rittenhouse Square
High Street on Market, Old City
High Street has toasts, egg sandwiches and a few brunch classics. But all of it is elevated by the wonderful bread produced by the bakers in the back. 308 Market Street
Kanella Grill, Washington Square West
One of the things that people loved the most about the original Kanella was the weekend brunch. Now that it has become Kanella Grill, the brunch is still the thing that people stand in line for. 1001 Spruce Street
The Dutch, Pennsport
In a city so obsessed with brunch, it was only a matter of time before a restaurant opened that did nothing else — in this case, a combination Northern European, Dutch, and French-North African breakfast spot run by two fine dining veterans: Lee Styer from Fond and Joncarl Lachman of Noord. 1527 South 4th Street
Parc, Rittenhouse Square
If there is any place in Philly where people go to see and be seen, it's Parc. In warmer weather, the patio seating is the prime viewing area. But no matter the weather (and no matter where you sit), it's always been the classic French-American brunch menu that has drawn the biggest crowds. 227 South 18th Street
Walnut Street Cafe, University City
Walnut Street Cafe does one of the swankiest brunches in the city. Their baking team carries the show with amazing pastries and desserts, but the rest of the solidly American menu is almost as good. One tip though? The khachapuri sells out unless you get there early so, you know, get there early. 2929 Walnut Street
Cafe La Maude, Northern Liberties
Cafe La Maude is a brunch specialist — offering breakfast all day, every day, between 7 a.m. and 4 p.m. Even better? The breakfast it offers is a French-Lebanese mix of foul moudamas, croque madame, eggs benedict, salmon fume a cheval and shakshuka. 816 North 4th Street
Honey's Sit 'N Eat, Northern Liberties/Rittenhouse
Honey's has two locations — the original in Northern Liberties and this newer version in Center City — but both of them do the same thing: prove to everyone that brisket tacos, deep-fried cherry pie, and banana cream pie pancakes are really the final word when it comes to Jewish-Southern fusion.
Malvern Buttery, Malvern
This place has a cult following that's kinda scary. I know people who go there every weekend. I know others who've been once and just can't stop talking about it. The food is uncomplicated. The menu is short. There are egg bowls, croissant tarts, scratch-made pastries, and a toast bar with homemade jams and butters. And while  the toast bar in particular would fuel my obsession, everyone seems to find their own thing to fall in love with. 233 East King Street
Best Brunch in Center City
Rooster Soup Company
On the weekends, this CooknSolo project (which donates 100% of its profits to Philadelphia's Broad Street Ministry) opens early at 10 a.m. to serve an all-day breakfast complete with cornbread and sausage waffles, sweet potato oatmeal with cinnamon and apples, and a $15 bottomless mimosas-and-bloodies deal. 1526 Sansom Street
Dutch Eating Place
The Pennsylvania Dutch have forgotten more about brunch than most other cultures will ever know (screw you, France), and all of it is on display at this ridiculously busy, ridiculously cheap breakfast and lunch spot inside Reading Terminal Market. 51 North 12th Street
Double Knot
Yes, by night Double Knot is one of the best restaurants in the city. But it's always been an all-day cafe kind of operation. Recently, they doubled-down with a weekend "Coffee Shop Brunch" with a buffet setup full of quiche, fruit, pastries, Vietnamese noodle salad, breakfast bao buns, and a long list of matcha drinks. 120 South 13th Street
Middle Child
Middle Child is new to the neighborhood, but they serve breakfast all day, every day. They've also got hand-rolled bagels, house-cured lox, and something called blintz toast on the menu, so we're including them anyway. 248 South 11th Street
SuGa
On the weekends, SuGa turns their Asian fusion menu inside out by offering a combination of dim sum, salads, sandwiches, bento boxes, and Chinese breakfast entrees in one of the most wide-ranging brunches offered anywhere in the city. 1720 Sansom Street
Best Brunch in Fairmount
Tela's Market
Yes, Tela's is a market where you can pick up locally-sourced supplies for cooking your own meals (or ready-made dishes for takeout). But there's also a cafe inside, and that cafe serves buttermilk pancakes with Pennsylvania maple syrup — a fine way to jump-start any morning. 1833 Fairmount Avenue
Bar Hygge
"Hygge" is a Danish word that basically means taking pleasure in making the ordinary special. The eggs Benny with pork belly and hot sauce hollandaise and the cinnamon bun monkey bread with Nutella frosting served during their weekend brunch is basically that concept, translated into edible form. 720 Fairmount Avenue
Cafe Lift
Cafe Lift is a brunch specialist. It's what they do, from 8 a.m. until 3 p.m., seven days a week. For more than 10 years now, they've been a worthy neighborhood favorite. 428 North 13th Street
Bufad
Think of Bufad like Cafe Lift's Italian cousin. They're both owned by Mike and Jeniphur Pasquarello and so close together that you can run between them without stopping to catch your breath. Bufad does a weekend brunch that's heavy on the Italian specialties — everything from cannoli French toast to truffled mushrooms with eggs — and four kinds of pizza. 1240 Spring Garden Street
Best Brunch in West Philly & University City
Renata's Kitchen
Brunch all day, every day, and with a little something for everyone — whether you like Lebanese omelets, Norwegian smoked salmon, shakshuka, Cuban roast pork or just some plain old chocolate chip pancakes. 4533 Baltimore Avenue
Clarkville
Clarkville is remarkable because it is both one of the best neighborhood joints in the city AND one of the most family-friendly places around. That goes double during brunch hours. Just be patient though, because when the weather gets nice, Clarkville can get very busy. 4301 Baltimore Avenue
Aksum
I like that there's one place in Philly where I can come to get both Moroccan scrambled eggs (made with spicy ground beef, tomato sauce and paprika-spiced potatoes) and shrimp and grits made with pepper shrimp and served with a pita. Aksum has always represented one of Philly's most interesting experiments in fusion cuisine, and the brunch menu is no exception. 4630 Baltimore Avenue
Danlu
During normal hours, Danlu is a Taiwanese-American fusion restaurant doing lunch and dinner inspired by Asian street food. On Sunday mornings? It does exactly the same thing, breakfast-style, with a Taiwanese sausage omelet, soy-marinated eggs with pork belly, and Taiwanese coffin bread, which is like a pot pie with shrimp, chicken, squash, and Brussels sprouts. 3601 Market Street
White Dog Cafe
Yes, there are other locations elsewhere, but we still like the University City outpost for chicken liver mousse for the table, oysters with champagne mignonette, thick-cut Green Meadow bacon and a churro waffle. 3420 Sansom Street
Sabrina's Cafe
Sabrina's has five locations now, each offering brunch. So whether you're in Wynnewood, Collingswood, in the Italian Market, near the Art Museum or right here in University City, there's a place for you. Plus, it's easy to find Sabrina's on any Saturday or Sunday morning. Just look for the line. 227 North 34th Street
Best Brunch in Point Breeze & Graduate Hospital
Burg's Hideaway Lounge
Two words: Tiki brunch. 1200 South 21st Street
Ants Pants Cafe
What's that? You're looking for an Australian brunch place opened in a former psychic's shop? Cool, because that's exactly what Ants Pants is. It has one of the strangest names of any restaurant in the city, two locations, and a solid selection of brunch options. 2212 South Street
Rex 1516
Rex is where you go when you're looking to experience brunch the Southern way — with shrimp and grits, drop biscuits in sawmill gravy, shrimp po'boys dripping with comeback sauce, and Hurricanes from the bar. 1516 South Street
Cafe y Chocolate
If huevos rancheros, breakfast burritos stuffed with chorizo, and chilaquiles sound more your speed when it comes to brunch, then this is your spot. Also, don't miss the molletes, which is basically a Mexican open-faced grilled cheese sandwich with black beans. 2100 South Norwood Street
Best Brunch in Rittenhouse
Little Spoon Cafe
On the one hand, you've got grilled cheese and bacon sandwiches. On the other, avocado toast. And this cozy little neighborhood cafe has both. 1500 South Street
V Street
Hey, you know what's completely vegan? Waffles. Home fries. Pancakes. And V Street has all that stuff — along with dan dan noodles, po boy tacos and a pho-style french dip made with mushrooms. 126 South 19th Street
Res Ipsa
Res Ipsa is an all-day cafe — which really means that you can have brunch here every day. And sure, there's avocado toast and a nice Italian breakfast with fennel sausage and cannellini beans, but the real winner here is the breakfast sandwich with egg frittata, Asiago fresco and long hot spread. 2218 Walnut Street
Best Brunch in East Passyunk
Noord
Chef Joncarl Lachman's first restaurant continues to offer one of the most comforting brunches in town. I mean, he's got an entire section of the menu just devoted to hash. Who doesn't love that? 1046 Tasker Street
The Tasty
It looks like a classic American diner — all blue Formica and chrome. But the menu is very much of the moment — completely vegan, but done in the style of simple American comfort food. Plus breakfast burritos. 1401 South 12th Street
Vincenzo's Deli
A meatball omelet and a hoagie roll filled with eggs, provolone, scrapple, long hots, and broccoli rabe might be two of the most Philly breakfasts ever. Which is why, of course, both are on the menu at this neighborhood staple. 1626 South 9th Street
Fond
Yeah, Fond does brunch. They've got Belgian waffles, pastries, an egg sandwich — all the basics. But they've also got a short rib hash with maitake mushrooms, Gruyere, and Bordelaise sauce, which is exactly where you should start (and end) when deciding what to order. 537 South 11th Street
Creme Brulee Bistro
A Mexican-owned French bakery with a weekend brunch full of Nutella crepes, quiche, omelets, and waffles topped with dulce de leche. 1800 South 4th Street
Best Brunch in Old City
Khyber Pass Pub
This is nice, because you can spend the night at the Khyber pickling your liver, then come right back in the morning (if dignity allows) for beignets, boudin and eggs, and a little bit of hair of the dog. 56 South 2nd Street
Royal Boucherie
Nick Elmi's neighborhood French spot recently added brunch service to its lineup. And between the raw bar, the charcuterie station, and a deep French brunch tradition, this is one to add to your list. 52 South 2nd Street
Victoria Freehouse
I know, I know. All of these brunch spots, and not a single one offering Marmite. But wait: Victoria Freehouse has what you need with their very British menu featuring bubble and squeak, bacon pancakes, garlic and Marmite wings and, of course, a "Pimped Out Rarebit" with two eggs, bacon, fried tomato, and crab. 10 South Front Street
Best Brunch in Fishtown
Root
Turkish eggs, poached with dill yogurt and Aleppo butter. Hazelnut brown butter cake with apples and rosemary. Polenta with eggs and Tuscan kale. This is how they do brunch at Root, so is it any wonder that it is one of the most popular in town? 1206 Frankford Avenue
Kensington Quarters
Just looking for a plate of eggs and bacon? You can get that anywhere. KQ is where you come when you want scrapple french toast, pork shoulder benedict or fried chicken for breakfast. 1310 Frankford Avenue
Philly Style Bagels
The name is pretty self-explanatory, don't you think? 1451 East Columbus Avenue
Sulimay's Restaurant
If some classic diner food is what you're after, then Sulimay's is perfect. Omelets, egg sandwiches, pancakes, waffles covered in fruit–they've got all the basics and serve them every day from 7am (8am on the weekends) to 2pm. 632 East Girard Avenue
Best Brunch in Queen Village and Bella Vista
Whetstone Tavern
Once upon a time, Whetstone did brunch every single day. Those were the good times. Now, it's just a weekend thing, but it's still worth lining up for with young gun chef Eric Leveillee's simple, satisfying menu of regional classics. 700 South 5th Street
Sam's Morning Glory Diner
Sam's Morning Glory has been up and running in Bella Vista since 1997. That's a lot of time to practice making breakfast and get in good with their regulars, and it shows. 735 South 10th Street
Famous 4th Street Delicatessen
This corner deli has been in operation for almost a hundred years. Seriously, it's been knocking out corned beef and pastrami since 1923. It is as much of an institution in Philly as almost any other place you can name and offers a true deli brunch experience. 700 South 4th Street
Hungry Pigeon
Okay, so there are a LOT of breakfast sandwiches being thrown around in Philly right now. Some of them are good, some of them are dull. But none of them come even close to the exceptional one served at Hungry Pigeon. The most remarkable thing about it is that it's so simple — just a house-made English muffin, local jack cheese, and an egg. But sometimes simple ingredients, perfectly handled is all it takes to make something extraordinary.  743 South 4th Street
Best Brunch in the Suburbs
The Avenue Deli, Lansdowne
Avenue is an Italian-Jewish deli that puts out a surprisingly solid morning spread. Most notable among the dozen or so dishes? The Amazing Egg Sandwich, made with broccoli rabe, fried eggs, pork (or veggie) sausage, pickled Fresno chiles, cream cheese, and mozzarella on a seeded Italian bun. 27 North Lansdowne Avenue
Stove & Tap, Lansdale
A beautiful space, outdoor tables, a full bar, and a big menu of American brunch classics like banana pancakes, biscuits and gravy, deviled eggs, and a fried chicken sandwich. What more do you need? 329 West Main Street
White Dog Cafe, Wayne and Haverford
Yeah, we already mentioned the University City location. But for those of you living outside the city, we figured we'd be remiss if we didn't remind you that you've got two White Dogs of your own. 200 W Lancaster Avenue (Wayne); 379 Lancaster Avenue (Haverford)
Tredici, Bryn Mawr
It's the Bryn Mawr version of the Philly original, and for brunch they stick to the same Mediterranean style menu, with bacon-wrapped dates, falafel, hummus and veal and ricotta meatballs. But then they add some brioche french toast, ricotta pancakes and an omelet to make it feel more, you know, brunch-y. 915 Lancaster Avenue
Hymie's Deli, Merion Station
No matter where you live, the four sweetest words any deli (but especially a Jewish one) can ever say is "Breakfast served all day." The menu here is enormous, so it's pretty much guaranteed that no matter what you're looking for, Hymie's will have it. 342 Montgomery Avenue
Tired Hands Fermentaria, Ardmore
Look, we were already surprised at how good the cafe menu was here at this brewpub in Ardmore. But you know what else they do? Brunch every Sunday from noon until 3 p,m. So if you're looking for excellent beer fresh from the taps and creamed chipped beef on toast, look no further. 35 Cricket Terrace
Cornerstone, Wayne
Cheese, charcuterie, oysters, and a sandwich of prosciutto, triple creme, tomato confit and olive oil on a crusty baguette? I'm not sure what your idea of a perfect brunch is, but that's pretty damn close to mine. 1 West Avenue

Philly's Best Brunch, Mapped
---