Drink This Now: Kashmiri Pink Chai at The Chai Bar
This drink from northern India looks and tastes unlike any chai you've probably had before.
---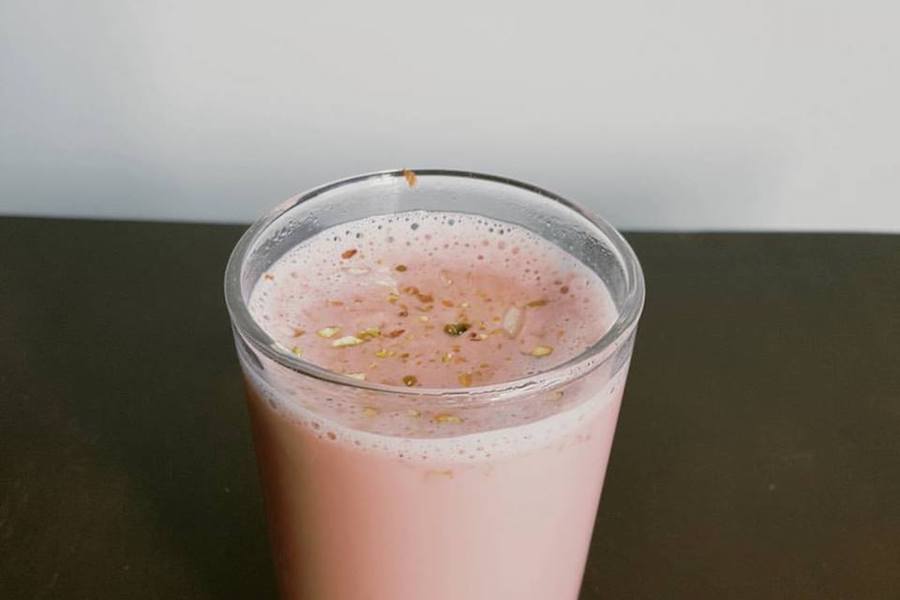 You've probably had a chai latte before. Every coffee spot, from your neighborhood third-wave cafe to Dunkin' Donuts, makes something approximating the Indian tea drink, which is typically made with sweetened black tea brewed with spices and mixed with hot milk (or — ugh — made from powder or a mix poured out of a carton).
Well, I'm here to tell you to abandon whatever you think chai is and hit up The Chai Bar, which has been popping up with a sell-out delicious recipe at farmers' market stands in Philly since the fall.
When you find owner Madura Chaudhari Sotolongo and her mobile chai setup, ask for a sample. Taste the masala chai, which is brewed with bold, loose-leaf Assam tea and spices like cardamom, cinnamon, cloves, ginger and nutmeg — the delicious ur-tea that all the garbage you've been getting from Starbucks is modeled on.
But then you should try the Kashmiri pink chai, which, if you're used to getting your chai from American cafes, will be like nothing you've ever tasted.
A cup is creamy and full-bodied, with sweet-salty flavor and a hint of cardamom that's almost as addictive as the caffeine. To enhance the buttery, savory taste and add texture, each cup is finished with a sprinkling of chopped, toasted almonds and pistachios.
The pink color is natural created by boiling the tea leaves extra-long and aerating the chai for an extended period while it's being made.
Although her recipe is top secret, "One key process is the chai pulling, or quickly transferring the chai from one container to another when it's boiling hot," Chaudhari Sotolongo explains. "I have burnt my hands over the years perfecting this chai, so please be careful if you try this at home — or better yet, let a professional do it."
Currently, Chaudhari Sotolongo posts up with her piping hot chai — plus chai concentrate, chai spice blends, and chai-spiced baked goods — at the Clark Park Farmers' Market at 43rd and Baltimore on Saturdays and at the Headhouse Farmers' Market at 2nd and Lombard on Sundays. She's available to serve her signature chai at private events, too.
---
---