News
Mike's BBQ Gives Us Hope for Philly's Barbecue Scene
The barbecue pop-up-turned-brick-and-mortar officially opens tomorrow in South Philly.
---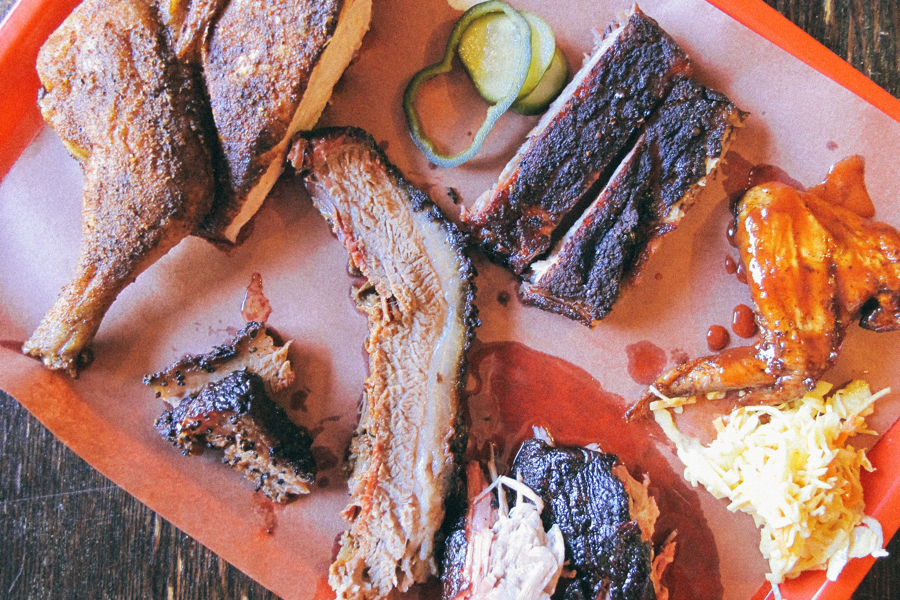 Michael Strauss, the guy behind the deep South Philly gastropub Taproom on 19th, has turned what was once a side-hobby — smoking brisket, ribs, and pork butt — into a full-time gig with his new brick and mortar location, aptly named Mike's BBQ, at 1703 South 11th Street (the old South Philly Barbacoa space).
It opens tomorrow at noon, serving up a simple menu of American barbecue ordered by the quarter-, half- or full-pound, or as a sandwich. The space itself has gone through a small bit of rehab: new paint and some new kitchen equipment which includes a giant 2,000 pound smoker fired by Pennsylvania oak — a piece of machinery that shows beyond doubt that Strauss means business when it comes to barbecue.
Mike's BBQ started as a side-project — a small setup that popped up at festivals, sometimes at Garage, and occasionally ARS Brewery on West Passyunk Avenue. It quickly became a legit contender in Philly's small barbecue scene (now even smaller with Percy Street BBQ still not in working order). And while, sure, being "legit" in this town isn't exactly a big deal (Philly just isn't a barbecue town. It's not in our blood. Think about it: One of our best barbecue restaurants comes from an out-of-town outfit based in Brooklyn: Fette Sau), it's still significant to our scene when someone actually tries to take it seriously.
Strauss takes his BBQ very seriously. You can tell just by the bark he's got crusted onto his brisket and the pink smoke rings that line his ribs. He's going to keep Mike's open between noon-5 p.m., Wednesday through Sunday, because he wants to serve it all fresh — and a five-hour window is best for that kind of operation.
Sides are requisite and include garlic butter spinach, beans (smokey with meat drippings), and an Italian mac 'n' cheese made with pappardelle noodles and three Italian cheeses, because, you know, South Philly.
Here's the current menu. Start lining up at 12 p.m.
---