These 8 Chefs Are Changing the Baking Game in Philly
From babka masters to sourdough obsessives, these mad scientists are bringing a whole lot of attention to sweets, snacks and breads in this town.
---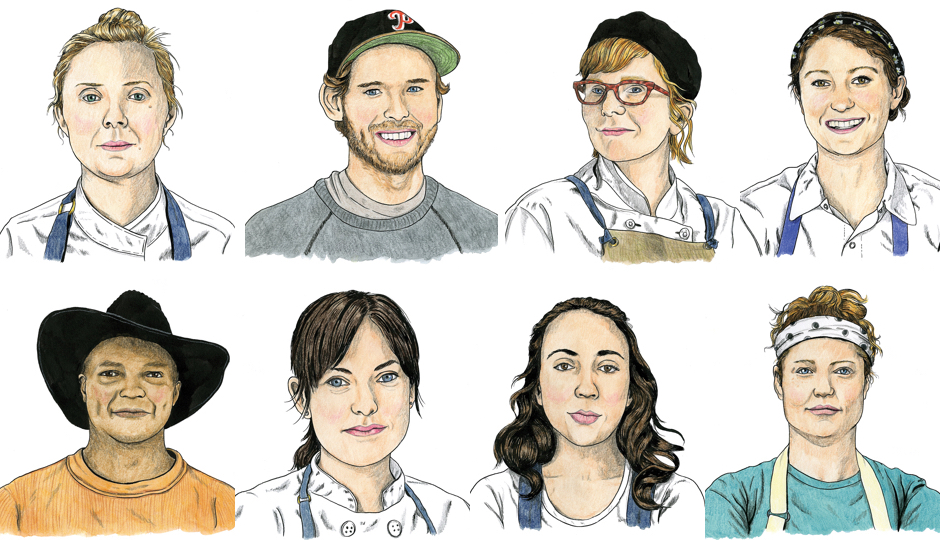 Unless you've been living under a rock, you know that Philly's baking scene — from pastries, to desserts, to breads — has really grown into something special in the last few years.
Here, we celebrate eight chefs who helped turn it into what it is today:
Pat O'Malley
Co-owner, Hungry Pigeon in Queen Village
CV: Spent eight years in NYC as Balthazar Bakery's head pastry chef.
Known for: The bread basket is worth paying for, but the sticky buns and monkey bread are why mornings here are next-level.
---
Tova du Plessis
Owner, Essen Bakery in East Passyunk
CV: Restaurant at Meadowood in St. Helena; Zahav, Le Bec-Fin and Lacroix.
Known for: Chocolate babka laced with halvah; black-and-white cookies spiked with orange zest.
---
Samantha Kincaid
Head pastry chef, High Street on Market and Fork in Old City
CV: Nostrano in Madison, Wisconsin; R2L.
Known for: Seasonal tea cakes, salted chocolate chip shortbread, scones.
---
Katie Lynch
Co-owner, Machine Shop Boulangerie in South Philly
CV: Le Marais Bakery in San Francisco; Art of Bread.
Known for: Multigrain bread, naturally fermented sourdough baguette.
Emily Riddell
Co-owner, Machine Shop Boulangerie in South Philly
CV: Le Marais Bakery in San Francisco; Le Bec-Fin.
Known for: Kouign amann; dark chocolate pain au chocolat.
---
Vernon Wilkins
A.k.a. the Carrot Cake Man; find him on the trolleys of West Philly
CV: Self-trained; owned a West Philly bakery for 17 years; once had his own Little Baby's ice-cream flavor.
Known for: Carrot cake, duh.
---
Camille Cogswell
Pastry chef, Zahav in Society Hill
CV: James Beard nominee.
Known for: Seasonal riffs (summer berries, winter preserves) on konafi, a noodly Middle Eastern pastry that's always on the menu.
---
Ailbhe Pascal
Owner, Fikira Bakery, a delivery-only biz out of Kensington
CV: Self-trained; worked in kitchens across the globe.
Known for: Seasonal vegetable breads, focaccia, sprouted-grain loaves.
---
Melissa Weller
Head baker, Walnut Street Café in University City
CV: Former engineer; NYC's Babbo, Per Se and Sullivan Street Bakery.
Known for: Pistachio-sour cherry croissant; wafer ice-cream sandwich.
Published as "Bakers Are the New Celeb Chefs" in the October 2017 issue of Philadelphia magazine.
---